I started growing my own alfalfa sprouts several years ago. Around the same time I experimented with growing Mung Bean sprouts. Mung bean sprouts are the ones you recognize as plain old bean sprouts in the grocery store.
The alfalfa sprouts worked right out of the gate. The Mung Bean sprouts … did not. Commercially grown bean sprouts are nice and long and relatively straight. This is not necessarily true of home grown bean sprouts. Unless you know the trick.
I know the trick.
Do you want to know the trick?
Then read on.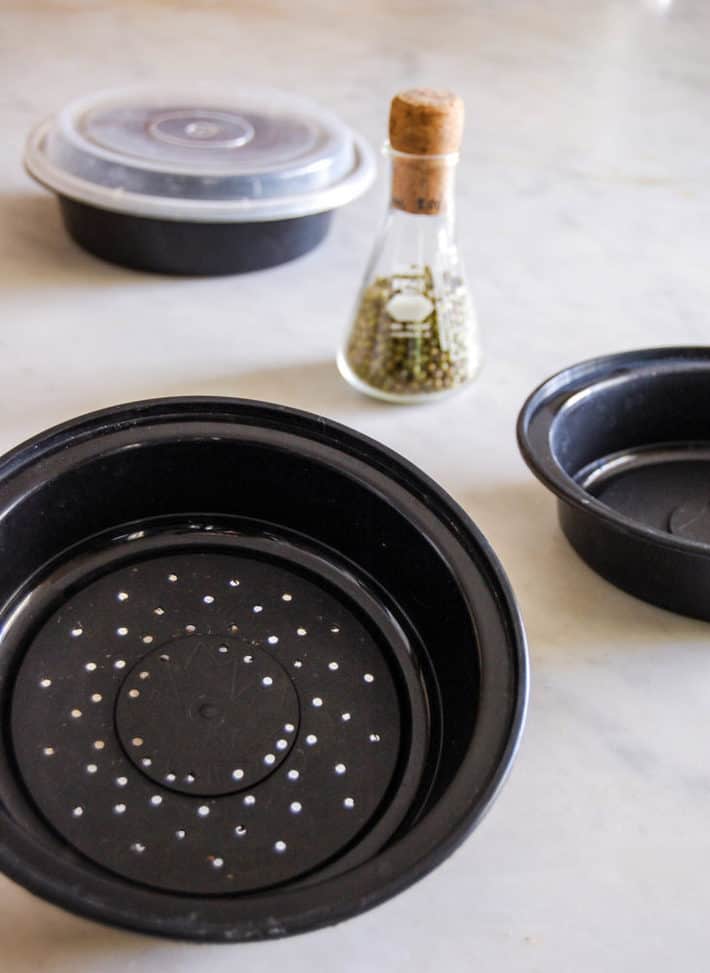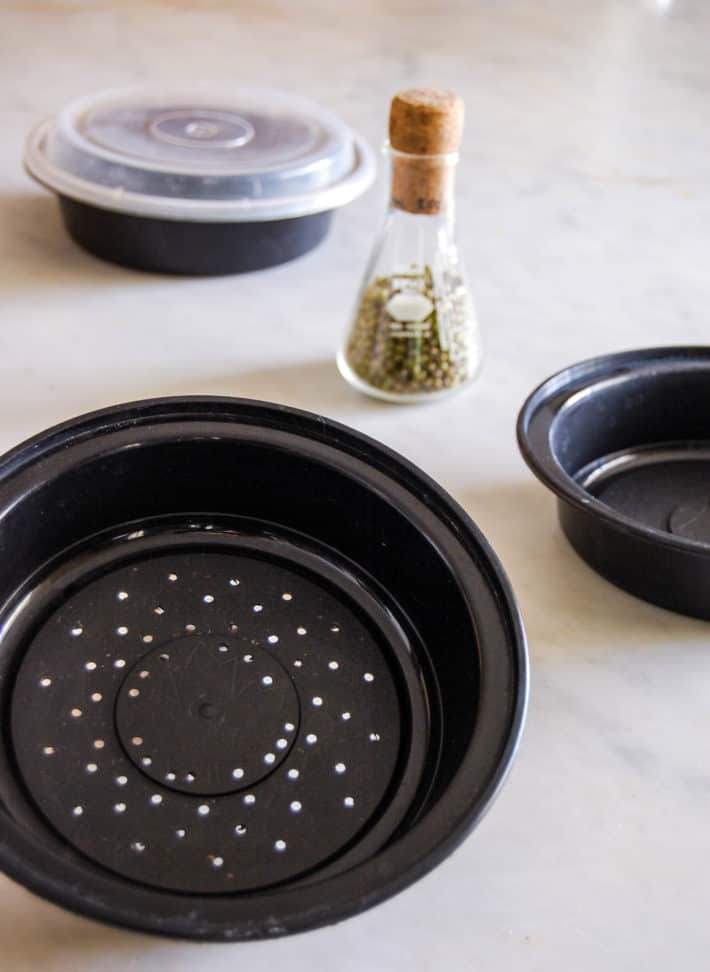 To grow bean sprouts you need a few things. Most you'll have at home already, some you won't. Unlike growing alfalfa sprouts which can be grown in a regular mason jar, Mung bean sprouts need a special set up. Nothing too crazy, and you can make it at home. You'll need 3 Tupperware-type containers. I used old Indian food takeout containers that I'd saved. And one lid.
One of the container bases needs holes drilled or nailed into it to provide drainage. I just ran my container down to the basement and drilled through it with a small drill bit. It took about 30 seconds and I can use this base over and over again every time I make bean sprouts.
The other thing you'll need are actual Mung Beans. These can be found in the bulk section of some grocery stores, sold in the bag, or at the Bulk Barn. So they aren't very difficult to get ahold of.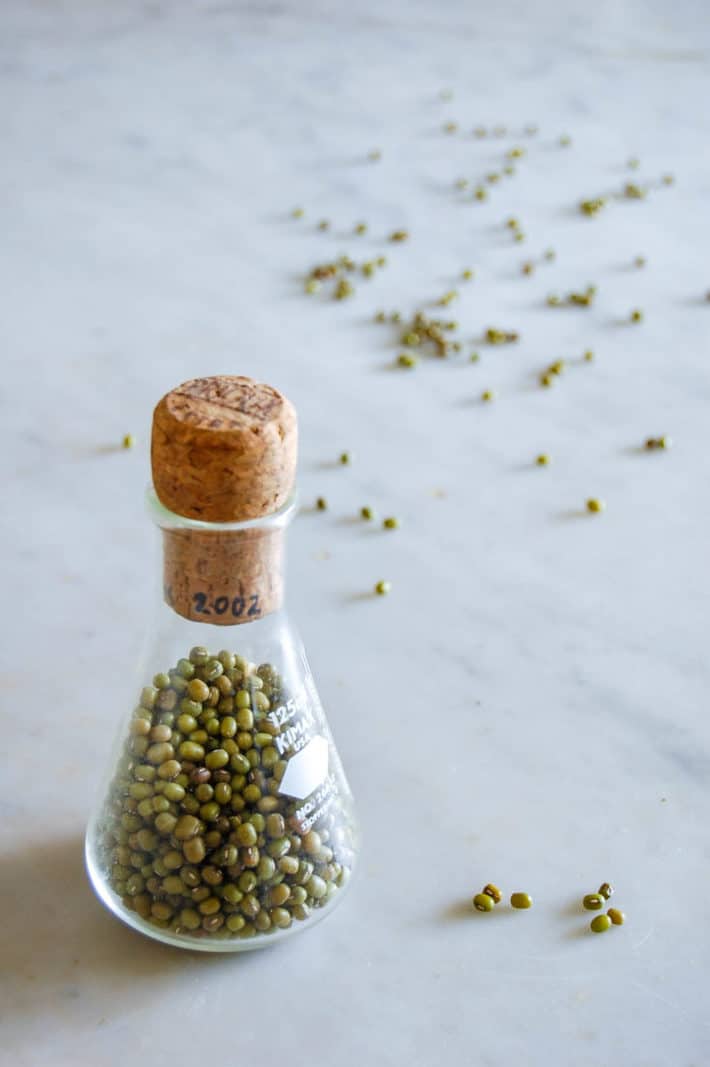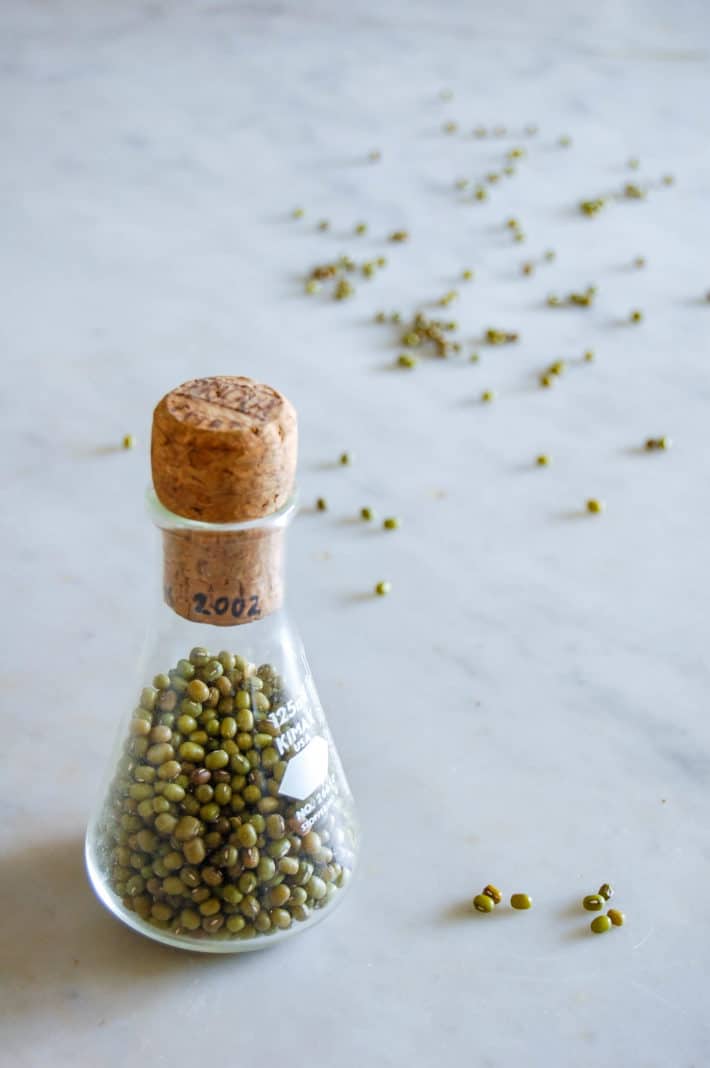 Dump some beans into your perforated dish. You want around this much. So less than half of what would cover the entire bottom of your dish.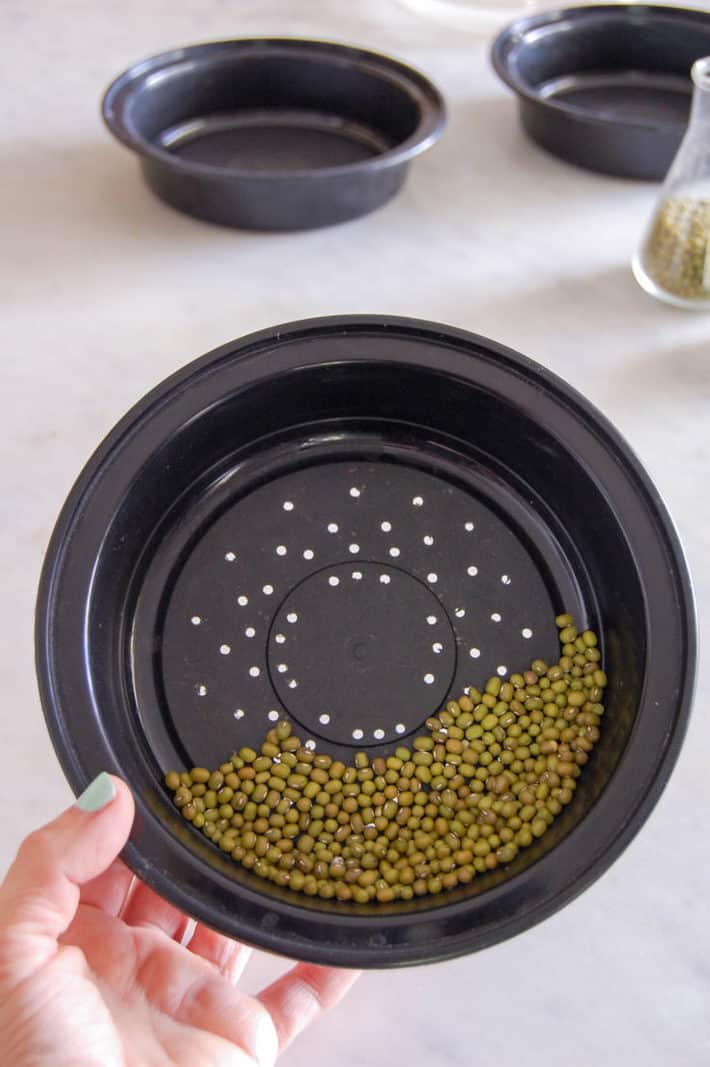 Place your perforated dish into a regular dish.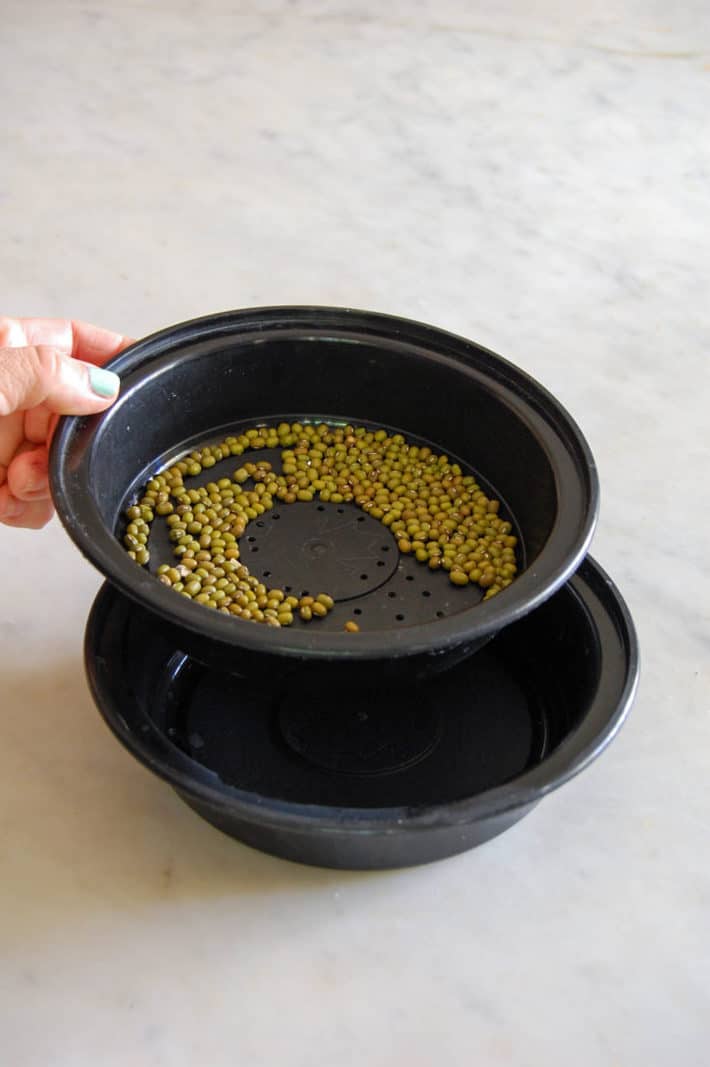 Fill with water and leave for 8-12 hours to soak.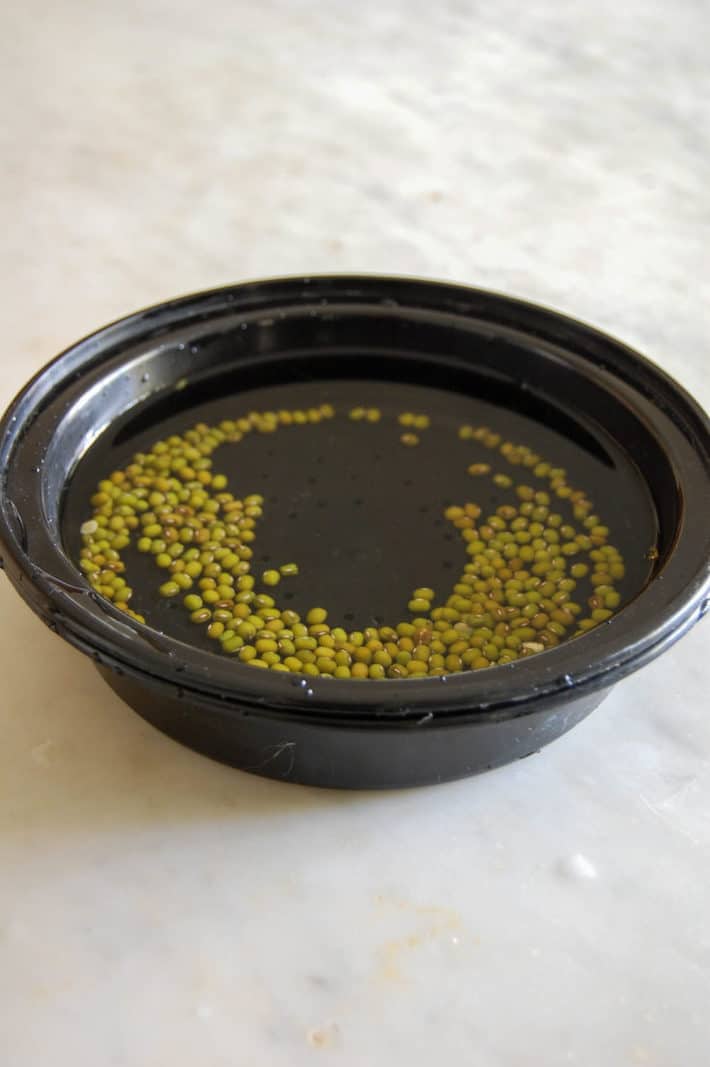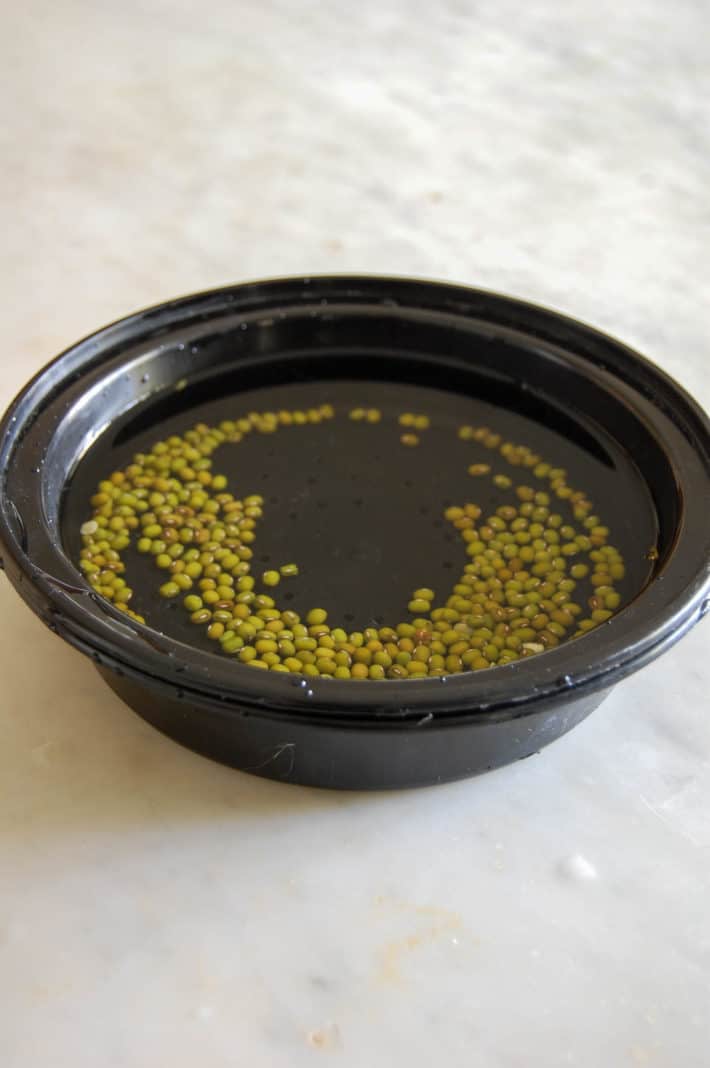 Rinse them very well under cool water and drain thoroughly after.
Fill your last remaining plastic container base with water and put the lid on it. Put this on top of your bean sprouts in the perforated dish.
Trick #1:
And weigh it down!
To weigh those beans down and NOT let them move. This allowed the sprouts to grow thick, long roots.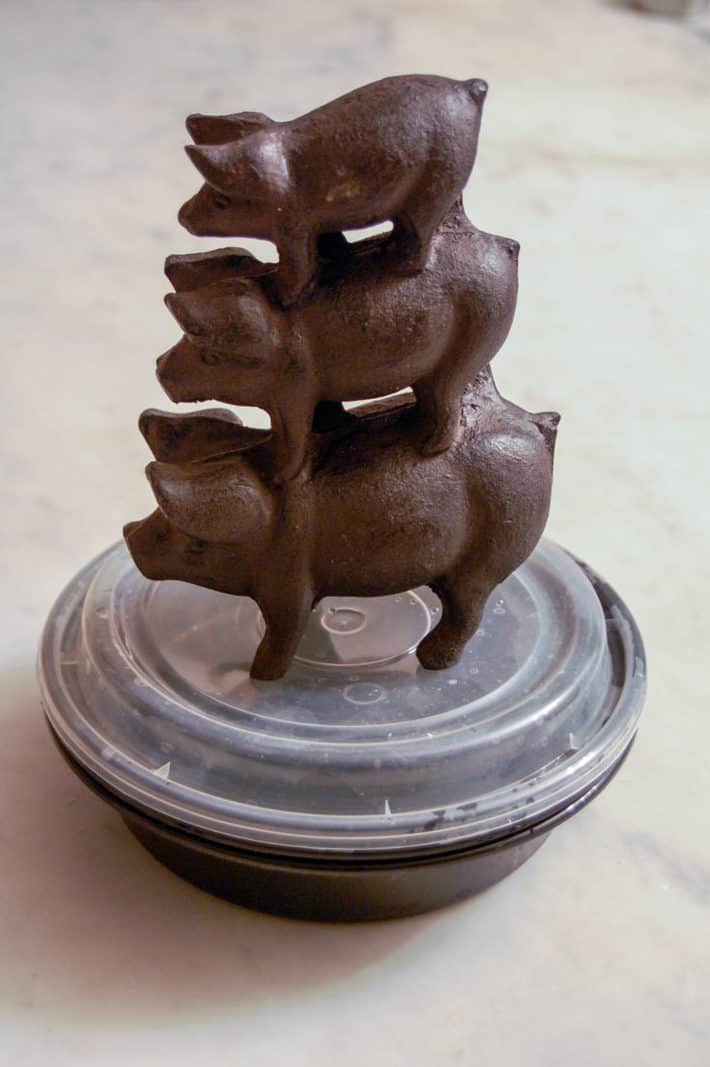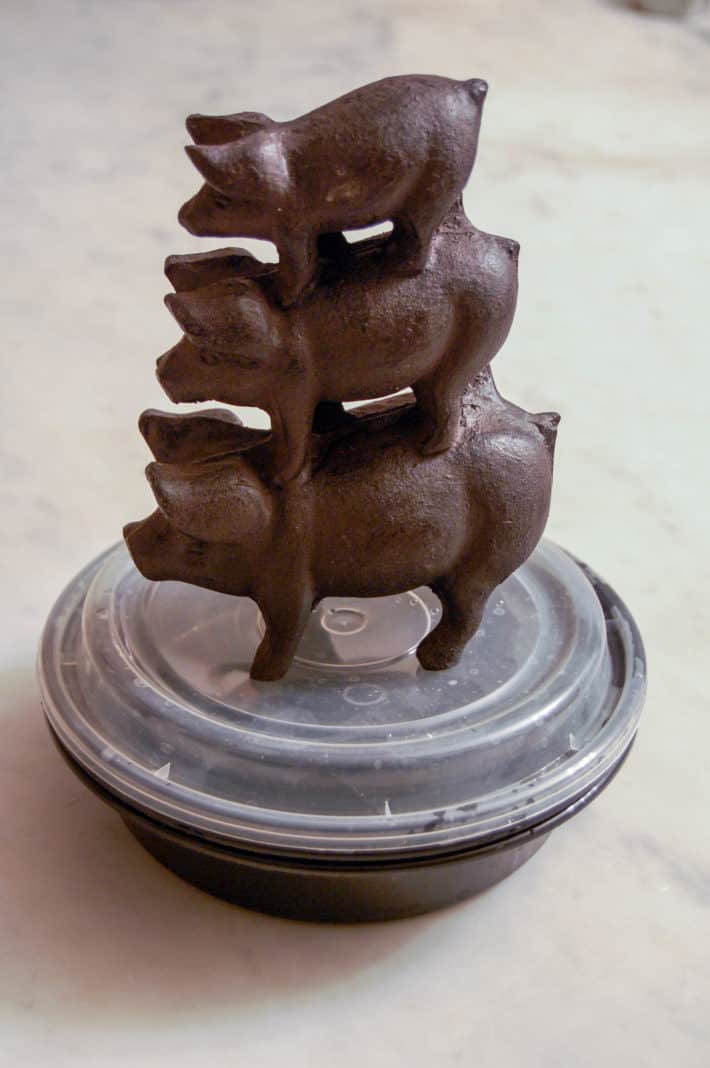 Now you rinse and drain the beans every 8 – 12 hours.
Trick #2:
For the first couple of days use VERY light water pressure when rinsing. Just barely more than a dribble. Your goal is to have the bean seeds not move at ALL while you're rinsing them. That means, very low water pressure and rinsing for a long time to make sure you've rinsed them well.
Return the sprouts to their holding bin each time, and weigh them down.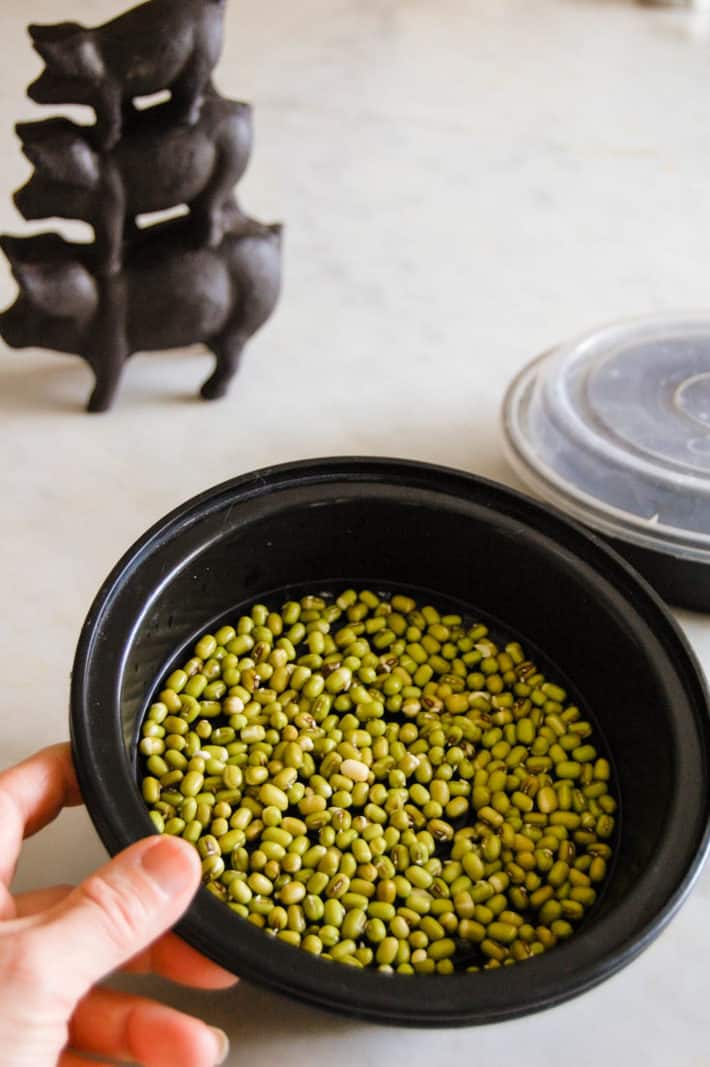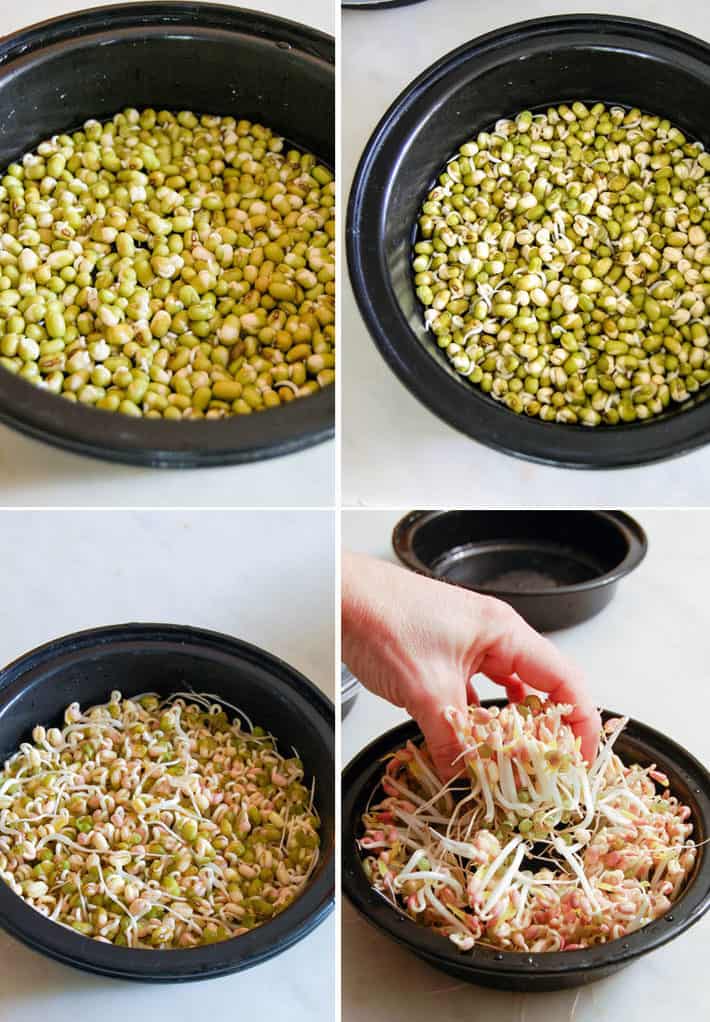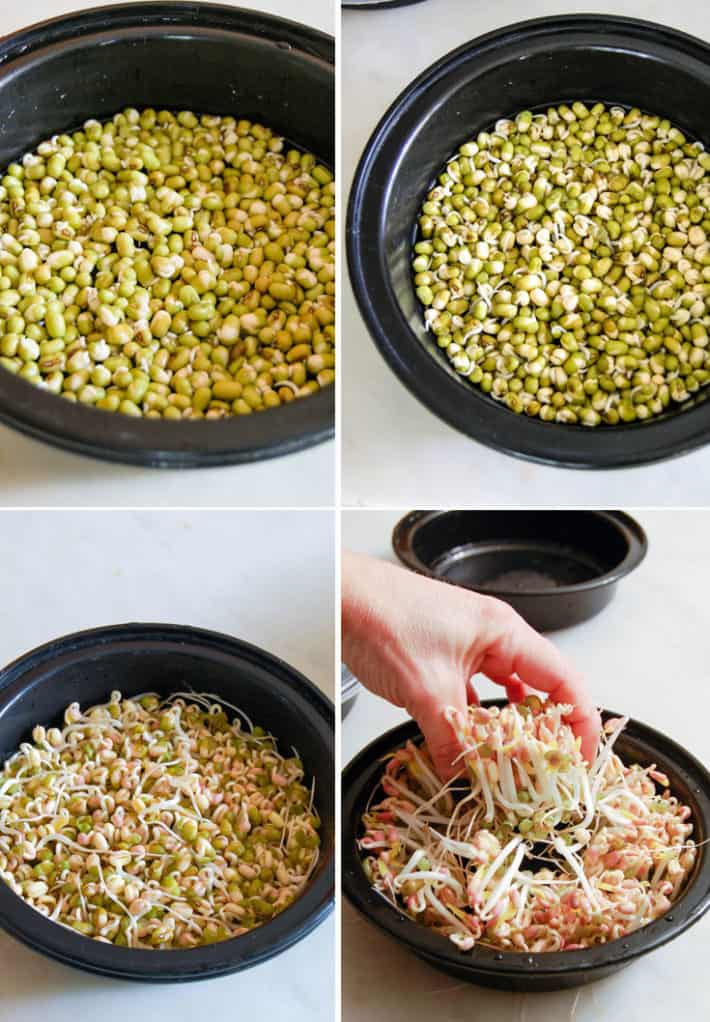 These sprouts get STRONG. Anabolic steroid after a bath salts bender strong. As evidenced in this photo. The sprouts started getting strong enough that I needed to weigh them down with more than 3 little pigs. I put a huge pumpkin on them.
I walked in the door one afternoon to find the Lance Armstrong of sprouts had actually pushed the pumpkin right off of them.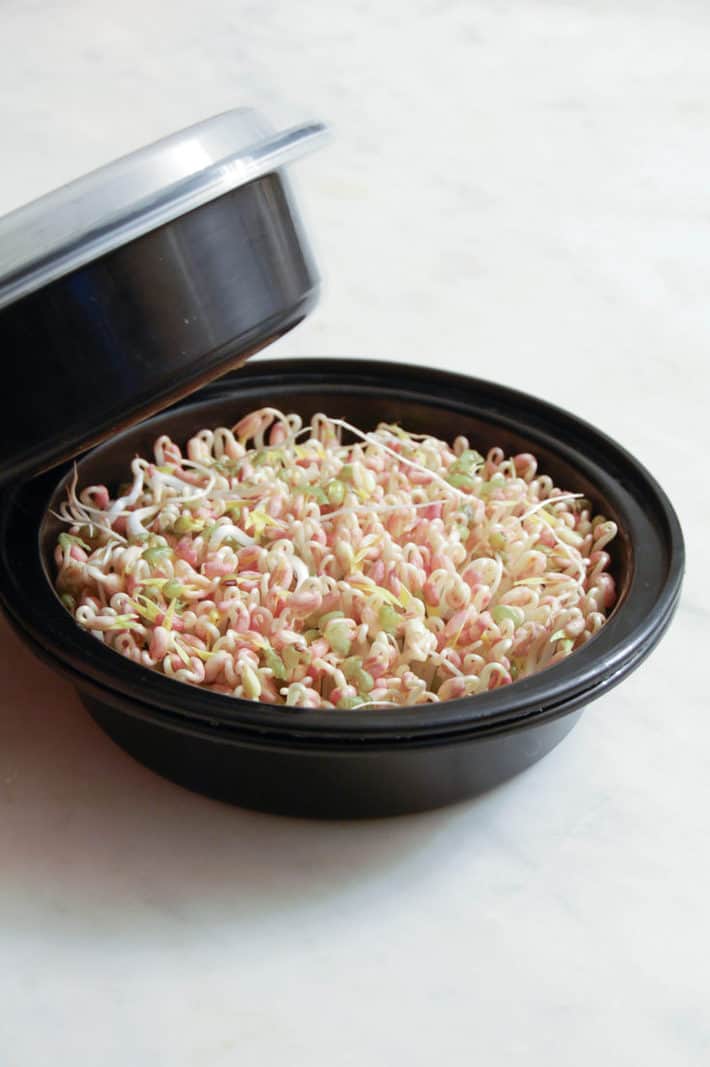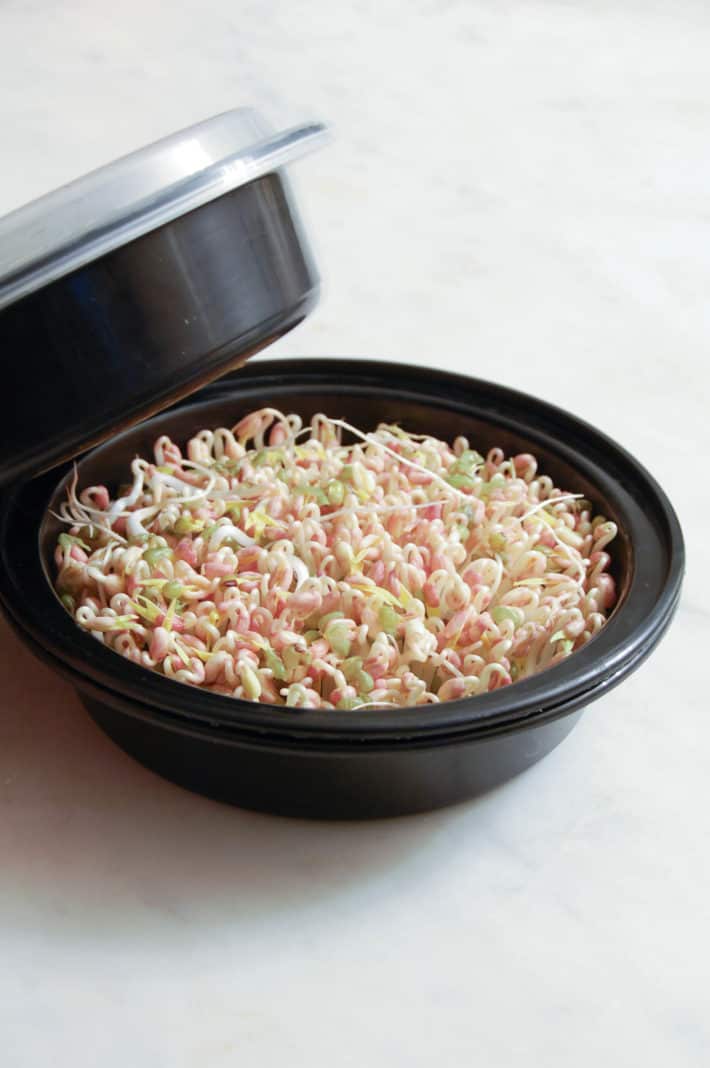 Some of the sprouts will grow out of the bottom of the container. Don't worry about it.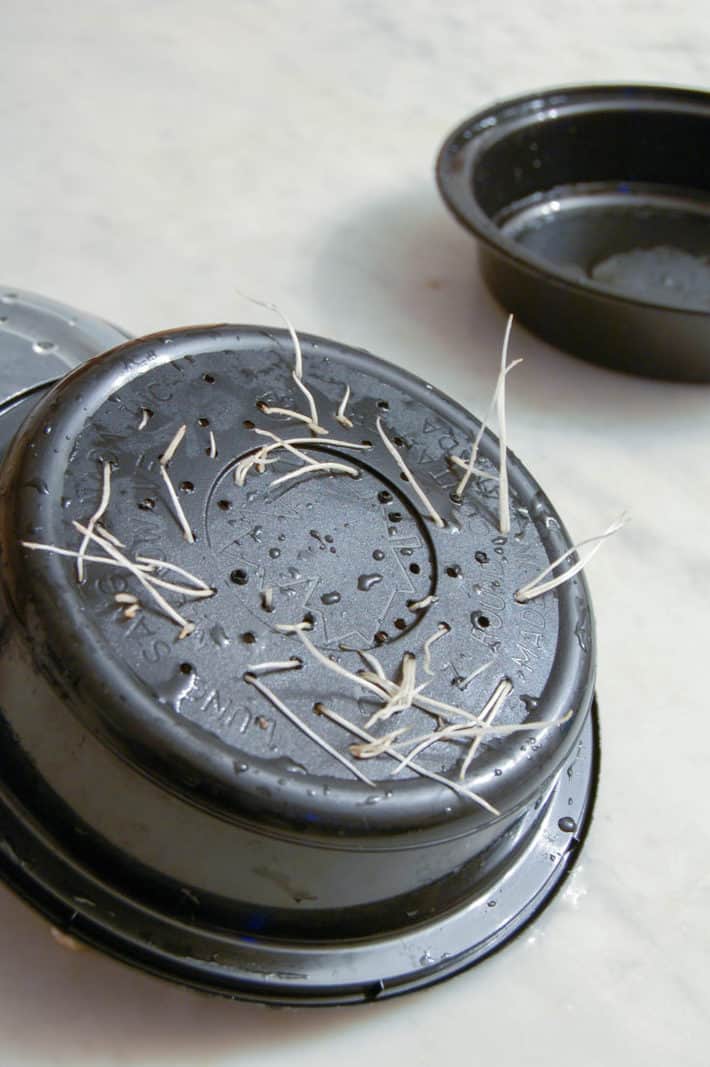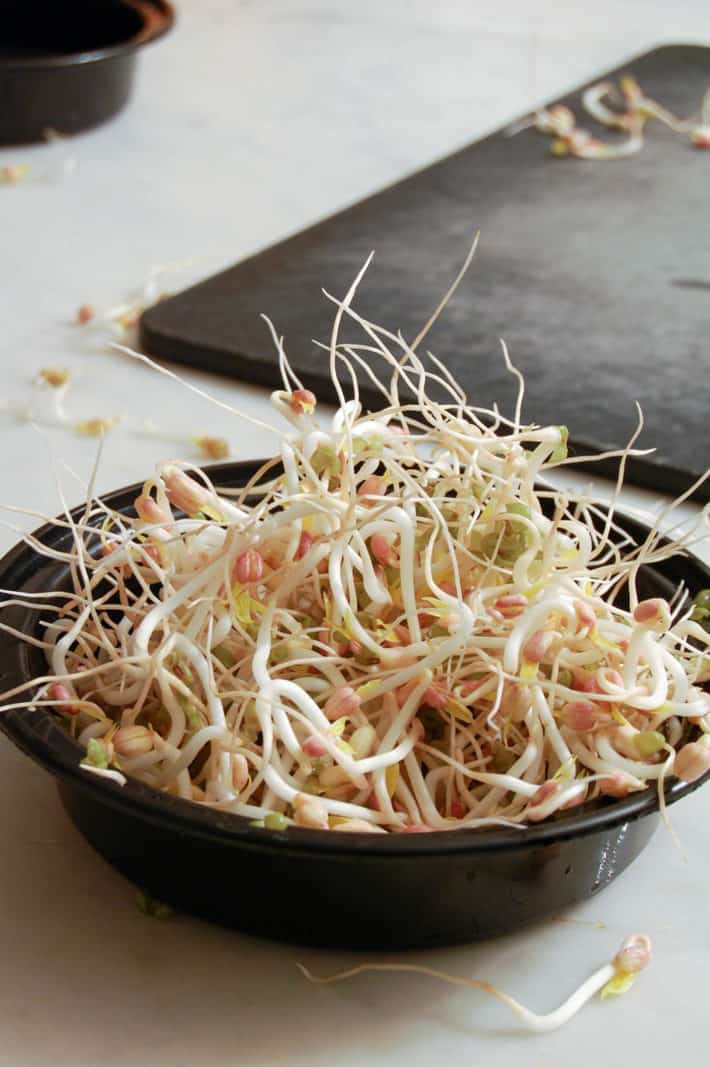 Keep your sprouts covered in the fridge for a few days.
Because of the risk of salmonella and E. coli There is a danger to eating raw sprouts. All sprouts. Even homegrown ones. Just so you know. Having said that there's also a danger to just existing basically.
→Follow me on Instagram where I often make a fool of myself←