Pin
Welcome to day 1 of the 5 days of organizing series!  I'm getting the biggest, baddest, most intimidating one out of the way first.  Closets.
Just how intimidating is going through your closet and organizing it?  Well ... let's see ... the fella ran away from home around 8 or 9 months ago and I still haven't moved the things from my closet into his.  (his closet was the smaller one in the bedroom, while mine was the larger walk in closet in the hall)
I've been wanting to/meaning to/hoping to/avoiding to move my seasonal clothes into the bedroom closet, while leaving the out of season clothes in the walk in.  3 seasons have passed without me doing this.  I'm pretty much a great closet organizer avoider.
So while you read all of these posts this week, know that we're all the same.  We all want to have an organized, perfect life and home, but we don't.  But if you follow each of my 5 organizing posts this week we CAN be.  For a little while, until the mess builds up again, anyway.  Which in my book is better than nothing.
Organizing your closet isn't what you'd call brain surgery with a butter knife.  It's pretty simple and we all know what has to be done. It's just that it's sometimes easier to do it when there's a list telling you exactly what to do.  And a person you've never met before looking at you sternly from behind her computer screen.
So here is that list.
1.  Identify what to do with each item.
Keep
Garbage
Donate
Reuse/recycle
Put everything into separate piles and deal with them immediately.  Throw the garbage clothes in the garbage, wash and fold the donate pile and put it in a box (at the very least put it in a box and in the laundry room to wash and fold later), set aside things you know you can use for crafts and or projects later.  More on things you should save and the things you can use them for later on in the post.
The clothes you keep are the ones you wear THAT a) look good on you b) are comfortable c) aren't hideously out of date or inappropriate.  No matter how much you loved the dress you wore when you were 25 and how good it looked at the time, chances are 20 years later you look like a lunatic wearing it.  Sorry.  But, someone had to tell you.
2.  Clean and decide how to categorize your clothing.
Clean your closet.
Buy or make shoe organizers.
Decide whether to group your clothing by colour or season.  (I do a combination of colour and season)
Don't forget to use the back of your closet door for storage.  Hanging hooks can hold purses, belts, jewellery or your housecoat.
I *also* have a work category.  Clothes that I can get paint, grease or goo on without worrying.  These clothes go in their own drawer.
3.  Put it all back.
Hang pants and shirts.
Fold sweaters and put on shelf or in drawers.
Organize shoes.  Do NOT keep them in their boxes.  Out of site, out of mind. Even if you do that super-organized thing and take a picture of the shoes and paste it on the outside of the box, you'll wear them less than if you can just see and grab the shoes.  We're all pretty lazy at heart.
A shot of my larger closet "before" ...
Pin
A shot of my larger closet "after" ...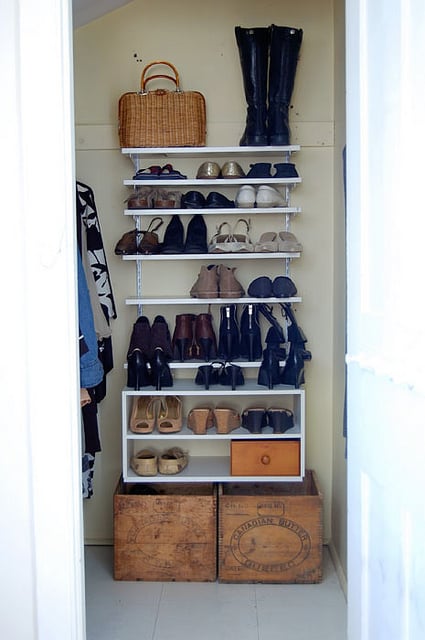 Pin
Tips from my Closet
* Try EVERYTHING on.  It'll remind you of how much you love or hate something. Looking at it doesn't work.  Put it on!
(to make it less overwhelming, grab an armful of hangers and go through that pile.  Try on, separate into piles, put keepers aside, repeat.)
* Put a pair of neutral heels on and try all of your dresses on at once.  It's just easier.  To clarify, I don't mean put one dress on top of the other until you're wearing all of your dresses.
* If you're iffy on something put it in your keep pile.  Then when you put everything back in your closet, go through everything again.  After trying everything on you might decide that thing you were iffy on is actually a throw away.
There are a few ways you can recycle old clothing into new crap!
SWEATERS!
Sweaters that don't fit, have holes or you don't like anymore?
Turn them into grocery bags ...
Pin
... or pillows! (like Centsational Girl did)
Pin
 Jeans
Jeans too tight?  Jeans too ugly?
Turn them into a hanging pencil holder.
Pin
Old shirts
Cruddy old shirts?
Turn them into MORE grocery bags!
Pin
Or cut the fabric out and use them as embroidery hoop wall hangings.
Pin
Hanging Embroidery Hoop Hanging tutorial
Approximate time for project:  Well for me it took a whole day. But you're much better at keeping an organized closet than I am so I'm sure it'll only take you a few hours.  If your closet is exactly as big a disaster as mine is ... give yourself the weekend.
On a side note, it'll take you a lot less time if you make a real effort to stay focused.
I made no such effort.  You might say as I went through my closet I got a bit distracted going through all the stuff I found in there. Mind you ... I was just sticking to my rule of trying everything on.
Consider yourselves warned.
Have your own tips? Tricks? Let everyone know.