If you're lucky you live in an area where you don't have to dig up your Dahlia tubers. For the rest of us we must dig, divide and conquer. How to split Dahlia tubers to keep 'em growing. (even if you live in an area where you don't have to dig them up you *should* still split your tubers)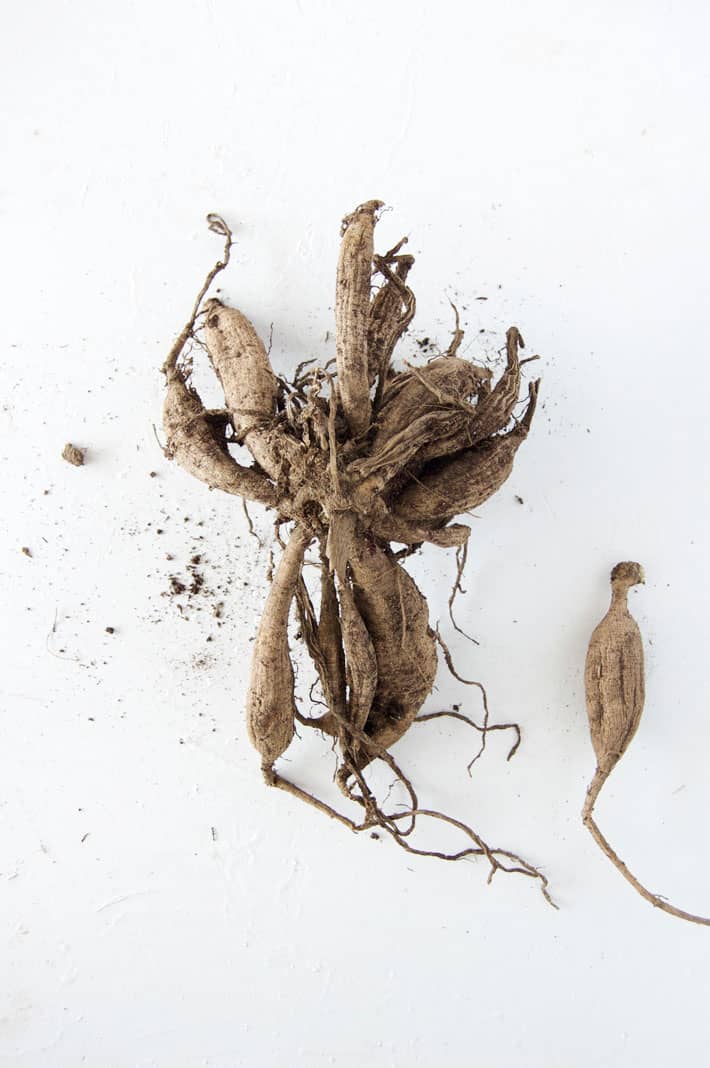 Try as I might, despite all of my efforts, I could not kill my dahlia tubers over the winter. I stored them improperly, ignored them and silently cursed them. I'd have given them the evil eye if I believed in that sort of thing but I don't, so I stuck with a garden variety exorcism.
No luck.
At the beginning of April I opened up my plastic bags of Dahlia tubers expecting to find a wrinkled mass of nothing and found perfectly fine tubers.
I bought and planted these tubers (a LOT of them) for the first time last summer. You can see the mountain of Dahlias 10 or so tubers produced in this post. In the fall, because I live in a cold climate, I dug them up and stored the mammoth things. After one summer in the garden the tubers went from the size of a cute little baby finger to something you could revolve an entire a horror movie around.
I dumped out all the tubers and started looking around the house for containers big enough to plant these Stephen King characters in. It took a while for me to realize that this just couldn't be how it was done. No one I know who grows Dahlias ever mentioned the need keep 10 or 20 igloo sized pots around for planting the tubers in, in the spring. I must have to DO something with these tubers before planting them again.
Sure enough – I had to split the tubers. And so I did. Some quick research online led me to understand how and when to spit the tubers so now I'll tell you what I learned.
Clearly I'm not an expert. But the gist of it just involves cutting each finger off and making sure there is at least 1 eye on each of them. If you want a more finessed explanation you'll have to do your own Googling.
How to Split Dahlia Tubers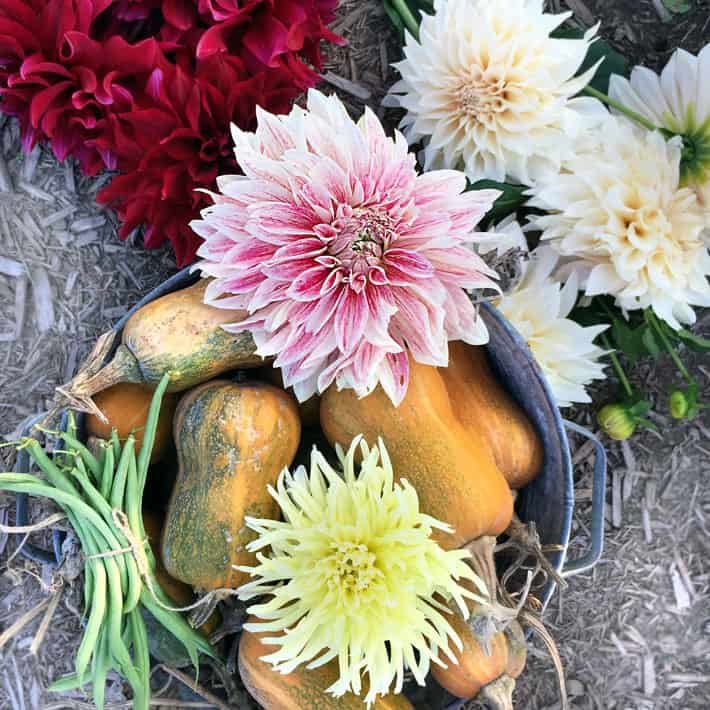 STEPS
1. Remove the stringy, withered tubers that will never amount to anything.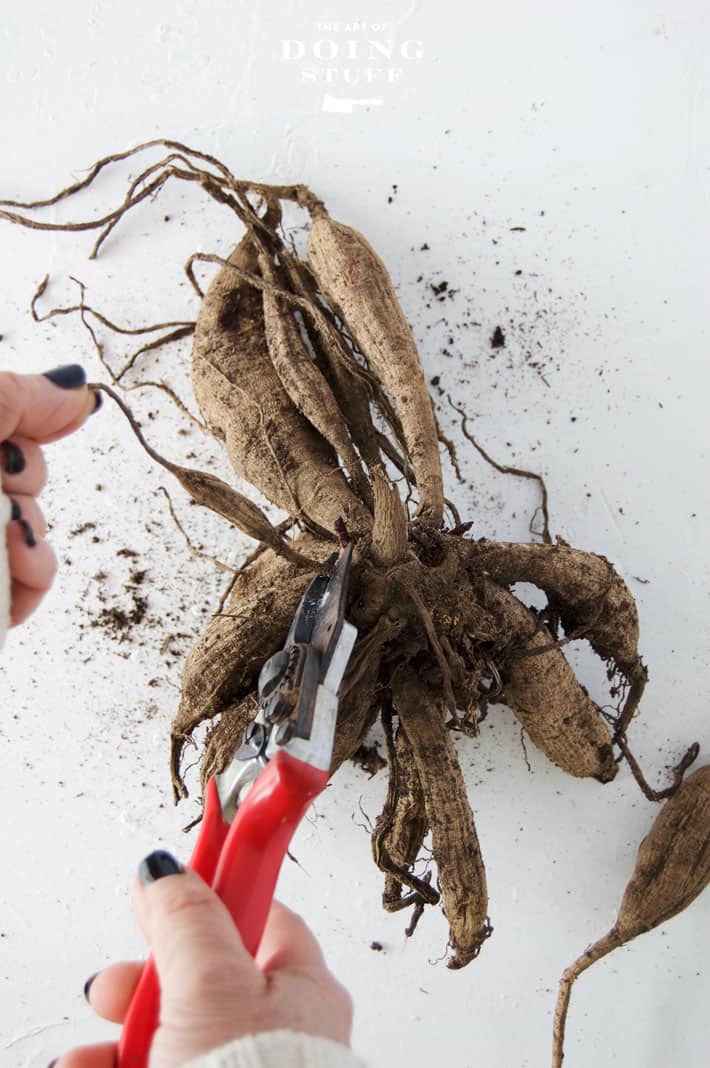 See? That's not going to do anything for you.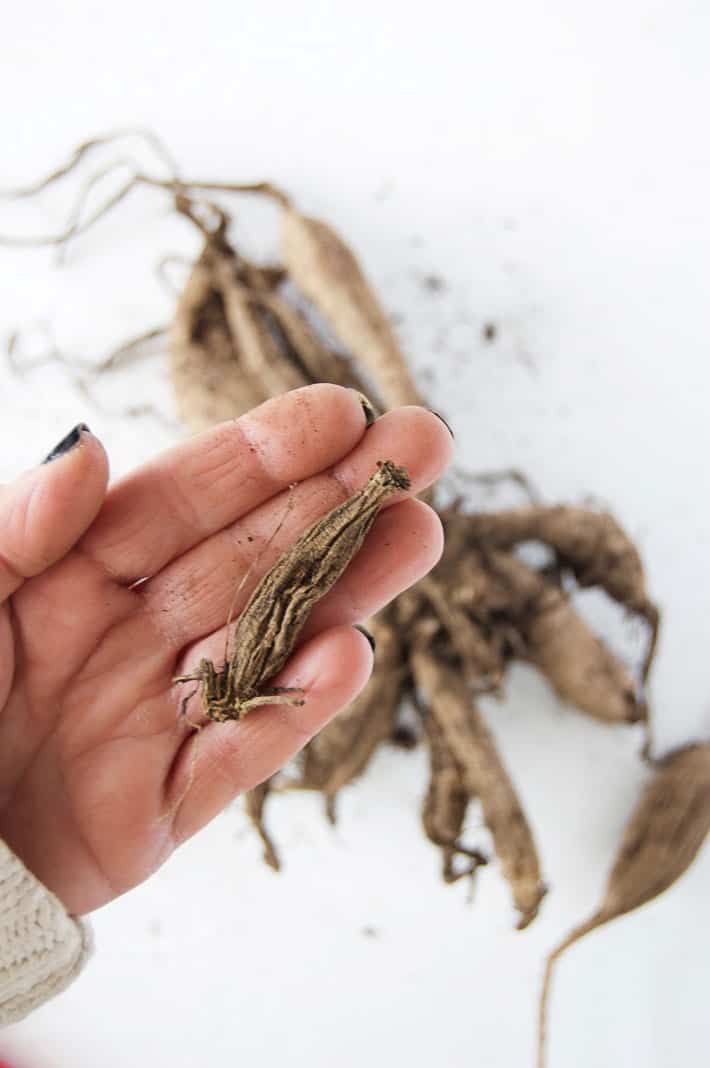 2. Once you get all the extraneous stuff trimmed away you can better see what you're working with.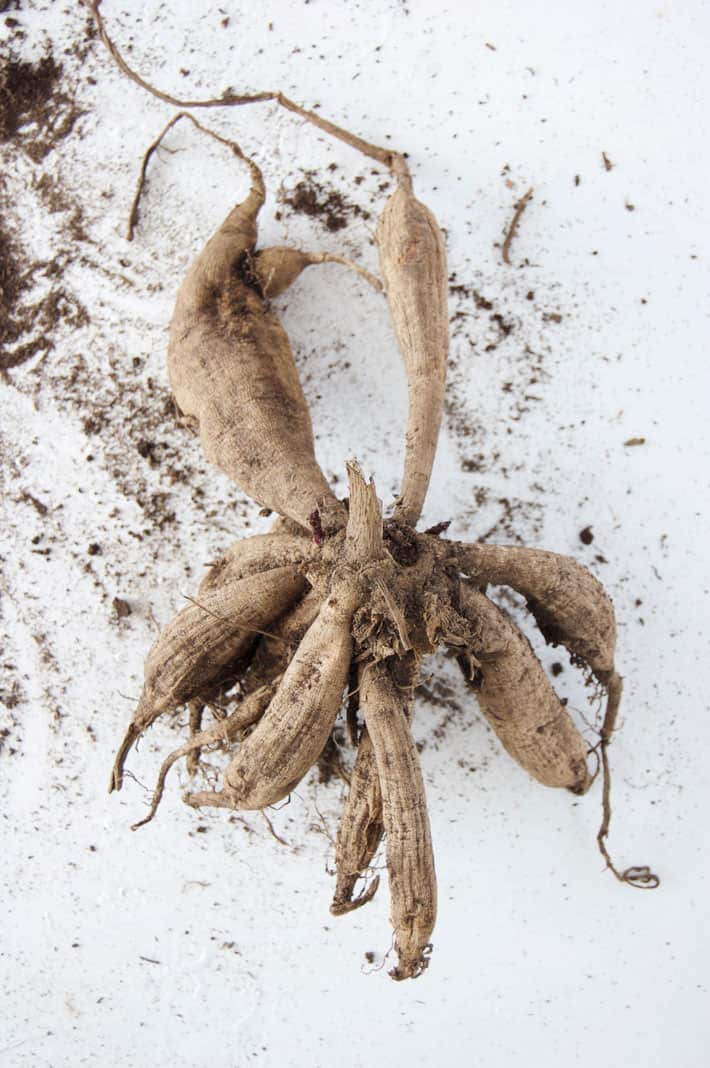 3. Dahlias sprout from eyes on the very top of the tuber necks. So start cutting off each tuber, making sure to include enough of the neck that you get some eyes.
4. If there are any tubers growing off of other tubers, cut those off and throw them away. Those piggy back tubers will never produce Dahlias. The big main one will, just not its parasitic twin.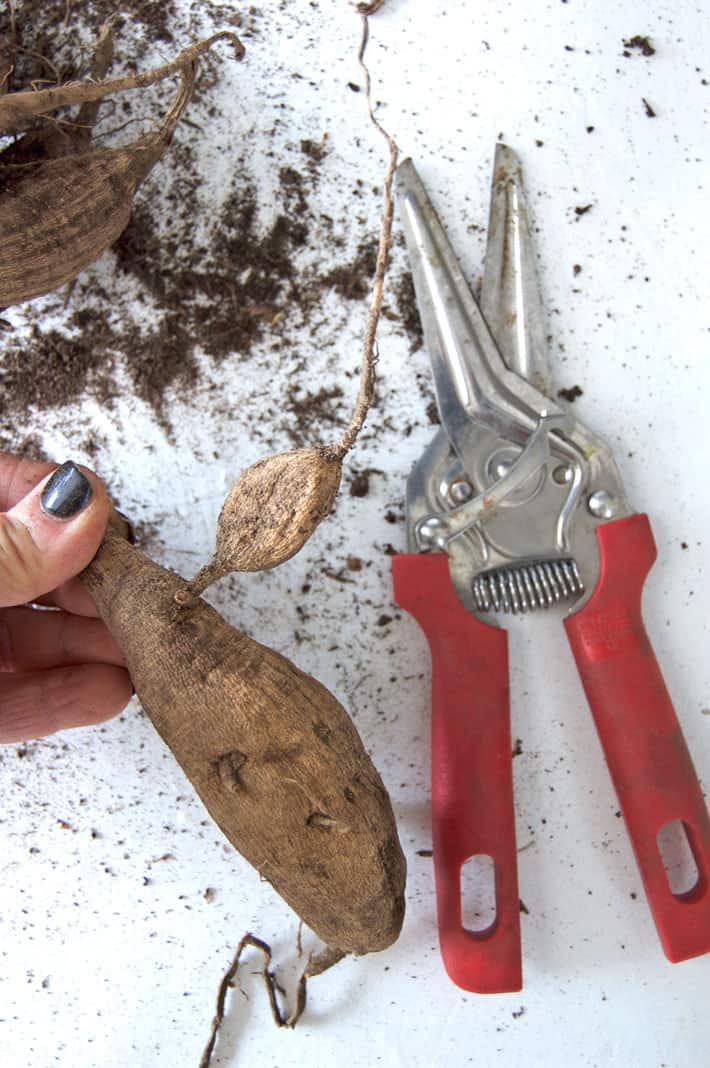 If you're lucky, your Dahlia will have already started to sprout which makes spotting the eyes easy. They'll have a stem coming out of them. Or they'll be swollen enough that you can spot them like in the photo below.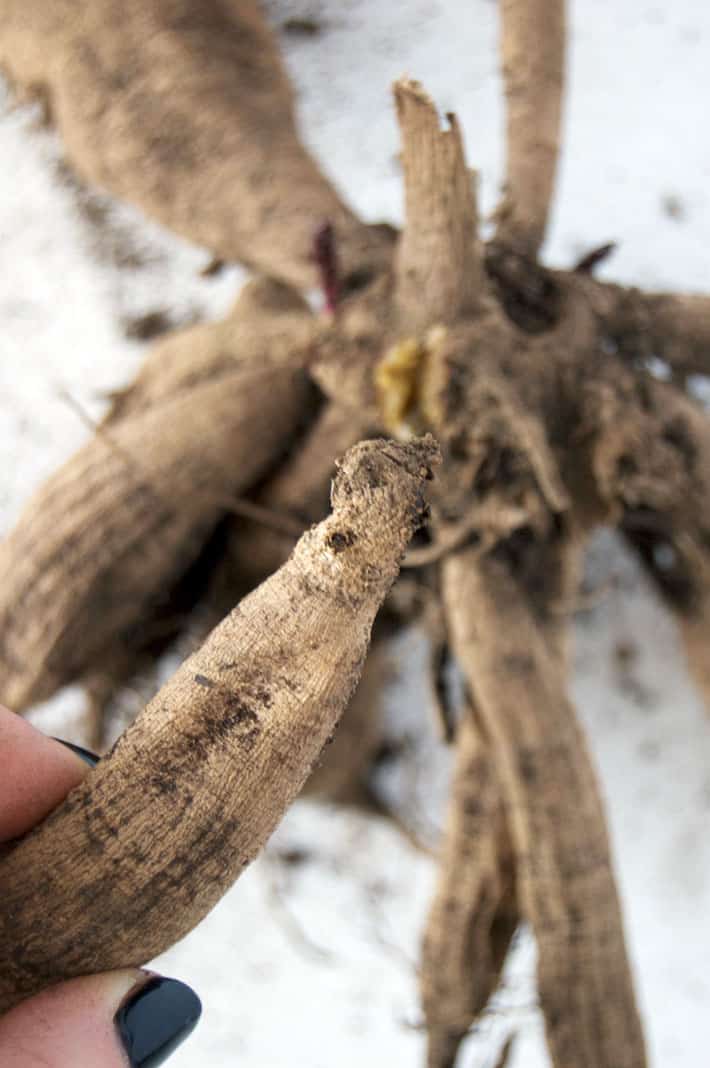 For any tubers that didn't have an obvious eye, I just cut them, taking plenty of neck and hoped for the best.
I told you I wasn't some sort of Dahlia expert, right? Like, we've established that haven't we? 'Cause I don't want you to think I'm posing as some sort of Dahlia expert. Really I'm just a girl with a pair of clippers.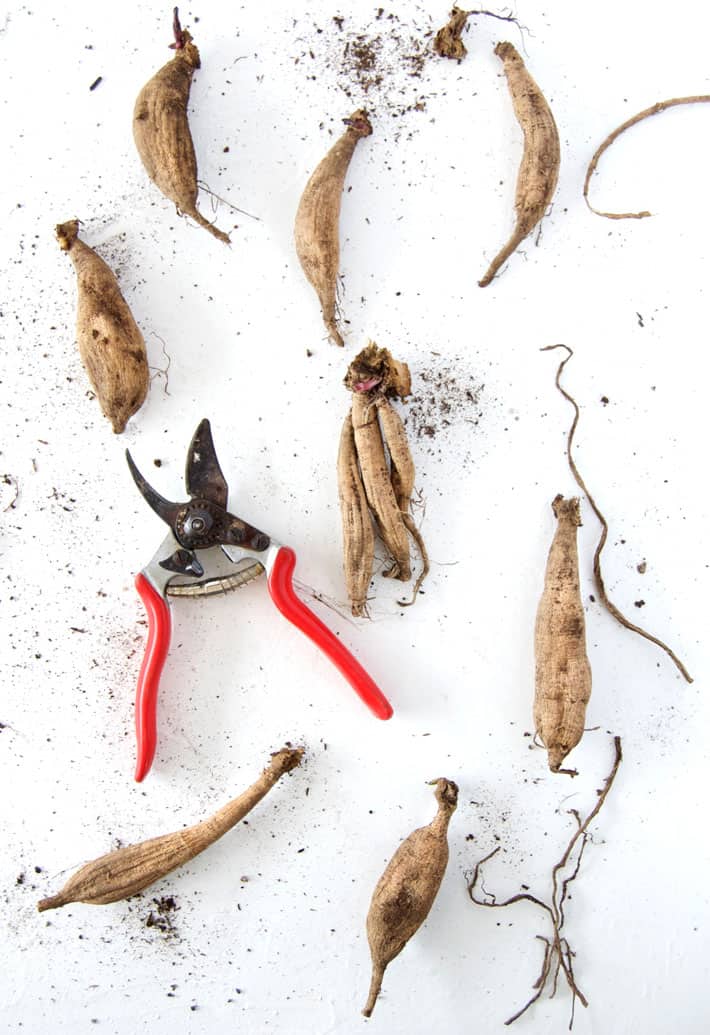 Once you've decimated the horror show of tubers, you'll have several individual, viable tubers for planting this year – all out of that one tuber from last year. This compounds year after year until eventually you have enough Dahlias to start your own free love hippie compound.
Dahlias can seem overwhelming because they do need a bit of work what with having to dig them up, hex them, and replant them every season. They demand attention, you can't just plant them and forget them. Don't let their bossiness stop you from growing them though. Divide … and conquer your Dahlias.
→Like to Sweat, Swear and do Stuff? GET MY POSTS emailed to you 3 times a week←