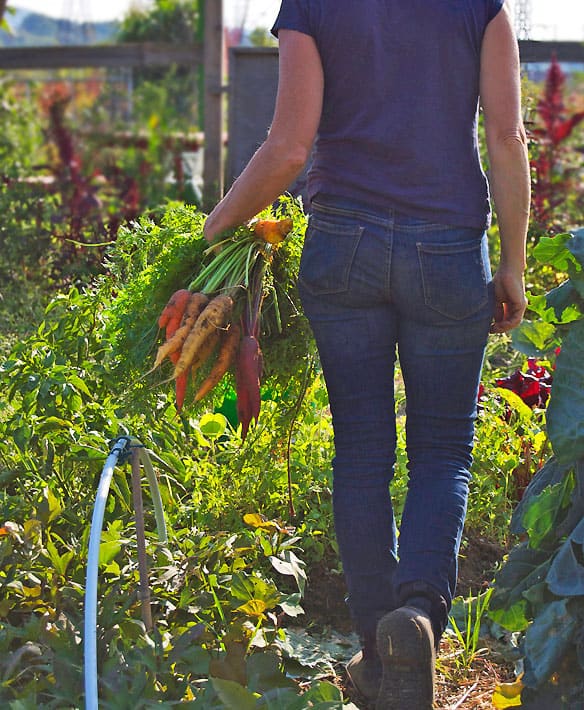 I love this time of year in Canada. I know I profess to hate fall, but really I don't. What I don't like is a summer that doesn't really exist which is what we had in Southern Ontario this year. It didn't have the kind of heat I look forward to and when you combine that with the fact that this spring was as cold as most winters, and the winter was as cold as most winters on Mars … well, I could just use a few more weeks of heat and sun.
I got that last week when a few days rolled in that had the heat of summer, but the feeling of fall. The sun is lower in the sky, the leaves on the trees make a certain rustling sound that they only seem to make in the fall and the nights are cool enough to warrant eating soup. Kind of a perfect combination really.
I took advantage of the weather, the good mood and a day off to head up to my community garden to pick my carrots. I still have another bed of carrots that I planted later to pick after a frost, but these ones I had to get out of the ground. They were starting to be feasted upon by a variety of forest creatures. Mice, rabbits, Griffins. That sort of thing.
There are a few different long term storage methods for carrots. For any of them to work there has to be a way to keep the moisture in the carrot. If you have a garage you can sometimes just pile them into a Rubbermaid garbage can for the winter.
If your winters aren't toooooo cold, you can just leave them in the ground. In fact that's what I do. Which normally works out great, unless you come across a winter like the Mars winter we had last year. More than once I had to go outside with buckets of hot water to try to thaw the soil enough to pull out a carrot.
And then there's the sand method. It involves putting a 1" layer of damp sand in the bottom of a crate and then layering your carrots on top. You use a layer of damp sand and then a layer of carrots (not touching). Another thin layer of sand, and then another layer of carrots and so on.
The dampness of the sand keeps the carrots from going soft. Just keep the crate in a cold room or garage and you should have carrots for the rest of the winter.
And this method isn't just for gardeners. It will also work with that big, bulk bag of carrots from Costco. Buy the huge bag, then store them in damp sand and never have a bag of rotted slimy carrots again. Maybe.
You can also use damp Peat Moss as your medium. Since I had that, that's what I used. What you're doing basically is reproducing the conditions that the carrots live in. Damp dirt.
2019 Update: I now use Coco Coir as my storage medium.
I always start off wearing gloves with jobs like this. And then I ditch them. That's why I always have such luxurious looking nails. Cough, cough.
You may have noticed at the bottom of the above picture my plant marker. I had some plastic plant markers from Dollarama that I was using to label the different variety of vegetables in my garden but I ran out of them. So I just started writing on rocks. My garden has plenty of rocks. I'm pretty sure they fell out of the head of the gardener who had this plot before me. Because who would ever give up such a nice garden allotment? Only someone with rocks in their head obviously.
Bring your whole set up out to the garden with you. Your crate and peat moss or sand. That way there's less a chance of them drying out. Just pick the carrot …
Cut the top off (as close to the shoulders of the carrot as you can get) …
Update: This photo doesn't demonstrate how much you should cut off. You should actually cut into the top of the carrot otherwise they'll sprout. However, if your goal is to replant the carrots after storage for seed gathering, leave a bit of the green top and shoulders.
… and layer them in the crate. Sand (or peat moss), carrots, sand, carrots, … until the crate is full. Since my crate had spaces in it big enough for the peat moss to fall through I lined it with a flour sack tea towel. Then I'll fold the towel over the top of the final layer of peat moss. You can also just put a folded up newspaper on top.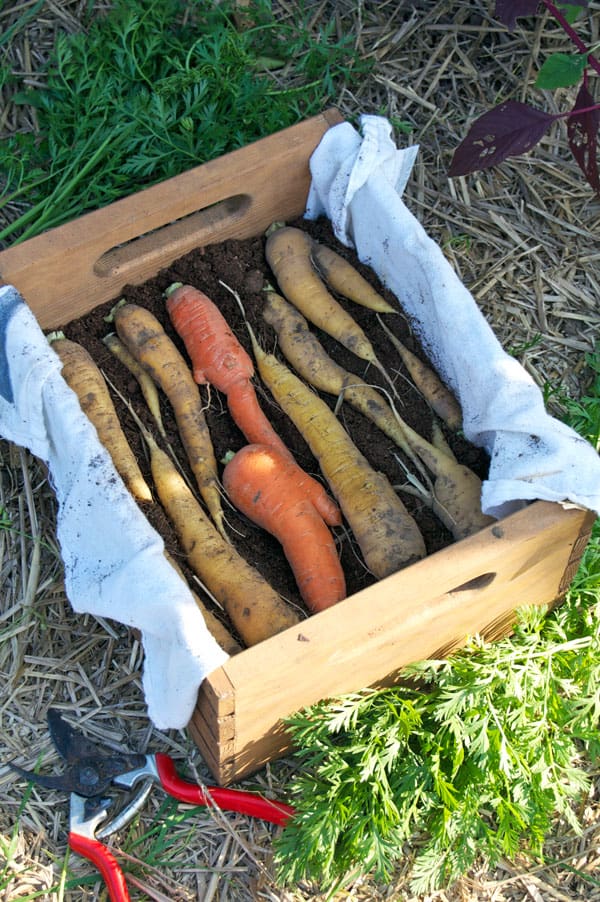 You don't have to do this with a super-cute crate either. You can use a tupperware bin. In fact a tupperware bin would probably be better because it'll keep the sand and peat moss damp. I'm going to see how this works in the super-cute crates and if I notice the peat moss drying up I'll just move everything into a tupperware bin.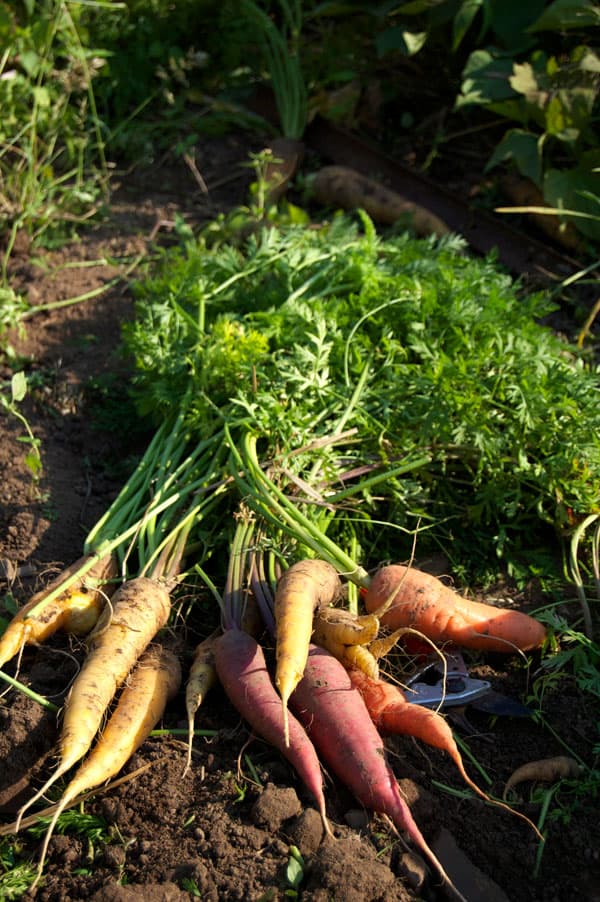 As cute as a crate is, really this is the best way to look at your carrot stash. Just laying in the garden looking all carrotty and beautiful. Incidentally it's also the best way to catch a Griffin.
The damp sand method is also a great way to store beets and I may even give garlic a shot with it. Garlic also grows underground and needs a lot of dampness to not dry up.
---
If you grew beets try my pickled beet recipe that's full of fall spices. They're one of my favourite things to put in salad.
---
The carrots I'm growing in my front yard are going to stay where they are with a heavy layer of straw mulch over them. Hopefully we won't be dealing with another winter from Mars again, but if we are at least there'll be Carrot Ginger Soup to get me through it.

→Follow me on Instagram where I often make a fool of myself←