Don't think you like beets? You might like pickled beets because they taste like an explosion of fall spices distributed through a sweet and vinegary brine packed with flavour. GREAT on salads.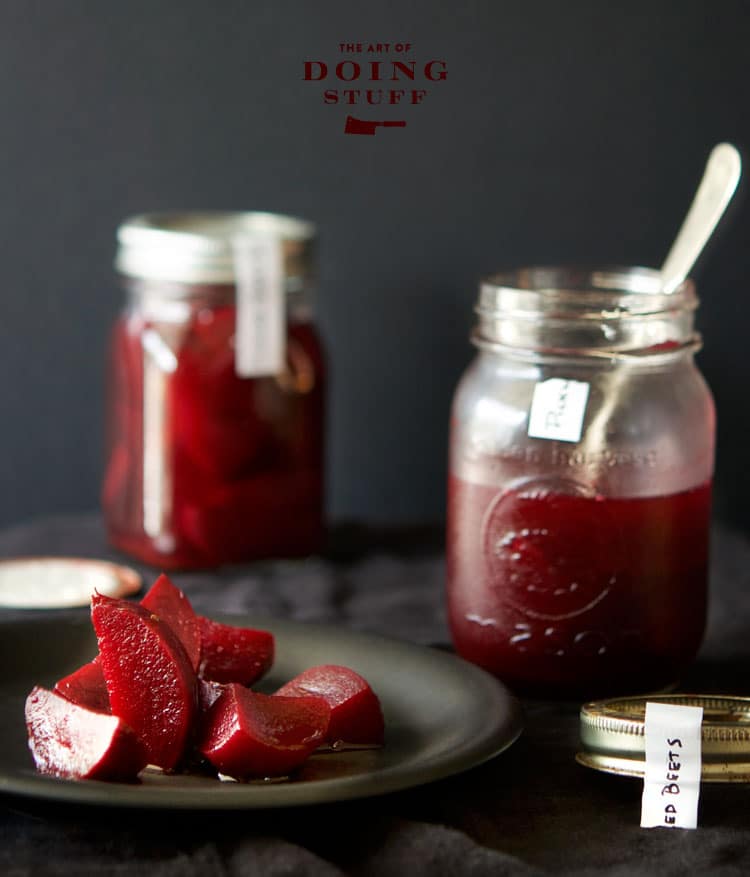 You haven't lived until you've eaten a pickled beet.
Unless you've kissed someone in front of the Eiffel tower, while cherry blossoms rain out of the sky. That'd probably win out in the "you haven't lived until" contest over the pickled beet thing.
But pickled beets are pretty darn good. I bet they'd taste even better while in Paris. You could clink your fork into the mason jar while wearing a luxurious but casual, all cream, down to the ground dress designed by your best friend Ralph Lauren, who presented it to you at sunset, on horseback, while vacationing at his ranch. That you're considering buying. Once you get back from Paris.
Now that I think of it, pickled beets are kindda shit, compared to all the other great things that could happen in one's life.
Let's try this again. Pickled Beets! They're better than an open wound!
Good. Glad we got that straightened out.
There are a few variations of pickled beetroot and I like the ones with sugar, vinegar and autumn spices. They have a similar taste to my bread and butter pickles. And I mean similar. Not the same. This pickled beet recipe is different but similar.
This year I tried a new pickled beet canning recipe because ... shock of all shocks ... I was finding my old recipe a bit too sweet. I guess my tastes have changed. Or sugar has become sweeter in recent years.
I assume since you're here, and you're still reading, you too have an interest in pickling some of these suckers. Maybe you like them, or maybe you've never tried to make them, or maybe you're going to the Eiffel Tower soon and figure you should bring a jar. Regardless of what the reason is, you're in the right place.
Because I am right now, at this very moment, going to share my most recent Pickled Beet recipe.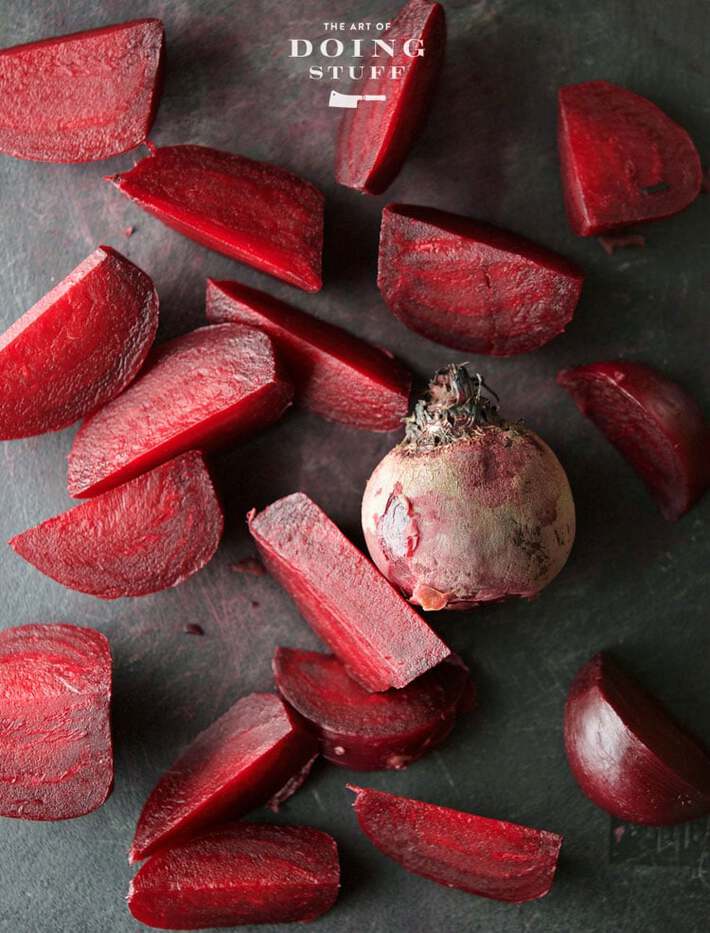 HOW TO MAKE PICKLED BEETS
Put a large pot of water on the stove. Bring to a boil.
Cook 10-15 pounds of beets. I normally roast beets but for this many I find boiling them easier.
Mix brine ingredients together.
Peel and chop beets.
Add beets to brine and simmer 10 minutes.
Pour beets and brine into jars and process.
That's it.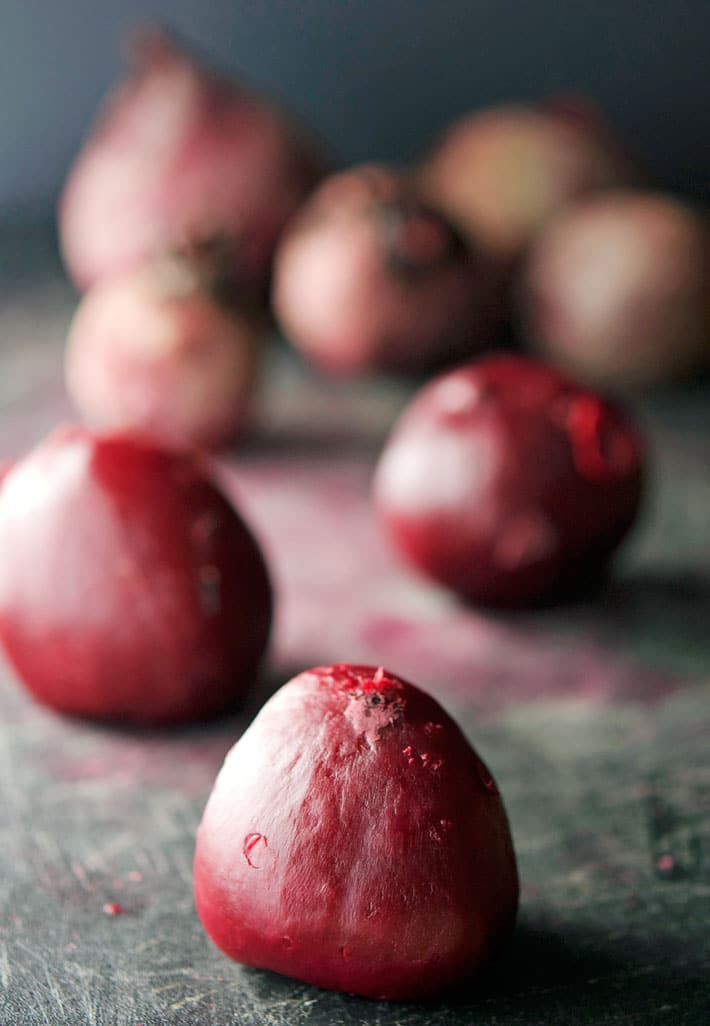 The easiest way to remove the skins is to cut the tip and root off, then rub the skin off with a paper towel. The skins should just come right off. Since this is real life, there will be the odd stubborn one. Those ones are assheads and you can either throw them at someone or use a knife to get the skin off. Or throw them at someone.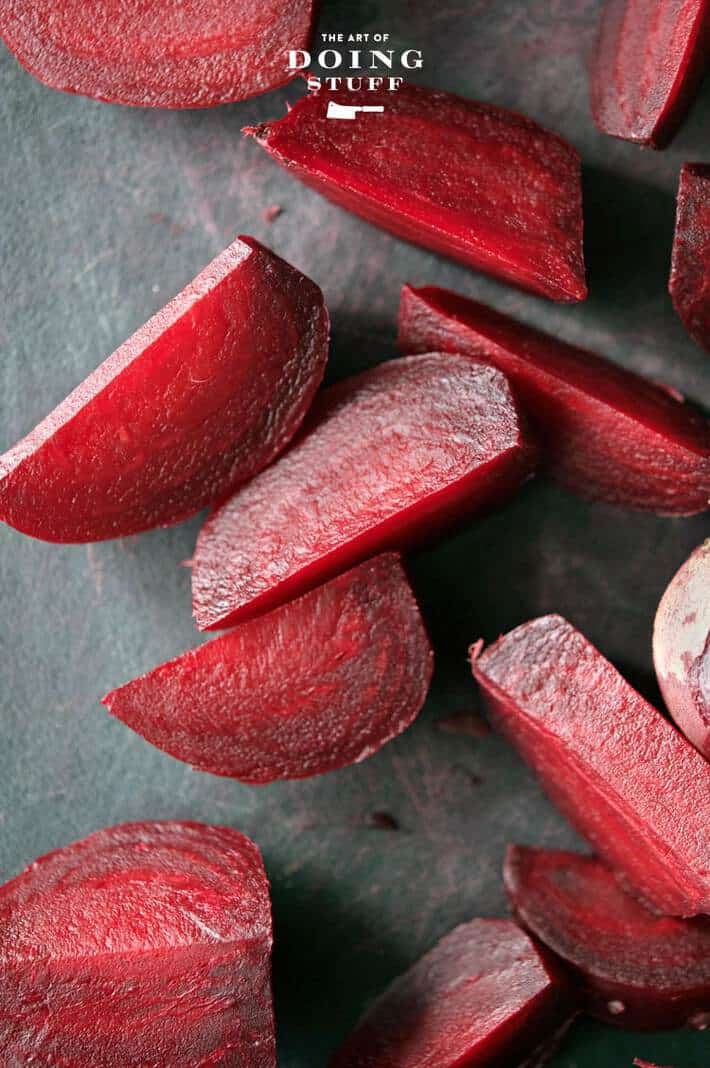 You can either quarter or slice your beets. I like to quarter them.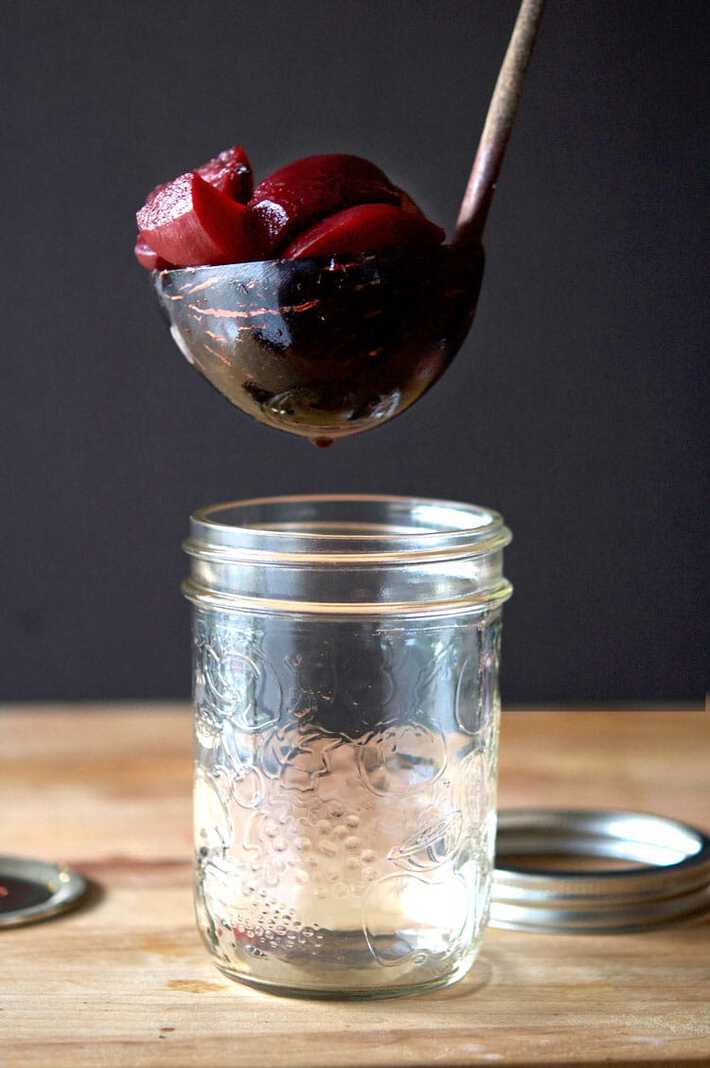 If the quarters are too big, cut the quarters in half.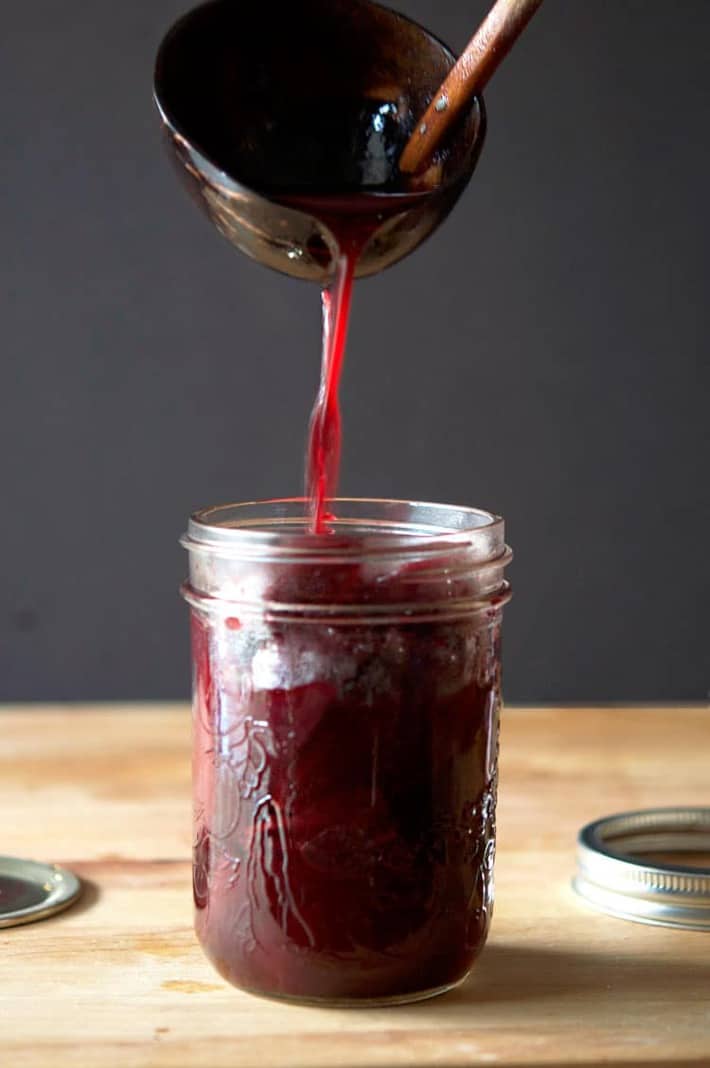 Even if you don't happen to like the taste of pickled beets I almost feel like you should make them based on how pretty they are.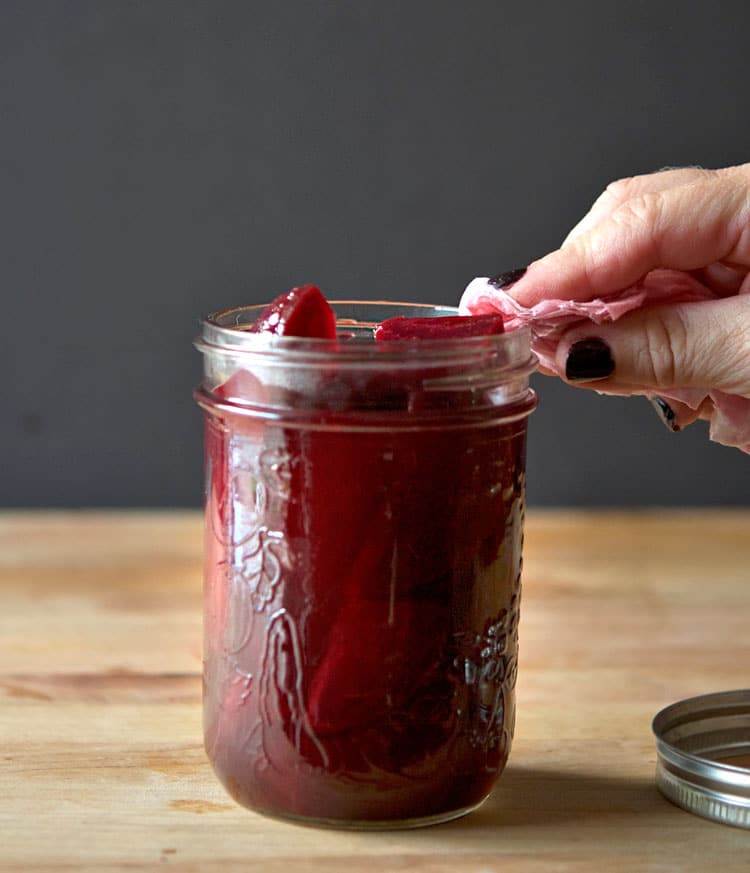 Don't ever forget to wipe the rim of your jar when you're canning. One little drip will ruin any hopes of getting a proper seal. Then you'll cry.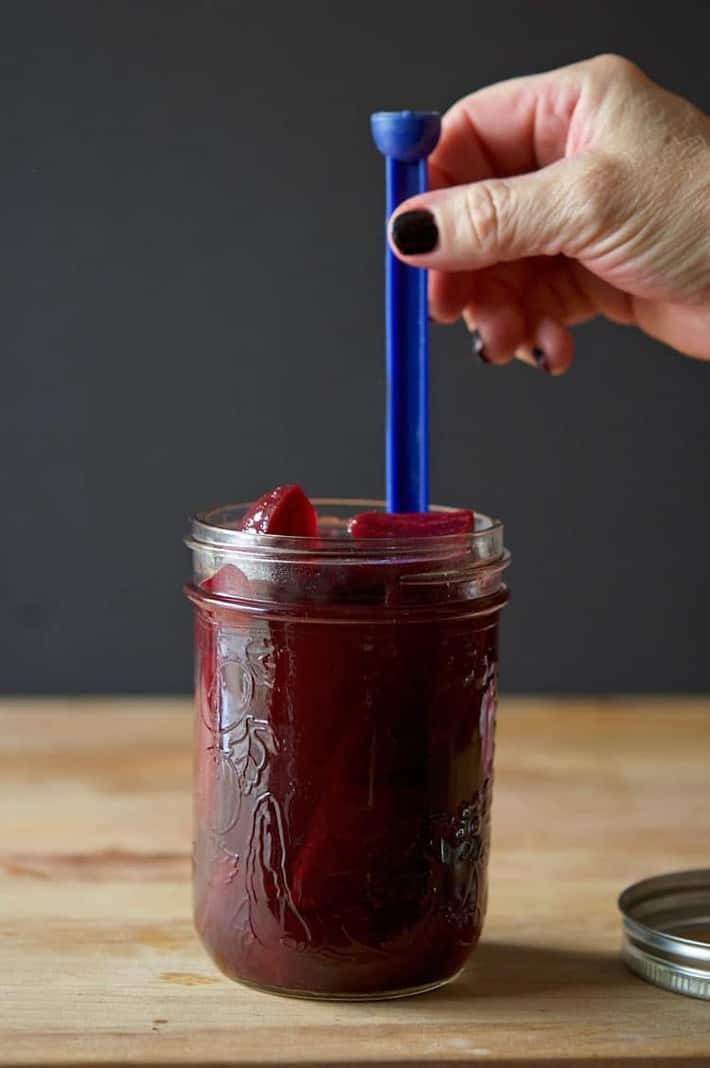 If you don't have one of these little metal sticks, grab one here. They're made for picking up the sealers out of the hot water and they're great. If you don't have any of the handy canning stuff, get this whole kit. You get the magnetic stick, a can grabber, funnel and a bunch of other stuff.
Are Pickled Beets as Good For You As Raw Beets?
Beets are really high in antioxidants (they're on the top 10 list in fact) But when you pickle them they lose a percentage of their antioxidant qualities.
Plus of course, pickled beets are filled with sugar which isn't what most people would consider a healthy addition to a vitamin packed vegetable.
So no, pickled beets aren't as good for you as fresh beets. If you're looking for the BEST health option, raw or roasted beets are your best choice.
Canned Pickled Beets Recipe
How to make and then can pickled beets to store all winter long.
Ingredients
10

lbs

beets

3

cups

water

7

cups

vinegar

4

cups

sugar

2 ½

teaspoons

cloves

2 ½

teaspoons

allspice

2 ½

teaspoons

cinnamon

3

Tablespoons

Kosher

or pickling salt
Instructions
Cook and peel beets.

Cut into quarters.

Mix together remaining ingredients in large pot.

Add quartered beets to brine in pot and simmer 10 minutes.

Fill hot, sterilized jars to ½" from top with beets.

Fill with brine to ½" from top of jar.

Remove any air bubbles in jar.

Wipe rim clean.

Secure with seal and screw band.

Process beets 30 minutes in hot water bath.
How to Use Pickled Beets
There are a lot of different pickled beet recipes out there and there are a LOT of different ways to process them. Up until a few years ago I always just jarred them in hot jars, covered them with hot liquid and called it a day. It's always worked fine for my family. But now that I have a blog I have to be responsible and suggest methods that might not kill my readers. Because I lose enough readers every month simply by offending them. I can't start actually killing them off now.
So I decided to give them a 30 minute water bath for your benefit. Do you need to refrigerate pickled beets? Not if you process them. Will eating a pickled beet make you think you're dying when you poop the next day? Yes. Pickled beets will make your poop look like its bleeding. Will pickled beets turn your urine red? You'd have to eat a lot of them, but yes. It's possible.
Kissing in front of the Eiffel tower while it rains cherry blossoms? Technically also possible. Thankfully.
→Follow me on Instagram where I often make a fool of myself←