Knock knock.
Who's there?
Laundry.
Laundry who?
Laundry sucks, and it's made even more annoying by the fact that I don't have an actual laundry room, but a mere laundry closet. That's maybe less of a joke than you were expecting, but really all knock knock jokes are bad so this little let down can't come as much of a surprise to you.
You may wonder why I continue to fix my 16 year old stackable washer and dryer. Well for one thing, it's fairly easy to do. And for another, sometimes I wake up in a cold sweat at night, my hands clutching the nearest pillow as I wake from one of two recurring nightmares I have. My washer/dryer is unfixable and I can't find another one to fit in my laundry closet. I wake up screaming, I tell you.
I'm terrified I will never find another washer and dryer to fit in my laundry closet. That's my biggest fear in life if you don't count going blind, losing a limb, having a stroke, losing my home, getting grey pubic hair, running out of toilet paper, vomitting in public, or running out of pepperoni.
So a few weeks ago I decided one way to get a little extra space in my laundry room would be to see if I could find a laundry hamper that was long and narrow as opposed to the big squarish Ikea one I had. Turns out, Ikea had one. Because Ikea has everything because it's the happiest place on earth next to that other famous "Happiest Place on Earth" … The Dollar Store.
In case you're getting the wrong impression of me, trust me, if I had wads of cash, I'd kick Dollarama to the curb and Hermes would quickly become my happiest place on earth. Just so we're clear.
After a quick trip to Ikea I left with the 2 narrow laundry hampers I went for. Along with an orchid, 3 wicker baskets, enough candles to fill a medium sized airplane hanger, 7 mugs and a fistful of hotdogs. The Ikea hotdog is my spirit animal.
I got the hampers home and they were perfect. They took up WAY less space, immediately feeling like my laundry closet had doubled inside. I had a double closet. It was great, but I had no idea what to do with my old hampers but I knew there was potential and I shouldn't just throw them out.
Then it CAME to me. I knew exactly what I was going to do with them, and had dragged them outside to do just that when Pink Tool Belt happened by and said what she'd do with them. I loved her idea. Her idea was great. But so was mine.
I had a horrible moment of indecision when I realized I had 2 hampers and I could do both things.
HER idea was to take this hamper from the laundry pile to the wood pile.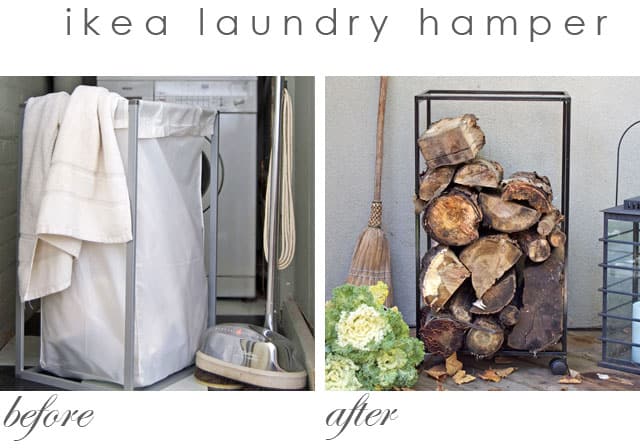 Want more STUFF like this?
Get my posts emailed to you daily.
You can see the hamper is just a nylon bag that hangs over a metal frame. It isn't even sewn on. It's just attached with velcro. You can also see how much room my hamper took up in my laundry closet.
All you have to do is remove the laundry bag to get down the the heart of the matter. The metal frame with that weird, ugly powder coated fake aluminum colour. This strange sort of fake silver metal colour seems to be a thing for Ikea. They make everything out of it. I hate it. But when it was in my laundry closet it didn't matter. I hate everything once it was in my laundry closet. It's 6 square feet of negative energy.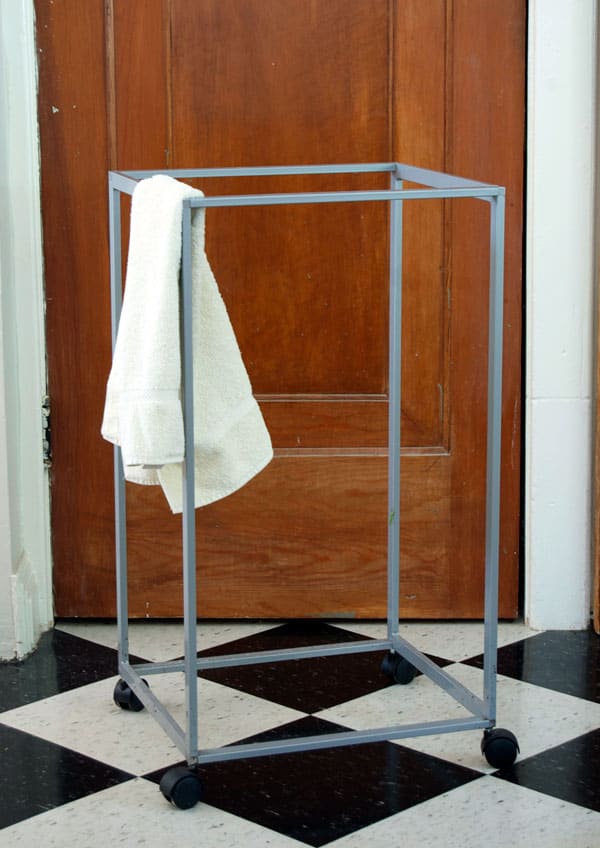 The hamper came with castors which I had removed but saved, so I threw those back on it.
Then I dragged it outside and gave it a couple of coats of spray paint.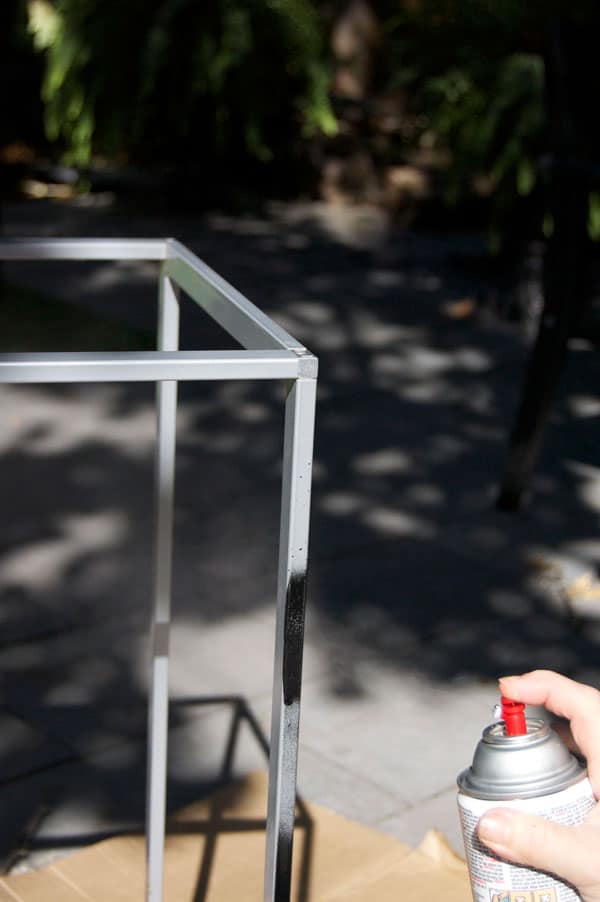 I had about 20 half used cans of black spray paint to choose from in my basement so I went for one from Krylon that claimed to need no sanding or priming. We'll see about that. I once bought some nail polish that claimed it would last without chipping for two weeks.
The Ikea hamper is perfect as a log holder. It keeps exactly enough wood for a couple of nights of fires close to the back door. If I had a bit more space in my living room, I'd keep it right beside my fireplace to hold my wood. I love the look of stacked wood inside a house.
With a beautiful, and free, log holder like this it will be sweet dreams every night. No more nightmares. Oh! And that second recurring nightmare? It involves flying to a classroom naked to take an exam I haven't studied for. That's not the scary part. The scary part is if I don't get the exam finished in time, I'll miss the grand opening of the new Dollar Hermes store.
Eek.
[shareaholic app="share_buttons" id="5342563"]