You'd better sit on your hands because after seeing this you're going to want to rip all the curtains off your walls and throw them in a ditch. Interior shutters for the win. The minimalist solution for a heritage home.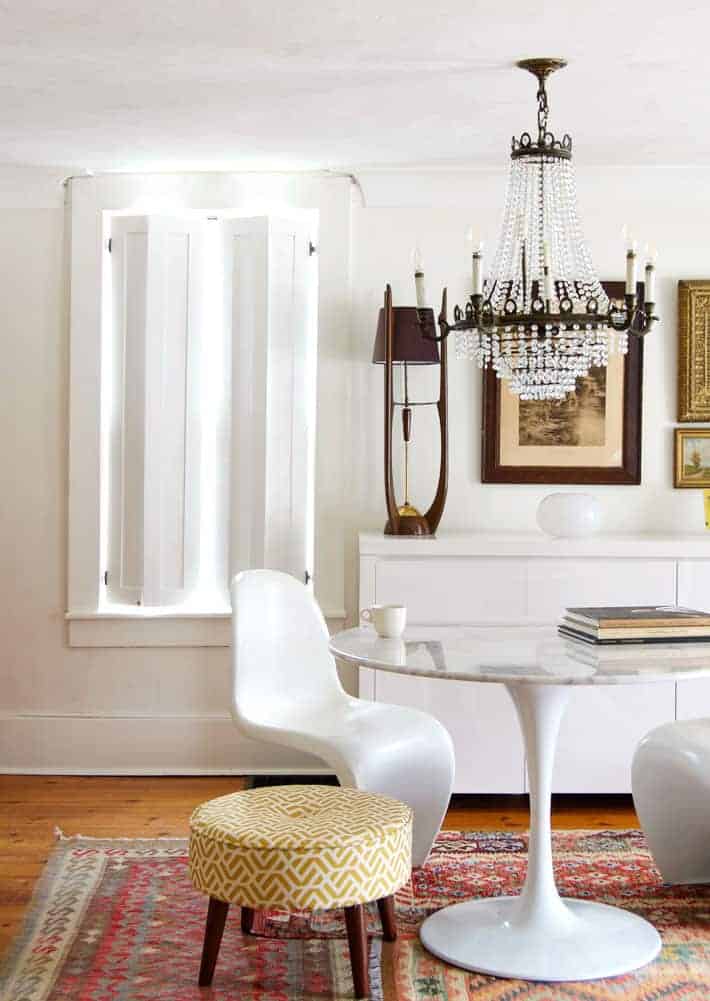 If you already know you want to make interior shutters you can go straight to my full step-by-step tutorial on how to make them.
Once upon a time I bought $15 curtain panels from the discount bin at a fabric store. As far as home decor decisions go, it was right up there with buying a shag rug from Costco. When I finally threw the discoloured, flattened rug out, I suspect many pounds of potato chip crumbs, tv remotes and socks went with it.
You can see my old horrendous curtains AND the Costco rug in this post I wrote on how to create a gallery wall. I still miss my gallery wall.
It wasn't my most inspired move to impulse buy curtains for my entire house based solely on the fact that I was out buying buttons, but at the time I needed something fast and cheap. I hung them up and loved them for the first 2 weeks or so. That's the period when I still had the WOW I saved so much money!!! adrenaline rush. Then I noticed in photos my curtains looked kind of ... well dusty rose. I have nothing against dusty rose, it's just that I hate it. Therefore I hated the curtains. Obviously I couldn't keep them so I immediately got rid of them 10 years later.
In that time my love affair with cell shades ran out as well. I had those on my windows in addition to the curtains. But cell shades are nearly impossible to wash, have a tendency to break and need to be custom cut to size.
So I spent a decade thinking about what to use as window coverings and THIS time it was going to be something that would last. Enter the interior shutter.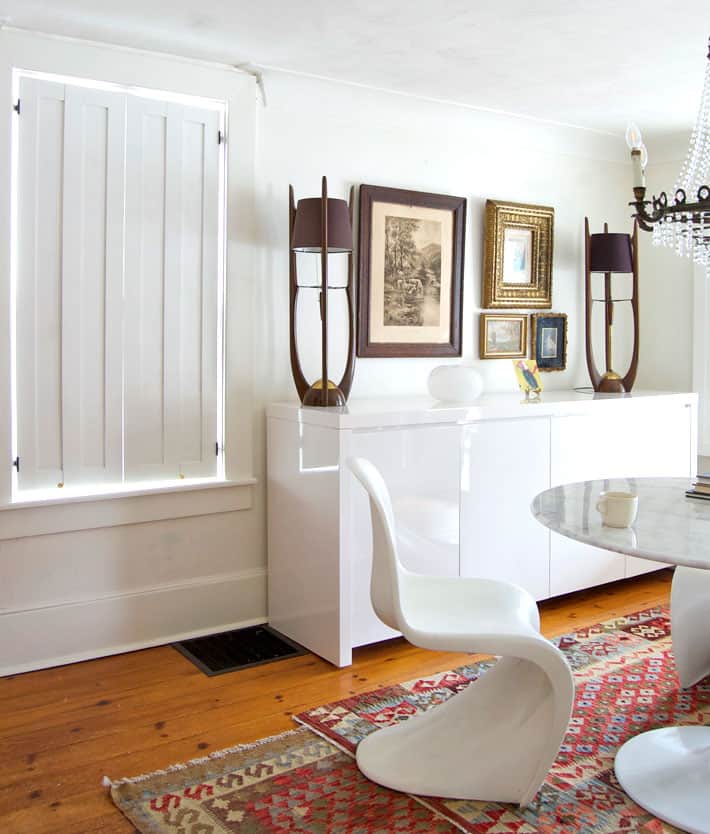 I finally got rid of the horrendous curtains and built these shutters with some birch plywood and trim. If you look at the photo above you might think to yourself ... "But there's no room to actually open them. Stupid Karen." And you'd be right. But I fixed that by designing shutters that ...
... fold in on themselves making them half the size they appear on the windows when they're closed. I've never loved anything so much in my life. I'm certain of it.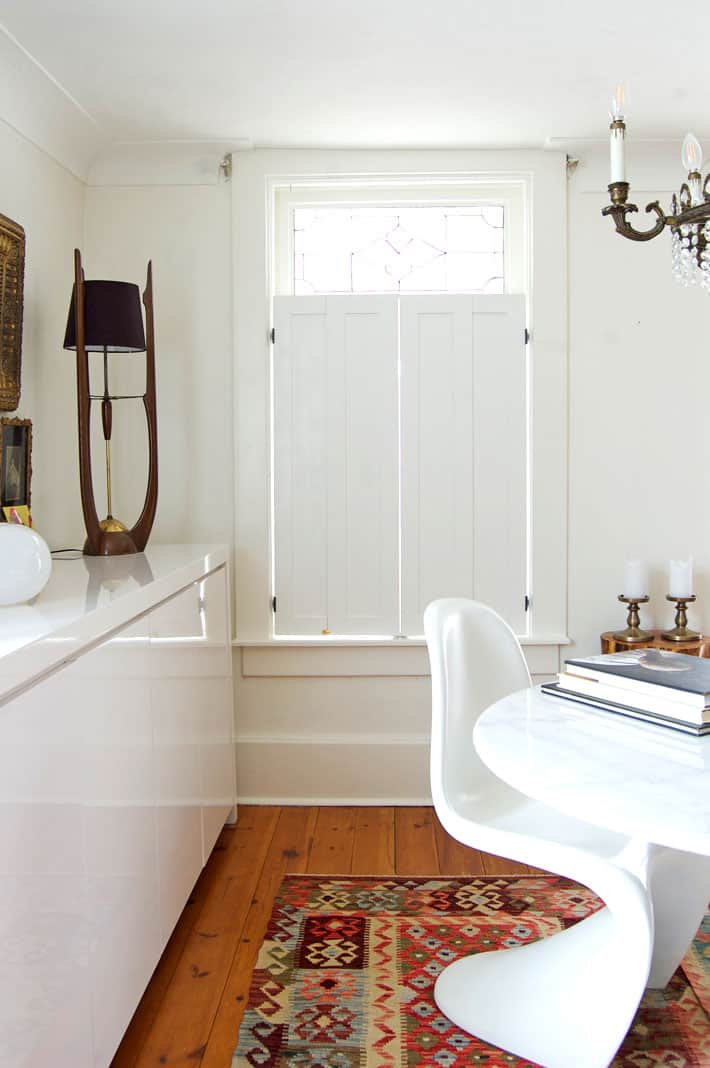 The two windows at the front of my house have a clear stained glass transom over each of them so I did the interior shutters at ¾'s the height of the window for those two windows. That way light still comes in the house during the day even if the shutters are closed, the transoms become a design feature in the rooms whether the shutters are open or closed and they're still high enough to create complete privacy.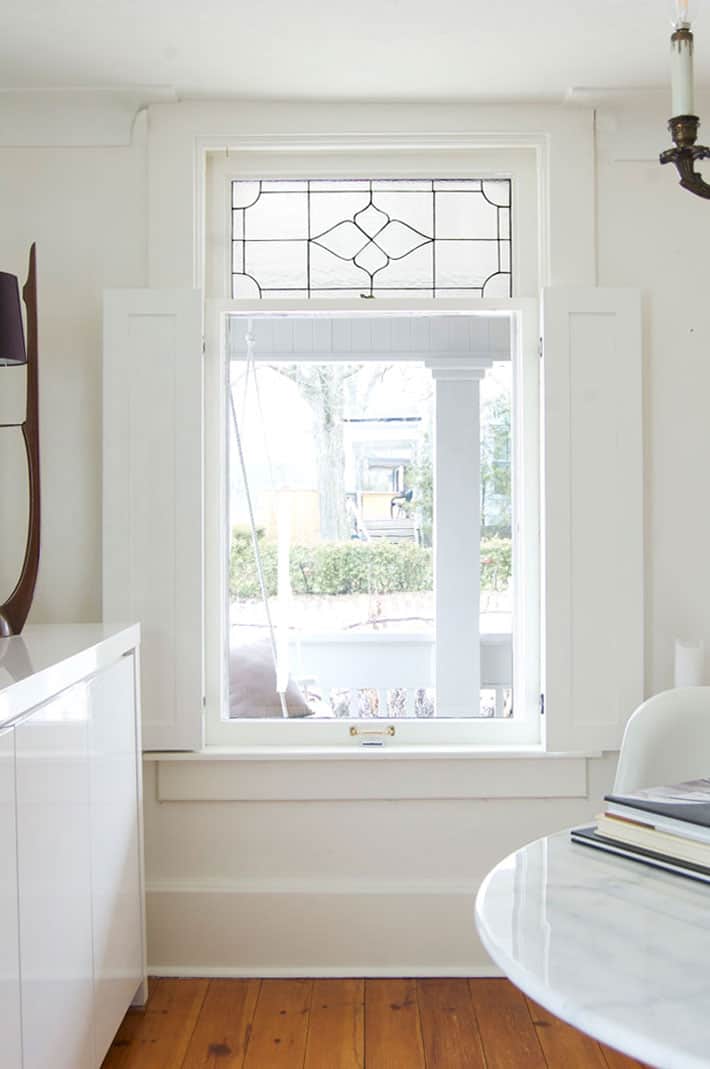 I don't have a lot of extra space around my windows. There are buffets and tables and couches everywhere. Like some kind of house or something. So annoying. I had to come up with a solution that would allow me to have full sized shutters that would fit into a tiny space.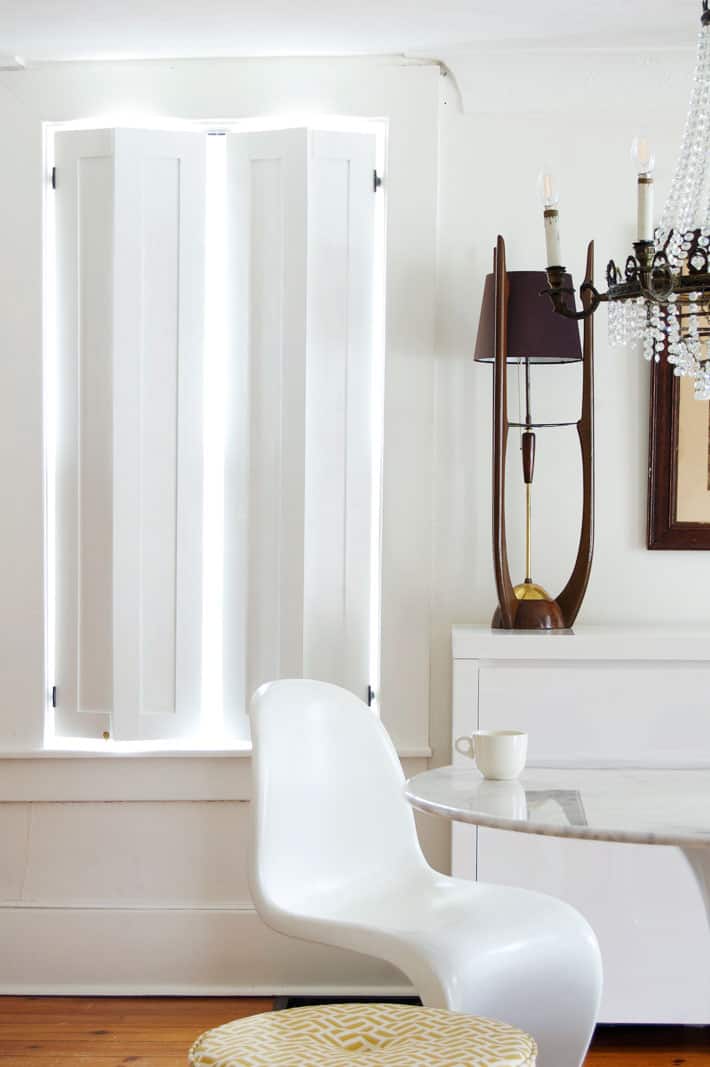 I created a concealed hinge folding shutter. And they work perfectly. The hinges that allow the shutters to fold in on themselves are hidden by a strip of trim down the centre of each shutter.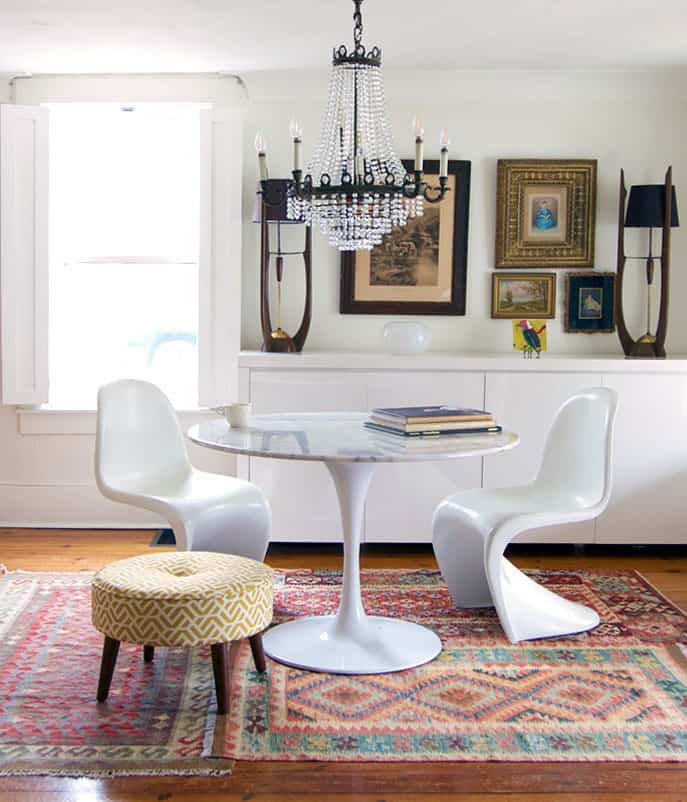 After figuring that whole thing out I realized I had a bit more figuring out to do. Because they're on hinges and made out of very lightweight ¼" plywood the shutters have a tendency to want to pop open. A few magnets here and there and a latch (that is actually a picture hanger) at the bottom and my problems were solved.
I assume you realize I'm only referring to my shutter problems. I still have those Idris Elba, potato chip and always grabbing the grocery cart that pulls to the left problems.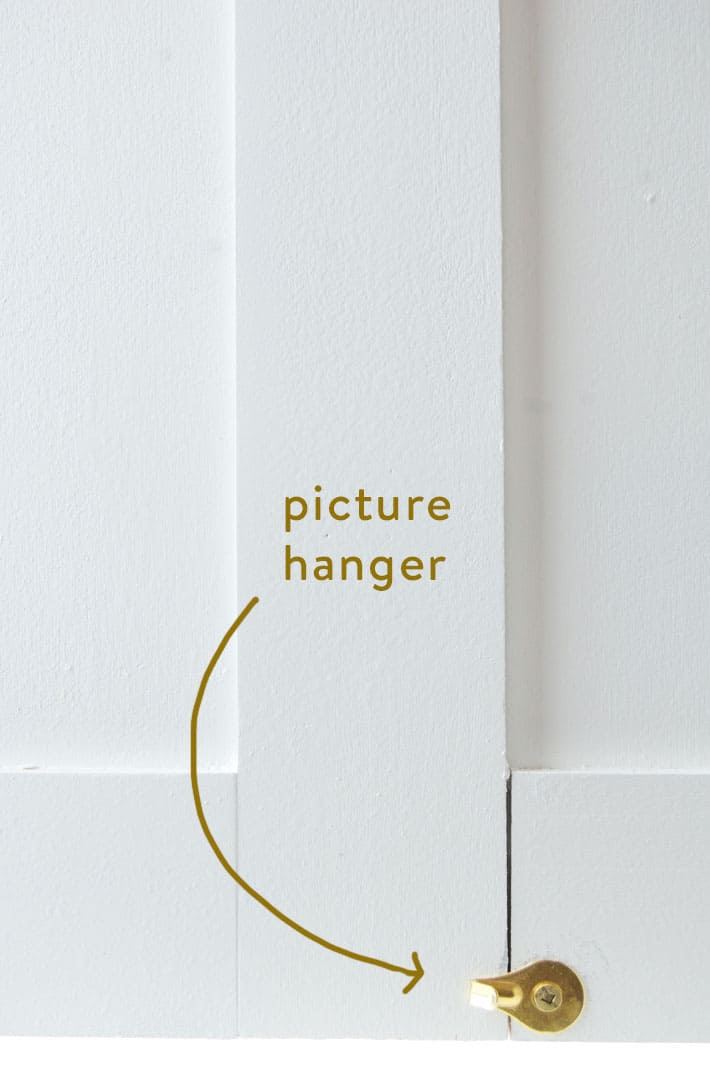 The shutters are a basic shaker style which makes they really easy because the trim joints in the corners are all just straight butts.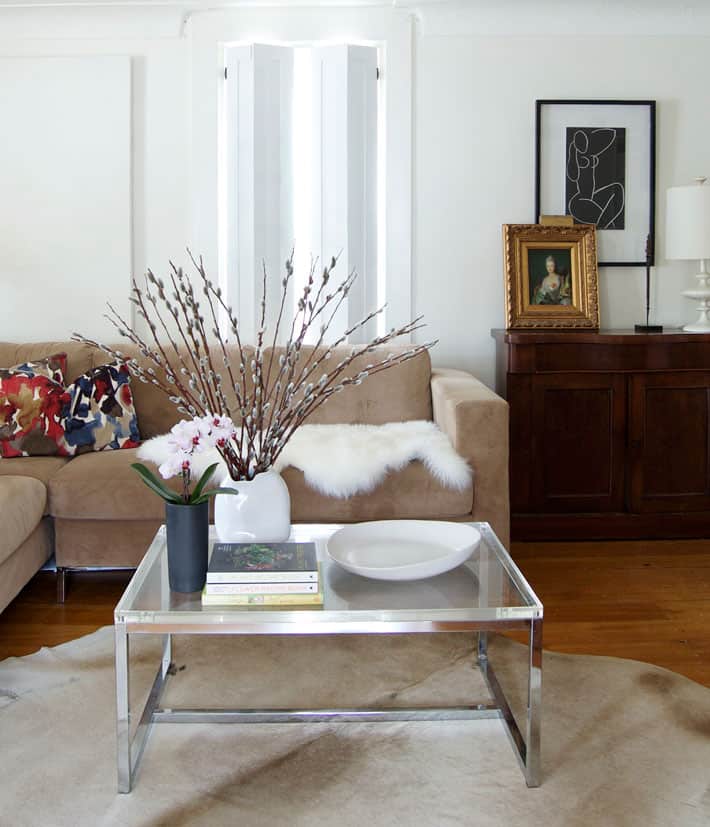 These shutters are astonishingly versatile. Because they're on hinges I can maneuver them open many different ways. I can open them so they're folded on themselves like you see below, or just crack them open a bit like you see in the photo above plus a multitude of other ways.
If you feel like your house needs some sort of architectural element, this could be your answer.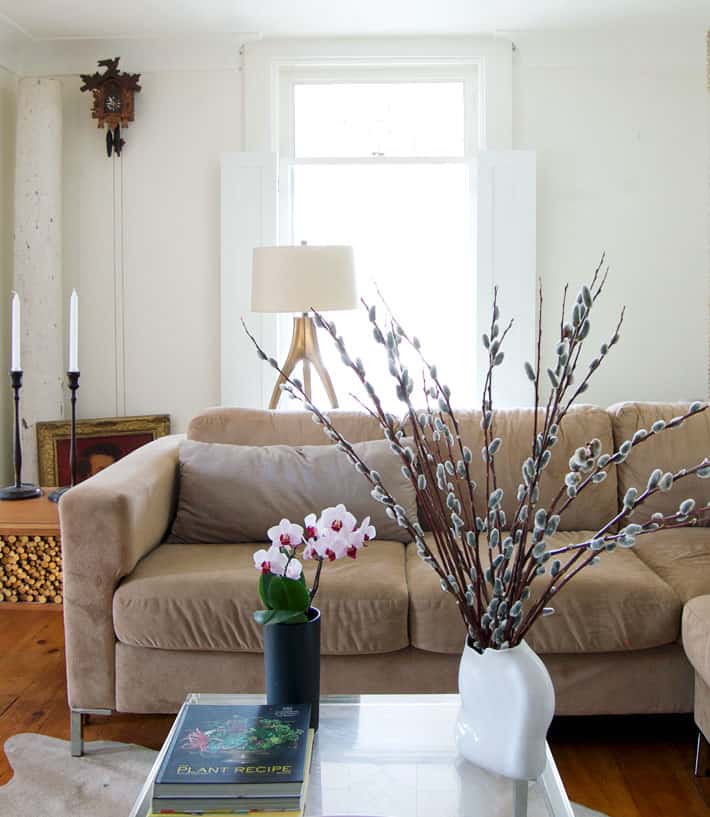 So how long did this take? I figured it would take me a full day to make these shutters. Knowing I'm always wrong about this sort of thing, I doubled my timeline and gave myself a weekend. Then I laughed and laughed as I entered day 5 and I was still making shutters. The tears didn't start until day 7. But they were tears of joy because the shutters were finally done. 5 windows of shutters made, painted and hung in 7 days.
I know that probably seems like a long time but these babies are here for good. There's more to making these than you think. It's not hard, there are just a lot of steps, mainly in finishing them. Stuff like sanding and gluing and hanging.
For more, click on over to my tutorial that outlines exactly how to build them.
→Follow me on Instagram where I often make a fool of myself←