Make a DIY plate rack out of barn board and dowels to recreate a rustic antique. Plus, low and behold it'll actually allow you to display your plates and make them easily accessible. Just grab and go.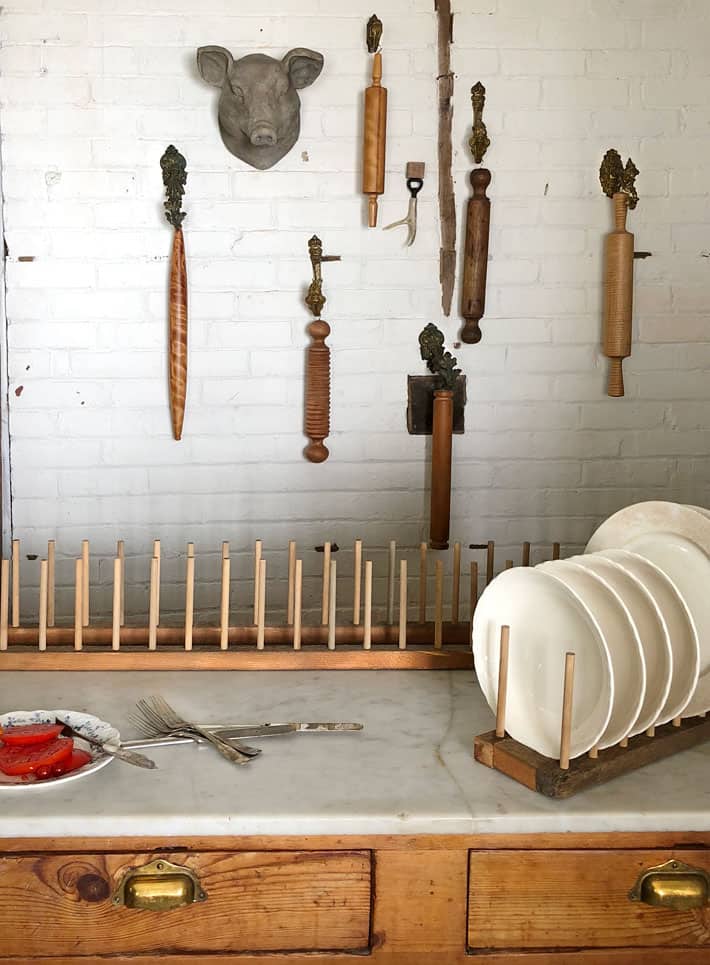 I've recently made a discovery that's sure to get written up in journals and what not. I've figured out what the most elusive and rare thing in the world is. You think the answer is flattering overalls - but it's not. The rarest thing in the world is a pretty plate rack.
For the past 3 years I've spotted a multitude of plate and platter racks at antique shows but they either aren't for sale or they've already been sold. Either way the vendor goes home with a black eye and I go home without a plate rack.
Please understand I don't curl up my fist and punch the vendors, I mean we're all civilized here. I'm at an antique show, not a cage match. I hit them with a rolling pin.
I found a couple of new plate racks at Homesense (Canada's equivalent to Homegoods) but on a scale of ugly overalls to 10, they scored an ugly overall. With cartoon pigs on them. They were unstained wood, very utilitarian looking but in a bad way, not in a "Hey - that looks sooooo ultilitarian. Very prison cafeteria chic." way.
Finally I decided to just make a plate rack. It's a couple of pieces of wood and some dowels. How hard can it be? Turns out, not very hard at all. And now that I've figured out the measurements and everything, it'll be even easier for you.
Put your overalls on, it's plate rack making time.
---
DIY Plate Rack
No plans needed, just cut everything to the size you need depending on your space.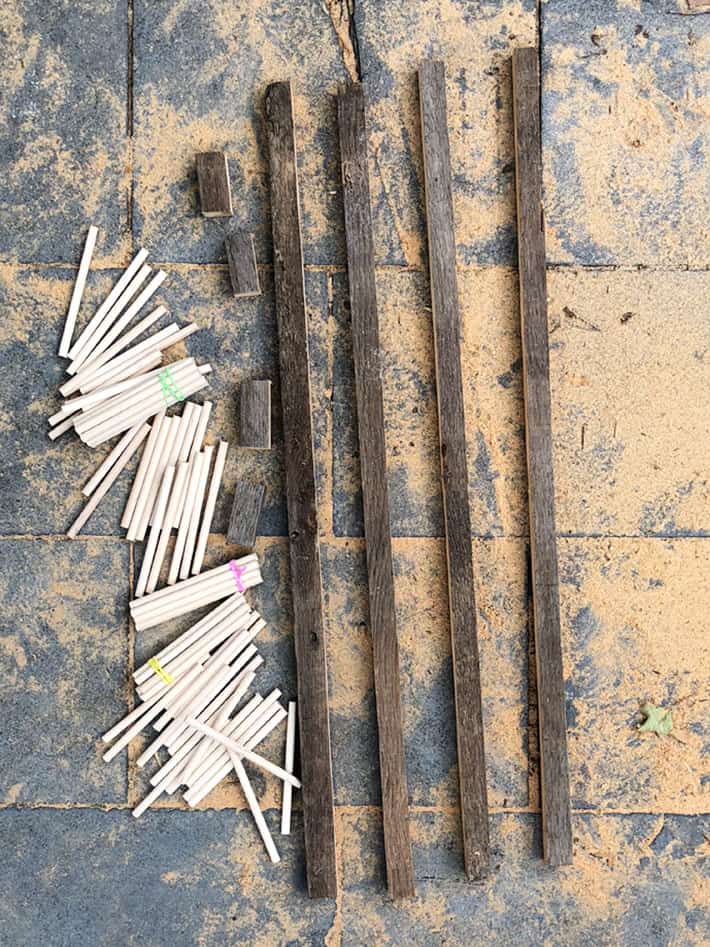 Materials
Wood dowels ( cut to 6" lengths, each approximately ⅜" in diameter )
2 strips of apx. 1" x 1" wood ( cut to the length you'd like your plate rack to be )
2 stips of 1" x 1" wood (cut to 3" lengths)
Wood glue
¼" dowel pins (¼" refers to the diameter)
Saw
Drill
Drill bits
Steps
Cut your dowels to length. To speed this process up, I tied several together with an elastic band on both ends and cut through them. I got my dowels at the Dollar store in the craft section.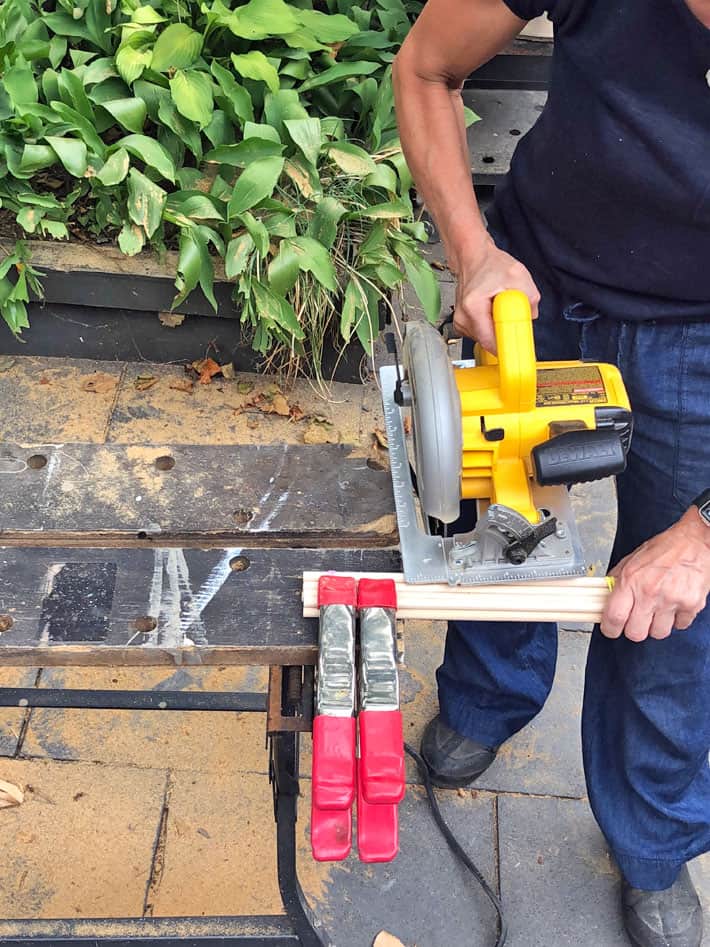 2. Cut your 1"x1" to length. Whatever length you want your plate rack to be. I actually made 2 plate racks which is why I have 4 lengths of wood.
3. Starting 1" in from the end, mark the wood rails every 2" with a Sharpie. This is where you dowel holes will be drilled.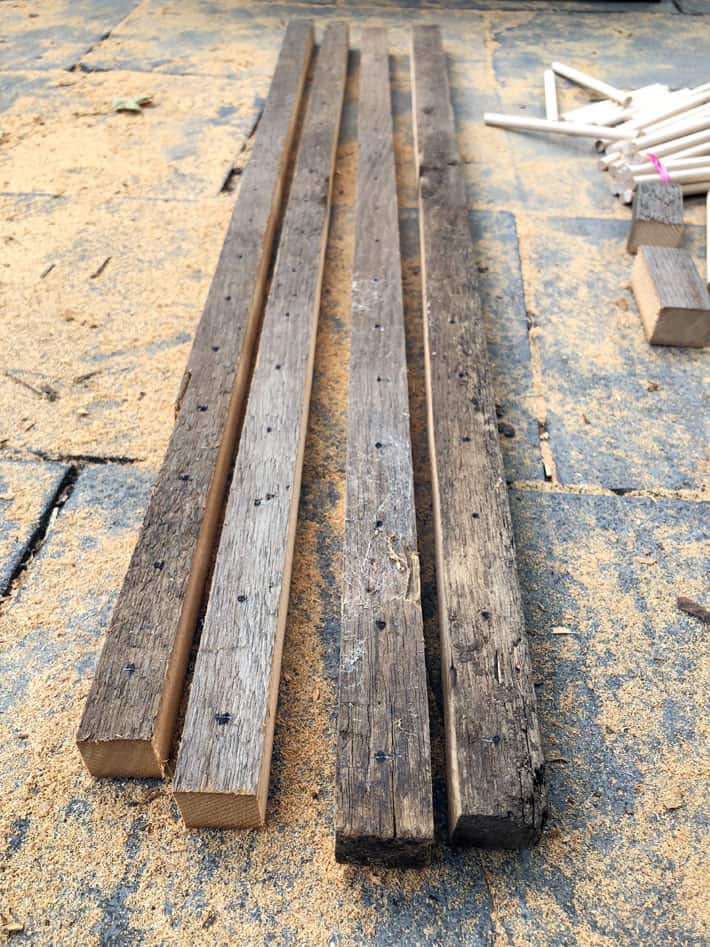 4. Drill straight through the wood rails using a drill bit the same size as your dowels. In my case it was a ⅜ths of an inch drill bit for my ⅜ths of an inch dowels.
TIP
If you're using a drill press don't forget to clamp some sort of fence to the plate. You'll use it as a guide to make sure all your holes are aligned perfectly.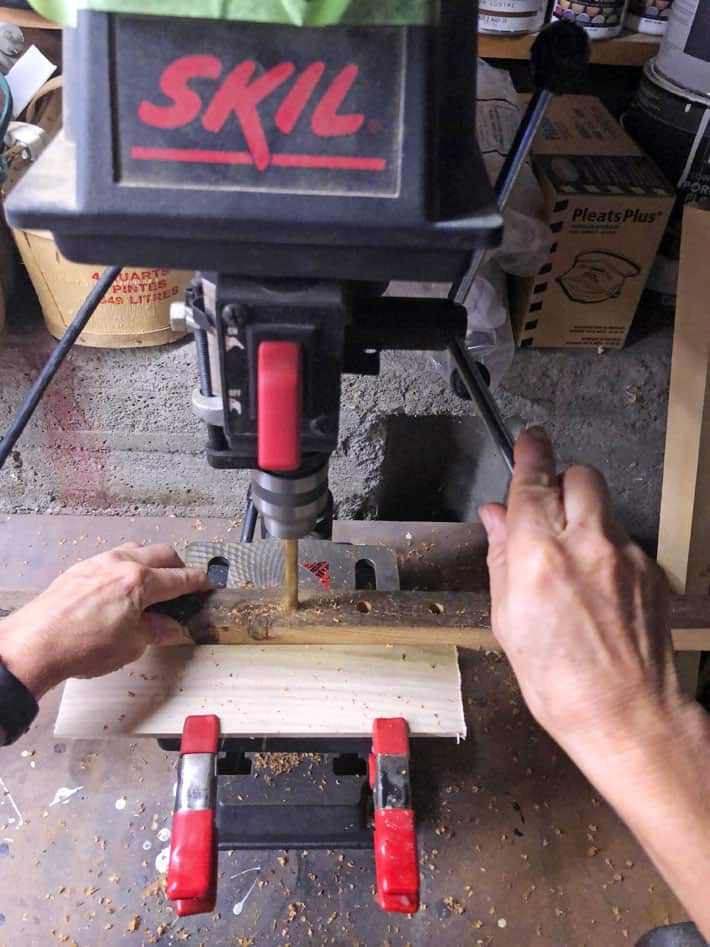 How a Drill Press Works and Why It Isn't Scary
This is where I tell you that you should get a drill press if you have room for one. Just a little one. You don't *need* one for this but it makes your work faster and more accurate.
a drill press guarantees all your holes will go straight down and not at a weird angle.
a drill press is incredibly easy to use.
you'll use a drill press more than you think you will.
See? That's all there is to it.
5. Change to a ¼" drill bit for your dowel pins and drill through the ends of your shorter wood pieces. Don't drill all the way through. Just go in 1" or so.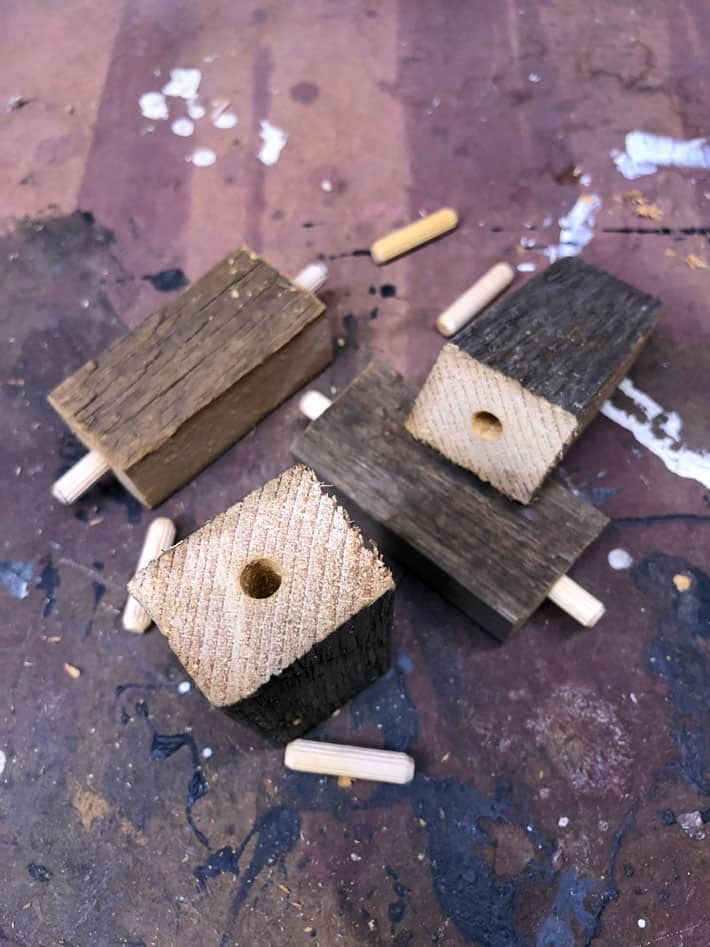 6. Drill corresponding ¼" holes in your long strips of wood and check to see everything lines up and fits.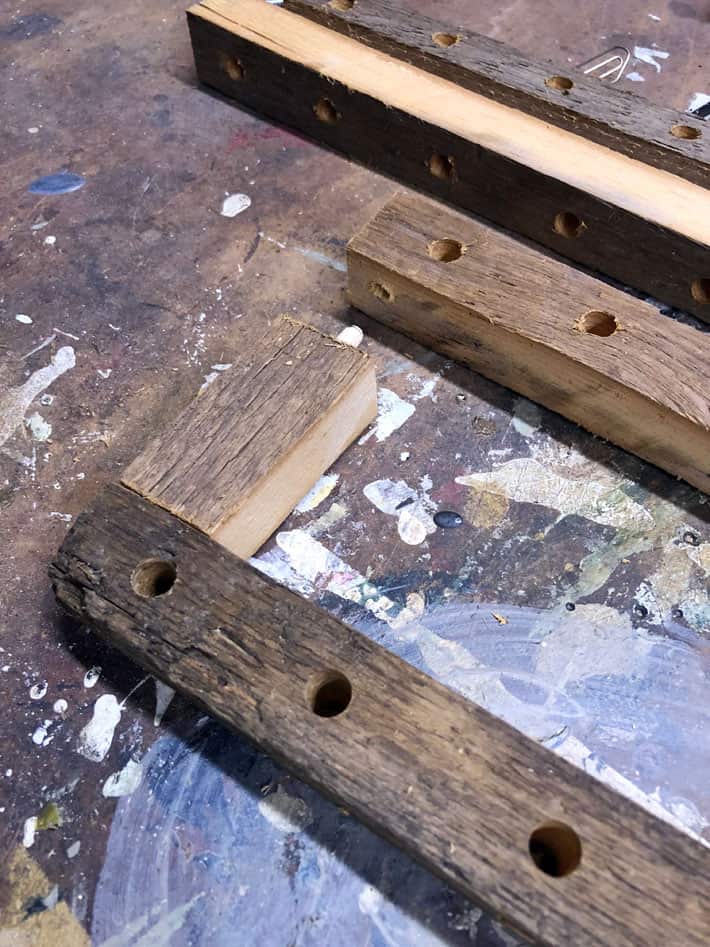 TIP
You can also just screw the ends in with 1 ½" screws from the outside of your rails into the end piece but you'll have a screw head showing from the outside of your plate rack.
To minimize the look of the screw head, countersink the screw which will create a small pocket. Mix some sawdust together with wood glue and fill the pocket. Once dried it'll resemble wood and camouflage the screw head.
You can see an example of that in my DIY egg rack post.
7. Assemble your plate rack by gluing and clamping the ends together and inserting the dowels into the holes. There's no need to glue the plate dowels into place. That way, if you happen to have a really large platter you want to hold, you can just pull out two dowels to make a larger space.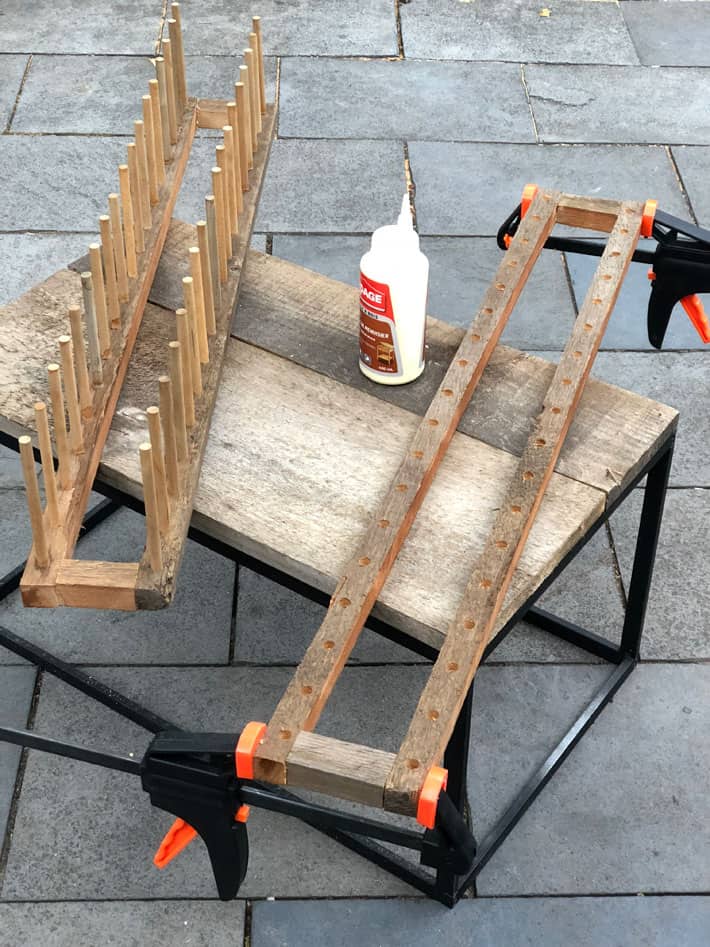 8. Stain your dowels to match your wood if you like. Since I was using strips of old barnboard and brand new dowels, I stained my dowels with my DIY barnboard stain made out of steel wool soaked in vinegar. It doesn't stain the wood, but instead creates a chemical reaction which instantly darkens it.
You can read about how to make steel wool stain and how it works here.
You're done. You now have a plate rack.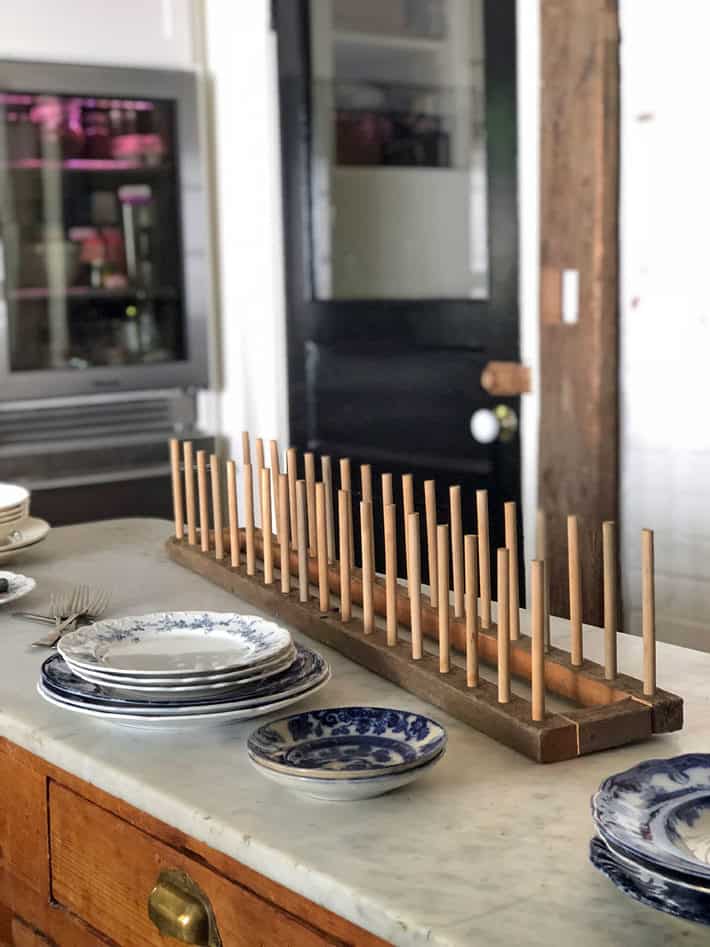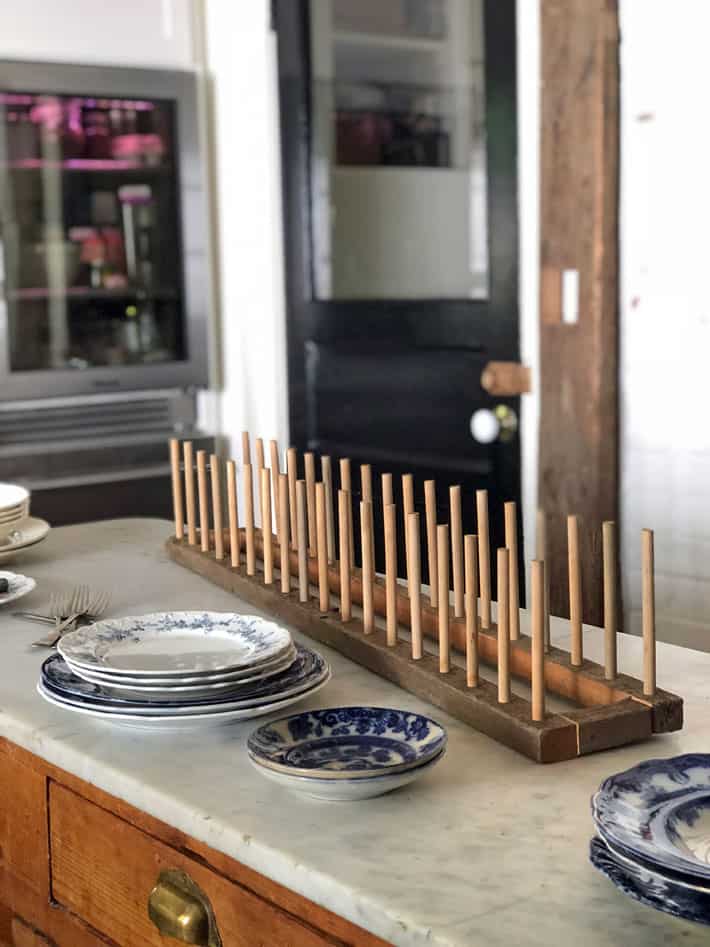 The only thing that's left is filling it up.
I made my plate rack REALLY big. Because I'm hoping to be able to use it on the lower shelf of my new antique hardware store cabinet. I also made 2 of them because I wanted the plates to go from one end of the cabinet shelf to the other, but one long plate rack wouldn't have fit into the space.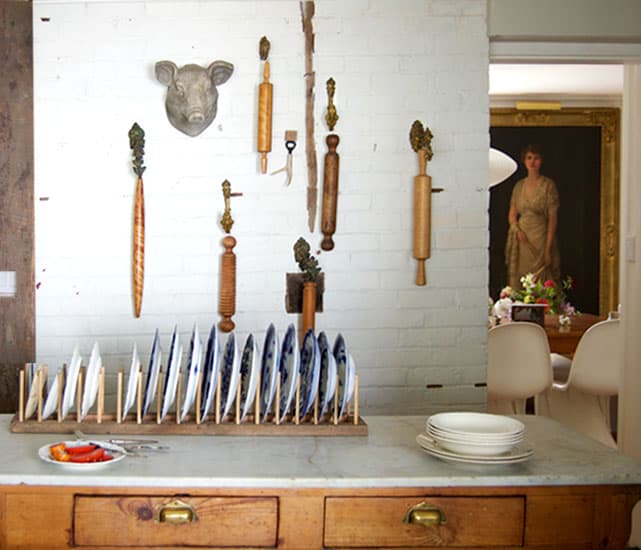 A Measurement Reminder
Length of entire piece - Anything you want.
Width of entire piece - 5"
Space between dowels - 2" from centre
Length of plate holding dowels - 6" but you can make them as short as 4" if you like.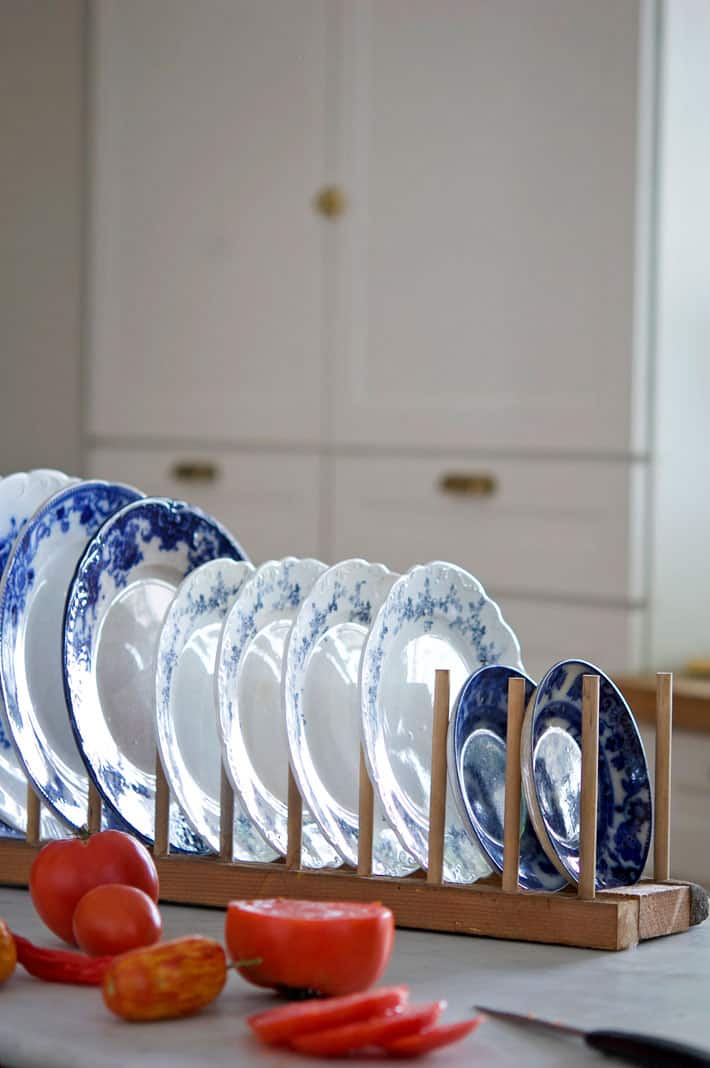 Other Uses
platters
cookie racks
spools of ribbon (make your dowels further apart for big spools)
pot lids
books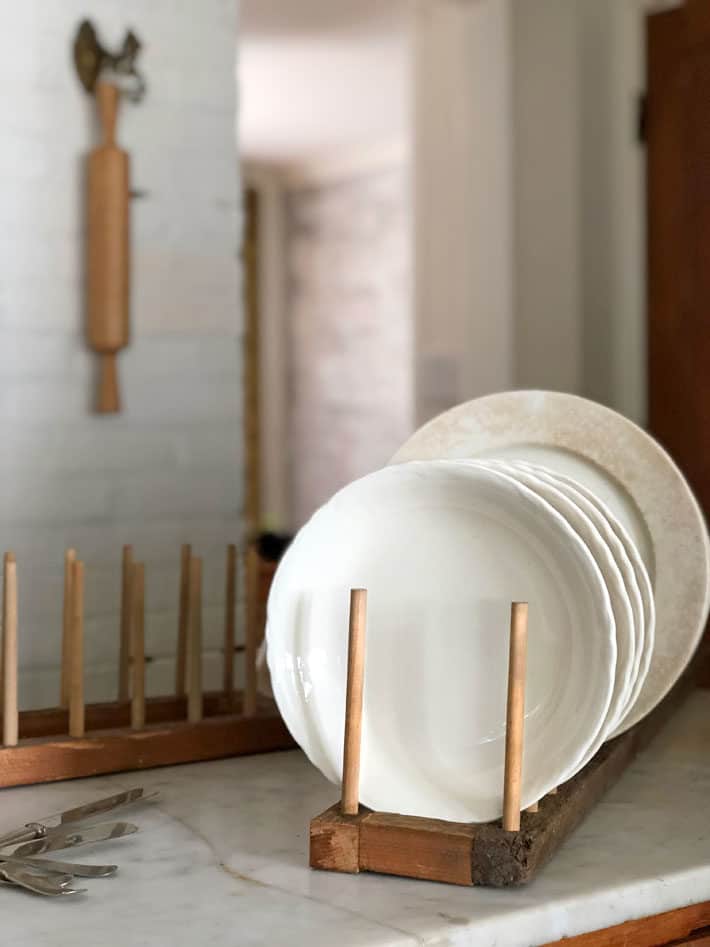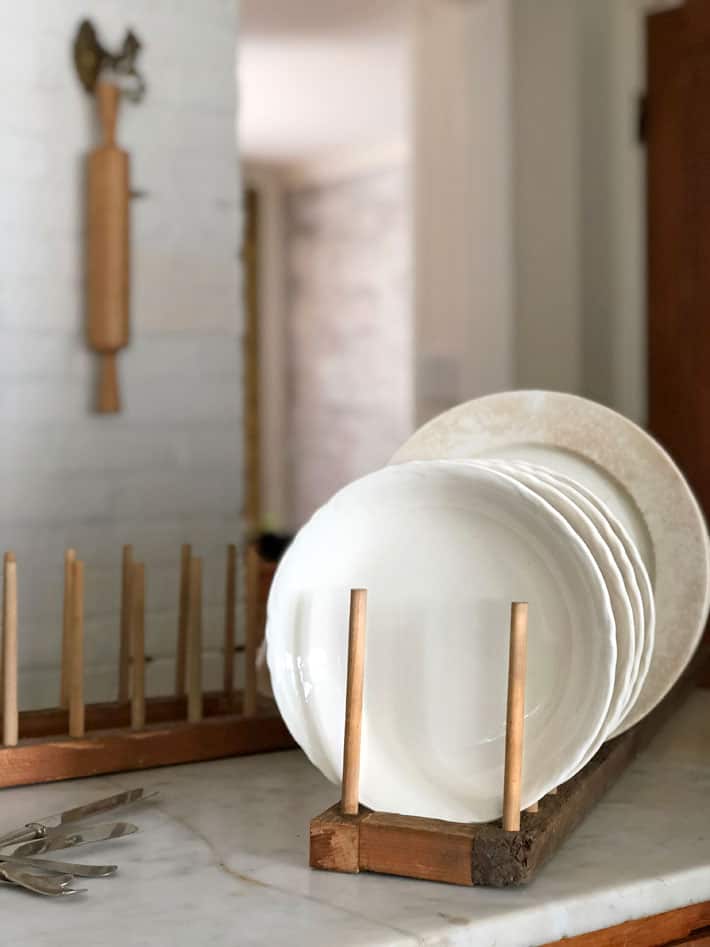 If you happen to come over ...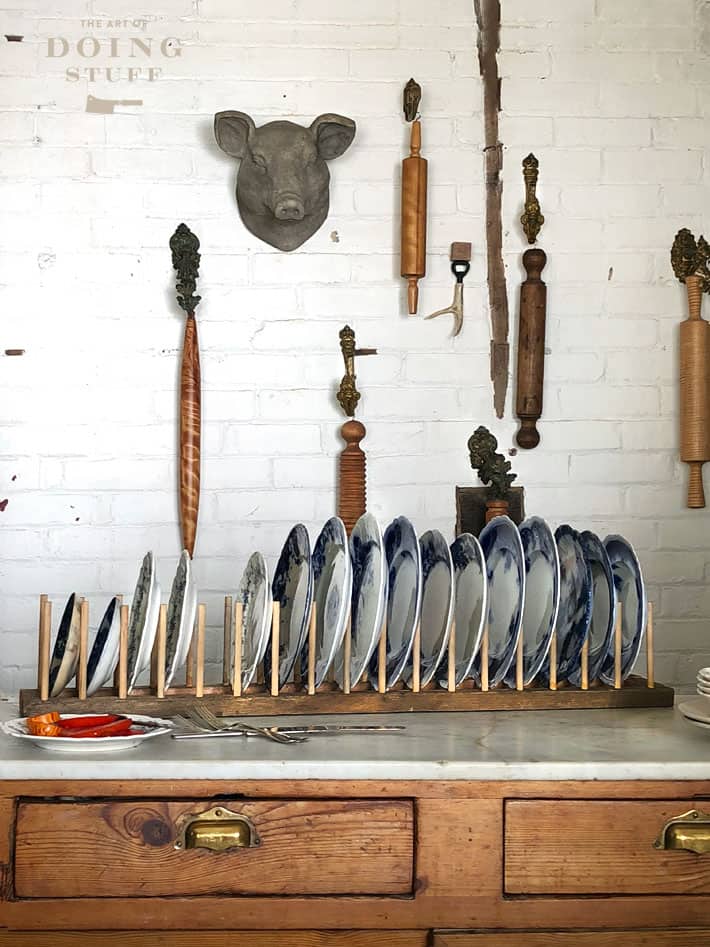 and you like my plate rack ...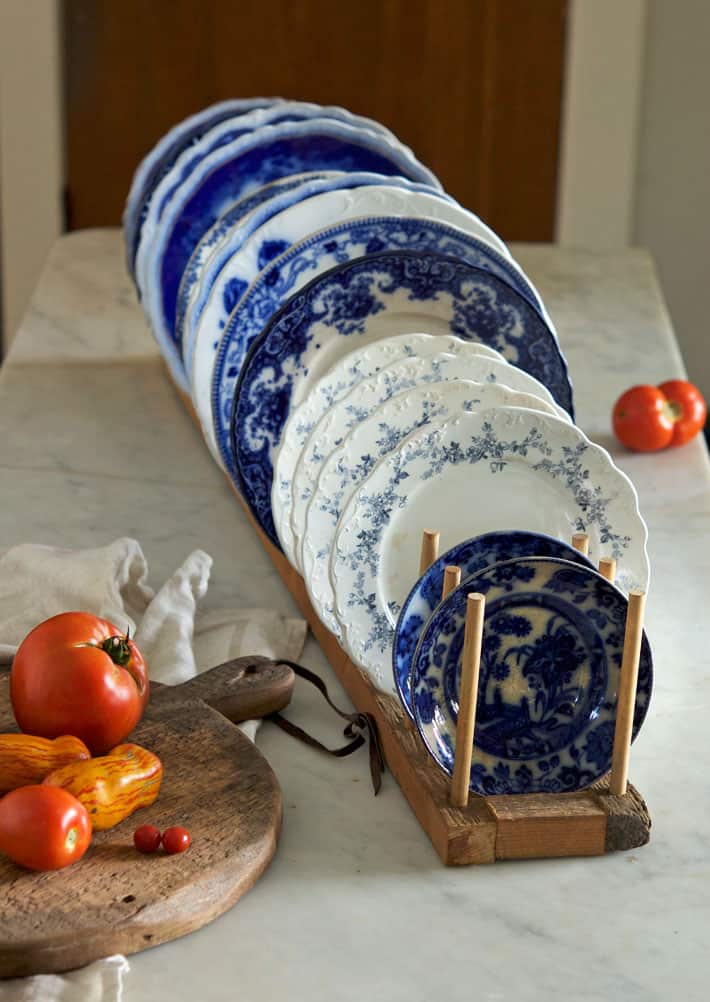 it's not for sale. But I have a pair of overalls that are.
→Follow me on Instagram where I often make a fool of myself←