This is what one of my kitchen walls looks like right now. I love it. It's one of the few things in my house I know is exactly right. So it only makes sense that I should completely change it.
I know. I agree and understand your outrage. It's a perfect wall. White painted brick with bits of original wood stuck in there. Antique French curtain tie backs holding my collection of rolling pins. Plus of course - that pig's head.
So why change it? Because I left the house. And nothing good ever comes from leaving the house. Leaving the house invariably means spending money, so it really is best to never leave your house. (blocking Amazon on your browser is an additional safety measure one should consider)
Last summer I went to a Sunday antique market and spotted something that made my heart stop. I went home, measured my kitchen and realized it wouldn't fit. This summer I went back to that Sunday antique market and saw it was still there. Apparently it wouldn't fit in anyone's kitchen.
So I took a good look at it again, determined it could easily be made a bit smaller and that was it. I bought it. The brick wall that I love so much was going to be covered up to make room for something I loved even more. This.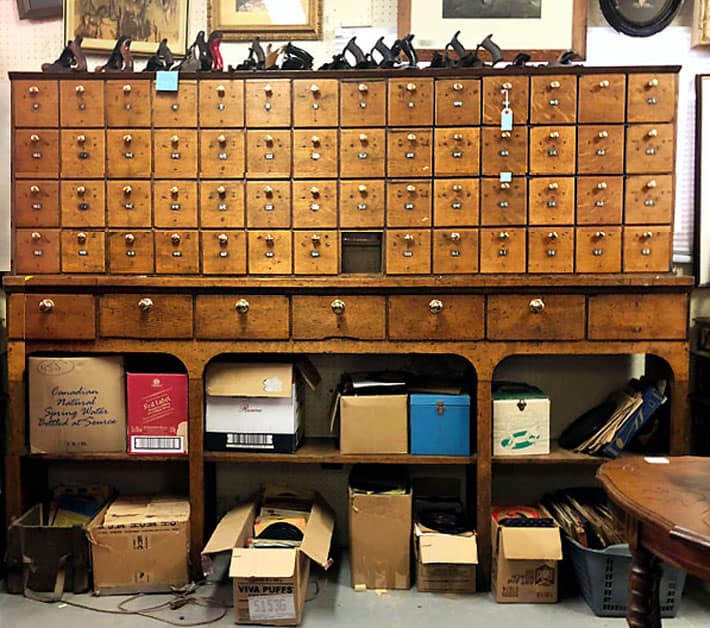 Granted, it's in a bit of a "state" in this photo, but you get the idea of what it looks like. The reason I had a hard time letting go of it is because a) it's beautiful and b) it's narrow. It's as narrow as the bench that I have running along my brick wall.
That means I'll still be able to get around the cabinet with no problem PLUS it'll hold a heck of a lot more than 6 or 7 rolling pins. In a house that's 180 years old there isn't a lot of storage. In a small house that's 180 years old there's even less storage. More of a cottage really. The kind of thing a family of gnomes would feel comfortable in.
So the cabinet will go along that brick wall giving me storage for STUFF.
The cabinet doesn't come to the ceiling so the white brick will still be visible for about a foot and a half above the cabinet.
It *will* however, completely change the feeling of the kitchen. Even though it's narrow (the top cubby holes are only 7" deep) it will make the kitchen feel more closed in. And it's dark. So it will darken the kitchen a bit.
I'm preparing myself mentally for that. In fact I'm preparing myself for a kitchen that feels like a dark, cramped hovel so that when the cabinet is put in place it'll be a refreshing realization that it isn't as bad as I thought it was going to be.
I find it best to trick myself in these types of situations, and luckily I'm very good at tricking myself.
The cabinet was made for holding nails, screws and other hardware. I'm guessing it came from an old hardware store, I'm going to try to find out more abou tit. It's built from quarter sawn oak. Each drawer has a metal, numbered label on it. The knobs are hideous and will eventually be replaced with something more authentic.
The drawers as I mentioned are hilariously small. Good for spices and toupees and that's about it. Or so I thought until I realized if I wanted to, I could use part of it for a seed storage catalogue.
The issue with it not fitting is this. The cabinet (which looks weirdly small in the photo below that shows the owner measuring it) is 91" long. 12.25" longer than my wall. Which is the exact measurement of 2 rows of drawers.
If I take the middle section of the cabinet out, including 2 rows of small drawers, and one of the larger drawers and push the cabinet back together - it will fit perfectly.
I was a bit worried that would ruin the look of the piece. Part of what's so great about it is the size. But I think it'll still be mighty big enough to have an impact.
I was going to attempt this reconstruction myself but then decided I'd rather pay someone to do it right. I know a guy.
This is the cabinet as it is now (full length).
And this is what it will look like once its reduced in size. I still can't get over how weirdly small it looks in these photos.
The cabinet is getting delivered from the antique market directly to the man who will reconstruct it and when it's done I'll pick it up and bring it home.
Until then - I'm not leaving the house.
Have a good weekend!