A cute little mirrored planter to hide all those ugly plastic pots. An easy DIY that'll take 15 minutes and about $5.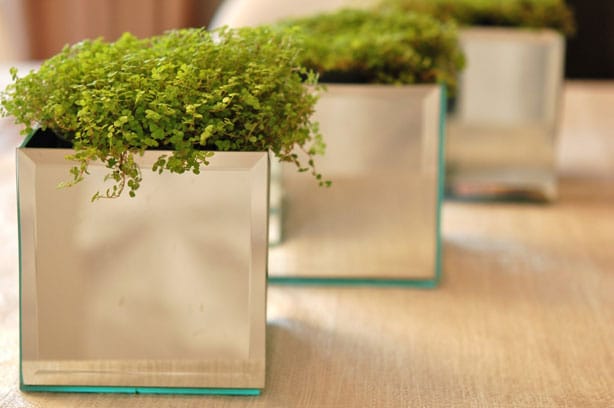 I am sitting here at my computer with a faint, goofy smile on my face thinking back to the first time I had a Dollarama revelation. The first time I looked at something in one of their aisles and thought hmm ... I could make something out of that.
I don't know if it was the buzzing of the fluorescent lights or the hypnotic drone of the soft rock, but something in me came alive that day. My body seemed like it was on fire. I had an electric sensation from my head to my toes as right there in the Dollar Store my innards gave birth to a something entirely new. In the blink of an eye I developed the Dollarama DNA. Which is wayyyyy cooler than a Y chromosome by the way.
So allow me to introduce you to my first born; my first project ever made out of Dollarama crap.
Oh and by the way, in case any Dollarama head honchos who have the ability to ban me from all Dollarama stores happen to be reading this blog ... "crap" is actually a term of endearment.
Here we go ......... !
with this ...
Gives you this!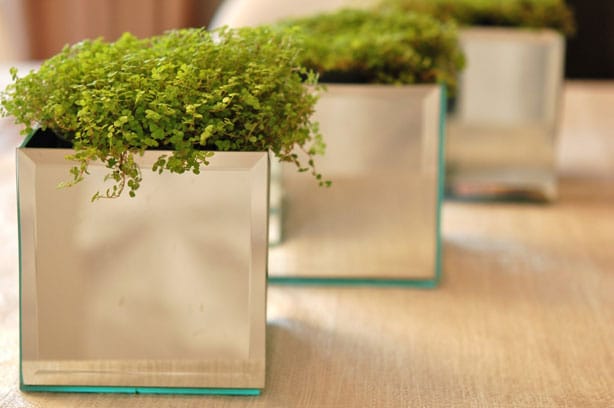 Now, the observant among you may recognize these mirrored boxes from yesterday's post on the always classy garbage bag table runner. I probably made these boxes for the first time 5 or 6 years ago. Since that time both my sister and my niece have also made them. My niece uses hers in her kitchen for her car keys and pens and such. As you can see the mirrored box also makes quite a fetching planter. Total Cost? Five dollars. Plus whatever a squirt of Windex and a paper towel will cost every time you pick them up to marvel at their beauty.
And here's how you do it!
How to Make a Mirrored Planter
Update: I apologize for the weirdly small photos, but this is one of the VERY first posts I ever did and somewhere over the years the larger ones were lost.
scrape the stickers off with a razor squeegee. Trying to peel them off will only end in tears and pill popping.
lay your base, mirror side down and hold one of the mirrored pieces up to the edge of the base.
once you're sure everything is even and level run a bead of hot glue along the seam where the edges meet.
wait patiently for the glue to dry before moving onto the next piece of mirror. This is exactly when the bottom of your foot will feel like it needs to be scratched.
Continue lining up and gluing the bottom and side edges of the mirrored pieces. My glue gun broke mid-craft so mine is messy.
Done! If you think you're going to see inside the boxes, remove the round felt pads on the bottom of each square.
Oh! And, if you're looking to eat up the majority of the hours in a day while also making yourself crazy, try taking multiple pictures of a mirrored box. Please send all cards of sympathy to me. At my house. Thanks in advance.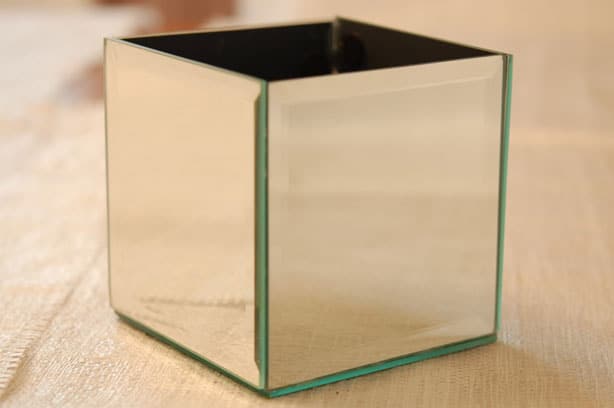 It took me 3 hours and a 2 calls to a mental health facility to take this photo.