I'm Danish. I've always been Danish, I'll always be Danish, I look Danish, speak 4 Danish words and part of my general knowledge includes knowing that Viggo Mortensen and 1980's supermodel Helena Christensen are Danish. So. Clearly. Danish. The only problem is, as it turns out ... I'm Irish. IRISH.
In 2016 I got my mother and myself one of those DNA tests for Christmas to find out if we were Jewish.  There's a long kept secret in our family and no one knows what it is.  Based on a name change, some rather sketchy word of mouth rumours involving a mercantile, a whisper and a generations-ago cosmetic surgery, several of us thought this secret was that we were Jewish.
That's the sort of thing people used to have to keep secret in order to stay alive, so those kinds of secrets are taken quite seriously and they tend to stay secret long past the need for it.
So when I sent in my spit to be analyzed I was fully prepared and excited to embrace my new Jewessness. L'chaim! Most of my high school friends were Jewish so I know the customs, I've been to plenty of Shabbat dinners and have the whole back of throat "Ch" sound in Challah and Chanukah down pat.
Jewish. That's me! And Danish of course, but that's from my father's side and we all know he was 100% Danish, making me 50% Danish as evidenced in my ability to make Klejner, Danish Christmas cookies and my uncanny resemblance to It was the other 50% that we were all unsure about.
The 23andME test results came back and as soon as I checked whether or not I was likely to die from some rare and incurable disease (I'm not) I barely glanced at my ancestry other than to see if we were indeed Jewish. We were not. Booooo. I don't give a care, I'm still going to eat latkes. Then a few weeks ago for some reason I went back in and looked at some of the DNA results more closely.
The things they predicted about me based only on my DNA were impressive. They had no pictures, no history, no nothin', other than my dancing little chromosomes passed down from generation to generation.
For instance, I am more likely, according to my DNA, to be a sprinter rather than a distance runner. Pfttt. No kidding. I'm basically Hussein Bolt. Everybody knows that.
Here I am taking a much deserved break from watching someone else exercise.
Also, according to 23 & me:
I am likely to have blond hair.
I am likely to have blue eyes.
I am likely to have straighter than average hair.
I'm likely to have wet ear wax. ( Um. O.K. )
I am likely to consume more coffee than the average person. (3-4 cups a day?)
And ... I have an average sensitivity to the odour of sweat.
Allllll true.
If you're now clamouring to get a 23&Me spit kit I have an affiliate link.
I clicked on my circle of ancestry that tells you what percentage of you is from what country and ... I had to do a double take. According to the percentages ... I was ... I was Irish.
Or British of some sort. London or Manchester England most likely.
UPDATE: I just checked my results again in 2023 and I am still Irish. But now things look like they're leaning more into the England territory. I think.
It's entirely possible I'm not reading this thing right, but it's looking like I'm more British & Irish than anything else. Which is making me feel a bit off kilter.
What with me being Danish and all.
I never knew much about my maternal ancestry. When I was growing up whenever I asked my mother what nationality her side of the family was she'd always answer with "I don't know ... we're just Canadian. Now go play with your potato."
This gave me the slight hope that by "Canadian" she meant that we had a long ancestral history going back to the First Nations. Like maybe we were Micmac. Or Metis or Mohawk.
Which, wouldn't explain my love of Challah but would explain my love of beaded suede.
But according to my mother's side of DNA I wasn't First Nations, I was 29.3% British and Irish. This whole maternal Irish thing has since been confirmed by my Uncles Conor, Seamus and Padraig. You'd think one of them would have mentioned something about our being Irish it at one of our monthly Irish Stew and Soda bread dinners over the years.
Just kidding. Kind of. It has been confirmed through other more "ancestry interested" relatives that my mother's side of the family is indeed Irish. How she never knew that, I have no idea. Maybe she was thrown by the fact that none of us were born with Irish accents.
I wish I understood these DNA results a little more than I do, but from the look of it ... yeah ... Kiss me. I'm Irish? But maybe from London.
Since I'm relatively new to this whole Irish thing feel free to make any recommendations on this, my 7th St. Paddy's day as an Irish person. See? I've even learned that it's "St. Paddy's", not St. Patty's.
I'm basically the most Irish person ever born who for some reason has an above average command of cooking Danish Christmas cookies.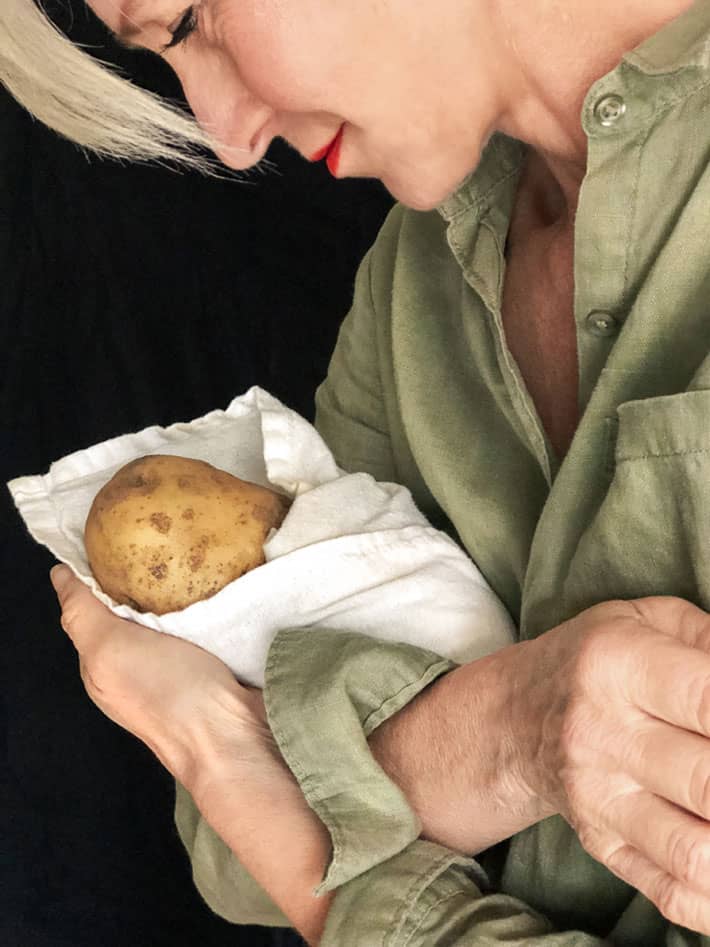 omg. this explains so much about my relationship with potatoes.