It's common knowledge that tomatoes are annoying. For months they won't appear, turn colour or do anything even remotely exciting. Then, in September, they collectively hurl themselves off the vine and onto the ground in a dramatic, juicy death spiral.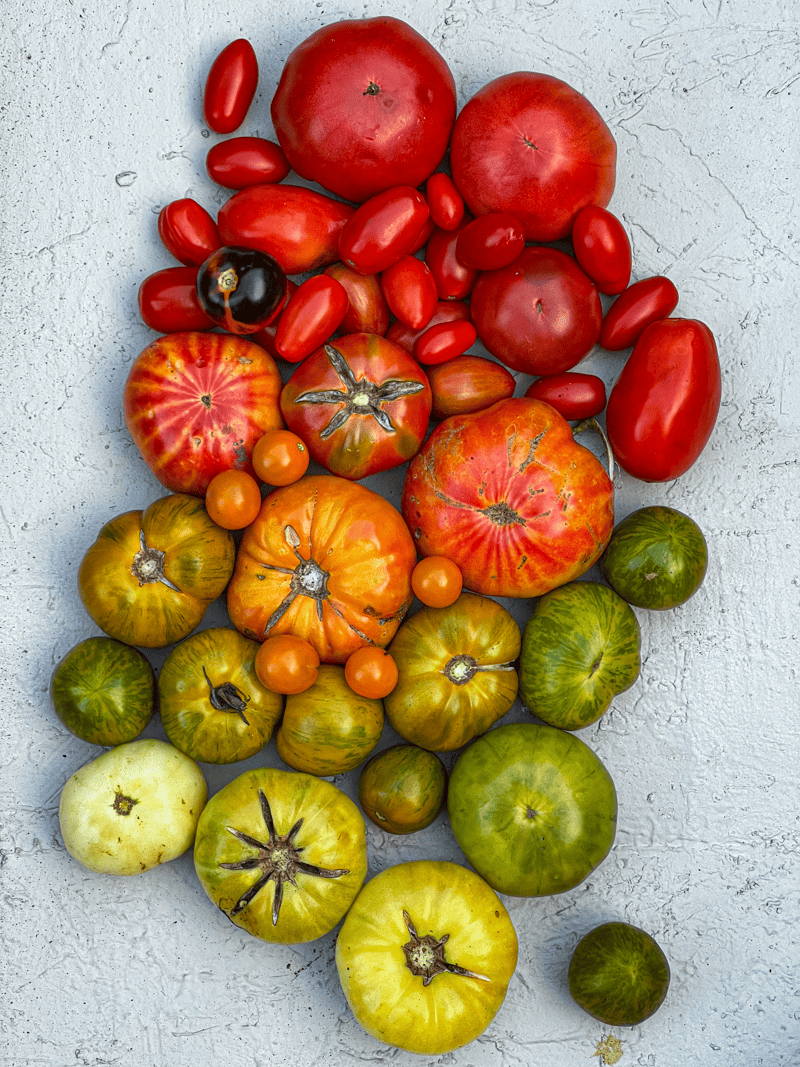 Heirloom tomatoes, with their kaleidoscopic of colours and flavours, are trying to kill you, right? I know. Me too. They haven't even come close to accomplishing this but the intent is there.
You worry all summer that you won't get any tomatoes and then in September you've developed a stress twitch, tomato tremors if you like, because they're ALL DEMANDING YOUR ATTENTION RIGHT NOW.
What to Do With all the Tomatoes
(or die trying)
Pick them. Pick them all now. I know you feel like you should leave them on the vine if they aren't ripe BUT ... if you have blight or disease on your tomato plants the tomatoes themselves will also get diseased and rot before they get a chance to ripen. If you pick them well before they ripen like I show you in this post you have a better chance of that tomato staying healthy.

If your tomato plants are still healthy, you can leave the tomatoes on the vine but chances are your tomato plants likely look like a crunchy scribble by now.

Store the picked tomatoes in a single layer with other tomatoes of the same ripeness. If you have a lot of tomatoes at 3 or 4 stages you'll need separate boxes or crates for them all so you can keep track of their ripening progress. If they are green or barely showing colour, add a couple of ripe tomatoes to them to help them ripen.

Check them daily for disease or rot. In about a week at room temperature you should have ripe tomatoes.

TIP: If you want to get really technical about it, put your almost ripe tomatoes in the coolest room of your house and the green tomatoes in the warmest. This will help them ripen at the same time.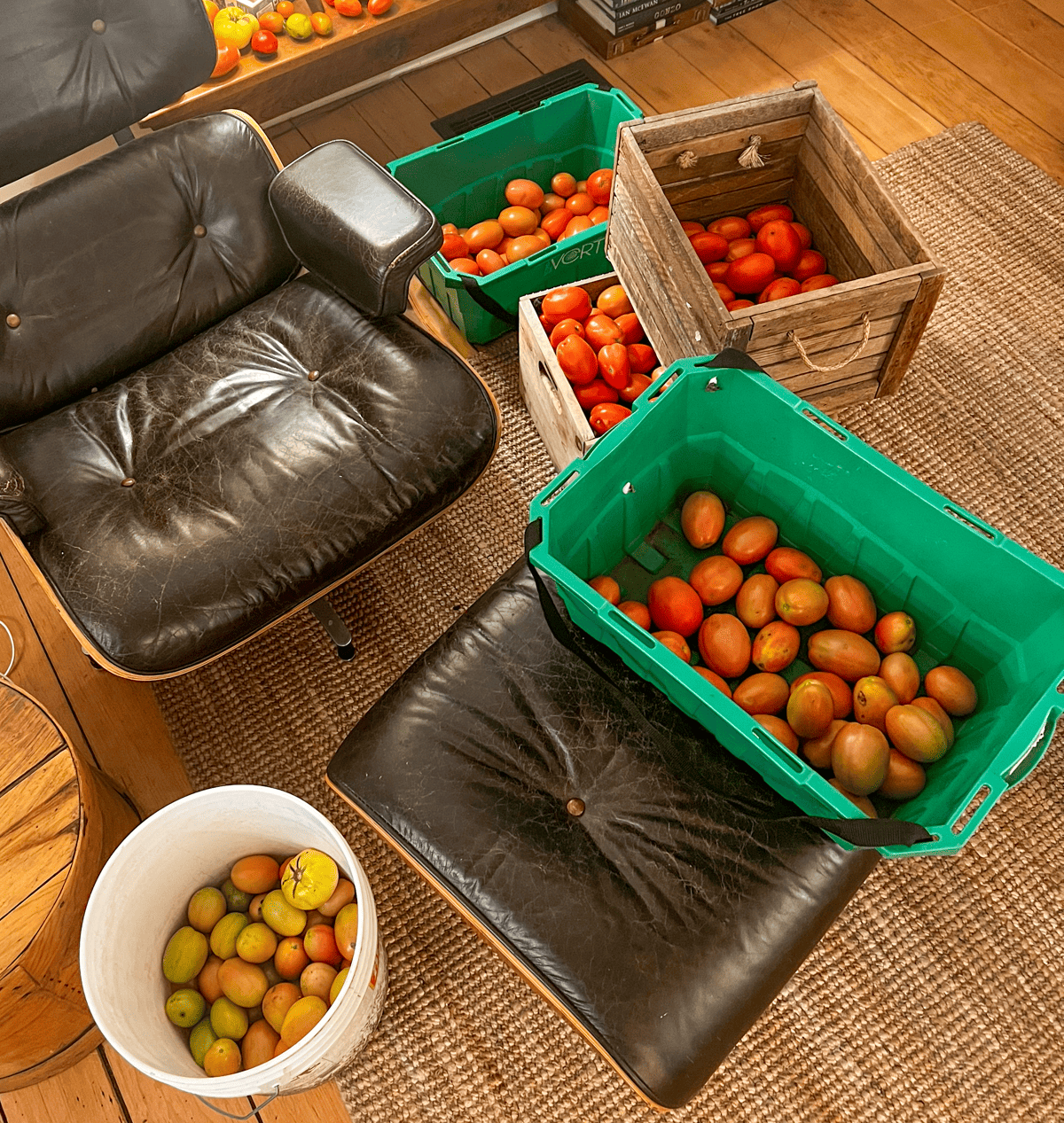 These are my paste tomatoes. I planted about 16 paste tomato plants (I grow Plum Regal paste tomatoes because they're more disease resistant than Roma or San Marzano). I picked all of them last week to ripen inside so I can make sauce this weekend.
When they're ripe, refrigerate them. That's right. Exactly what everyone says not to do. But if the choice is refrigerate or let them liquify on the counter the better choice is to refrigerate obviously. Then USE them.

Roast them. Roasting tomatoes (either alone or with onions, herbs and garlic) uses them up and it's very little work. You chop them up and slow roast them. That's it. It leaves them ready for anything you want to use them for in the winter. Add roasted tomatoes instead of fresh to soups and stews.

I make roasted tomato sauce a few times a year with my extra tomatoes and use it all winter long for pasta.

Freeze them whole. If you don't want to roast them you can freeze whole tomatoes. The bonus for this method is that when you thaw them they skins slip right off. Add them to soups, stews, etc.

Canning. Every year or two I can litres and litres of tomato juice from my plum tomatoes, the full instructions are in this guide.

Those jars of tomato juice ( it's a pulpy juice that's made with a tomato press that removes the skin and seeds, but saves everything else ) get used all year long for various things but the two MOST important ways I use it is to make oven roasted spaghetti & meatballs, and for pizza sauce.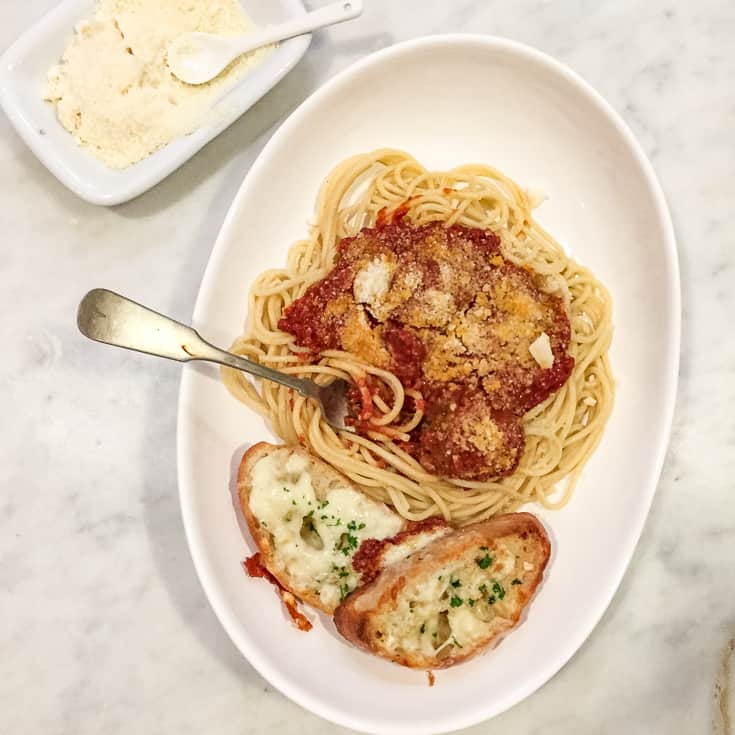 Turn them into soup. Turn your extra tomatoes into soup which you can eat immediately or pack flat in baggies and freeze. In February when you pull out a bag of heirloom tomato soup you'll be delirious with excitement and thanks that your younger self was wise enough to do this.

Easy heirloom tomato soup is my favourite, but if you're willing to work a bit more this smoked pepper and tomato soup is delicious.
There are other ways you can use up those end of season suicidal tomatoes obviously, but these are the ways you can make them last the longest because they're all preserved in some way.
Have a favourite thing to do with the glut of tomatoes this time of year? Lemme know! For instance if you know the secret recipe for getting dehydrated tomatoes to the exact right amount of dryness while still being pliable .. I and everyone else would love to know it!