5 or 6 months ago I stuck my hands in a patch of dirt and pulled out all of my vegetables. Today I'm doing the same thing.
Last September I wrote a post on How to store Carrots and Beets so they'd last throughout the winter. The basic idea is you store them in soil, the same way they're used to being stored their whole lives. In 2013, I wrote about How to Store Potatoes.
So today I thought I'd update you on how well these methods work. Obviously it's the sort of thing that would immediately interest a vegetable gardener, but the same methods can be used for any vegetables you buy. Basically unless you only eat mammoth sized turkey legs (a la Fred Flintstone) these methods should be of interest and use to you.
I'm going to start off talking about how well the beets and carrots have done.
I know I'm not the only one who has thrown a bunch of beets or carrots in the crisper only to pull out a limp mass of wimpy, spongey things that look as though they've been beaten down by life only a week or so later.
So this year I stored all of my beets and carrots in slightly damp peat moss in a plastic bin with the lid mostly closed in a cool room. (like I described in my original post)
The room they are stored in is pretty much like a garage. It isn't insulated and it isn't heated. It's a mud room. It gets to be around 32f / 0c throughout the winter with the temperature in the mudroom rising when it's warmer outside and cooler when it's frigid. Since the vegetables are tucked into soil it insulates them a bit keeping them closer to around 40 degrees. When it's going to be bitterly cold (-15c) I drag the potatoes into the kitchen for the night so they don't freeze.

Here's what happened. Because I didn't want the beets to bleed, I didn't cut the top off of the beet before storing it, only the greens. What you see here are all NEW greens (or reds in the case of the Bulls Blood beets). 6 months after pulling them, the beets are exactly the same as the day I picked them. They're hard, not at all withered and taste great because they're in fact, still alive and growing. Not only that I have a fresh supply of greens to saute or add to salads all the time.
It's a beet miracle.
This by the way is how you would propagate beets to grow seeds. Beets are biennials which means they grow seeds their second year. So if I wanted to, in the spring I could take some of my sprouted beets outside, stick them in the ground and they'd grow seed pots from their greens. I'd then have all the seeds I needed for next year's plantings.
All the same things are true for my carrots. I tried to cut the tops off of all the carrots, including the crown, to prevent them from sprouting, but a lot of them still sprouted. Which is fine. Because I can now harvest seeds from some of my rarer and favourite carrots like Juane de Daubs and Purple Dragon.
These carrots are stiff and hard. They could do porn these carrots. They're just like the day I pulled them.
Let's talk about the leeks. Or rather let me tell you about the leeks.
I'd read over and over again that leeks were notoriously difficult to store. A few suggestions were to simply cut off their roots and store them in a cool room, plant them in a bucket, leaving the roots attached and just the bottom of the leek covered, or freezing them. The first two methods just plain didn't work for me and freezing wasn't an option. I wanted fresh leeks in the middle of February. Not soggy frozen ones.
So I decided to apply the same rules to the leeks as I did to the beets and carrots. I left the roots on, trimmed the tops a bit and then layered them in damp peat moss in an airtight plastic container.
They've been stored like that for the past 5 months and they're perfect. I have to strip the first couple of leaf layers off, because they're kind of sad and wrinkly looking, but underneath they're firm, good lookin' leeks. Kind of like if you peeled the first 50 layers of skin off of my face. Underneath would be the fresh face of a baby. Or blood and bone structure because I have no idea how many layers of skin we have on our faces.
And again, because the roots are still attached and they're in soil the leeks are still alive. I had no idea they'd keep growing but they did. They grew so much they pushed the top off of their container. So this was a storage success.
This is the garlic I have left. Stored in a cold room in a closed cupboard and most of it is still firm. The odd head is starting to dry out a bit, but is still useable.
Squash. My dear, beloved squash. I use it for so many things. Soup, ravioli, side dish … It's one of my favourites and these are two of my favourite varieties. Kabocha squash on the left and Delicata on the right. You can see the Delicata squash is just starting to show signs of "ick". It's still useable but I'd better use it soon. The Kabocha squash will be good until next fall. Seriously. This thick skinned squash is a very dry, sweet variety that stores forever.
You can see my problem though.
There are only 3 squash left. Three. That's not enough. I need to plant more squash next year. The problem is they take up a lot of room, but I'm gonna have to suck it up. As you'll see in a moment, I could probably scale back the potato patch to increase the squash patch.
This is about half of the potatoes I have left. Now that I think about it, this is probably far less than half. I have a full crate of potatoes and three slightly smaller baskets. I grow and hoard potatoes like the threat of scurvy is just around the corner.
The potatoes are stored in the same cold room as all of the other vegetables, but not in soil. They just need a container with some air flow like a slatted crate or wicker baskets.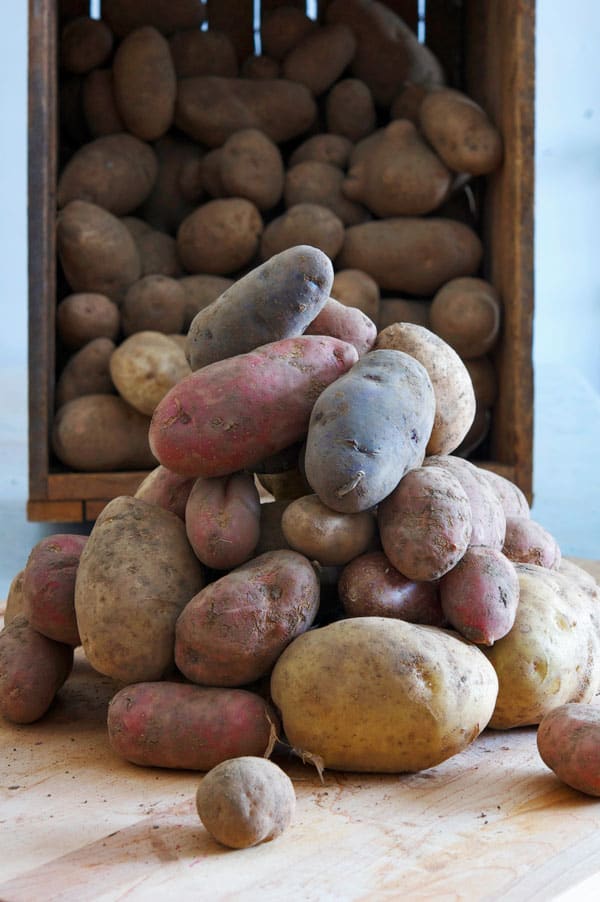 Ditto for sweet potato storage. This is what's left of the sweet potato haul. I just discovered roasted sweet potatoes this year. Normally I fry or mash. Roasting is the way to go if you ask me (this year). Next year my answer might be wildly different so I reserve the right to contradict myself at any time in the future.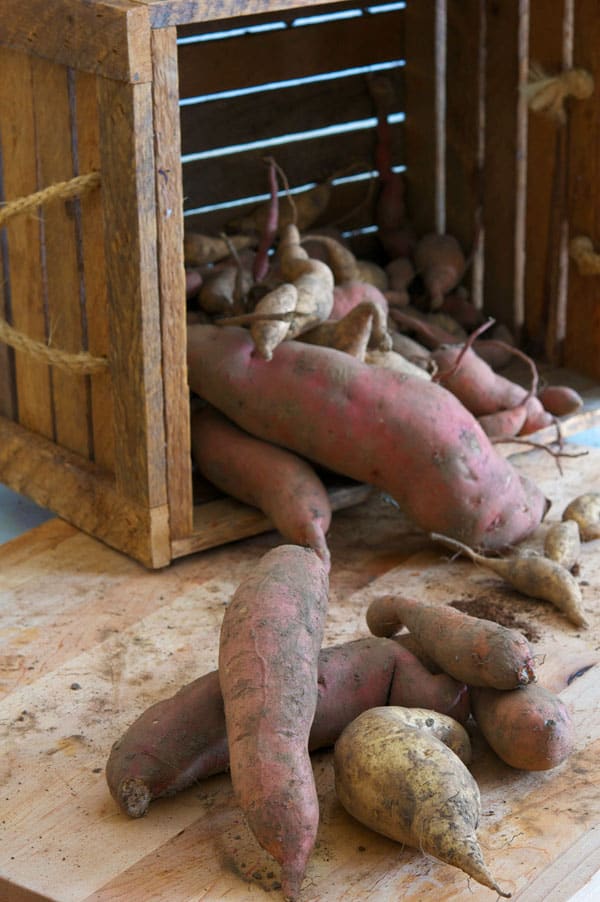 RUTABAGA! Otherwise known as Swedish turnip, otherwise known as turnip, even though it isn't a turnip. I didn't grow a ton of these and the ones I did grow didn't get huge because I planted them a little bit too late but they've stored great using my good old damp peat moss method. No need for waxing them, like you see in the stores. Just sick 'em in the dirt.
Onions get stored in this wicker basket because they like to have air around them. Onions like it cold, squash like it a bit warmer, but ….
For storing anything just try to get as close to ideal for all of the vegetables as you can. (between 40 f - 50 f) or (between 0 c - 9 c)
The point of all this isn't to show you how to store your vegetables. Grow up. It's to show off my produce. We all know that.
But if you learned something that's great. If you're jealous … even better.
[shareaholic app="share_buttons" id="5342563"]