Glenfiddich has a bottle of whisky that sells for  $94,000 a bottle.  So obviously it isn't the best you can buy.  It's one of the best but not the best.  That's assuming in the world of whisky you equate cost with quality.  In case you're running out to pick up a few things this afternoon and you're curious about it, it's called Janet Sheed Roberts Reserve, 1955 and even though you think it might, Walmart doesn't carry it.
Apparently it has flavour notes of Orange blossom and violets folded into toasted almonds with a modicum of smoke. At $94,000 for a bottle of this Scottish whisky I'm going to leap, skip and jump to the assumption that it also comes with an orange grove, violet field, almond plantation,  castle containing several smokey fireplaces and of course ... Sean Connery.  Even though he's like 90.
I drink the odd bit of whisky but I don't need to drink a $94,000 bottle of it.  I can't afford the best and honestly, I'm sure I wouldn't appreciate it.  I'll leave the best whiskys for those who are far superior drunks than I am.
I also don't believe in buying the "best" when it comes to all my furniture, clothes or even my food.  My couch is a piece of crap, but it has half decent style and it's lasted 10 years so far.  I buy 85% of my clothing in stores that have shopping carts (not something you typically see in Gucci or Chanel) but it all has good style.  I don't buy high end milk, hipster protein bars and I like a lot of store brand products that are copies of originals.  Like store brand Windex, or fake Magic Erasers.  They're half the price and work just fine for me.
But sometimes, the odd time, you really are better off buying something that is the best. The original.  You might not be able to buy it right away, you might have to save for it and make due for a decade, but eventually buying the best, the original, is the right decision.
What I'm about to tell you about, isn't one of those times.
I've loved the iconic Eames lounge chair since I saw it sitting in Frasier's apartment in 1993.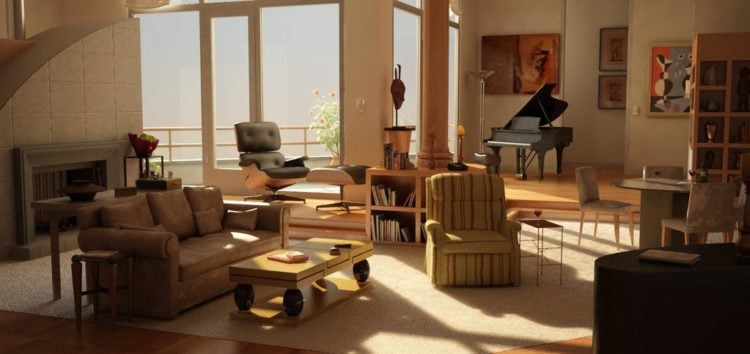 It's an original.  The Eames chair is one of those classic Mid Century Modern pieces that every hipster seems to think they need to own (or at least a copy of it).  I also really like non-iconic Mid Century Modern chairs because they're a little bit cheaper than the the most popular pieces and a bit less ... I don't know ... desperate?
The problem is, those iconic pieces are usually iconic for a reason.  The womb chair for instance is supposed to be the most comfortable chair in the world.  But I'm so sick of looking at it in every magazine, commercial and blog I don't think I want one.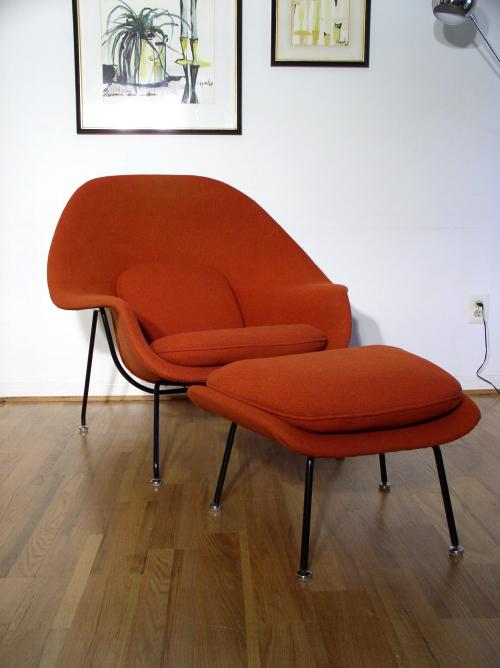 And the Papa Bear chair is also an iconic original that's supposed to be unbelievably comfortable, but it's just too big for my space.  I've seen and sat in an original Papa Bear Chair and I even felt like the back was a little bit hard.
Funny eh?  The Papa Bear chair was just too hard.  And a lot of the other chairs I've seen just aren't fitting the bill for some reason.
What I'm actually looking for is a chair to go in my living room beside my fireplace that won't take up a huge amount of space, isn't $5,000 and carries over some of the Mid Century Modern from my foyer into my living room. Which leads me back to the Eames Lounger.  Even though I like it, it has a footstool.  Even though I like it, it's $5,000.
But, BUT this story gets even more interesting.  In the 60s',  furniture company Plycraft started knocking off the Eames lounge chair.  In fact, their knock off designer, George Muhlhouser ended up making a name for himself with beautifully designed chairs of his own.  His Mr. Chair was every bit as beautiful as the more celebrated chairs of his contemporaries.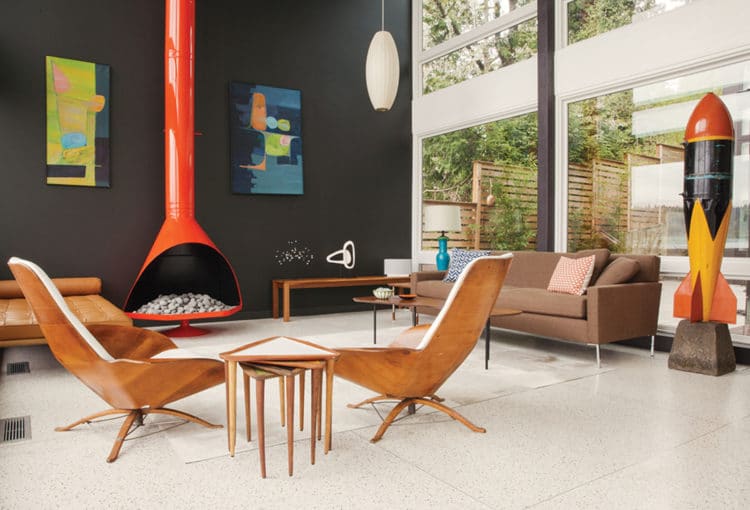 But again, to be truly comfortable it has to be used with its footstool which I just don't have the room for.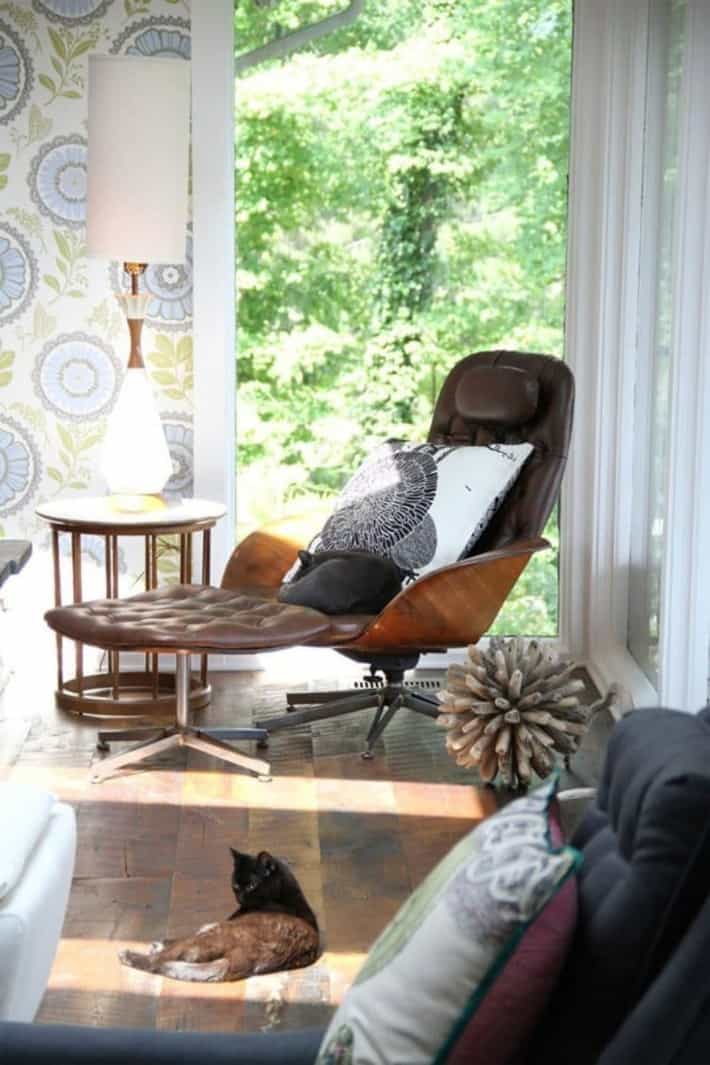 All this obsessive research into chairs led me to this ... the Plycraft knockoff of the Eames lounge chair as designed by George Muhlhouser.
It's not quite as nicely proportioned as the Eames version. And the bent plywood shows the screws holding it together, as opposed to the Eames which has all hardware hidden.
But this copy has something that the original never had.  It's a recliner.
It has a space saving, BUILT IN FOOTREST.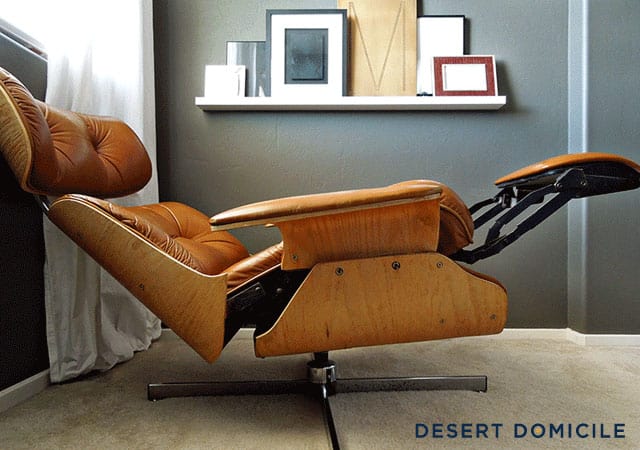 Which of course eliminates any need for a footstool, making this Eames copy in my opinion, better than the original.  For my purposes anyway.  It swivels, reclines and ... reclines some more.
Muhlhouser also made a more straight forward knock off of the Eames chair that included a regular chair and traditional footstool but this version with the built in footstool is perfect.  For me.
So ...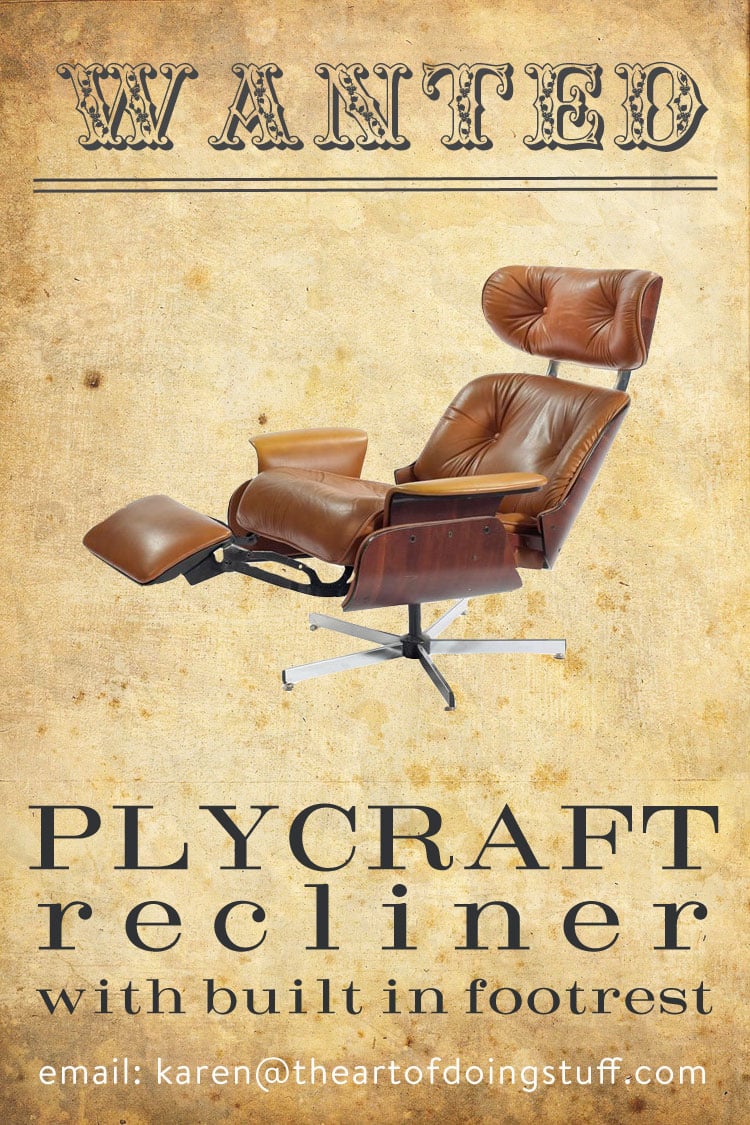 Feel free to keep your eye out for me.  I know a LOT of you did that when you knew I was looking for a tulip table but this ... this is far more elusive than the tulip table because they're much rarer.  The reason for that is this is a vintage knock off chair I'm looking for.  And believe it or not no one made a knock off of this knock off, so there are only the few originals that were made decades ago out there on the loose.  No one has manufactured it or copied it since the 70's.
And even better, even though some high end sites like 1stDibs or Chairish sell it for over $1,000 when they get one, most people on Kijiji or Ebay sell them for around $450.
That allows money leftover to buy lots and lots of books for when I'm reclining in my reading chair with a glass of ... a good, but not the best, bottle of whisky.
Have a good weekend!