Set your eyes on these chocolatey, gooey pot brownies. Like any brownie, they're made with chocolate, flour and butter. In the case of pot brownies, you make them with cannabutter instead of regular butter.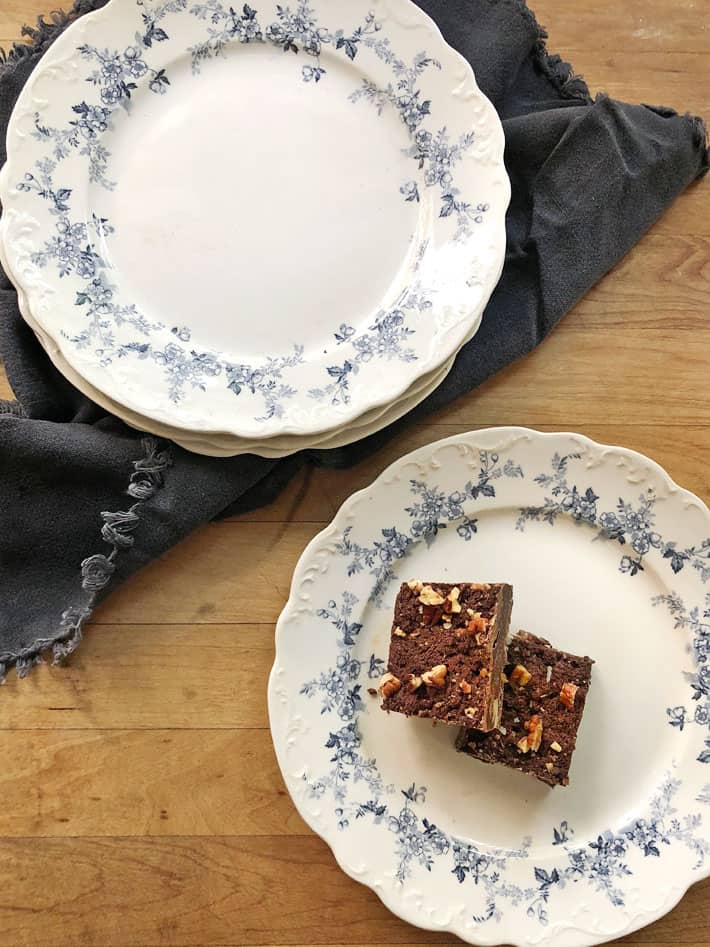 This is what a pot brownie looks like. Delicious.
I currently have a freezer full of pot brownies several years after making them. I've given some away but haven't eaten any myself. So why make pot brownies?
When given the opportunity to cook with an ingredient that I procured from an elderly woman living in the suburbs who makes her own cannabutter (weed butter) in a crock pot ... I wasn't going to say no. You just don't say no to something like that. Just like I didn't say no to cooking with and eventually eating corn smut.
Since first making these brownies years ago I've taken the time to learn how to make cannabutter myself on my stovetop, so if you're wondering about how that works take a look at the post. It's take a bit of time but is really easy.
And once you know how to make cannabutter you can also make cannabis infused coconut oil which you can then use to make your own weed gummies.
Since I've only given these away and not eaten them myself I can only offer recommendations and comments from others which are as follows: Best night's sleep of my life! Magical! Or Do you have any more?
They look just like a regular brownie so I assume that's what they taste like. And since they look remarkably similar to a regular brownie I'm very careful about labelling them.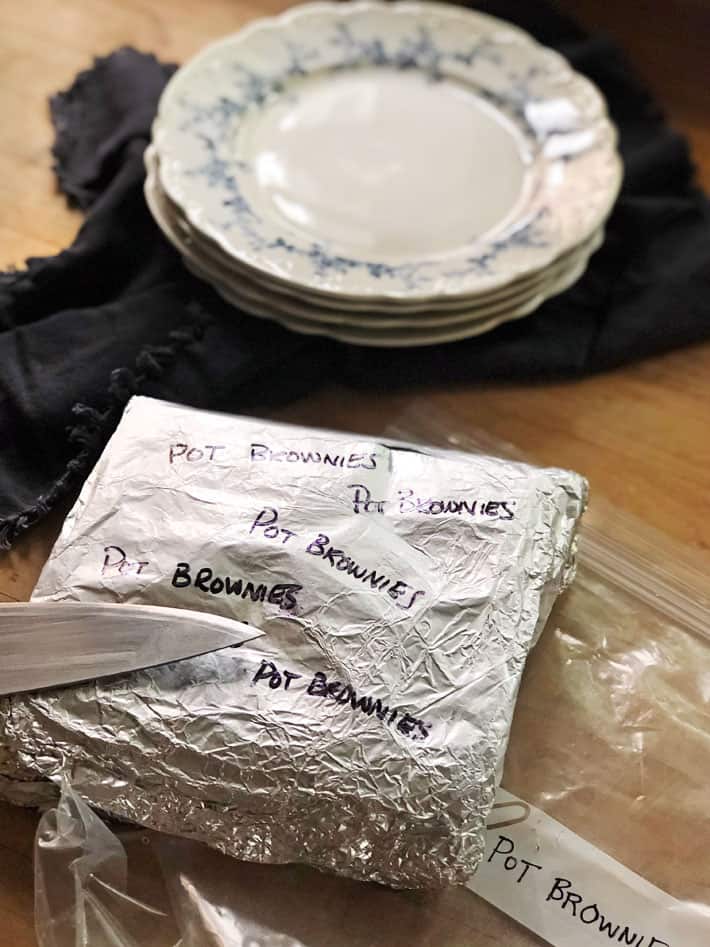 There will be no confusing these with anything other than pot brownies in my freezer. As an added precaution I also never ask any dyslexic people to go rooting around my house for brown pots.
Here's the story behind how I ended up with a freezer full of pot brownies.
Last year when I was in the thick of some ridiculousness I had to make a run to my local hardware store. I needed to pick up some flat, black spray paint for something or other. Just as I wormed my way into the very busy paint aisle my phone rang. I scrambled to pull it out of my purse and looked down to see it was my mother calling. I decided I had better answer it. She's old and God knows what kind of trouble she could have been in. She might have had a funny cat story that needed to be told immediately or couldn't find Jeopardy on television. Any number of tragedies could be impending. So I picked up.
I should emphasize at this point that my mother has the projective speaking voice of a partially deaf theatre actor. When she gets on the phone it's on par with the sound level of an air craft carrier. As I stood there in the paint aisle, sandwiched between 7 or 8 perfectly respectable looking people in need of paint, my mother started describing an old people party that she had been to the night before.
I pushed the phone a little harder to my ear to drown her voice out from the people around me. My mother was speaking at a frenzied, excited pace. And loudly. VERY loudly. I squished the phone harder to my face but it was no use. Everyone around me could hear her retelling the story of the night before.
You'll NEVER believe what my friend was making brownies out of. POT! SHE MAKES BROWNIES OUT OF POT AND SHE MAKES HER OWN POT BUTTER AT HOME IN A CROCK POT OUT OF POT SO THE BUTTER IN THE POT BROWNIES IS FILLED WITH POT !!! THAT'S MARIJUANA!!!
Within seconds I'd scrambled out of the paint aisle crowd into a less populated area of the store. I let her finish telling the story and immediately asked for her friend's name, phone number and address. I do love an interesting adventure and trying new recipes. If they both happen to be illegal then that makes a great story and I love those too. My mother was not sure about the whole venture and at first withheld her friend's phone number. What would her friend think of me? Looking to buy butter made with cannabis.
After unscrewing my face from the wtf are you TALKING about look it had frozen into I explained to my mother that it was her friend who would be selling me her own canna butter. So I was fairly sure she wasn't going to judge me.
Yes. I know. I don't want my friends thinking you're some druggie. Was the answer I got.
At this point I had to remind myself I was dealing with the elderly and had to explain to my mother that her friend, the one making the pot butter in her own kitchen, with Wheel of Fortune blasting in the background wasn't going to think less of me for buying her pot butter. She would only think less of me when I told her I wasn't going to try it myself.
It took some convincing but I finally coaxed the name and phone number out of her. My canna butter dealer had been secured. Now I just needed to actually score it.
My drive to the pickup point took me through a maze of terrifying streets. Perfect homes set on a perfect lawns filled with perfectly suburban people. It was a horror I tell you.
Within a couple of days of the paint aisle phone call I found myself in the kitchen of an older woman and her husband as they eyeballed what they thought *might* be a half a pound of canna butter.
They dumped the butter into a Ziploc baggie, and then that baggie into another one filled with ice and proceeded to give me a tour of the house including an outline of how they were planning to decorate for Christmas in 6 months time. We said our good-byes as she pressed a brownie recipe into my hands.
Hopping in my car I made my way out of the survey. I rolled down the window, hung my arm out and tried to find a song on the radio that was appropriate for the occasion. Maybe some gangsta rap or hardcore punk; something to illustrate to those around me exactly how much of a badass I was - rolling low down the road in my V.O.L.V.Oooo.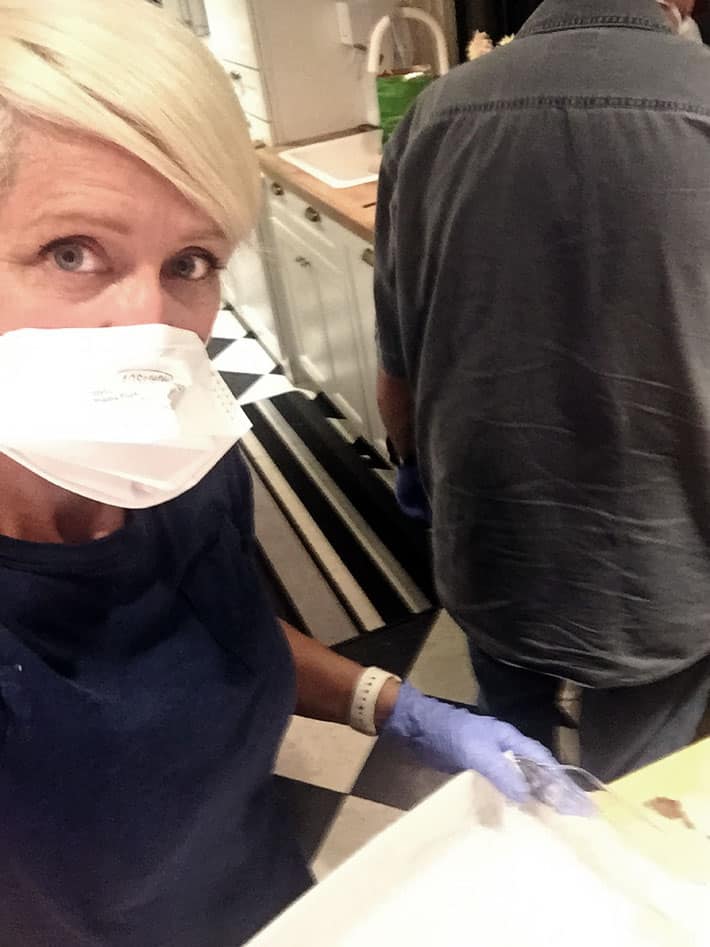 Several months later I pulled the butter out of my freezer. My uncle was coming to visit and as a child of the 60's, he was known to embrace all that came with the era.
That night, I thew on an apron, some Bob Marley and a respirator mask (being a badass doesn't mean you have to be careless) and proceeded to make some brownies I would never taste. Yeah, I'm not sure why I thought I needed a respirator but I was pretty adamant that I was going to wear it.
Weed Brownie Tips
Since originally making these brownies, pot has become legal across all of Canada in both recreational and medicinal form. So I've learned a LOT about pot in the past couple of years. Most importantly that there are two subspecies of cannabis that have different effects (highs). These effects will transfer to your brownie so know what you're using.
Note: All cannabis has both Sativa and Indica characteristics. Whichever subspecies is dominant in the strain is how it is labelled. These are based on the terpenes in the cannabis. Each terpene has a different role that creates a different effect. All of these things working together creates what's known as the entourage effect with various elements of the cannabis working together.
Sativa
Sativa dominant strains give a cerebral high. You feel creative, awake and pleasantly happy.
Indica
Indica dominant strains give a body high. You feel mellow, relaxed and ready to sink into the couch or bed.
Potency
There's a lot more to cannabis than just THC and CBD, but those are the most commonly referred to components of it when listing the potency. THC is what you're looking for if you want to get a high. CBD is what you're looking for if you want a myriad of health benefits with no high at all. I take CBD oil daily.
Since these are pot brownies meant to get you high, I'll talk about THC here. Like I said, if you want to read about CBD you can read about how and why I take it here.
THC
THC alone doesn't make you high, it first has to be decarboxylated. That's a big word for a small thing. It just means that the THC needs to be heated up to become activated. That's why people smoke pot. The heat is what activates the THC and causes the high. If you were to just eat a pot leaf or flower it wouldn't get you high.
When cooking, the most popular way to work decarboxylated THC into a recipe is by making and/or using canna butter. Cannabis is heated in the oven, then added to melted butter and heated again for a specific amount of time. The solids are then strained out and the resulting butter is filled with properly heated and activated THC. Or it can be made in a crock pot.
Percentage of THC
Just like booze has different percentages of alcohol (rum = 40%, wine = 11%), different types of cannabis have different percentages of THC.
The higher the percentage, the more THC it has, the stronger the effect will be.
Keep that in mind when making or buying your canna butter as the strength will be directly proportionate in your brownies.
USE CAUTION.
Edibles (cannabis infused foods) take longer to take effect (up to 90 minutes) and the effects last longer (up to 8 hours). If you're new to pot experimentation or not sure of the THC level you're working with start with a very small bite. a 1 cm square for example. Wait 90 minutes, and assess.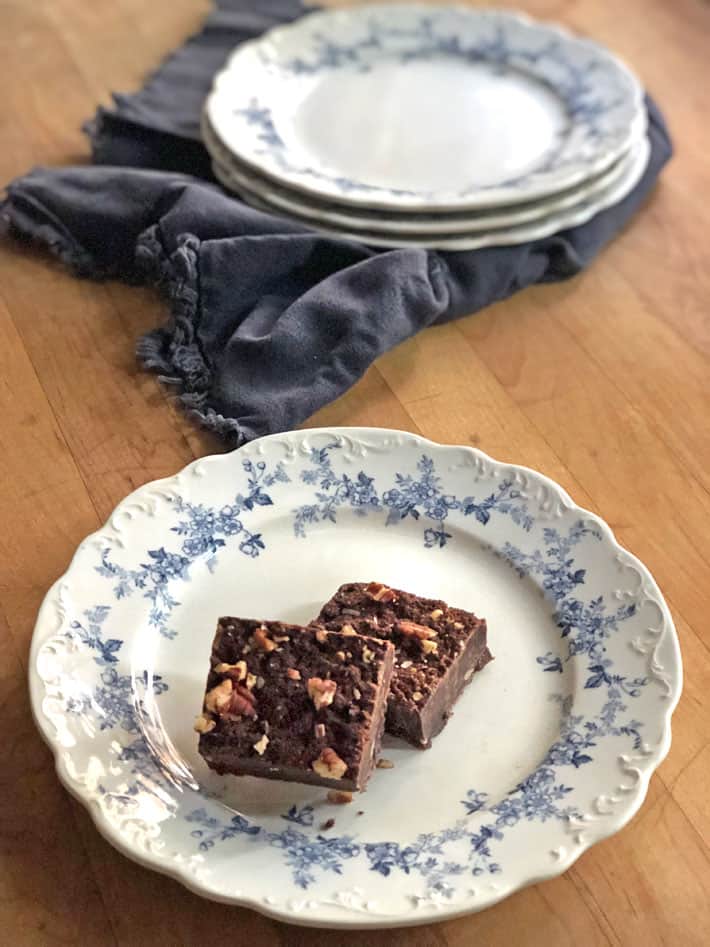 Pot Brownie Recipe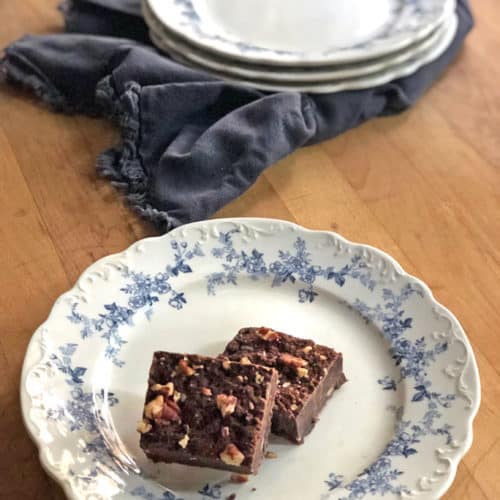 Pot Brownies
These brownie are made with Canna Butter. Canna butter varies in potency so make sure you know what you're doing before mixing up a batch of these.
Print
Pin
Rate
Ingredients
8

ounces

chocolate

squares, unsweetened

¾

cup

butter

½ cannabutter and ¼ unsalted butter

2

cups

sugar

¼

cup

cocoa

unsweetened

1

cup

nuts

hazel, walnuts or pecans chopped

3

eggs

2

tsps

vanilla extract

1

cup

flour

¼

teaspoon

salt

1

tbps

sea salt

flakes
Instructions
Heat oven to 175 C (350F)

Melt the chocolate, cannabutter and regular butter in double boiler or in microwave.

Stir in sugar, eggs, vanilla and nuts. Mix well.

Incorporate flour and salt to wet mixture.

Spread the batter into a parchment lined pan. (9 X 13")

Sprinkle the top of the batter with chopped nuts and bake for 30 minutes.

Remove from oven and sprinkle the top of the brownies with flaked sea salt.
Notes
Be very careful and conscious when cooking with any cannabis product. Cannabis oil is sticky and all utensils and pots need to be thoroughly cleaned and scoured a few times after use.
Remember not to lick the spoon or test the batter and please don't make recreational pot brownies with children around.  They are INDISTINGUISHABLE from regular brownies.
Wipe all counters and cutting boards maniacally.  
Nutrition
Serving:
1
g
|
Calories:
188
kcal
|
Carbohydrates:
23
g
|
Protein:
2
g
|
Fat:
9
g
|
Saturated Fat:
4
g
|
Cholesterol:
36
mg
|
Sodium:
328
mg
|
Potassium:
80
mg
|
Fiber:
1
g
|
Sugar:
17
g
|
Vitamin A:
215
IU
|
Vitamin C:
0.1
mg
|
Calcium:
21
mg
|
Iron:
0.7
mg
AGAIN cannabis edibles are longer lasting and take longer to take effect. Use with caution.
I'll let you know when I figure out pot potato chips.
→Follow me on Instagram where I often make a fool of myself←