I painted the 170 year old brick wall in my dining room last week. It's the kind of thing only an a) brave b) stupid c) bored and d) mentally deranged person would do. It's a project that's been 17 years in the making. Those beautiful, old, uneven, hand formed bricks are now white and I feel sick. I've wasted 17 years worth of time and energy hating that brick wall; I should have painted it years ago.
So why didn't I? I was scared.
Painting brick isn't 100% irreversible, but it's pretty close. It's like gaining 400 pounds. Technically you could lose that weight but it's gonna take a lot of work, a lotta tears, enough swear words to fill a penitentiary and some kind of surgery.
Even though the brick wall was beautiful, it didn't make my room beautiful. At all. In fact it ruined my dining room. That one end of the rectangular room always felt dark and heavy. I put LED strip lighting above it to brighten it up. That worked(ish). But not enough.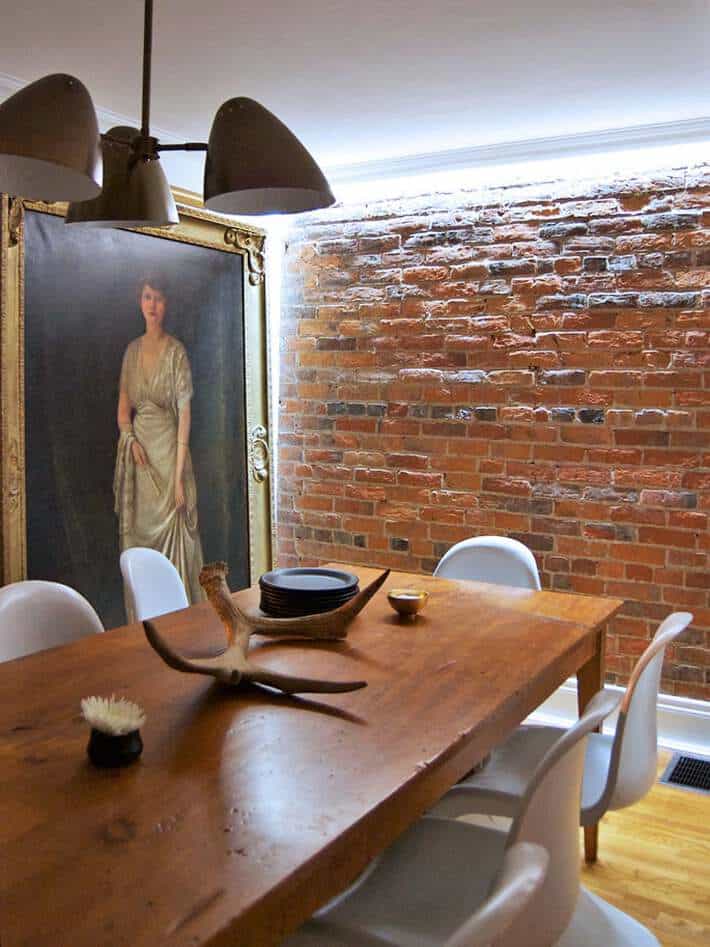 Plus. OMG. SO orange. I couldn't hang any art on the wall because absolutely everything just looked like barf on it. The wall always felt a bit dirty and scary. Those are great qualities for certain things in your life, but not your dining room wall.
One of the larger reasons I wanted to paint the wall white was so I could hang my beloved non-relative, never even met her or anyone related to her, Margaret, on it. I wanted Margaret on the big brick wall.
I told many people I was going to paint this brick wall over the years and I had many people tell me back "NO!", while simultaneously whipping their hand up in the universally recognized stop position. "You cannot!'. No one ever had a really solid reason for me, other than they didn't think it should be done. So I didn't. Not necessarily because they said so, but because I was already afraid to do it myself. Even though I didn't like it. It makes no sense that I didn't like it but I didn't.
Whenever I watch television shows where perpetually cool characters live in lofts with exposed brick, I love it. I wondered if it was possible I needed to dress cooler and go out later at night in order to like my brick wall.
Upon further reflection I realized that those huge New York lofts are also styled by professionals, and usually have wall to wall windows to bathe everything in light.
Then I took a trip to Lynne Knowlton's treehouse and cabin where literally everything is painted white and I said SUCK IT. I'm going home and painting that brick wall the second I walk through the door.
And a mere 2 months later I did just that.
Kind of.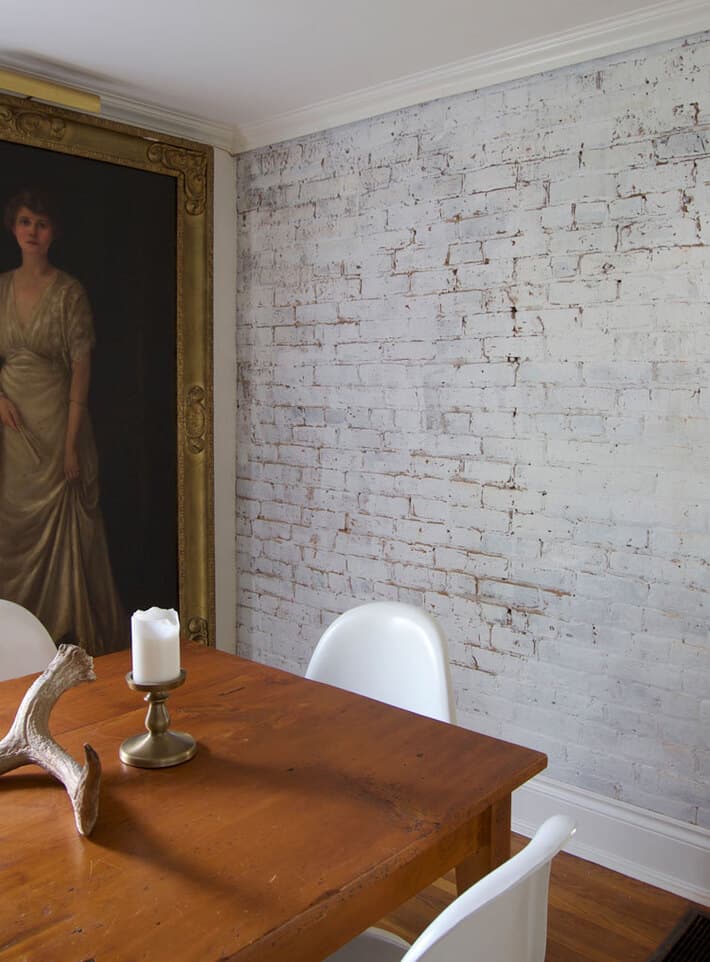 I primed my brick wall, put my brush and paint away and called it a day. I liked it exactly like this. Not a perfectly painted brick wall. Not a Pinterest brick wall. An interesting looking, aged, antiqued looking brick wall.
THIS was the kind of wall a super-cool New Yorker would like in their dining room.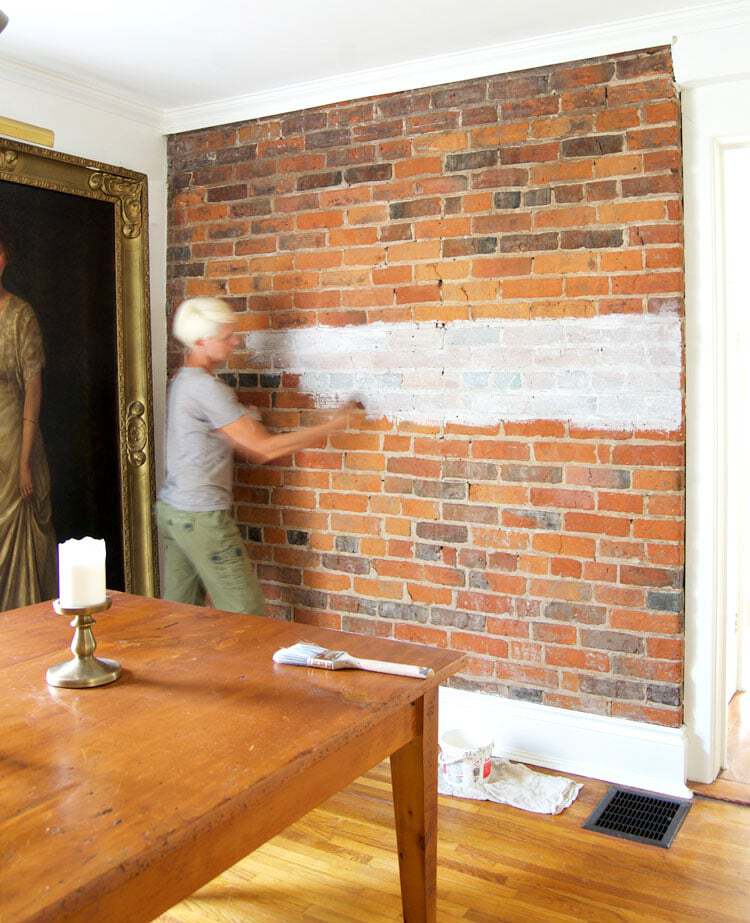 Here's a lesson for you. Roll with the punches. I just made that phrase up this very second. I'm also considering inventing the phrase "prime the pump".
I started off thinking I was going to completely paint my brick wall. Then on a whim I decided to see if I would like it whitewashed.
Whitewashing a brick wall (or anything) is as simple as using 50% water mixed with 50% paint. The paint has to be a water based paint, not oil. If it seems too solid still, just water it down a bit more.
Then paint it on the surface and blot the runs with a rag right away.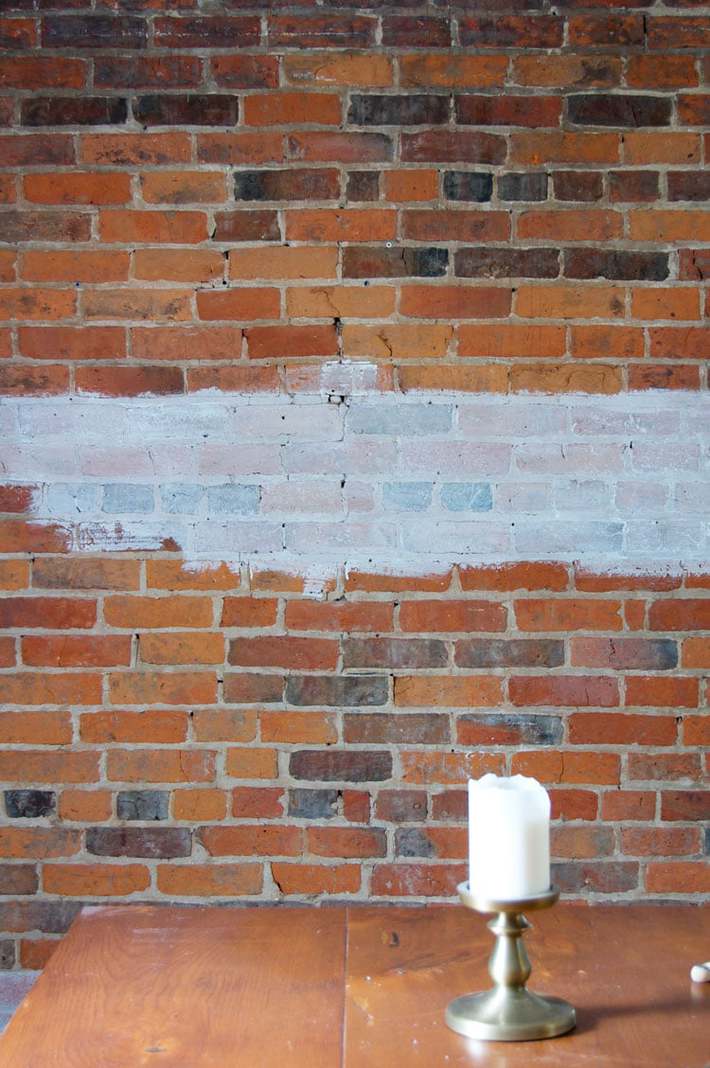 I didn't like it.
I didn't like it one bit.
I got out my primer and started slapping it onto the wall with a brush and a roller, realizing I'd have to just paint the whole wall in a solid white. Because my bricks are so old and irregular it was almost impossible to get into every groove and hole so I gave up on that after a while and just brushed the primer on quickly, thinking I'd go back and clean it up after one quick coat.
But then I stood back and I liked it. I really liked it. I Big Mac liked it.
And just like that I knew I was done.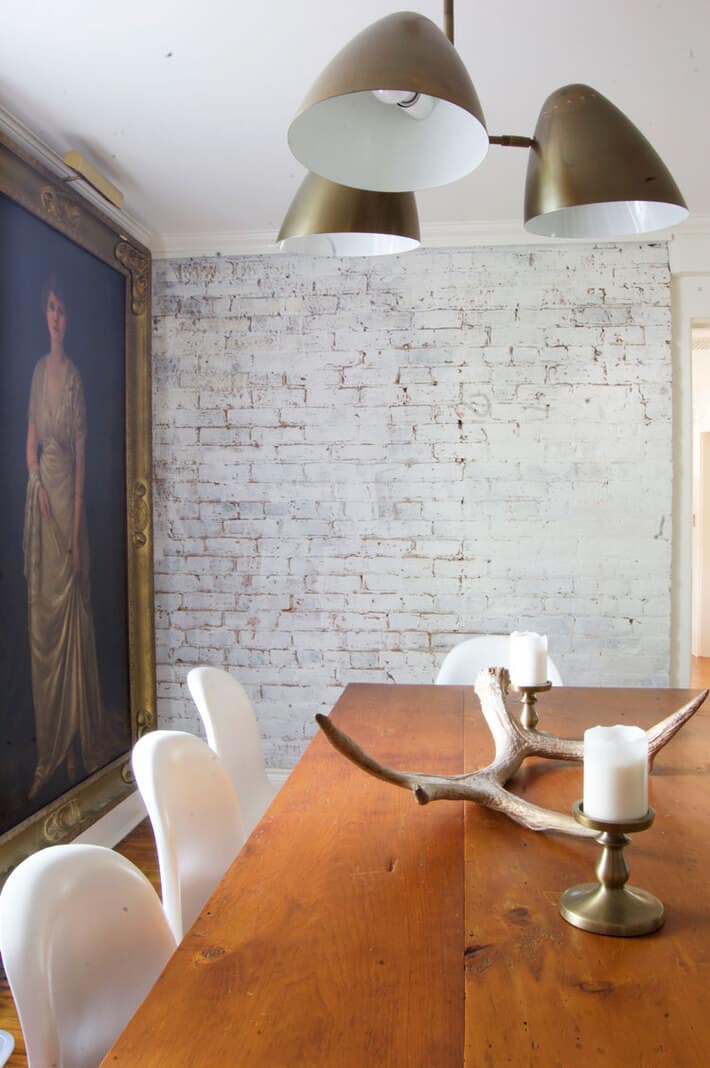 How to Antique a Brick Wall
Slap some primer on the wall being careful not to cover every bit of it.
Clean your brush, put your paint can away.
I did finish priming the entire wall, but after I was done a quick coat of primer I packed up my paint, washed my brush and started sending photos to family members and friends.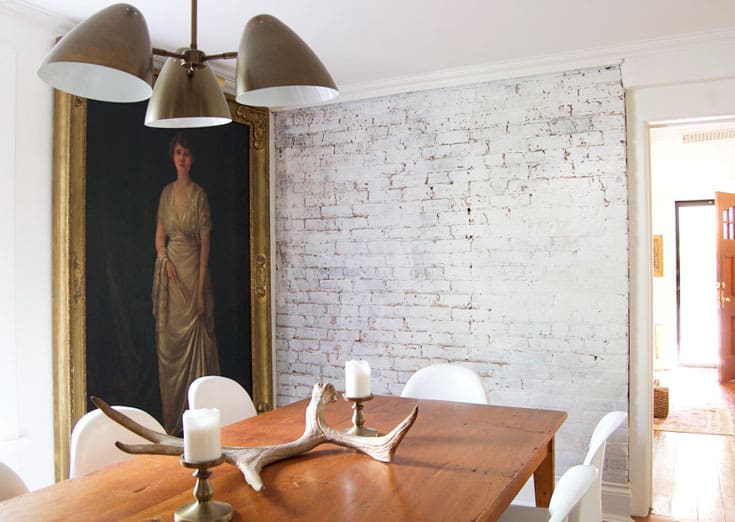 Well guess what. They liked it. I mean, they gasped of course, but they liked it. A few people asked me if I was finished. I told them I thought that I actually liked it the way it was. To which they replied, "Yeah, I think I like it like that too."
Do you know what's funny?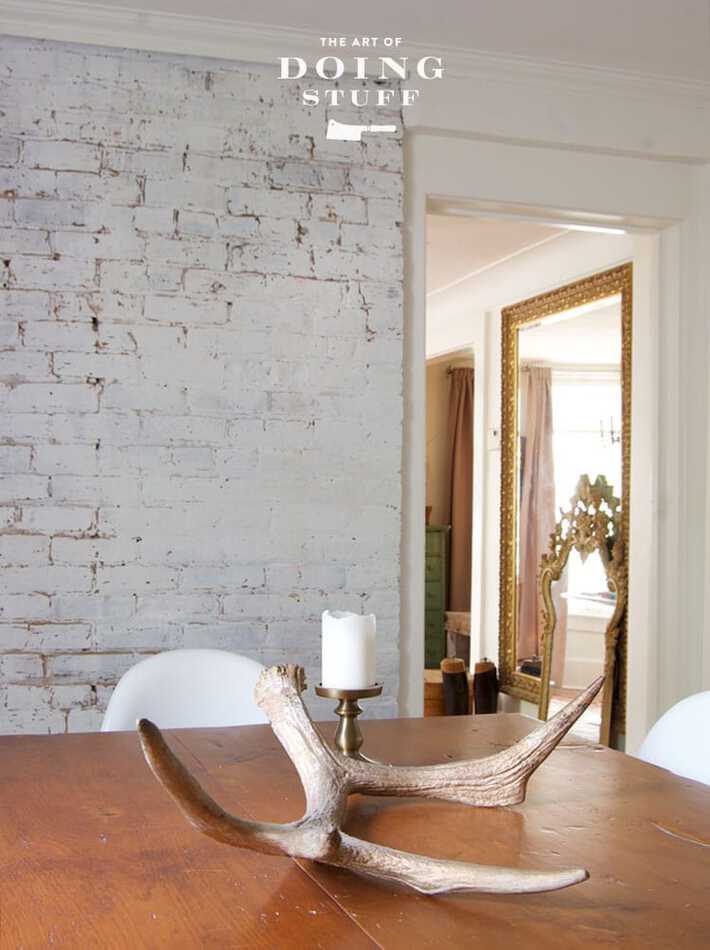 Never once, in 17 years has anyone ever walked into my dining room and commented on how beautiful they thought my brick wall was.
Not. Once.
So I don't know what everyone's issue with painting it was.
You may have noticed that Margaret is not on the brick wall. I love it so much I don't want to cover it up. Also, the room is better balanced with Margaret where she is, but instead of leaning against the wall, for the first time in the 15 or so years that I've owned her, she's hanging.
My plan was to paint my brick wall solid white and hang Margaret on it.
I ended up with a kind of painted wall and Margaret stayed where she was. Roll. With. The. Punches. Be aware. Go with your hunch. Prime the pump.
The truth is I'm glad it took me this long to paint the dining room wall because had I done it 6 or 7 years ago I wouldn't have had the confidence to leave it the way it is, half-assedly painted. I'm also glad I didn't know I was going to haphazzardly paint my wall. If I knew I wanted a "random" look to the wall I would have given WAY too much thought to what areas got more paint than others. I would have stood back and assessed and made it way more difficult than it needed to be. By not knowing what the hell I was doing, I got a genuinely random look. The kind of random look I never would have been able to achieve if I was trying.
I know; you maybe liked the brick wall natural. I know; it was a beautiful brick wall. I know; it's very difficult to lose 400 pounds. But it can be done.
I'm not sure why I was so scared, because I don't think there's ever been anything I haven't liked better after painting it white and that includes my kitchen brick wall, my interior trim and my first cat.
Now if you'll excuse me I have a wall to look at.