Looking for a winter hobby? You might find everything you're looking for in hooking.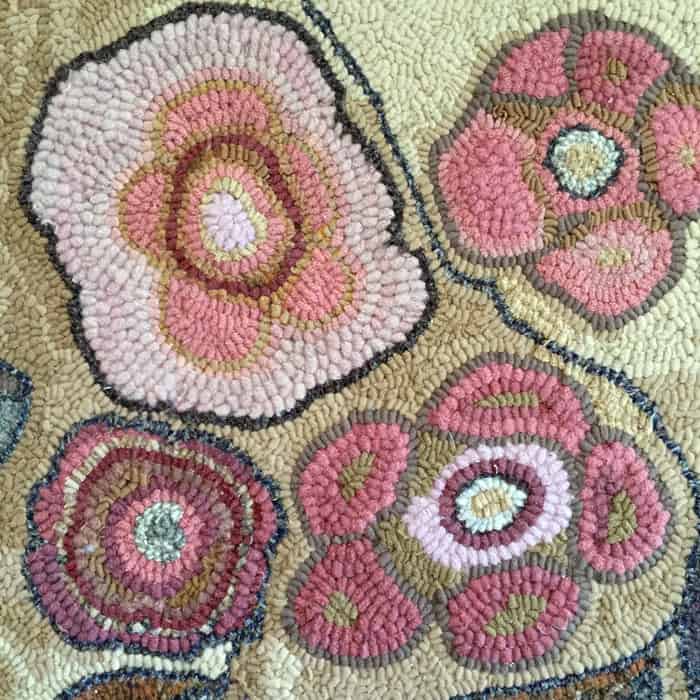 I had no idea that I had everything it took to make a spectacular hooker, but a few years ago, on a Saturday afternoon I discovered I was destined to be a pro. And so was my mother.
Ask yourself these questions:
1. Do you like to work with your hands?
2. Do you love to finish a job?
3. Do you have an instinct for when to pull out?
4. Can you happily sit with wood on your lap for hours?
5. Are you interested in a mindless activity and doing it over and over and over again?
If you answered yes to any of those questions you could be well on your way to disappearing into the dark underworld of hooking.
Rug Hooking
Rug Hooking, which is considered to be both an art and a craft, became popular after 1830 when carpets became all the rage. Of course, only the rich could afford carpets, so the poor had to figure out a way to make their own. Kind of like how the only way I could afford to have a pizza oven was to make my own.
The poor couldn't afford to use good yarn or fabrics because those were needed for making clothing and quilts, but cruddy, old worn fabrics, those could be used for rug hooking. Strips of whatever they had on hand were either cut or ripped into strips then hooked through whatever backing they could find for free. Most of the time this was the burlap feed sacks their grain came in.
If you're wondering why it is rug hooking isn't as popular as, say quilting, the reason comes down yet again to money; poverty specifically. Quilting was considered a fine art in the 1800's and it's the sort of thing the daughters of rich families would learn along with embroidery and the fine art of eye lash batting. Quilting was always an art of higher status and more sought after by everyone because of that.
Rug hooking? That was for the common folk. People with scabs.
It wasn't until about a century later, in the 1930's that rug hooking started to develop a strong following with artists and it broke free from its lower status.
O.K., that's the short history of hooking.
So what happened a few years ago was I accidentally ended up taking a Saturday morning rug hooking class. My sister, Pink Tool Belt, is an interior decorator and one of her clients is a rug hooker who offered to show my sister how to "do it". She in turn, invited me, my other sister and my mother along to learn too.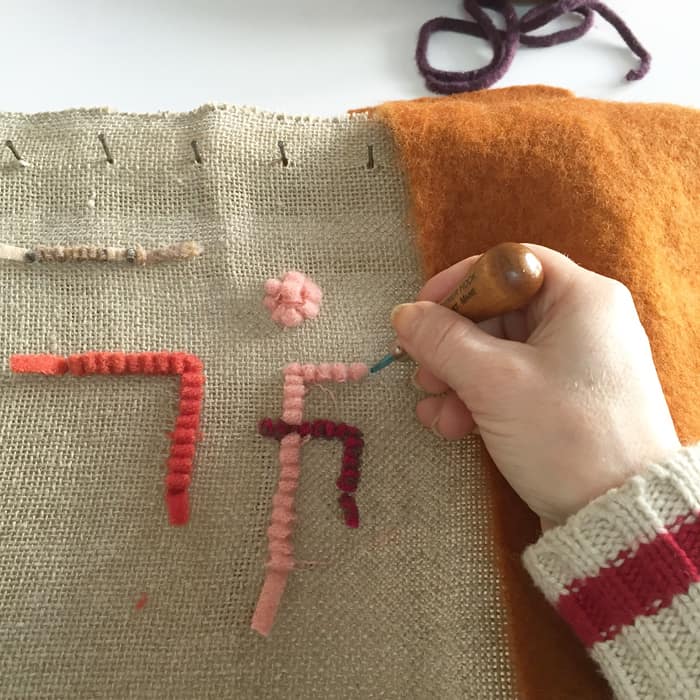 I kind of thought we were just going for an hour or so to get a general idea of what rug hooking was. Nope. We were there for the day, we each got everything we needed to hook a rug.
What do you need for rug hooking?
A backing (like linen), a frame to attach the backing to, strips of wool, and a hook.
If you have a larger rug then you should get a stand to hold your rug hooking on as well. I have a DIY tutorial on how to make a rug hooking stand out of a cheap camera tripod.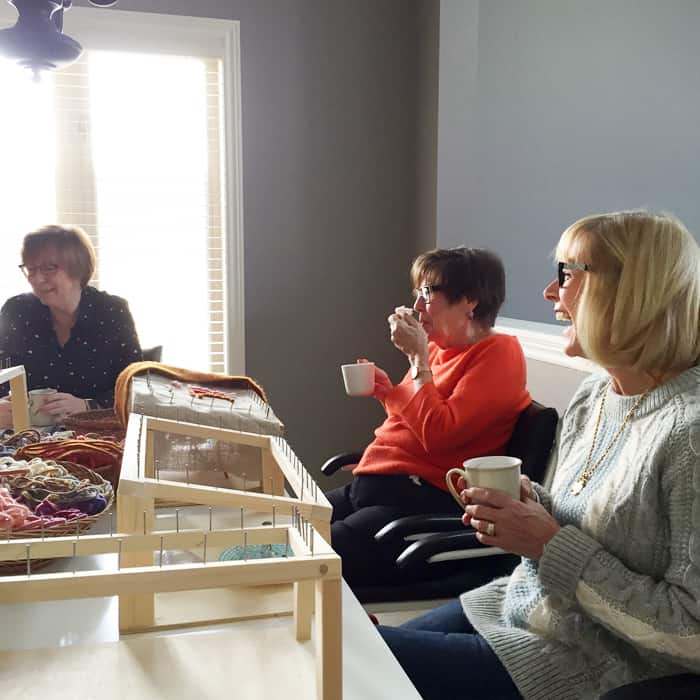 These are hookers.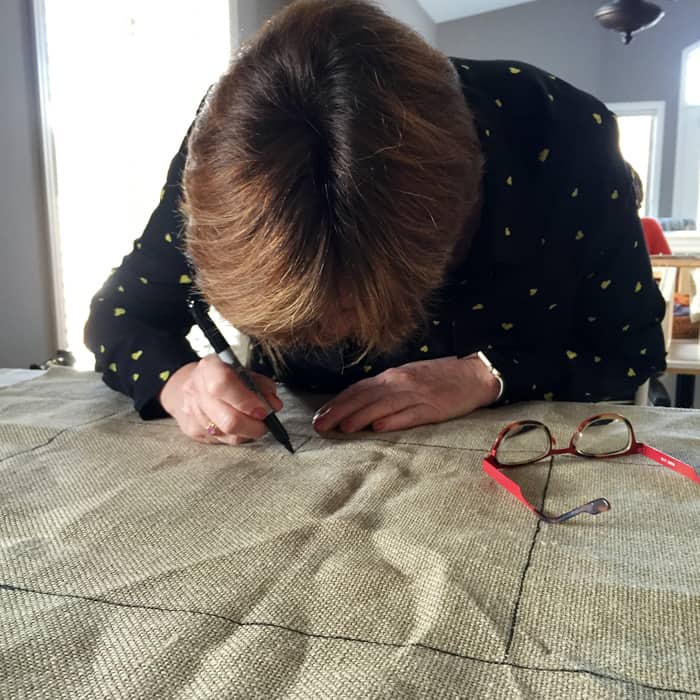 Is rug hooking difficult?
Rug hooking is probably the easiest craft I've ever tried. I'm not saying it's easy to excel at, but in terms of technique, you can learn everything you need to know to get started in minutes.
You get a piece of linen the size of the rug you want to make (start with something small like a kitchen mat) and draw a pattern onto it. You can get countless rug hooking patterns and kits from Etsy or you can design your own pattern.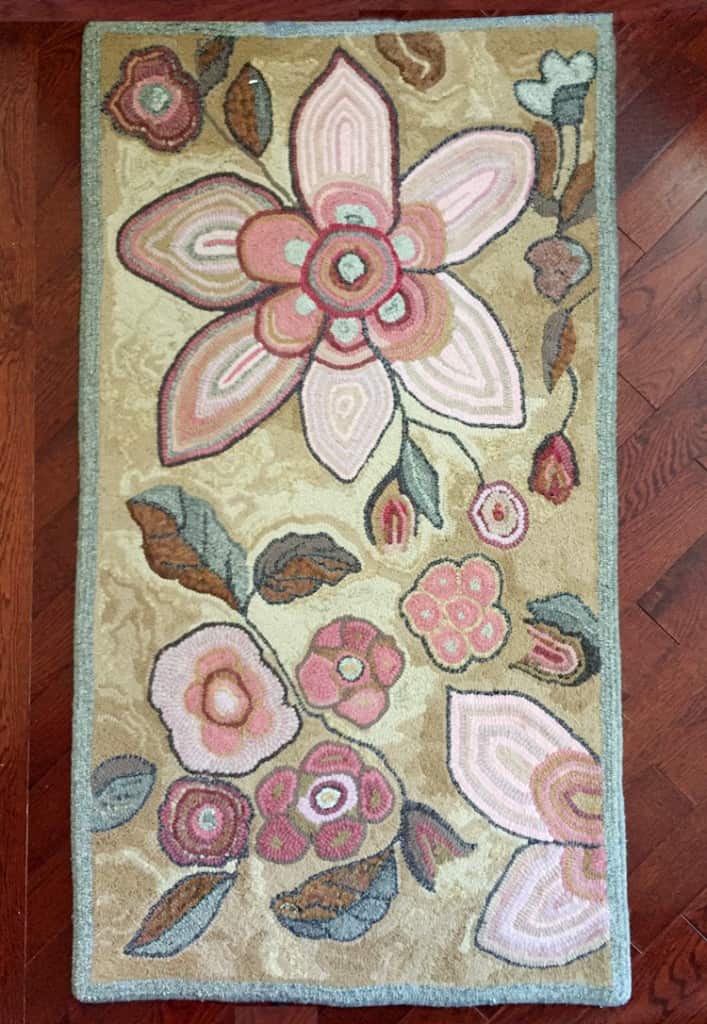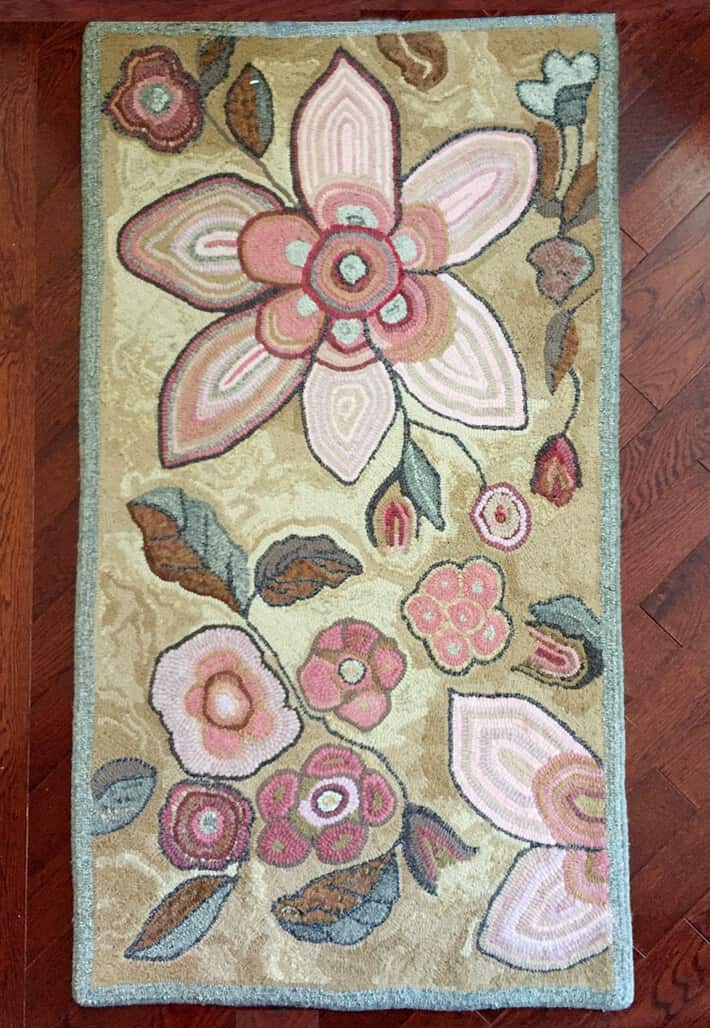 Where skill and practice comes in, is when you get into shading and picking out colours and creating interesting textures and patterns with your wool.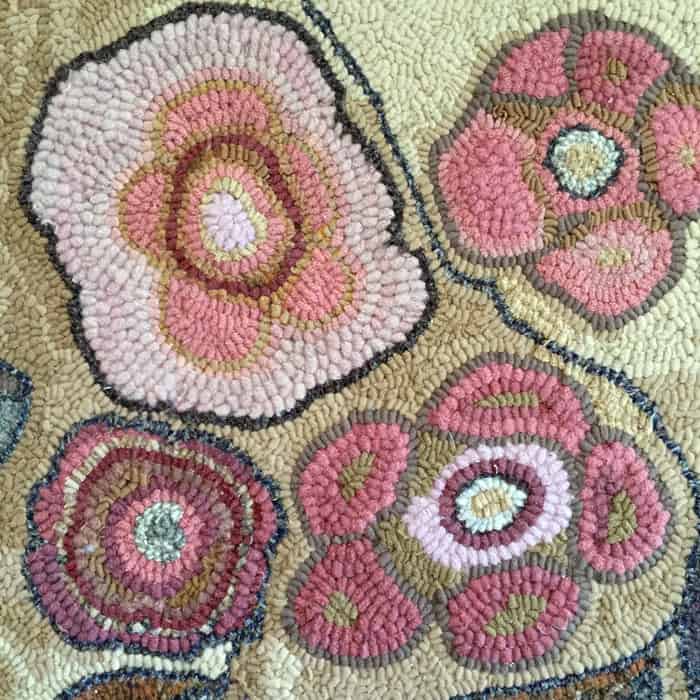 Oh yes. It's all done with 100% wool. This only became popular in the 1900's, the idea of using wool. Before that, it was a matter of using what you had laying around.
Using wool means the rug will be durable just about forever and you can wash it.
And you'll spend an insane amount of money and time trying to find the perfect wool.
Wools can either be solid colour, tweeds, hand dyed, dip dyed, or over dyed.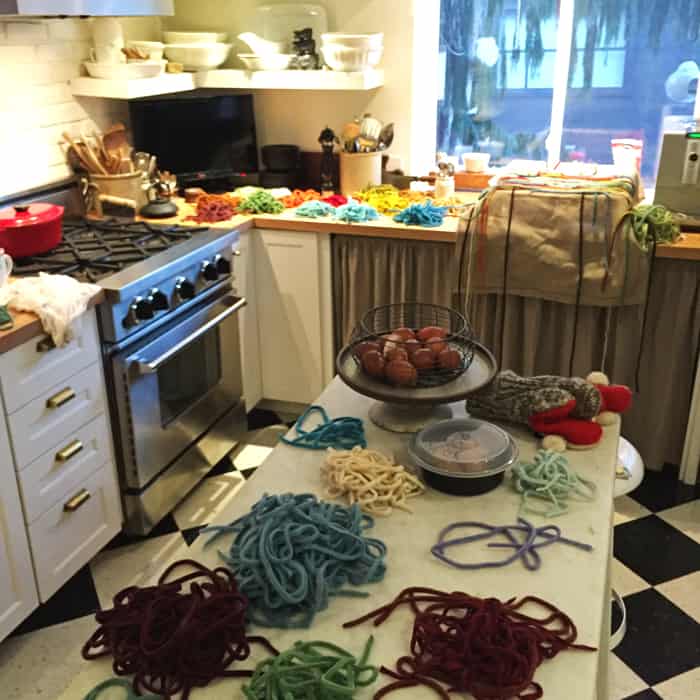 This is what my kitchen looked like a mere 5 hours after learning how to rug hook. Honestly. 5 hours before this I didn't even really know what rug hooking was.
So how did this happen? It was a pusher.
This is how they do it. You go for a class from a nice, friendly lady who doesn't seem to want anything in return. She gives you everything you need to get started and shows you how to do it for free. Or for a very low fee. And then ... you're in. You're hooked.
This of course is not unlike what a skilled drug pusher does.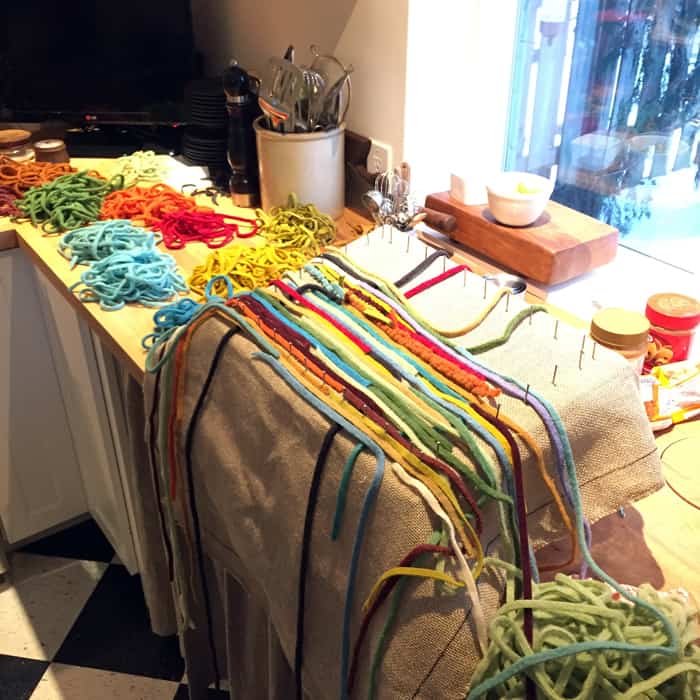 If you look closely at this photo, which was taken about an hour after I got home from my class, you'll notice 2 things.
I've completely pushed all the ingredients for the peanut butter cookies I was going to make out of the way, to make room for the more important thing in my life now, rug hooking.
I'm a happy hooker. Look at all those bright, fun colours.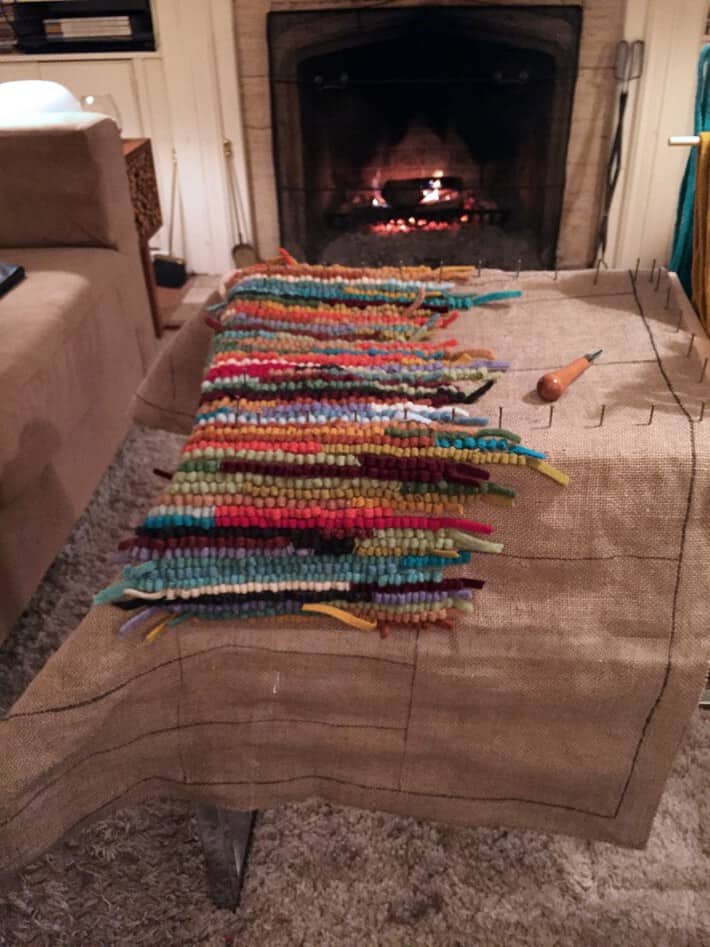 By day 3 I hadn't left my living room, or as I like to call it now, my hooking den.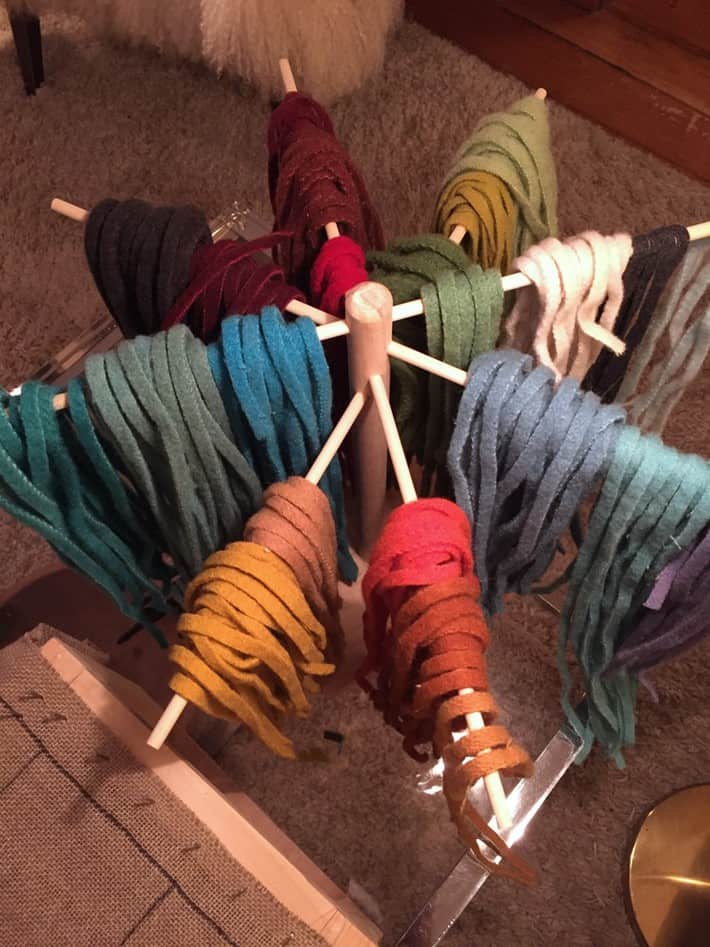 After seeing a wool stand that Pink Tool Belt made out of scraps of wood, I ran to my cupboard to pull out my pasta drying rack. Perfect wool holder.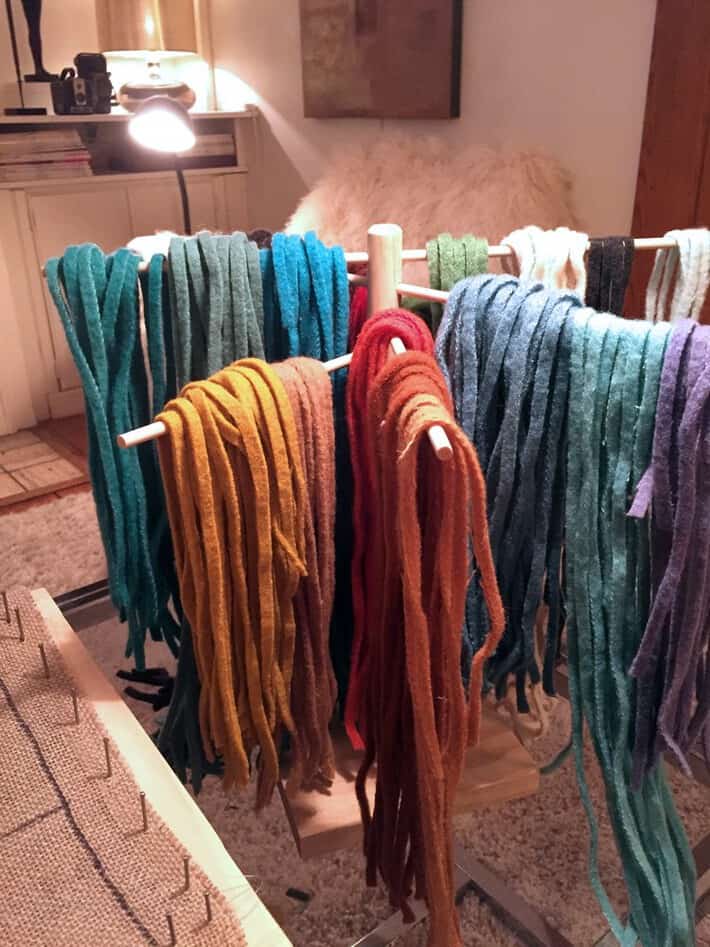 Something else you might be noticing right about now is that my pictures are crap. I became so enamoured with rug hooking that I couldn't be bothered to drag out my real camera, or set up lights or even really focus my iPhone camera.
It was a struggle to convince myself bathing was a necessity of life.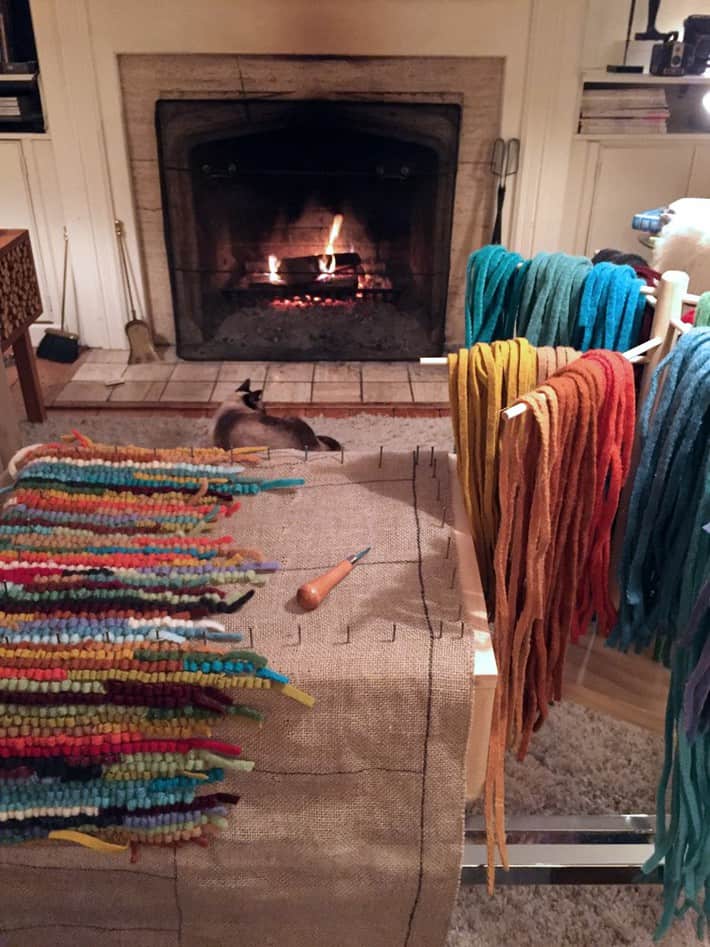 Because I wasn't entirely sure what I was doing or even what this class was going to be I didn't really put a lot of thought into what I was going to hook, so I decided to just do a sort of rag rug look with all kinds of colours. It'll go in front of my sink in the kitchen and will be the one and only thing with colour in the room.
Yes. Once it's done. A mere 5 years after starting my first rug, I'm not finished it. My sister has since completed countless rugs including a FULL SIZED rug for her front hall.
It's not that I don't love it or don't want to do it ... I just don't. It's very weird. I really do love doing it and love how they look.
It all began with primitive rug hooking and that's the classic look.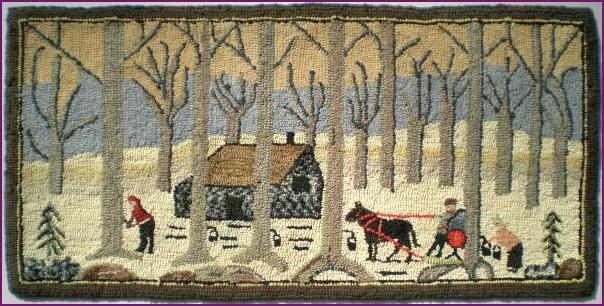 1963, $1,750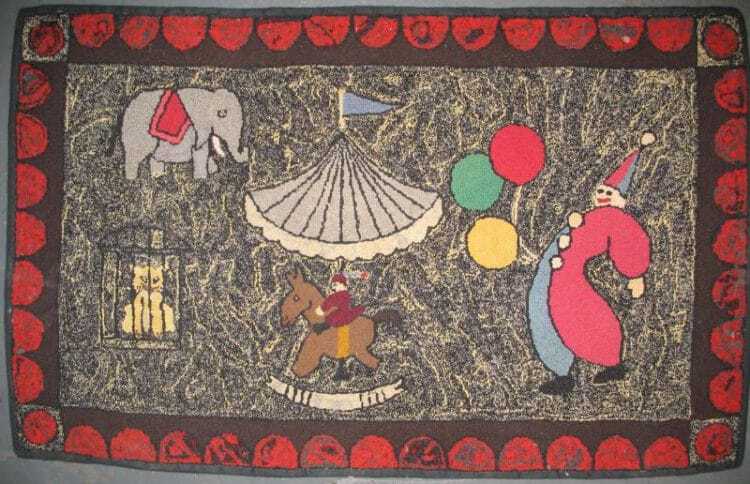 1940 (this rug is TERRIFYING to me)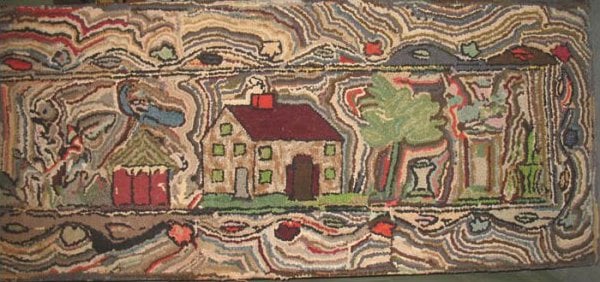 1900, $6,500
Now, I love all the antique and primitive rugs, but these slightly contemporary versions from rug hooking artist Joanna Close are heavier on the realism than the folk art. And they're incredible.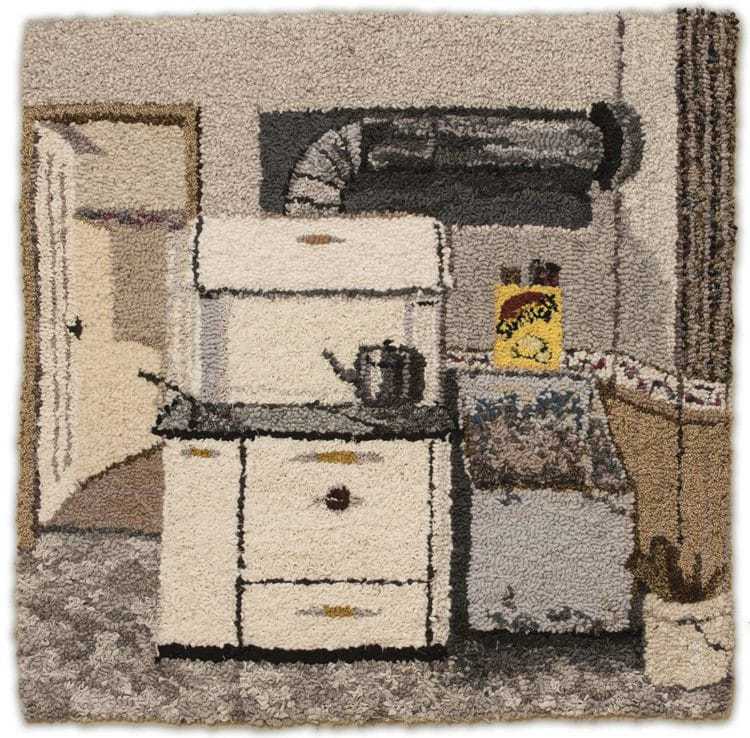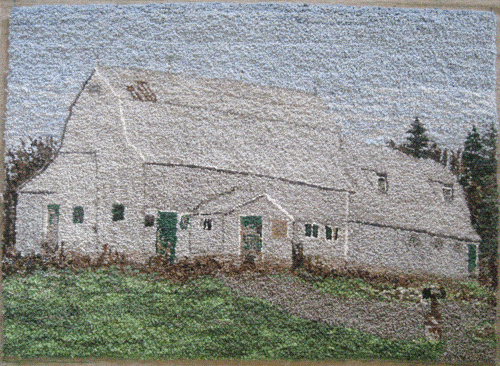 Luckily this hobby, doesn't end with something dying if I neglect it. Unlike chickens, dogs, cats or bees.
The other thing you'll need if you become a serious rug hooker is a cutter.
There are 2 ways to get wool for your rug hooking. You can either buy the wool pre-cut and ready to go in any colour you want (which is really expensive). Or you can buy the wool pre-dyed but not cut (which is still expensive) or you can go to thrift stores and find old wool skirts, jackets and blankets, wash it, dye it if you want, then cut the wool into strips yourself. This is the cheapest way to go but there's a bit of an investment in the cost in the machine that cuts the wool.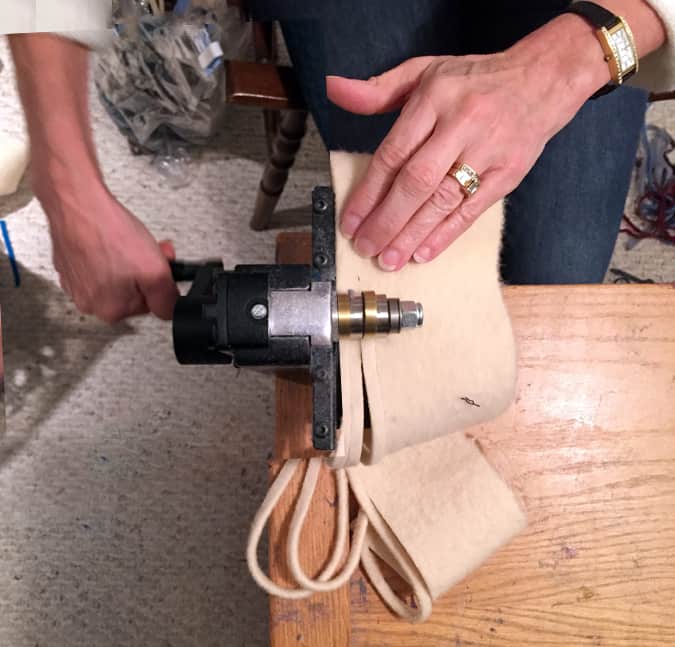 You could cut the wool strips by hand, but get real. How would I have time for my other hobby of dressing my chickens like 1970's sitcom characters if I did that?
The most popular cutter because of its general indestructibleness, speed and ease of use is the Bee Line Townsend wool cutter. It's about $1,000 with tax.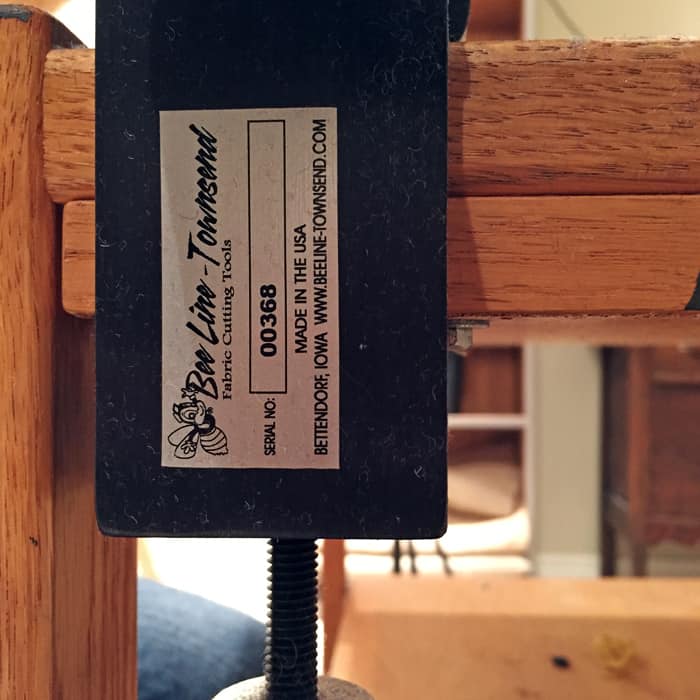 Or, there's the Canadian made Bolivar which is based on the same design as the Bee Line but it's less money. I'd be happy with either. I'd actually really like to try the Boliver because it's Canadian made and less expensive.
I was VERY close to buying my own cutter within the first week of rug hooking. It's a good thing I didn't. I don't think there's room under the sofa for it.
Having said that, I'm going to make a concerted effort this weekend to put down the laptop and get back to hooking.