A couple of winters ago I started to put my recycle bins right outside my kitchen window. I did this because a) I am smart and b) I am lazy. Not necessarily in that order.
All winter long I could just open up my kitchen window and throw my recyclables into their appropriate bin. Come summertime I'd have to drag the recycle bins away from the window to a less visible, less convenient part of the yard because I didn't want big ugly recycle bins right out there in the open looking like their ugly selves.
My plan last year was to build a box around the recycle bins to hide them. I got to that plan a full year later. (refer to second sentence for reason)
I'm not giving you measurements or anything for this project because chances are your recycle bins are a different size. We've gone with the super-tall, generally massive recycle bins. Standard ones are smaller.
I built this bin cover one morning while I was waiting for a friend to come over. I didn't even plan on building it. I was walking around the backyard and realized I probably had everything I needed to build the bin cover using the leftover materials from my chicken coop. Again, you don't need to use the same materials I've used. Use whatever you have or whatever you can steal. From a neighbour. That you don't like. Under cover of darkness and drink.
Recycle Bin Covers
Materials
4 lengths of 2x4s
several lengths of 1×6's or any other flat, fencing type wood.
Wood screws
Drill
First cut your fencing. Don't forget to make sure it's a few inches longer than each side of your recycle bin. Lay the fencing on the ground.
Lay your pre-cut 2x4s on top of your fencing.
This section is for the side of the box.
Pre-drill your screw holes. One screw for every piece of fencing.
Once you have assembled and screwed together your two side pieces you need to attach them to the front fencing pieces.
Like with the side pieces, just lay your fencing on the ground. Place one of your completed sides on the front fencing pieces and screw them together. Do the same on the other side.
You now have a slightly wobbily box. If you really want to you can brace the corners and run a 2×4 along the bottom and top of the open end. I didn't want to, so I didn't.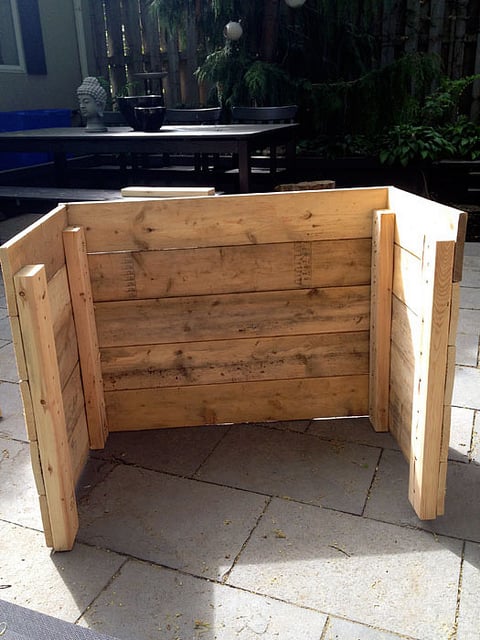 Once the bin cover is in place I won't be moving it so I don't need to worry about it wiggling apart over the years. If the unstained wood suits your backyard then by all means, leave it as is. If not, then now's the time to stain.
Now that your bin cover is stained you just need to slip it into place. (I realize it looks like I splashed paint all over my recycle bin, but I didn't. Well, I did, but that was during a long ago project, not this one)
The bin cover blends in well with the planter boxes I built and is the exact same look as the chicken coop.
The dark colour is also a really good backdrop for the greenery all around it.
I can now chuck things out the kitchen window to my heart's content all spring, summer, fall and winter long. My name's Karen and I am smart and lazy. Otherwise known as slazy.
Here's to all of you who are the same!