Step right up folks, for the DIY you've all been waiting for! This project requires no tools, no glue, no sparkles, staples or scissors. Just an old shoe brush and your imagination.
My sister Pink Tool Belt asked me to go to a flea market with her last weekend. A real flea market, not an antique market. The kind of place you can either buy a shoebox filled with cell phones from 1996 or a fur coat with only one sleeve missing.
Flea markets are weird places. Real flea markets like the one we went to are filled with people looking to sell pretty much anything. You might find a booth selling chandeliers and antique china next to a booth with someone selling expired gum and mustard. You just don't know what'll be around the next corner. But kind of like a horror movie, you're terrified but just have to look.
Also there's a very real possibility that a human eyeball might roll across the plywood floor in front of you and that just isn't the sort of thing you can see just anywhere.
The first booth we went into looked very much like a dust covered Jenga. There was stuff from floor to ceiling with every square inch filled up. Shelves bent and sighing under the weight of 142 dirty Princess phones. It was like American Pickers randomly barfed up everything they'd ever seen but didn't like.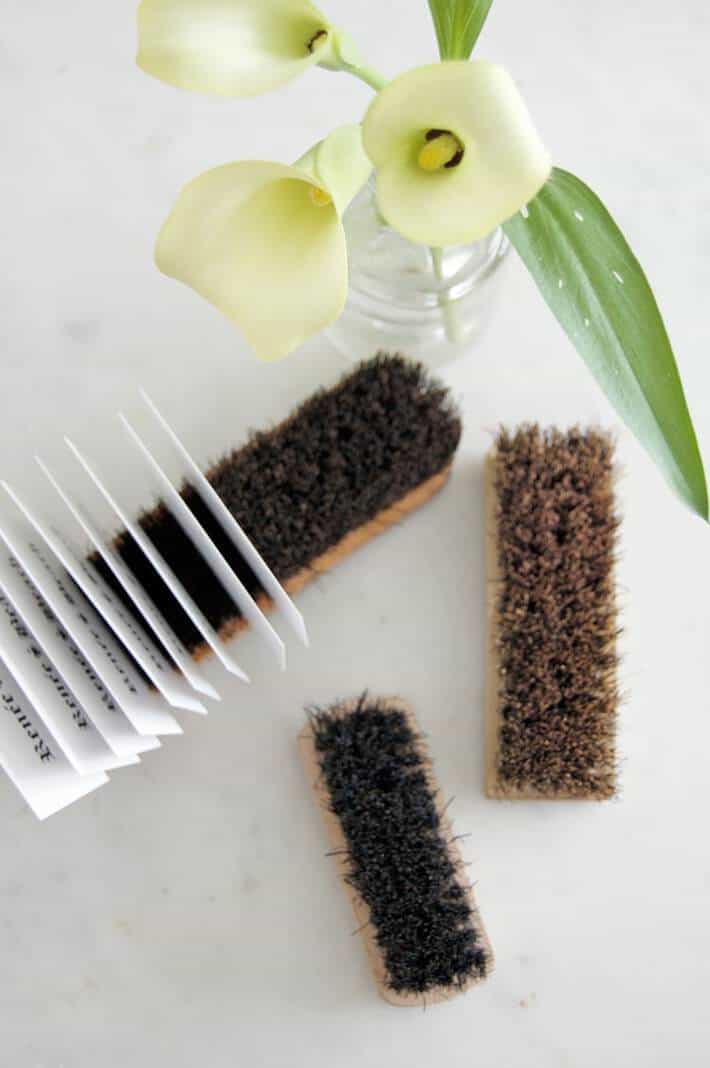 But when we actually started walking down the tiny aisles we realized that everything was completely organized. All the bowls in one spot, cups in another. An entire section dedicated to nuts and bolts. And all along the floor in one aisle mounds and mounds of vintage mason jars.
Along the last aisle I found these old(ish) shoe brushes. Which I've always loved for some reason. I think it's the natural wood and bristles. I just like the look of them.
Years ago I saw brushes like this holding pencils and pens. But whenever I found these brushes that little trick never seemed to work. So I gave up on it. But while I was rummaging through the brushes at this flea market I figured it out.
For these brushes to work as a pencil holder the bristles need to be packed really close together. If you look down and can see space between the bristles it probably isn't going to work. Also, longer bristles give you better support for pencils.
So I grabbed some pencils (from the pencil section, just under the waffle maker section) and tried out all the shoe brushes as a pencil holder. 3 out of about 30 worked. I bought em.
$2 each.
I like them to look old, but not old and gross so if you're like me and buy some brushes, when you bring them home just give the fraying bristles around the edge a trim.
Once I had them home I couldn't STOP finding uses for these rustic, little holders.
Pencils, business cards ...
Pens ...
But like I said you have to try different things. You might get your brush home and find it won't hold pens because the pens are heavy.
Yes, I know, you like the pencils. You can get them on Amazon.
Also you can't jam too many of them in the brush because when you go to grab one you'll knock the rest of them and they'll topple over, making you very angry, cursing the Jenga booth.
Lightweight pens work the best. Yes, I know. You like the pens. You can get them on Amazon.
If you do this you just have to try different things in different brushes to see what sticks.
A recipe card holder is probably my favourite use for the brushes. And yes I still have recipe cards. I love them. As brilliant and great as it is to have all your recipes on your laptop or tablet there's something greater about having an old, worn recipe card to cook from.
Stuck into a dirty old shoe brush with someone's shoe crud on them.
Just kidding. I hope. I ran my hand over the brushes and no shoe polish or dirt came off of them. But I washed them for my peace of mind.
Partly because of the shoe crud, but mainly because the shoe brush section? It was right next to the vintage porn section.