Dry, stale, leftover bread? Turn it into golden brown cubes of crispy, buttery homemade crouton goodness. All you need is 10 minutes and a dream. O.K., maybe also an oven and some butter and a couple of other things ...
I have to be honest up front here and tell you that up until last year I rarely make homemade croutons. Mainly it's because I couldn't be bothered. Counting the exact amount of fruit flies a variety of traps catch is no bother. But croutons? No. Far too much bother.
Homemade Croutons. What??!!
The stupid thing is, making croutons is zero bother at all. Seriously, you can whip up a batch of croutons in 15 minutes, and most of that time they're in the oven. The other 5 minutes is spent cutting bread, melting butter and scrolling Instagram.
Once you do this you will not go back to store bought croutons. Ever. Your soup, caesar salad, and chili will never put up with a regular crouton again.
You can use any bread, even leftover hotdog buns or hamburger buns but the better the bread the better the croutons.
You can use stale bread, leftover bread or fresh bread. It doesn't matter.
All you do is cube the bread, toss it in a mixture of olive oil and butter (1:1 ratio) sprinkle with salt and rosemary and put them in the oven. If you want to go that one step further, grate some garlic in your butter and let it steep while you cut the bread. And if you don't have a rasp for grating things you need to get one now. This one comes in 14 different colours. I'm partial to the yellow.
I think what stops most of us from cooking a lot of things is worrying about following a recipe. Croutons really have no recipe. You can add whatever herbs you like or no herbs at all. All you have to remember is proportions.
Crouton ratio
1 lb bread - ½ cup oils
That's it. You can use pure olive oil as the oil, or a mixture of butter and olive oil or all butter. I like a 50/50 ratio of melted butter and olive oil.
And goat videos.
Just preheat the oven to 375°F (190°C), take a baking sheet, drizzle some olive oil on it, throw your cubed bread on top in a pile and then pour the rest of your oil over top. Mix it up with your hands and then spread the cubes out on your baking sheet.
Now is when you want to sprinkle salt, rosemary or whatever herbs you want.
Throw the sheet pan in the oven that's been preheated to 375 °F and bake them.
The longer you bake the croutons the drier they'll get and the longer they'll store. If you don't like browned croutons just bake them at a lower temperature like 350.
If you bake the croutons at 350°F for a shorter period of time they'll be crunchy on the outside and slightly chewy on the inside. DELICIOUS. It's how I prefer them, but I want mine to store for a long time so I make sure they're dried out and crunchy all the way through.
I like my croutons browned and really dry because my favourite way to use them is not in salad, but in soup. You need a hearty, crispy crouton for soup. One that has some GUTS! Some STRENGTH! A CROUTON THAT WILL NOT BE PUSHED AROUND.
One that can withstand a hearty squash and apple soup!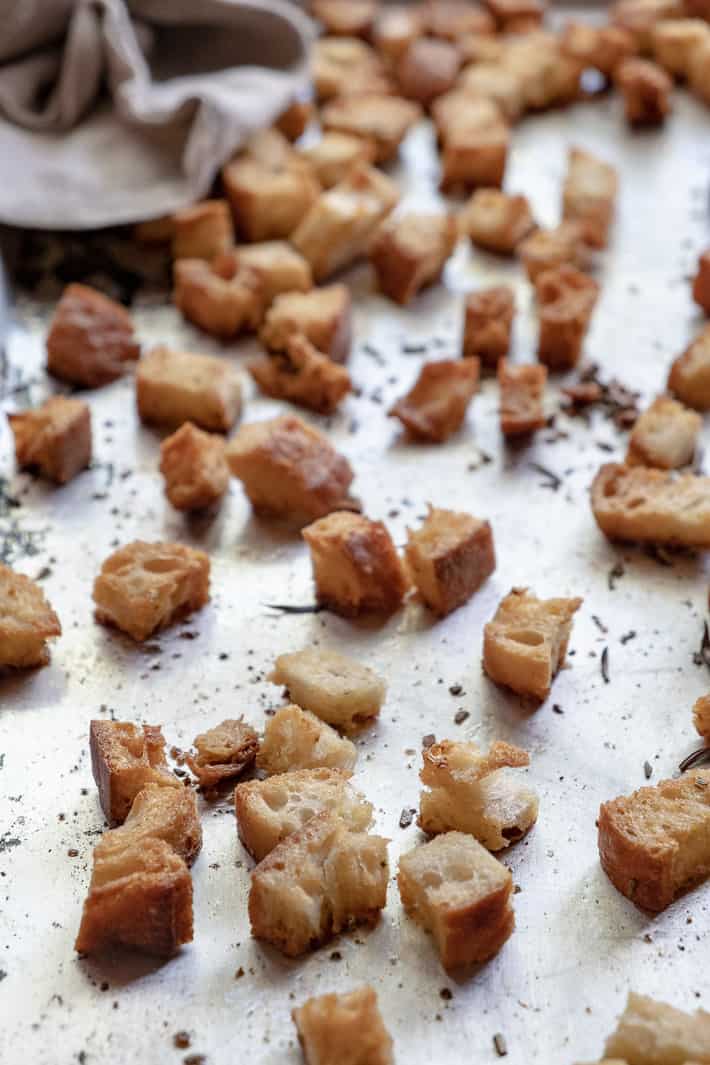 I make enough to last a while so I don't have to go to alllllll this bother (??? what is wrong with me) again for a couple of months.
Seriously. 15 minutes total, 10 of those spent the scent of garlic, rosemary, bread and butter waft through the kitchen. A far nicer smell than rotting fruit flies for instance.
Store your croutons in a glass container. I use this tall canister and keep it at the ready for when a crouton craving hits.
Garlic Croutons
The best, most buttery delicious croutons you'll ever eat. Honestly. They're no bother at all. 15 minutes and you're done.
Print
Pin
Rate
Ingredients
1

lb

bread

4

cloves

garlic

¼

cup

butter

¼

cup

olive oil

2

Tbsps

rosemary

chopped

salt
Instructions
Melt ¼ cup of butter and mix with ¼ cup of olive oil.

Grate/rasp 4 cloves of garlic into the bowl of butter and olive oil. Let sit while you prepare the bread.

Cube bread into nice sized chunks.

Drizzle a large baking sheet with olive oil.

Add croutons to the baking sheet in a big pile.

Drizzle all the butter/olive oil/garlic mixture over the croutons, tossing the cubes as you go so everything gets an equal amount of oils.

Spread the croutons out and then sprinkle with a generous amount of salt and rosemary.

Bake for 5 minutes, remove from oven to give them a good stir and then return them to the oven for another 5 minutes.
Notes
Different breads and different sized cubes take different amounts of time to dry out so keep an eye on them. It could take a bit longer or a bit less than 10 minutes to cook them properly.
Nutrition
Serving:
0.25
cups
|
Calories:
89
kcal
|
Carbohydrates:
38
g
|
Protein:
8
g
|
Fat:
19
g
|
Saturated Fat:
6
g
|
Cholesterol:
20
mg
|
Sodium:
460
mg
|
Potassium:
151
mg
|
Fiber:
3
g
|
Sugar:
4
g
|
Vitamin A:
255
IU
|
Vitamin C:
1.2
mg
|
Calcium:
119
mg
|
Iron:
2.9
mg
→Follow me on Instagram where I often make a fool of myself←