Interested in Sous Vide ribs? I cooked one rack of ribs in a Sous Vide and then threw them on the smoker.  I cooked another rack of ribs on the smoker and then threw them in the Sous Vide.  Find out which should come first ... the  Sous Vide or the Smoker.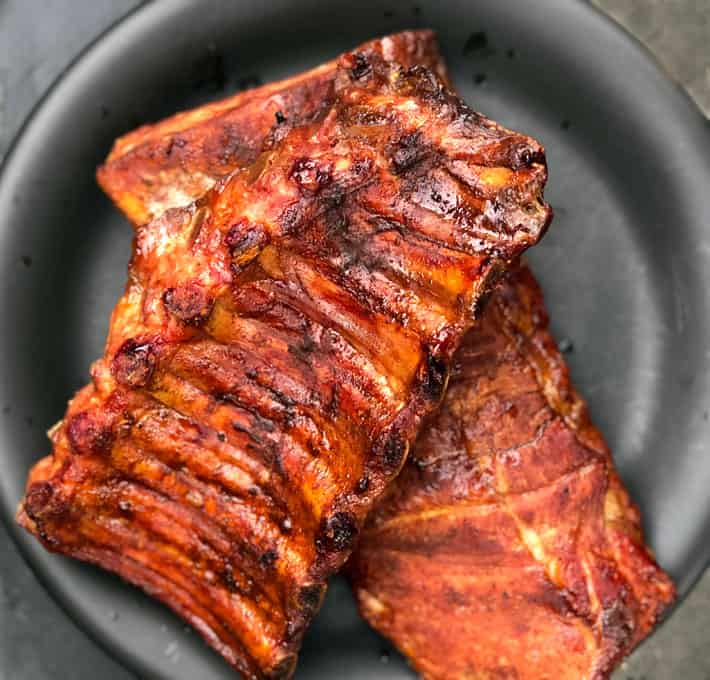 When it comes to perfecting good old fashioned classic recipes I'm like a dog with a bone.  Last week that bone was taken from the rib of a pig. I've actually been chewing on this particular bone since 2009.
In 2009 I was hosting a lifestyle television show and one of my guests was professional BBQer, Diva Q.  She came on set with 2 smokers (one of which was pink and shaped like a pig) and proceeded to make the kind of ribs I didn't even know existed.
Growing up in Ontario, Canada I've have very limited exposure to biscuits, real BBQ, gumbo and breakfast cereals that are 100% marshmallows.
After the show I must have sent that poor BBQing woman 20 emails asking her how I could make ribs like this at home on my regular BBQ grill.  I learned everything I could about cooking ribs low and slow. How to prep them, why temperature is so important and it was from HER that I got my Maple Bourbon BBQ Sauce recipe.  (She got it from award winning Pitmaster Mike Callaghan - whom I bought my smoker from years later)
The point I'm making here is when I commit to figuring something out, I commit in a radical way. I commit the way a bad tattoo commits to skin.
After my first few lessons with Diva Q I realized to make really good ribs I needed a smoker. So I got one.  Then I pestered the guy I bought it from (award winning pitmaster Mike Callaghan) for every tip he could possibly give me.
Honestly. If you know anything about anything, I am your worst nightmare.
When I got my Sous Vide machine I embarrassedly emailed Pitmaster Mike and told him I was going to try to Sous Vide some ribs to see if the machine could help me get better ribs off of the smoker.  I have a hard time getting ribs that are perfectly tender without being dry.  I was prepared for all sorts of swear words in his response.
Surprisingly he said that Sous Vide make great ribs!  And then he proceeded to tell me how to make them.  Which was the exact opposite of anything the Internet tells you about making Sous Vide ribs.
I tried them both ways and here's how it went.
Sous Vide Ribs
Method 1
Sous Vide → Smoker
(which is how most Sous Video manuals and Internet recipes tell you how to do it)
Cover ribs with your favourite rub.
Vacuseal and set in Sous Vide at 165°F for 12 hours.
Bake in oven at 300 until bark forms (about 20 minutes) then sauce ribs and return to oven for another 10 minutes. You want the glaze to become sticky.  (same rules apply if you're using a BBQ after the Sous Vide as opposed to an oven)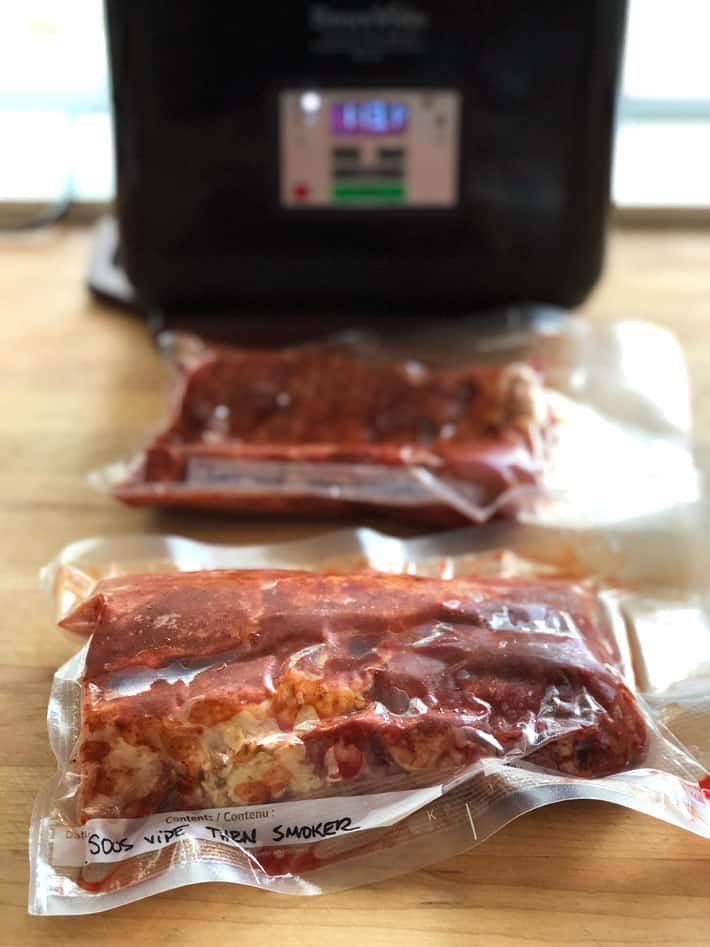 Method 2
Smoker → Sous Vide
(which is how a BBQ Pitmaster will tell you to do it)
Cover ribs with your favourite rub then smoke at 225°F for 2-3 hours depending on thickness of rib.
Sauce the ribs, Vacuseal, then place them in the Sous Vide at 195 for 2 hours.
Place on grill or in oven to firm up the ribs and glaze the sauce.
---
To know immediately which method will produce more flavourful ribs you only need to know one thing.  Smoke cannot penetrate cooked meat.  
That means once ribs are cooked in a Sous Vide, they'll never have that smoky taste.  There will be a bit of smoke on the exterior, but the rib itself won't taste like a traditional complex, BBQ, smoked rib.  And it never will.
Also know that 195°F is the magical temperature that the fat on your ribs melts.  Actually, 203°F is apparently the new magic number in the world of smoking but somewheretherabouts is where you'll find the fat melting away.  That's why for the "Smoked" version of the ribs, they were put in the Sous Vide at 195.  You could put them in at a lower temperature but it would have to be for a much longer period of time for the fat to melt.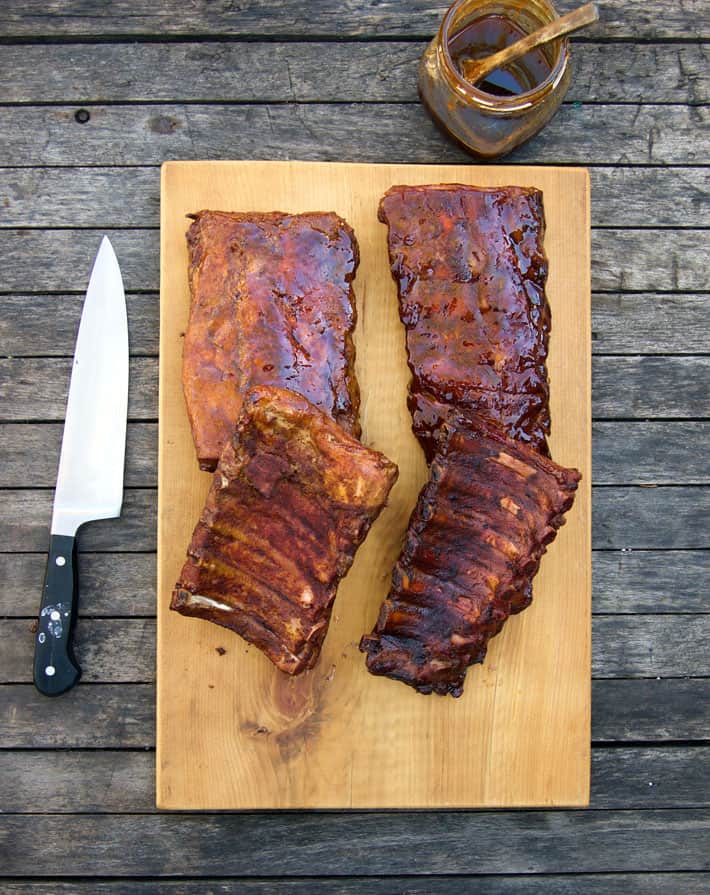 To the left you have the ribs that were done in a Sous Vide first and the Smoker second.
To the right you have the ribs that were done in a Smoker first and the Sous Vide second.
The colour on the ribs that were smoked first is much better both on the bark and the interior of the rib meat.
The interior of the Sous Vide first rib is white.  The interior of the Smoked first rib is pink. Not because it isn't cooked, but because smoke permeated it.
A pink "smoke ring" isn't important in ribs. The only thing that's important is they have that smoky taste.  The Smoked first ribs had it, the Sous Vide first didn't.
Having said that, they both tasted good and they were BOTH overcooked.  I'm good at this.
I knew which ones I liked better but there wasn't a remarkable difference. It was as if you bit into each of them and declared one the overwhelming winner and then spit the other one out.  But I couldn't completely trust myself, so after cooking and cutting both racks, I took my containers around the neighbourhood and made my neighbours taste test them.
First up Jenny.
Jenny's was the sole vote for the ribs that were done in the Sous Vide first.
Mike, who also owns a smoker, voted for the Smoked first ribs because he prefers ribs that are drier.  So of the overcooked ribs, Mike liked the most overcooked ones the best.
Laurel, who owns a small batch ICE CREAM BUSINESS (more with her later in the summer) preferred the look of the Smoked first rib but the texture of the Sous Vide first rib.  I can't remember which one she finally voted for because we started talking about the Met Gala and wine.
Other neighbourhood opinions all went with the Smoked first rib.
Neighbour Mike brought up a good point.  If you wanted to wake up and make ribs one summer day you could do it with the Smoked first version because they only took a total of 4-5 hours.  The Sous Vide version on the other hand takes 12.5 hours.
---
My verdict:
If you have a smoker, nothing is going to beat smoked ribs so just smoke them.
2. If you have a smoker but have a tendency to dry them out, use the Smoke then Sous Vide method. (Yes my ribs were overcooked but I can fix that by reducing the Sous Vide time or temperature next time. It's much easier to control than a smoker).  PLUS with this method you can freeze the ribs after you've initially smoked them, so when you want to have ribs you just need to Sous Vide them and then throw them on the grill.  It's what the professionals do.  Shhhhhh!  A perfect method if you're having a party.
3. If you do NOT have a smoker then your absolute next best option is to Sous Vide them, then finish them on the grill.  The texture was good, they pulled away easily from the bone and there were no doingey bits of fat.
---
Coming up next week the full recipe including tips, techniques, and rub recipes for Your Perfect Summer Ribs.
And I know what you're wondering right now.  The answer is no.  Neighbour Laurel has never had a neighbourhood ice cream taste testing.  And yes the only reason I had this rib testing was to plant that very seed in her brain.
→Like to Sweat, Swear and do Stuff? GET MY POSTS emailed to you 3 times a week←