Here's the thing about salad.  If you don't have the stuff in your house available at all times with the dressing already made and ready to go, chances are you aren't going to eat one.  Even if you want to eat salads, even if at 6:00 you plan on having a salad with dinner, by 7:00 when dinner hits the table chances are it's hitting the table without a salad.  Don't worry.  It's not you.  It's the salad.
THIS is why I'm so in love with my favourite kale salad, which you can prepare, mix with the dressing and keep it in the fridge for at least a week.  When you want salad you just pull out the bag, grab a handful and throw it on your plate.  With flair.  I hate to get you all worked up about a salad recipe I'm not going to be featuring for another couple of weeks, but I wanted to get across the point that if you do a little work in advance you'll increase the likelihood of all those nutritious leafy greens making it onto your plate and into your belly.
So yeah, the kale salad recipe is coming in a couple of weeks but for now what I have is a collection of my 4 favourite dressings for summer AND one of my favourite tips ever so you never have to remember a salad dressing recipe again.
I use this dressing all summer long on just about ANYTHING from salads to roasted red peppers to beets.  It's tangy and sharp with a bit of honey to sweeten it up.

SWEET BALSAMIC DRESSING
Author:
The Art of Doing Stuff
Ingredients
¼ cup balsamic vinegar
¾ cup olive oil
1 Tablespoon dijon mustard
honey to taste (start with 1 Tablespoon and build from that)
salt & pepper
Instructions
Mix together balsamic, dijon, honey and salt.
Slowly drizzle in the olive oil and whisk until emulsified.
Need a salad idea to use it on?  THIS is the one.
White balsamic dressing is sweeter than a regular balsamic dressing and it used to be much more difficult to find.  Now you can find it in most grocery stores.  If you have trouble getting your salad dressing to emulsify and stay together without separating there are 2 things you can do to fix that.
Mix together all your ingredients INCLUDING something that will act as an emulsifier like mustard or salt.
Slowly, slowly whisk in your olive oil bit by bit by drizzling it into the other ingredients.
If you do those two things your dressing shouldn't separate.
WHITE BALSAMIC DRESSING
Author:
The Art of Doing Stuff
Ingredients
2 Tbsp White Balsamic vinegar
4 Tbsps Olive Oil
½ tsp. Dijon mustard
salt & pepper
Instructions
Mix together white balsamic, dijon, salt & pepper.
Slowly drizzle in the olive oil and whisk until emulsified.
THIS is the salad I love to use a White Balsamic dressing on.  It's a perfect summer salad with a mixture of sweet and tart apples, with the licorice taste of shaved fennel.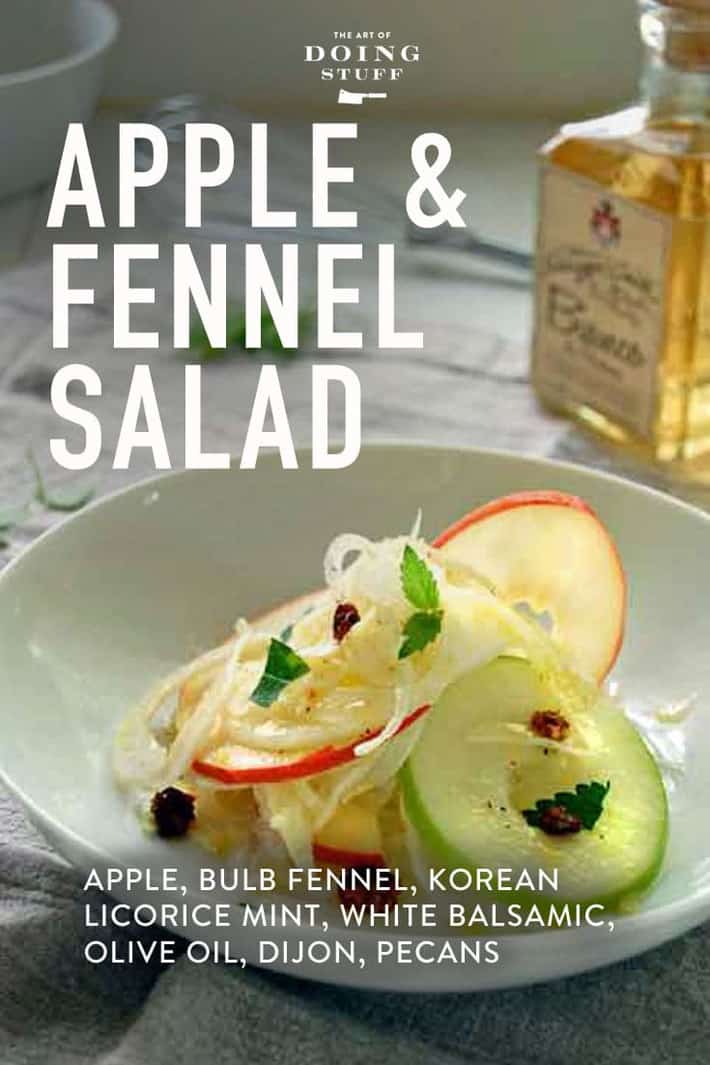 That's right.  Plain old oil and vinegar.  You don't even have to mix it.  Dark balsamic and good quality olive oil drizzled over tomatoes, basil and buffalo mozzarella is a classic.

OIL & VINEGAR
Author:
The Art of Doing Stuff
Ingredients
White Balsamic vinegar
High grade Olive Oil
Instructions
Drizzle salad with oil.
Drizzle salad with vinegar.
But if you're looking for something a bit more adventurous you can drizzle tomatoes with white balsamic and olive oil.  Add in some ricotta cheese and lemon rind and you'll be well on your way to eating salad every night.  Heirloom tomato salad with lemon ricotta.
THIS one is sweet so if that's not your jam, just reduce the amount of maple syrup in it.

MAPLE DRESSING
Author:
The Art of Doing Stuff
Ingredients
1 part Maple Syrup
1 part White Balsamic Vinegar
3 parts Olive Oil
dash of dijon mustard
salt & pepper
Mixed Baby Greens
Brie Cheese (cut into bite sized pieces)
Green grapes (cut in half)
Sliced Strawberies
Spiced Sugared Pecans
Instructions
For dressing, mix together vinegar, mustard, salt and pepper. Slowly whisk in olive oil to emulsify.
Combine salad ingredients and toss with dressing.
I stole this recipe
.  Stole it with a sleutheyness of a Russian agent.  It's more of a party salad than an every night salad but it is absolutely delicious with a combination of ripe, fresh strawberries, crunch candied pecans, smooth, creamy brie and juicy grapes.  Oh yeah. And there's lettuce.  Whatever.  Who care about the lettuce.  It's just there to make it look like you're actually eating salad instead a bunch of sundae toppings.
Finally, before I let you head into the weekend armed with 4 great salad ideas take this little tip with you.
Write your recipe on your dressing bottle.  Seriously.  Make your salad dressing in a bottle, marking the fill line and ingredient on the bottle every time you add something.  Next time you make the dressing your measurements are already done (in the form of lines on the bottle) so you just add your ingredients in order and it's done.  No measuring, no getting out a recipe, no nothin'.
Have a good weekend!