If you have a cubicle, a corner or just a counter you can grow your own seedlings. Take me for example. All I have is a dungeon, yet I grow hundreds of plants in it every year.
Told you. Dungeon. Complete with imitation mummified cat. I don't often show my seed starting area because it doesn't exactly inspire, but as I was down there today I realized, again ... my view of the world has been skewed by Pinterest and Instagram. Work with what you have. If all you have is a crypt, then that's just fine. As long as you have some grow lights you can grow your own seedlings.
If you decided THIS was the year that you were going to start your first vegetable garden, or grow plants yourself then it's time for you to start following along with me.
Today I'm going to tell you about what seeds you can start now.
Now is the time to start COLD HARDY crops. Things that do well in cooler weather as opposed to things like tomatoes and peppers which do well in warmer weather.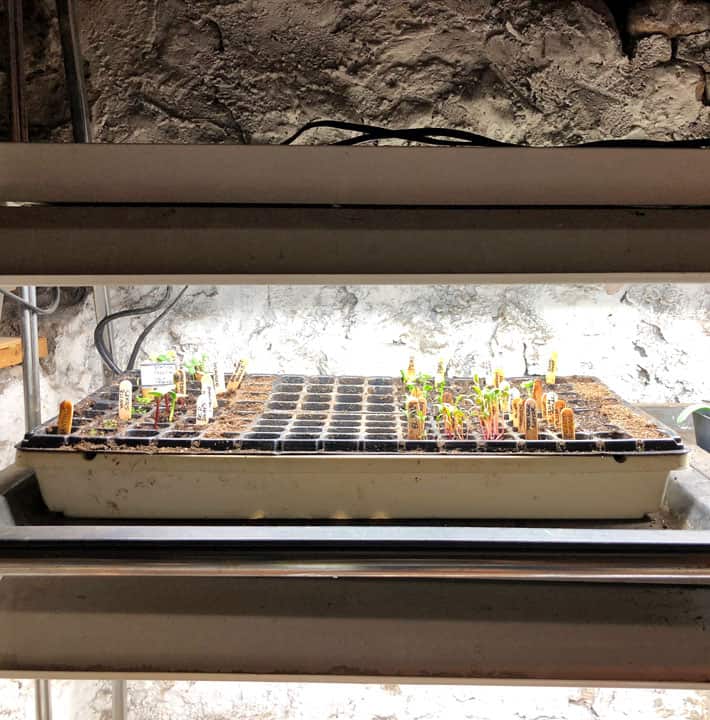 Why Start Seeds Inside?
There are 2 reasons I start a lot of my own seeds. Both vegetable and flower seeds.
I can get a head start.
I can grow the exact varieties I want based on how well they do in my climate, how well they tolerate pests, how they taste, how they look etc. etc.
By getting a head start you can get your cold hardy plants going and into the ground before they're even available to buy in nurseries.
Easy Cold Hardy Vegetables You Can Start NOW.
(can all be started 4-6 weeks before your last frost date)
Use my Seed Starting Calculator for exact dates. If you don't know your last frost date, Google it.
---
BEETS (beets are funny things. Their seeds actually contain up to 4 plants, so for ever beet seed you plant, you're actually going to get 3-4 beets. These can be separated later on or grow in clumps)
BROCCOLI (best grown under cover outside to prevent cabbage worms)
CABBAGE (best grown under cover outside to prevent cabbage worms)
CAULIFLOWER
LETTUCES
KALE (best grown under cover outside to prevent cabbage worms)
KOHLRABI
SPINACH
SWISS CHARD (best grown under cover outside to prevent cabbage worms)
---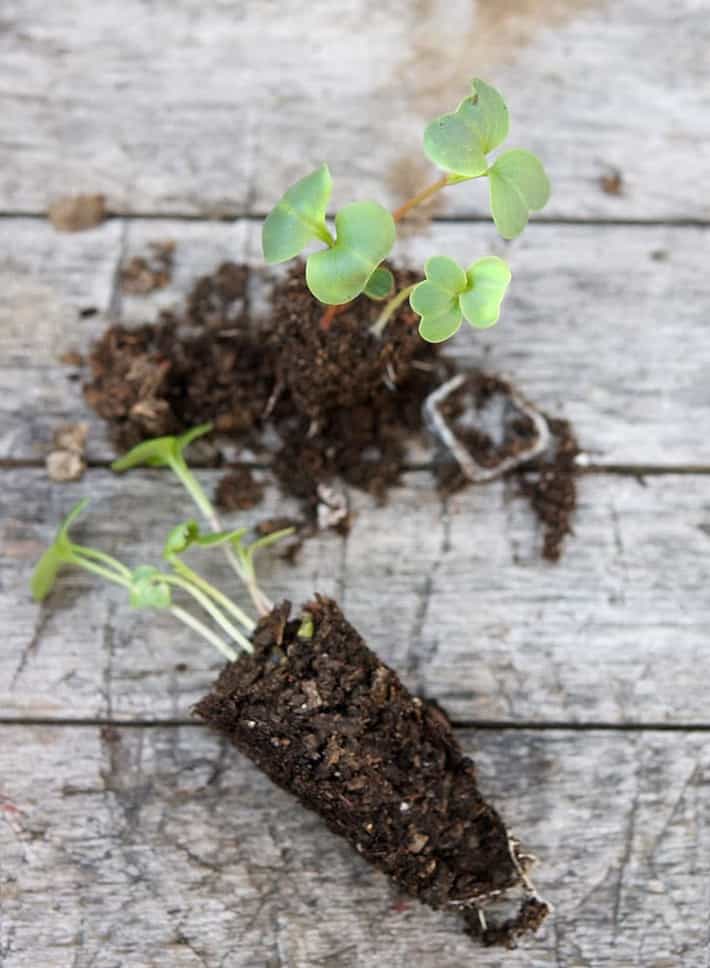 TIPS FOR DECIDING WHAT TO PLANT
If you're starting seeds for the first time I recommend you only start 3-4 different things so you don't get overwhelmed.
If you don't plan to grow them under floating row covers don't start plants that require this. It will lead to disappointment when you spend all that time growing your own broccoli only to bring it in the house and realize it's filled with green caterpillars. Slugs and cabbage moth can also decimate cabbages in NO time.
If you don't have a lot of space, plan to have a salad garden. Lettuce (which you can start now), a cucumber plant, and a tomato plant which you can start later.
Different seeds take different times to germinate so don't get worried if your kale is popping up in a few days but your parsley still isn't up in 2 weeks. If the seeds are fresh and the conditions are right (you're keeping the soil moist and covered) they'll eventually sprout.
The #1 reason for seeds not germinating is if they're old seed or if they dry out.
(there are exceptions because some seeds like tomato seeds will germinate years later, while other things like onion seeds really only last for 1-2 years at the most before they refuse to germinate)
Black Magic kale, my favourite kale variety.
If you're feeling adventurous you can SUCCESSION PLANT.
Succession planting is when you plant a crop of seeds ( like these peas ) and then a week or two later, plant another crop of them. This takes some pre planning and organization. If the thought of it is making you dizzy with fear as opposed to excitement, maybe skip succession planting until you're comfortable with regular planting.
These peas are ready to go into the garden after hardening off. In behind them are more peas I started 2 weeks later that are just starting to germinate. Once all the peas from the first plants have been eaten, the peas on the next crop will be ready.
Succession planting extends your harvest. You can apply the same principles to flowers to extend the harvest.
Flower Seeds You Can Start NOW.
Most, but not all, annual flowers can be started 6-8 weeks before your last frost date.
ALYSSUM
AMARANTH
ASTERS
CELOSIA
COSMOS
MARIGOLDS
POPPIES (NOT for the amateur)
SNAPDRAGONS
STOCK
SUNFLOWERS
SWEET PEAS (soak these seeds for 24 hours prior to planting to help them germinate)
ZINNIA
This of course isn't a complete list it's just some of the more popular flowers you might want to start from seed because you can grow SUCH great varieties of them all with seed.
I've already started my Sweet Peas and poppies and between this week and next week I'll be starting the others you see as well as some more. It's gonna be a big year for flowers for me. My plan is to have 2 solid beds filled with flowers. Two 16' x 4' beds. Plus the borders of my garden.
Imagine. Soon each of these trays will be full of enough flowers and vegetable seedlings to fill a 40' x 40' garden.
I buy some seedlings already started (usually broccoli, melons, cauliflower and some lettuces). And I always end up grabbing a few new tomato varieties if I see them. If I were to guess I'd say I start 85% of my plants myself from seed.
Now. You want to know how to actually plant them, right? All of that information is in this Seed Starting post.
---
If you're ready to get started but aren't sure what to buy I've compiled an Amazon list of EVERYTHING YOU NEED TO START SEEDS NOW. 13 packs of seed, a seed starting tray, heat mat, soil and plant markers for just $77 for everything. You can also add in the grow light I've picked out for you for just $29. Go to The Art of Doing Stuff's Amazon Seed Starting Shop to get everything you need.
---
In a couple of weeks I'll be prompting you to start your tomatoes, peppers and other warm weather crops.
If all of this really does seem overwhelming just pick TWO things, right now to start from seed. Almost anything can be grown in a container so you don't even have to worry about not having a place for your garden. If you have a large plastic pot you can grow a tomato plant, herbs, carrots, beets, green beans or pretty much anything else you want to try.
So. What are you thinking of growing? Is it a Zombie? I forgot to mention that's obviously what grows the best in my current setup.