Congratulations! You're here, I'm so excited for you! That means you're ready to up your gardening game by starting your own seeds. It's easy, you've got this. Here's how to do it.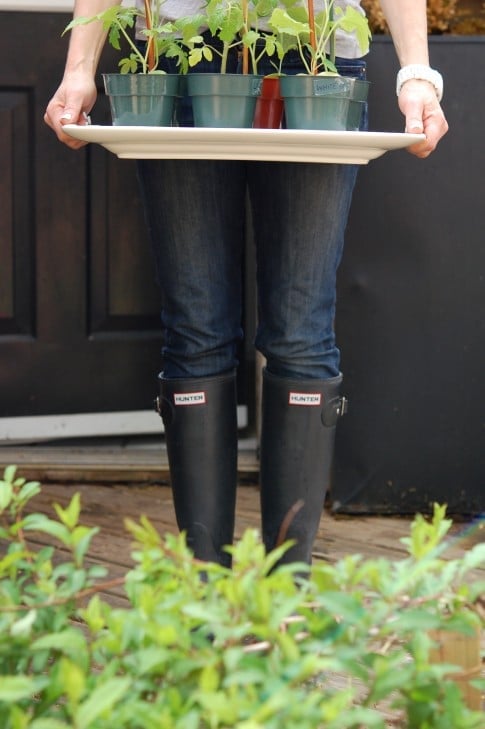 Skip right to the instructions.
Want to know how to grow vegetables from seed? Well. It's very complicated. You stick them in dirt and wait. Yes. You too can have a homegrown tomato to slice into this summer if you just have a seed and some soil.
As you may know (you definitely know) I started out growing vegetables in my front yard before I graduated to my 40' x 40' community garden plot. I write about vegetable growing here on my blog, in the Lee Valley newsletter and for The Old Farmer's Almanac.
That unfortunately doesn't mean I know everything about gardening, it just means I'm in a constant state of anxiety realizing how much I don't know about gardening. Just last week I threw a fit and vowed not have ANY garden because the stress of figuring out where to put the Cafe Au Lait dahlias was overwhelming.
To contend with every season there are pests, disease, drought, weeds and whatever it is that's eating my tomatoes in the middle of the night. I suspect giant Amazonian centipedes or vegetarian ravers.
But the one thing that really is EASY about vegetable gardening is growing your own plants from seed.
Before I get to the instructions, if you're looking for something REALLY fast to grow that you can eat, you can grow your own bean sprouts in 4 days. I do it all the time and it's amazing how this kind of thing can help satisfy your green thumb and desire for fresh produce through the winter months.
---
How to Plant Vegetable Seeds
The super-fast rundown is this. More detailed instructions are below.
Wet your soil and fill seed starting trays or pots with it.
Press a seed into the top of the soil.
Cover the trays with something to keep the humidity in while the seed germinates.
Once sprouted, remove the humidity dome and put the plant under grow lights.
Water when necessary and raise grow light heights when necessary.
That's all there is to starting your own seeds at home. That and washing your hands a lot. But that's something you're going to have to get used to if you're a gardener. No matter how careful you think you're being, you're GOING to end up with soil stained fingers. If you're a sucker for a big frothy lather like I am here's my DIY on how to make foaming hand soap.
If you live in a colder climate like I do in Southern Ontario (Zone 6), where the growing season is a bit shorter than elsewhere, you have to get a head start on your plants.
The advantage to starting your own seedlings is you can grow varieties of vegetables you just can't get in a nursery.
Like red fife wheat!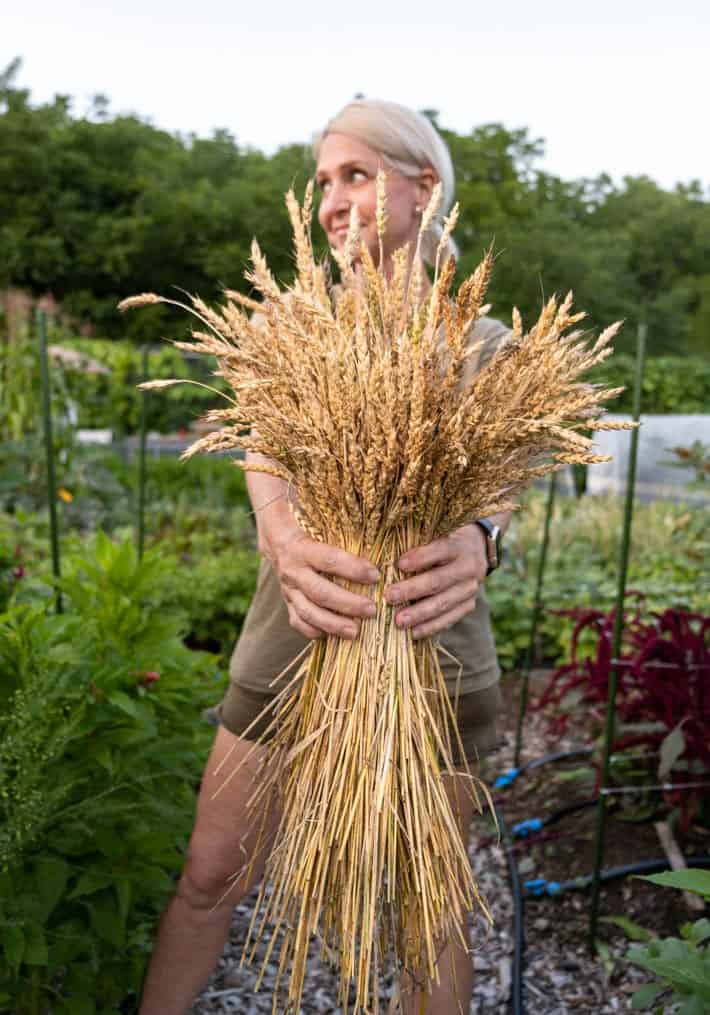 ---
Growing From Seed
---
MATERIALS FOR GROWING SEEDS INDOORS
---
Soilless Mix - Seed Starting Tray - Drip Tray - Humidity Dome - Seeds - Water - Grow Lights
---
This is a mix for planting seeds in that doesn't contain any "soil". It is made up of peat moss or coco coir, perlite and sometimes vermiculite and fertilizer.
It's the best choice for starting seeds because it has good drainage, is free of disease and it doesn't compact. All of these things improve your seedling survival rate.
Most hardware stores carry soilless mix but if you can't find it or don't want to order on line just use potting soil. Don't sweat it.
---
Seed starting trays are flats of multi holed trays. Each hole in a tray holds a small amount of soil for starting seeds.
---
The drip tray is set under the seed starting tray and catches drips and dirt.
These clear covers hold in much needed moisture for the germination phase of starting seeds. They are removed as soon as the seeds sprout.
---
---
SEEDS
This seems kind of self explanatory to me, but if you insist on more information you need seeds to plant in the soilless mix. Basic seeds are available in garden centres, online seed shops, and hardware stores in the late winter and spring.
---
WATER
Yep. You're going to have to water them.
---
You can use anything from florescent tubes to T5 tubes to panel lights.
---
Heat mats aren't mandatory but they're very helpful for germinating seeds and growing on other heat loving plants like loofah or tomatoes. If you're curious about growing loofah sponges this is how I do it.
If you don't want to spend the money on or can't find the seed tray and drip tray, all you need are a few plastic pots or even plastic cups with holes punched into the bottom and some plastic wrap.
---
If you want to get everything in one shot, I've compiled a list of everything you need on Amazon complete with 13 various seeds, a seed starting tray, heat mat, soil and plant markers, all for a total of just $77. Just click here to see my Amazon Seed Starting Shop. You can also add in a full spectrum grow light for another $29.
---
STEPS FOR GROWING SEEDS INDOORS
---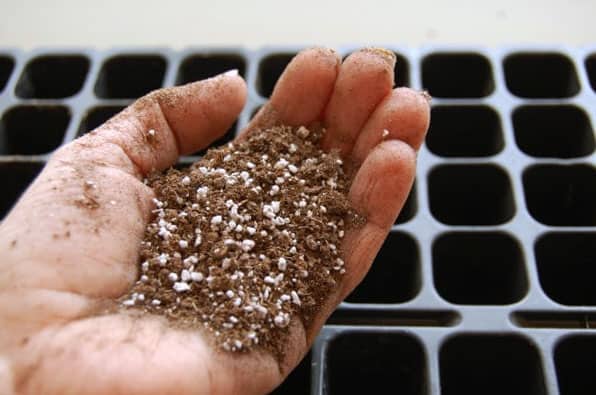 Soilless mix used for starting seedlings, not growing them on.
1. Soak the soilless mix with water.
Before you fill your containers with the soiless mix, add enough water to moisten it and mix it with your hands. Squeeze out the water. The perfect ratio of water to soil is when you squeeze your soil very hard and a few drips of water come out of it.
If it streams out, your soil is too wet. If nothing comes out your soil is too dry.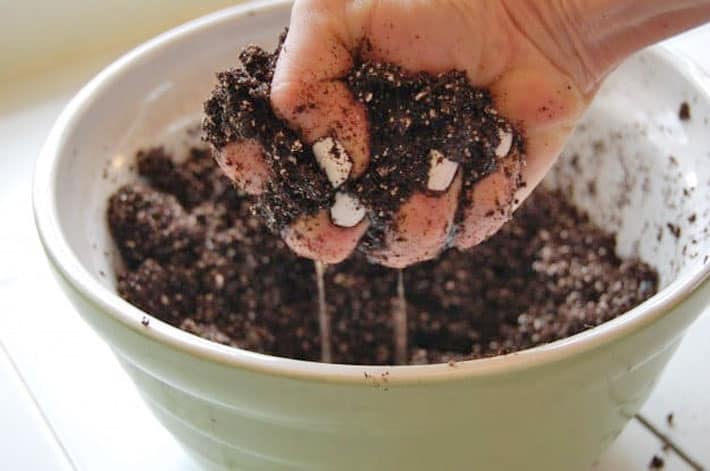 This is too wet.
2. Fill your tray with the seed starter mix.
Plant roots like a slightly compact soil. It helps to give the plant stability. So, push the dirt into each divot with your finger so it isn't quite so "airy". You may need to refill the tray with more soil after you compress it.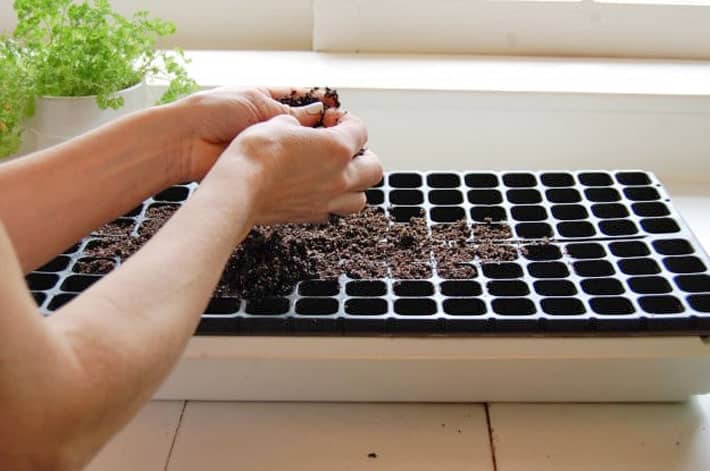 Plant roots like a slightly compact soil. It helps to give the plant stability. So, push the dirt into each divot with your finger so it isn't quite so "airy". You may need to refill the tray with more soil after you compress it.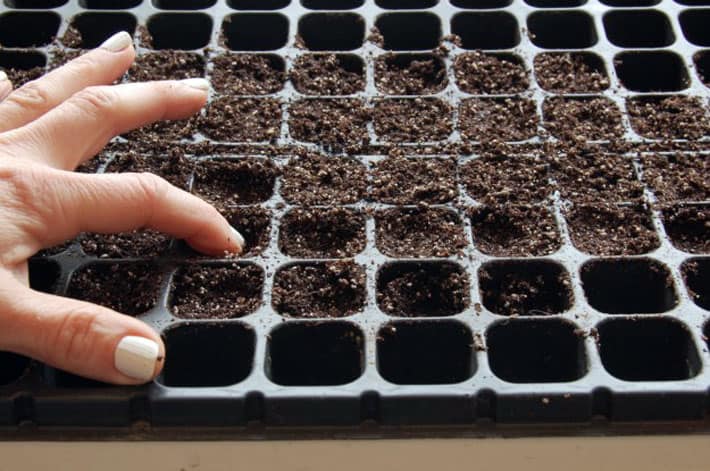 3. Now it's time to plant your seeds!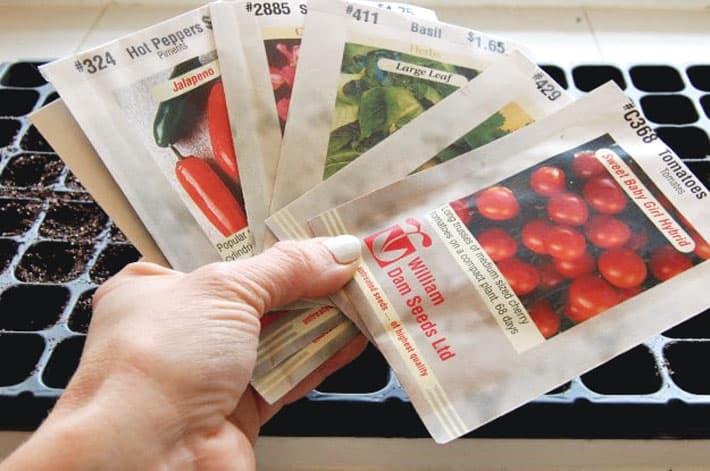 I'm going with parsley here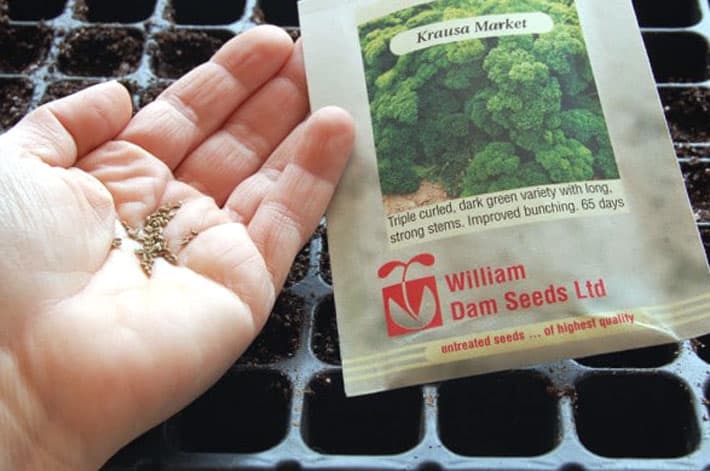 Put two or three seeds in each cell. This way you're guaranteed at least one plant will germinate.
If they all grow, just weed out the runts by cutting the stem off at soil level. Don't pull it out, because this will disturb the soil of the other seedlings.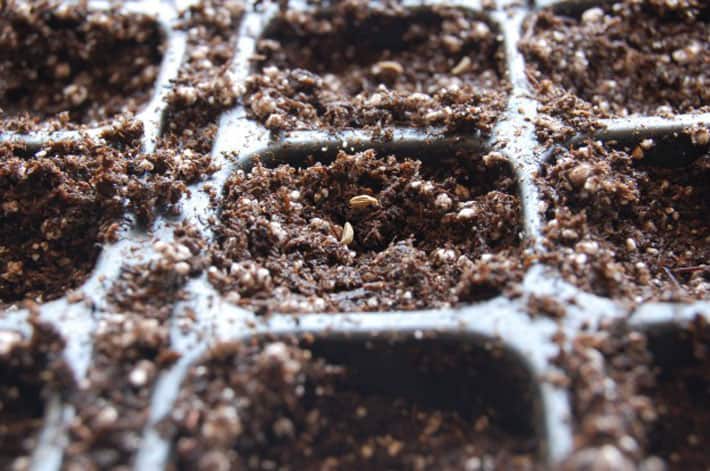 4. Cover the seeds up with soil.
A good rule of thumb is to cover the seed with the same depth of soil as the seed. (A 1 mm seed will be covered with 1mm of dirt)
Some tiny seeds don't even need to be covered at all. Refer to the instructions on the seed packet.
Also, once you've covered them, press down on the soil with your finger to make sure the top soil is touching the seed. Seeds need to be in contact with all the soil around them to germinate well.
TIP:
For especially tiny seeds like poppies or snapdragons you can use sand to cover the seeds. It's finer than soil and will help keep moisture in.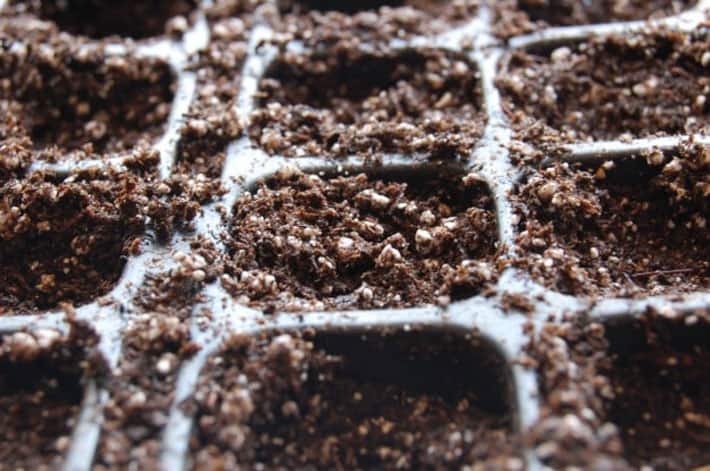 5. Cover your seed tray with a plastic dome.
The dome helps create heat and the necessary humidity for the seeds to germinate. As soon as your seeds sprout, you can remove the lid.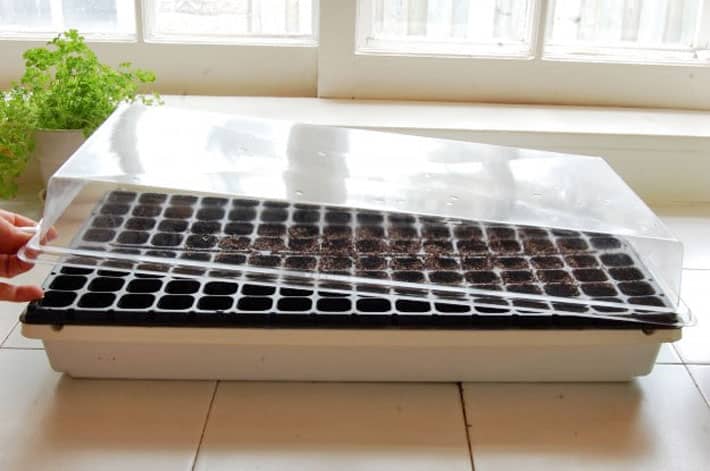 If you don't have a dome or are planting into plastic cups or pots just cover the pot with plastic wrap and secure it with a rubber band.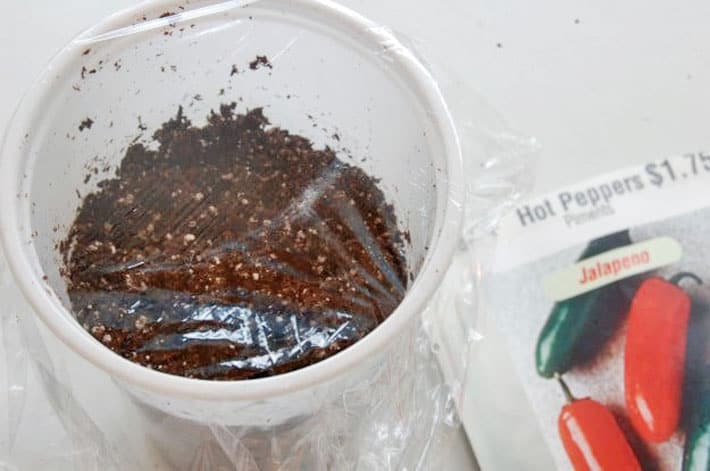 ---
**If you have a heated seed mat (propagation mat) then place your tray on the mat. The bottom heat on the soil will improve and speed up germination immensely. I HIGHLY recommend getting a seed starting mat.**
---
6. Once your seeds have sprouted REMOVE THE HUMIDITY DOME and put them under fluorescent lights.
*If you don't have grow lights put the plants in a south facing window*
I use T5 LED lights right now on a 3 tiered seed starting stand and some just hanging from the ceiling over a workbench. They offer better light and last longer than traditional fluorescent lights.
If I were starting from scratch I'd probably get these flat panel LED lights and build wood shelves, but the tiered grow light stands I use now are great too.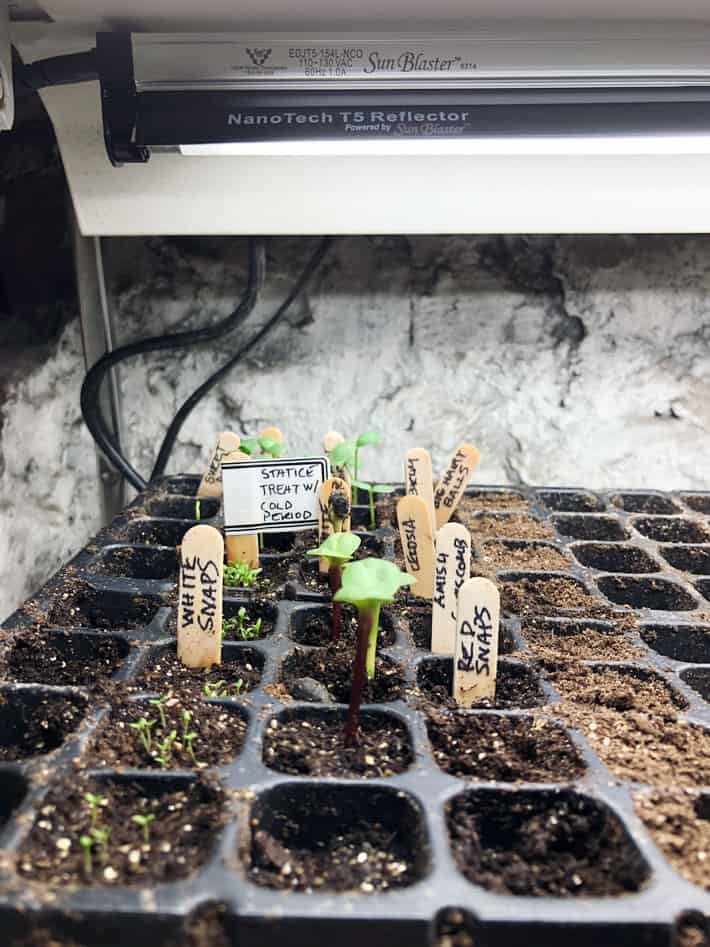 Picking the Right LED Lights.
To grow most things 32 watts per square ft. of plants is MORE than enough.
For instance, if you have a 2' x 2' of plants, that equals 4 square feet which means you would need 120 watts of LED lights for growing. And like I said that's MORE than enough. That would allow you to grow actual vegetables and flowers as opposed to just seedlings.
LED Grow light Recommendations
| | |
| --- | --- |
| Grow Space | Wattage |
| | |
| 2 sq ft (2x1) | ~60 |
| 4 sq ft (2x2) | ~120 |
| 6 sq ft (2x3) | ~200 |
| 9 sq ft (3x3) | ~300 |
| 12 sq ft (3x4) | ~400 |
| 16 sq ft (4x4) | ~500 |
| 20 sq ft (4x5) | ~640 |
| 25 sq ft (5x5) | ~800 |
| 30 sq ft (5x6) | ~960 |
| 36 sq ft (6x6) | ~1150 |
| 40 sq ft (6x7) | ~1280 |
Once the seeds have sprouted, keep the tray under the lights.
TIP - LED lights should be 8-12 inches from the top of your plants, possibly more if it's a setup with very strong lights. T5 bulbs should be 5-6 inches from the tops of your plants.
If you don't have grow lights, just put your tray in a sunny window but make sure to rotate the plant so it isn't always reaching the same way for the light..
Finally, you have to water these things. I'm fairly certain if you can recognize most of the words in this post, you're smart enough to realize you have to water plants.
---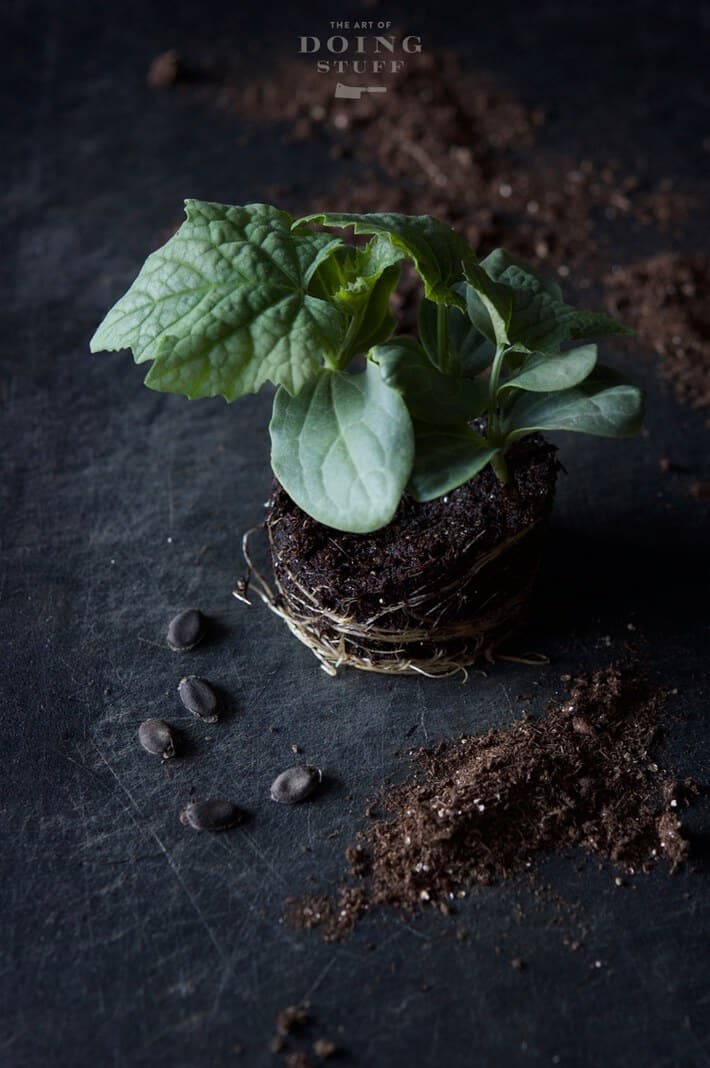 7. Water your plants by putting water into the drip tray and allow the plants to soak up the water for 10 minutes. Any water left in the tray afterwards should be dumped out to prevent overwatering.
8. As your plants grow, adjust the height of your lights. The height will depend on the type of light. Check your light instructions.
---
When you're ready, this post has all the information you need about the next step, transplanting your seedlings after they've formed their first set of true leaves.
---
And that's really all there is to starting your own plants from seed.
QUICK TIPS
Seeds don't need light to germinate. They need heat.
Seeds need moisture to germinate.
Water from underneath.
Keep a fan going to prevent "damping off".
Use white boards to reflect light back to plants.
Use a timer on your lights - seedlings need 15 hours of light unless they're onions.
Run your hand across the top of your seedlings. It strengthens them.
Easy to Grow from Seed.
Beets - these seeds are actually a cluster of seeds so for every seed you plant you could get 2-3 plants.
Peas - they can be planted directly outside in April because they like the cold but starting them inside helps improve germination and stops squirrels and mice from eating the seeds before they get a chance to start.
Squash - both winter and summer squash grow well from seed.
Tomatoes - the star of every garden, tomatoes are one of the easiest plants to start from seed.
Herbs - basil, parsley, dill, oregano, ... all are great seeds to start.
Kale - I actually only like one variety of kale, Black Kale, and I grow it successfully from seed every year.
Now grab a seed, get some dirt and start growing your own flowers and vegetables. I'll give $5 to the first person who can grow a carrot big enough to replace a leg on a harvest table.
Have a question? Ask away.

→Follow me on Instagram where I often make a fool of myself←