Want to know how to grow vegetables from seed?  Well. It's very complicated.  You stick them in dirt and wait.   Add in these few more tips and you're sure to have success starting seeds indoors.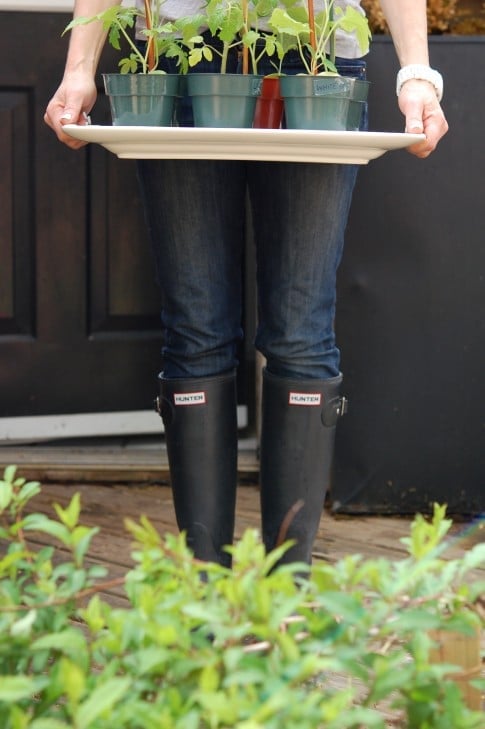 Skip right to the instructions.
If you have kids that don't like vegetables I'll tell you right now, the easiest way to get them to eat veggies, is to have them grow them themselves.  I say this with all the confidence of someone who doesn't have kids.
I was, however, a child myself at one point.  That's how I know this little method works.
My dad always had a vegetable garden.  The goal of course was to grow the biggest vegetables possible.  Like most men, he thought bigger was better. If a carrot wasn't the size of a table leg it was a failure.
As is the case with a lot of kids who grow up around vegetable gardens, I wanted my own vegetables to plant.  So my dad gave me some seeds for the fasting growing vegetable around.  The radish. Not exactly the jelly beans I had imagined growing, but I gave it a shot.  I grew those radishes and I ate them too.  I can guarantee that if I hadn't grown them myself I never would have sat down to eat a plate of radishes.
I still love radishes.
If you live in a colder climate like I do in Southern Ontario (Zone 6), where the growing season is a bit shorter than elsewhere, you have to get a head start on your plants.  This can either mean, buying pregrown plants at a nursery or … starting your own from seed at home.  The advantage to starting them at home is you can grow varieties of vegetables you just can't get in a nursery.
Things like these warty Reisetomate tomatoes.
If you're going BIG and growing a lot of plants, the best thing for you to invest in is a drip tray, seedling tray and lid.  You can get these at seed stores and usually hardware stores like Lowes or Home Depot.  I wouldn't buy them from a dollar store.  You'll want to reuse them year after year and the dollar store ones tend to disintegrate and fall apart when you look at them.
---
If you're interested in starting seeds you might like to, join my "Sow Generous" program this summer.  Starting a "Grow & Give Garden".  A group of people that commit to growing a vegetable garden this year and then giving some of the produce away. 🙂 You can learn more about it here.
---
Starting Seeds Indoors
Materials
Soiless Mix
Seed Starting Tray
Drip Tray
Clear Cover
Seeds
Water
The Seed Starting Tray is what you fill with soil and plant your seeds into.
The Drip Tray is what you set your seedling tray into to catch drips.
If you don't want to spend the money on or can't find the seed tray and drip tray, all you need are a few plastic pots or even plastic cups with holes punched into the bottom and some plastic wrap.
Regardless of what pot you use, you'll need soilless seed starter mix.
It's different than dirt. It's finer and it has no nutrients in it at all.
Because it has no nutrients you can't keep growing your plants in this.  It's *just* for starting them.  Once they grow to a certain size you'll be transplanting them into a bigger pot with nutrient dense potting soil.
When you're ready, this post has all the information you need about the next step, replanting your seedlings.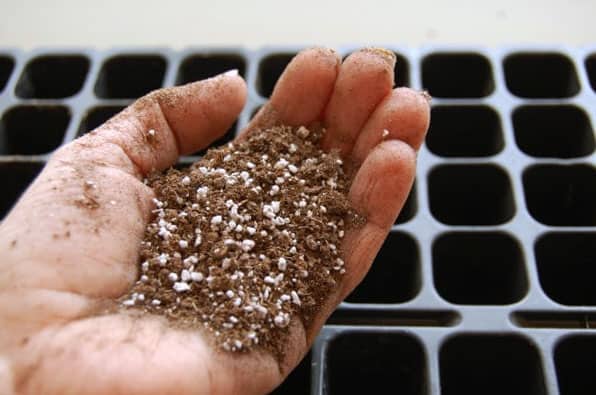 Instructions to Start Seeds
1. Soak the soil with water.
Before you fill your containers with the soiless mix, add enough water to moisten it and mix it with your hands.  Squeeze out the water.  The perfect ratio of water to soil is when you squeeze your soil very hard and a few drips of water come out of it.  If it streams out, your soil is too wet. If nothing comes out your soil is too dry.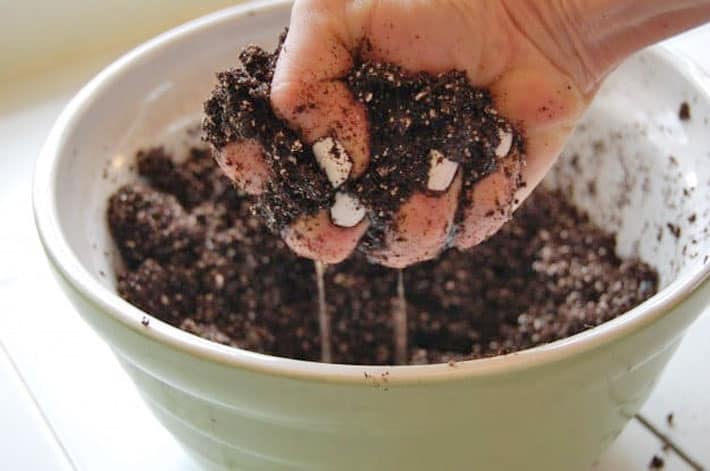 2. Fill your tray with the seed starter mix.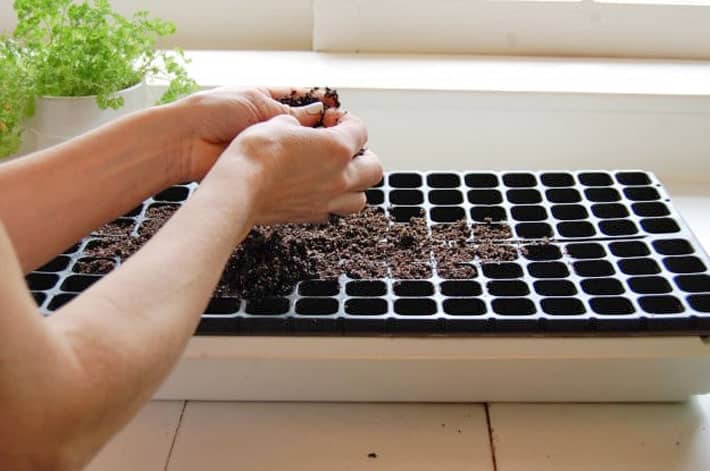 Plant roots like a compact soil. It helps to give the plant stability.  So, push the dirt into each divot with your finger so it isn't quite so "airy".  You may need to refill the tray with more soil after you compress it.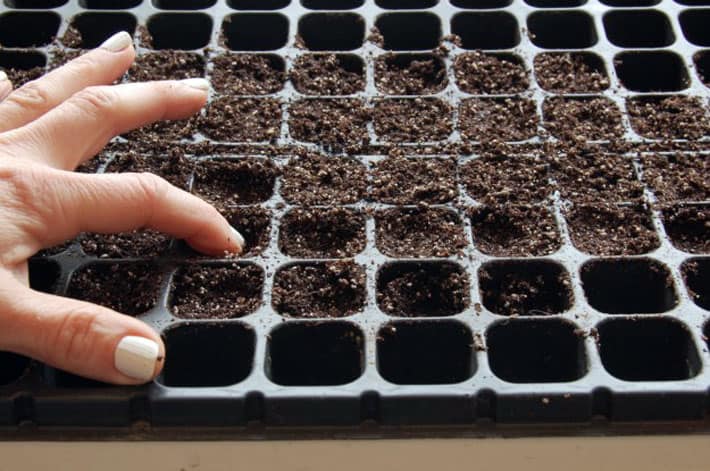 3.  Now it's time to plant your seeds!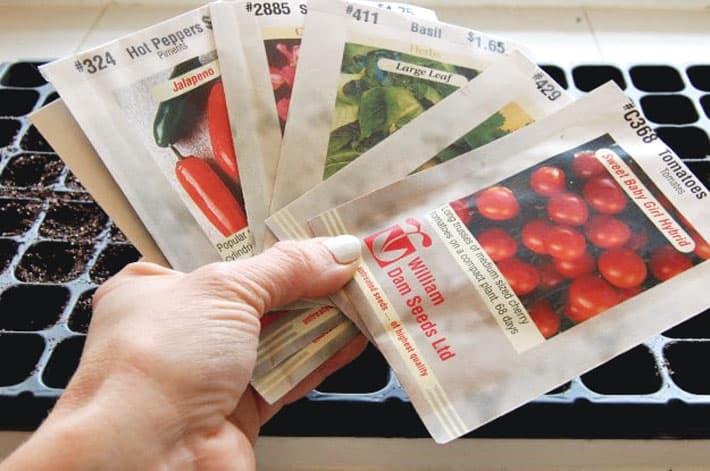 I'm going with parsley here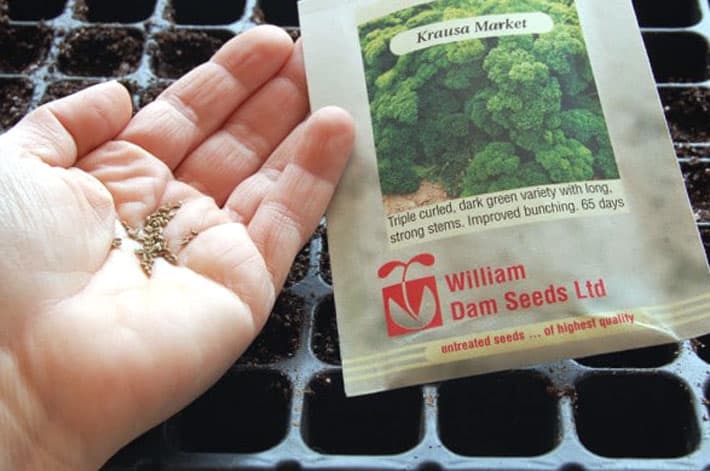 Put two or three seeds in each cell. This way you're guaranteed at least one plant will germinate.
If they all grow, just weed out the runts.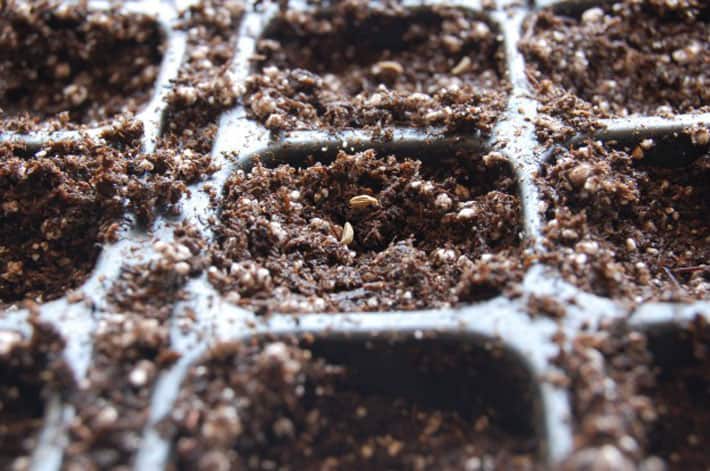 4. Cover the seeds up with soil.
A good rule of thumb is to cover the seed with the same depth of soil as the seed.
(A 1 mm seed will be covered with 1mm of dirt)  Also, once you've covered them, press down on the soil with your finger to make sure the top soil is touching the seed. Seeds need to be in contact with all the soil around them to germinate well.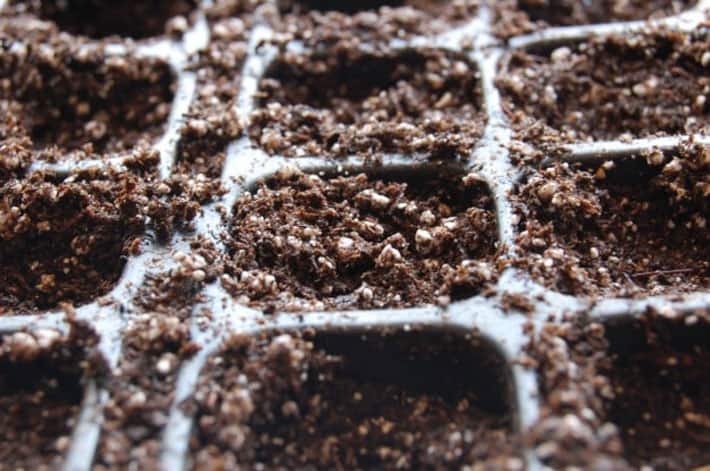 5.  Cover your seed tray with a plastic dome.
The dome helps create heat and the necessary humidity for the seeds to germinate.  As soon as your seeds sprout, you can remove the lid.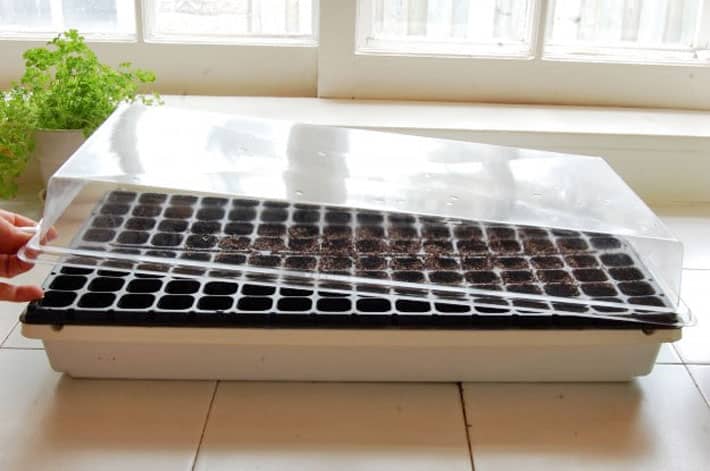 If you don't have a dome or are planting into plastic cups or pots just cover the pot with plastic wrap and secure it with a rubber band.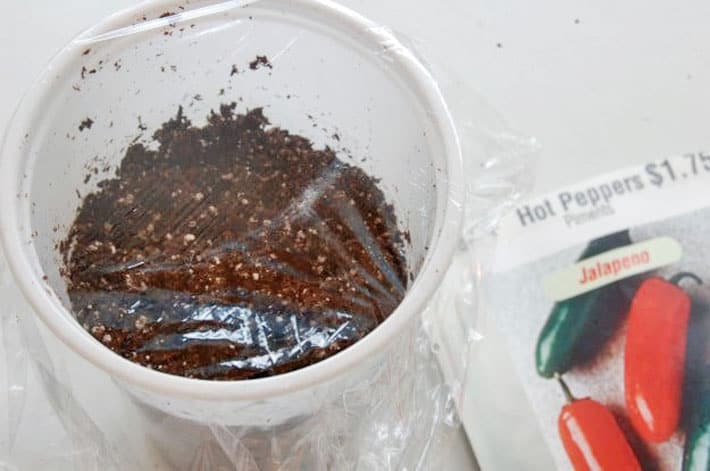 6.  Once your seeds have sprouted put them under fluorescent lights.
I use T5 lights. They offer better light and last longer than traditional fluorescent lights. I personally have a 3 tiered seed starting stand, but if you're just starting out this T5 light fixture is a great start up kit.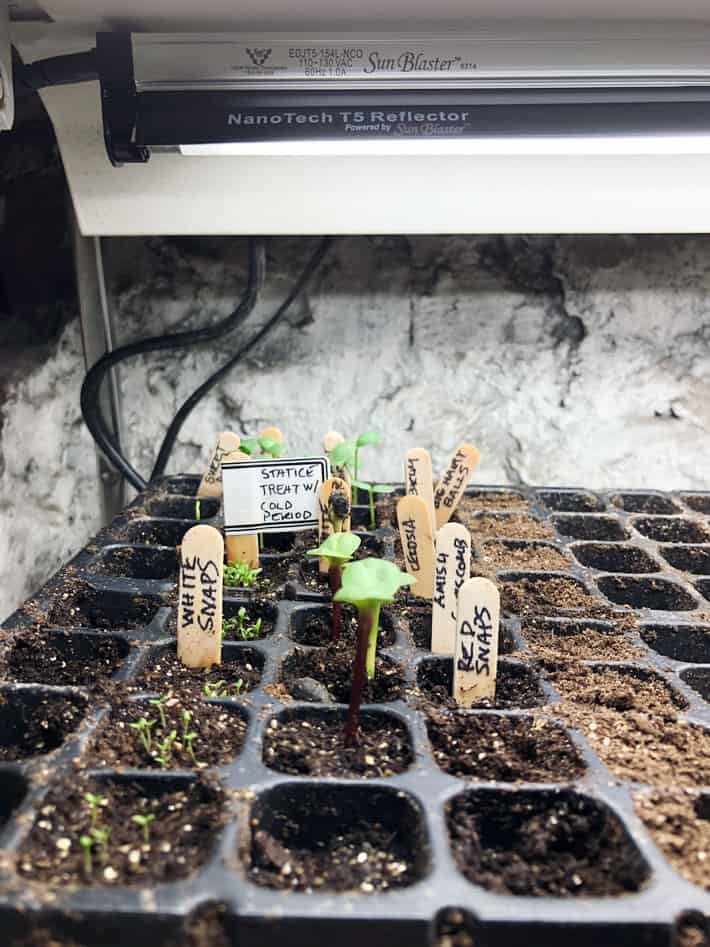 Once the seeds have sprouted, keep the tray under the lights.
TIP – LED lights should be 8-12 inches from the top of your plants.    T5 bulbs should be 5-6 inches from the tops of your plants.
If you don't have grow lights, just put your tray in a sunny window but make sure to rotate the plant so it  isn't always reaching the same way for the light..
Finally, you  have to water these things. I'm fairly certain if you can recognize most of the words in this post, you're smart enough to realize you have to water plants.
---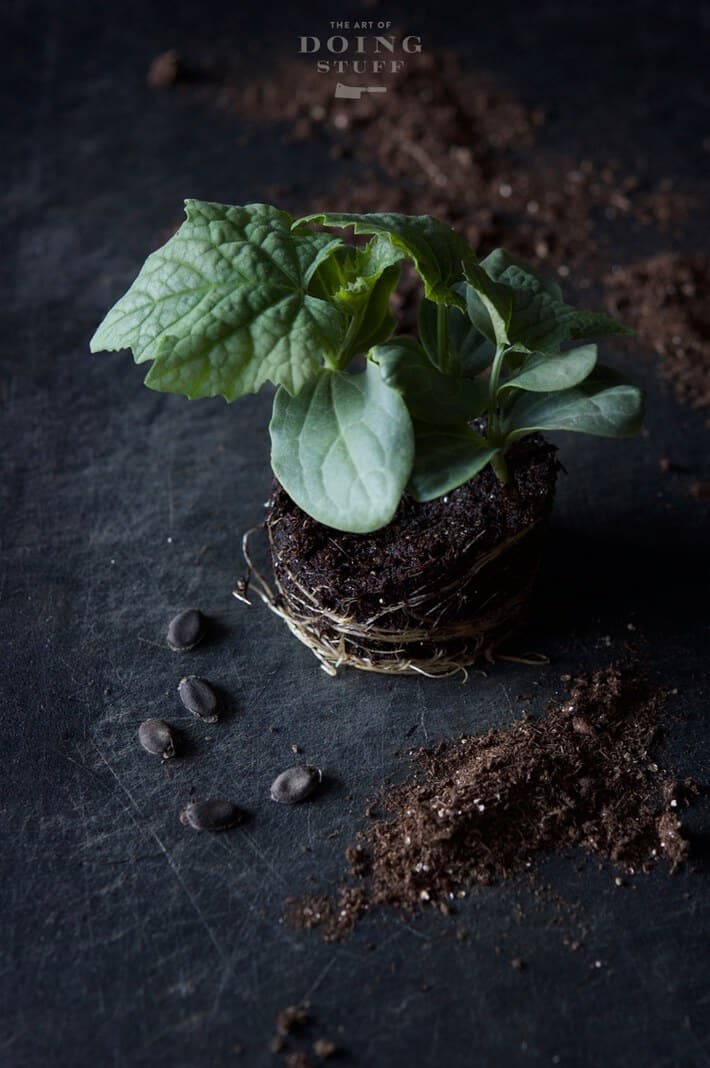 And that's really all there is to starting your own plants from seed.  This is a very rudimentary introduction to growing plants from seed, but there should be enough information to get you started and stop you from being scared of it.
Easiest Vegetables to Grow from Seed.
Beets – these seeds are actually a cluster of seeds so for every seed you plant you could get 2-3 plants.
Peas – they can be planted directly outside in April  because they like the cold but starting them inside helps improve germination and stops squirrels and mice from eating the seeds before they get a chance to start.
Squash – both winter and summer squash grow well from seed.
Tomatoes – the star of every garden, tomatoes are one of the easiest plants to start from seed.
Herbs – basil, parsley, dill, oregano, … all are great seeds to start.
Kale – I actually only like one variety of kale, Black Kale, and I grow it successfully from seed every year.
$5 to the first person who can grow a carrot big enough to support a harvest table.
Click below to take the Sow Generous pledge.
→Like to Sweat, Swear and do Stuff? GET MY POSTS emailed to you 3 times a week←