I understood Canadian Thanksgiving was coming up.  I really did.  There are pumpkins in the stores, turkeys in supermarket coolers and every time I look at a Pinterest board there's something made out of straw and burlap staring back at me.
Also, it's right there on the calendar.  The problem is I didn't check the calendar. I just sort of based my knowledge of "thanksgiving is coming up" on the general idea that I feel stupid wearing shorts and flip flops into the grocery store, so it must be coming up soon.
What I didn't realize was it was coming up this weekend.  I need to shove some bread crumbs up a turkey's ass and QUICK.  I'm not really sure why we have turkey for Thanksgiving.  I've never met anyone who really loves turkey.  It's almost always dry, doesn't have a lot of flavour and takes all day to cook.  It's like the fruitcake of the meat world.
But surround it with cranberry sauce, stuffing, mashed potatoes and an embarrassing amount of farting and waddling and there you have it. The annual Thanksgiving dinner.
Since I am the one who hosts my family's Thanksgiving dinner every year I need to get going on it.  S.T.A.T.!  (Start Thanksgiving Activities Todayish.)
The table is set.  I have that much going for me. Well that and naturally curly hair. Huh. Now that I think of it, that's actually Frieda, the least popular character from the Charlie Brown cartoons.
This year I went with a rustic,  dark, moody feeling.  Warm and cozy.  Like an autumn Thanksgiving should be.
The table has a rough burlap runner down the centre with a piece of hardwood on top of that.  When dinner is served, the arrangement will get removed and all the dishes of food can go right on the board.
There's even more layering with cutting boards on top of the wood board.  This one is my favourite from Cattails.
One of the things I'm most excited about is the fact that all of the food served will have been harvested from my garden.  Everything.  (aside from the poor Turkey) I'm serving a classic Thanksgiving dinner with side dishes that are slightly elevated.  Just a little bit.  For fun.  Elevated as in "churched up".  Not elevated as in levitating.
Ground cherries will be scattered on the table.
And there will be bowls and jars of my kosher dill pickles which turned out DELICIOUS.  I've eaten 3 jars already myself.  Which is all kinds of wrong but all kinds of right.
I'm expecting the black sea salt to be a hit.  Mainly because it looks so good on the table.  Weird little things like using black salt in a black dish are what bring the whole moody table together.
So if you're wondering about how to do your Thanksgiving table (either this weekend or next month) pick some sort of theme.  It could be something as literal as classic American Thanksgiving, a crisp black and white theme, or something a bit more esoteric like a mood.  If you aren't feeling all that imaginative, just open a magazine or look at a blog and copy it.  That'll take all the guess work out and make it way easier.  Which leaves more time for making more stuffing.  You can never have enough stuffing.  Ever.
Of course, if there are those out there who are frightened of black salt, there will also be white.
The dishes are round matte black dinner plates that I found at my local thrift store. I got the whole set including lunch plates and bowls for $9.
The salt dishes were on clearance at The Keeping Room, I bought the vintage cutlery (that I've been LOOKING FOR for ages) from a local reader!  Thanks Cornelia!
Betty made the napkins, and half of the flowers in the arrangement are from my community garden plot.   I planted the Amaranths in the spring specifically to use in my Thanksgiving arrangement.  Normally I'd *think* about doing that and then promptly forget all about it.  For some reason, I didn't. I suspect I forgot something much more important.
Well, like when Thanksgiving is, for instance.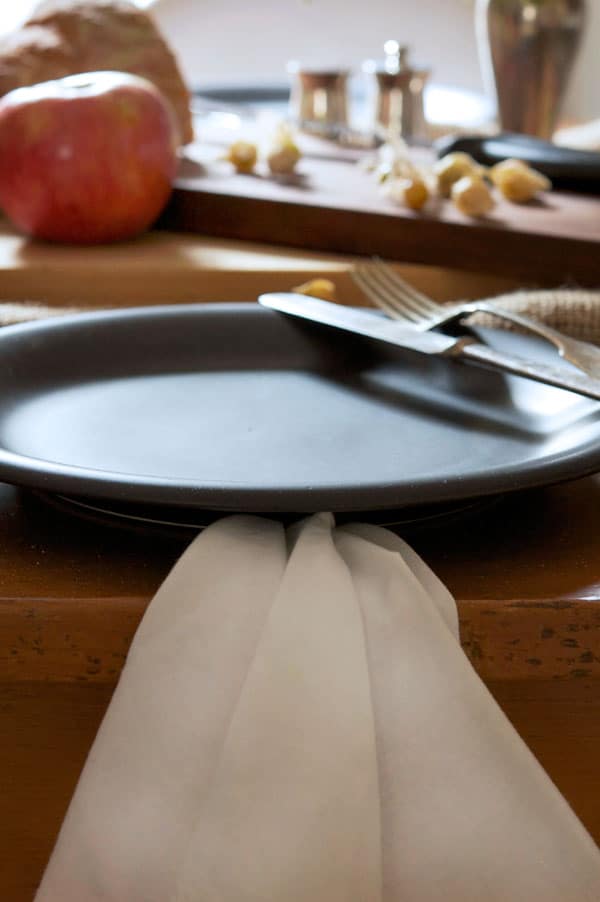 This is one of two tables that will be set. The other one will be one room over, in my front hall, so the 12 or so people   (it's up to 15 now) can fit comfortably.  Plus the foyer is the perfect spot to sit people I don't really like.  I'll tell them they're in the foyer because it's away from the mess of the kitchen and because they're my favourites I wanted to seat them there.
For your table to have an actual harvest feel, put food on it! Don't just put out pretty decorations and arrangements. And like I said, once the dinner is served the big arrangement in the centre will be moved away, and the food will make its way in on old, rustic stoneware and enamel platters.
The total cost of the arrangement was $27 for the ornamental cabbages and miniature red snapdragons.  The lime green trailing flowers and the tall burgundy flowers are from my garden.
Every year I do this and every year it's the same.  I think I can keep it together.  I think that things will go smoothly.  It will be a restful, warm and inviting Thanksgiving with my family close.  We'll all enjoy the food, the kitchen will not become a disaster and the night will end with us crowding around the fireplace singing Frank Sinatra.
Instead, someone's fingernails will catch on fire, one of the kids will barf, my mother will forget her camera,  everyone will get a stain on their shirt and the night will end not with song, but with us measuring the size of each others heads.
Happy Thanksgiving my fellow Canadians.   I have my fingers crossed that your Thanksgiving will NOT be like the pleasant, fancifully perfect, imaginary version of mine.
Because the real thing is way more fun.
[shareaholic app="share_buttons" id="5342563"]