Cheese.  That uniquely adaptable and multifarious food that can make you weak in the knees and big in the ass.  And you don't care, because it's cheese.  Ask someone who's lactose intolerant what they're likely to endure a night of belly pain and gurgling for and 9 times out of 10 they'll answer with CHEESE.
It's no wonder cheese is the most stolen item in the world.
That's right.  According to a 2011 survey it wasn't drugs, cars, cash or computers that was the most sought after item among thieves.  It was cheese.  The reasoning behind this is threefold: cheese is expensive, cheese is easy to steal and cheese is almost universally loved.
At the moment cheese happens to be the love of my life.  The main reason for this of course is because the man I love is working as an architect from his home office in a French farmhouse. Also he is a figment of my imagination.  So for now it's me and cheese.
I have to tell you it's even been difficult to get cheese to commit to anything more than a 2 week relationship before it goes bad.  I tend to either suffocate it, sour it or let it get stale.
Not anymore.  I have just taken my relationship with cheese to the next level.  I have a Cheese Grotto.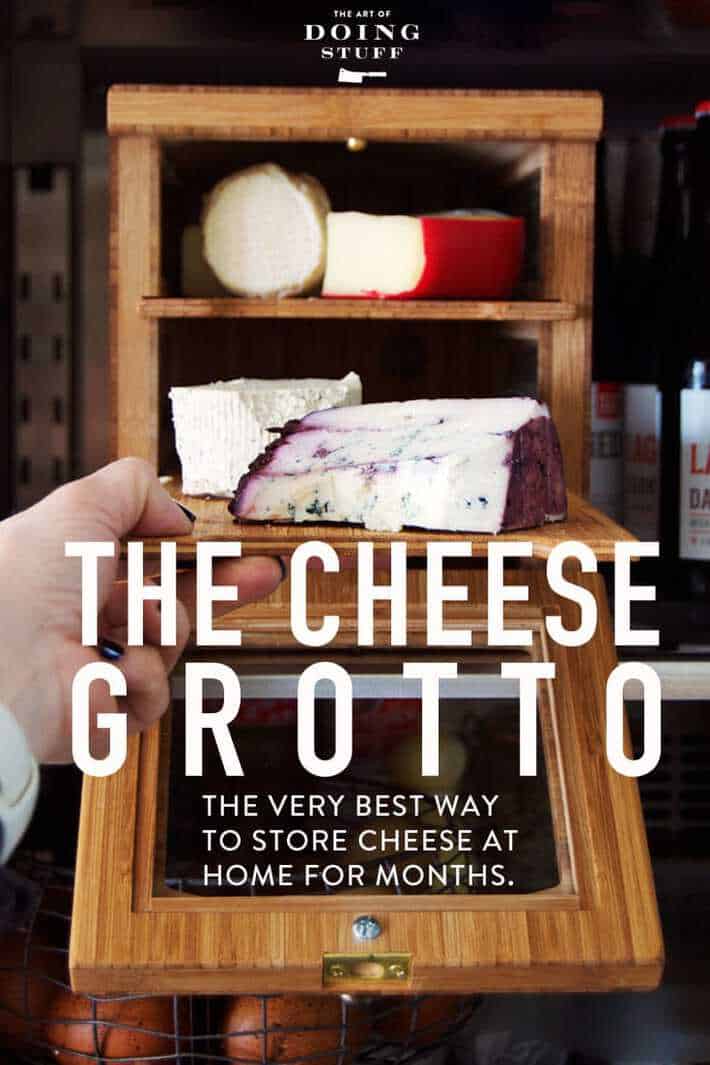 It's basically a home cheese cave.  Or a cheese humidor.  It is a high end item for people who are very, very serious about their back fat.  I mean cheese.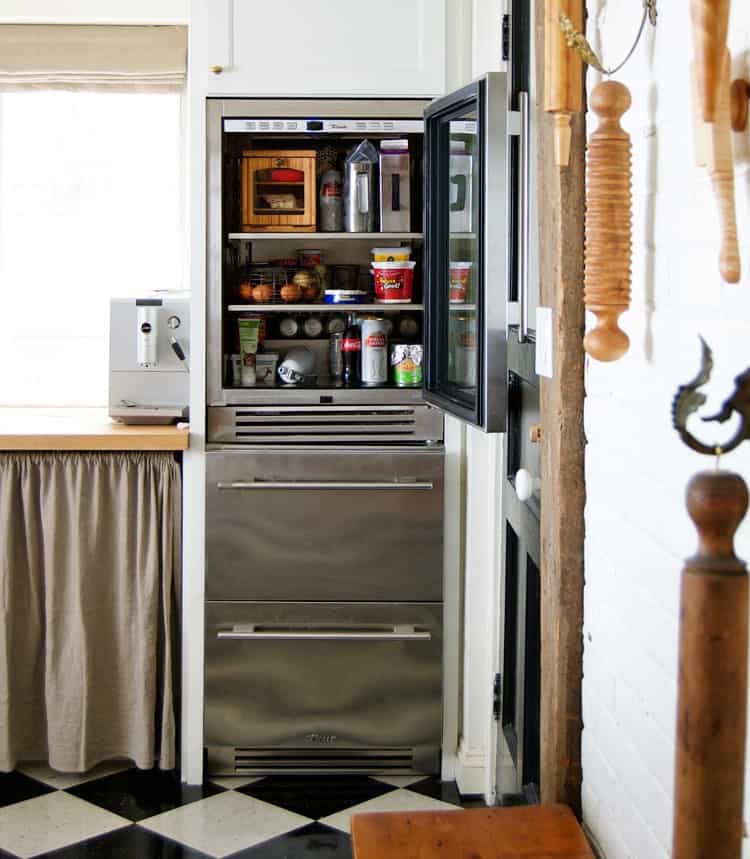 This story dates back to last December when a friend of mine sent me a link to a new product that was soon going to be released into the world.  The Cheese Grotto.  I was stunned by its beauty and brilliance.  Seriously stunned.  But it was Christmas and I was busy and I kind of forgot about the Cheese Grotto. There was just too much going on at the time.
Then a month or so ago I got a random email from someone named Jessica Sennett.  She introduced herself as the inventor of a cheese storage product and she wondered if I'd like to test one out.  It was called the Cheese Grotto.
Um.  Yes.  YES.  Only an idiot would say no to that kind of offer. My Cheese Grotto was coming home!!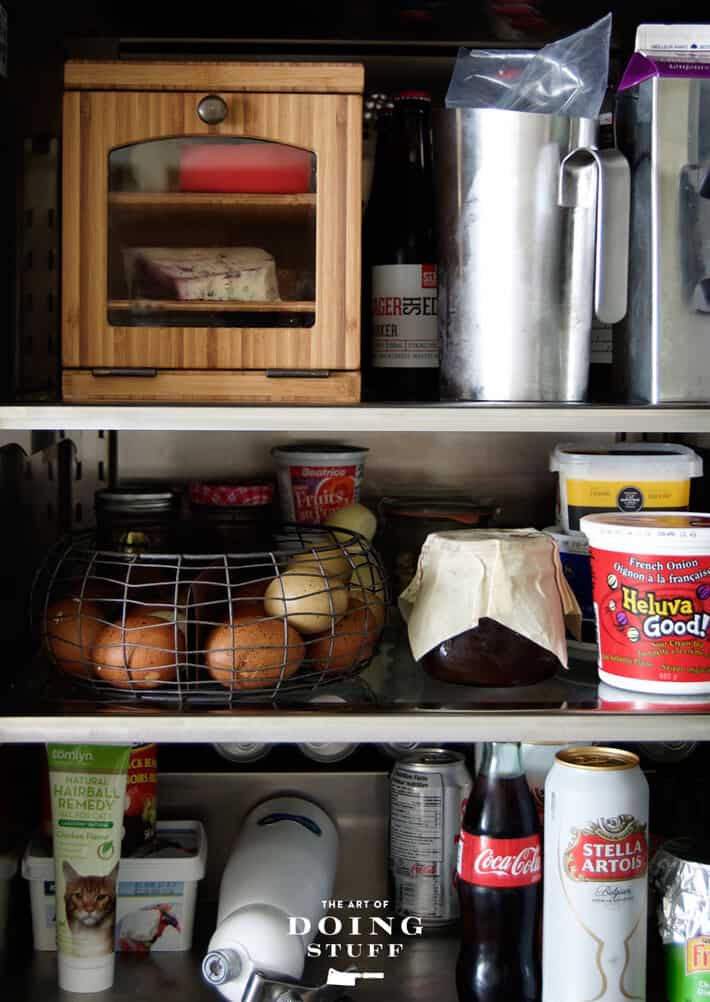 This Cheese Grotto makes me insanely happy every single time I Iook at it because it's beautiful and because it works.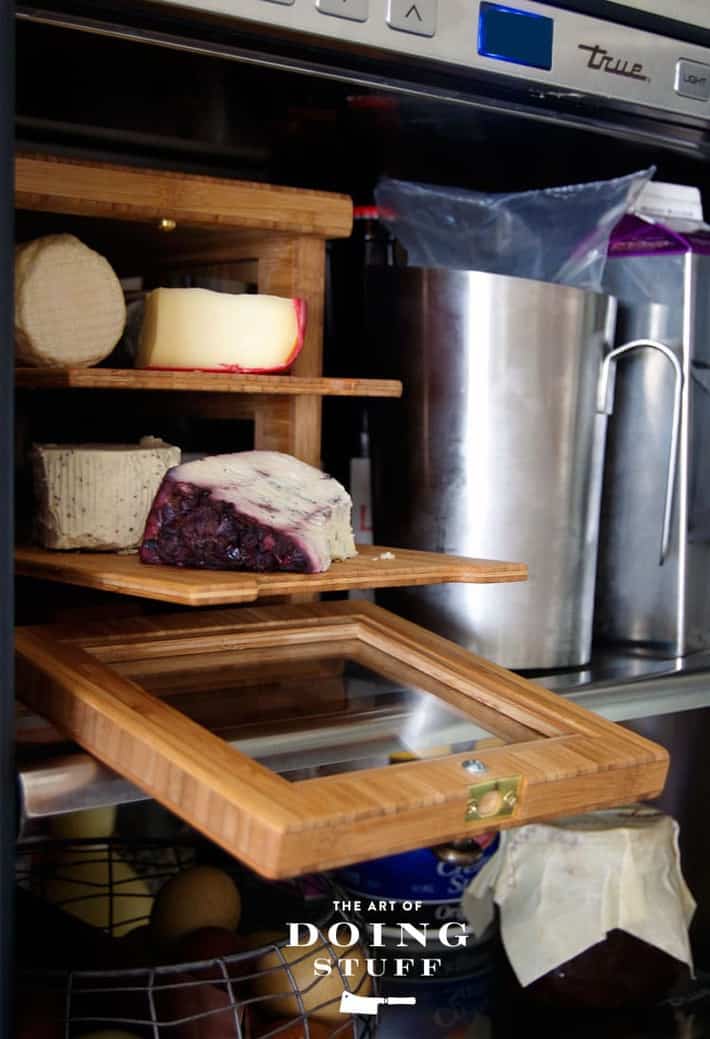 The Cheese Grotto works by keeping a cheese friendly humidity and temperature inside it with the help of a clay brick and venting holes at the back of it.
The coolest thing is you don't even have to wrap the cheese.  It just sits there out in the open looking great.  It's FANTASTIC.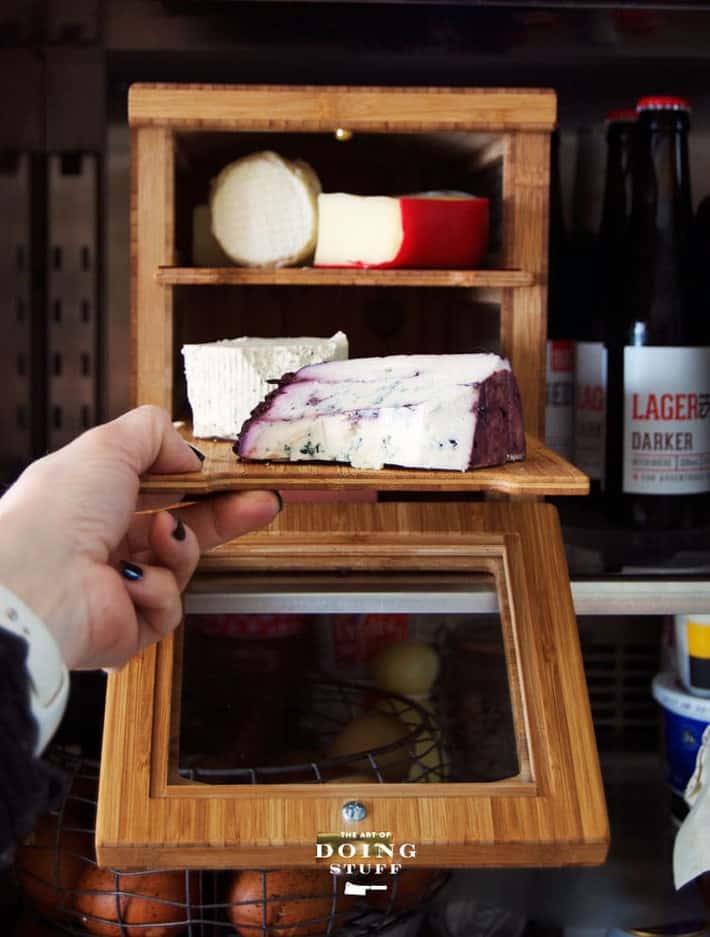 You want some cheese?  No problem.  Just slide out one of the bamboo shelves and you've got an instant cheese tray.  I don't know if I'm really doing my love of this thing justice.
Yes it's a high end item.  Yes that means it's expensive.  Yes, that's also what makes it feel special.  Like that special feeling you get when you wear diamonds or expensive clothing.  Only it's expensive clothing filled with CHEESE.
(The whole point of this thing by the way is that it keeps cheese fresh for much, MUCH longer than anything else.  Weeks longer, and in some cases months)
Each Cheese Grotto is made to order from locally sourced, sustainable materials. I didn't even know there was such a thing as bamboo plywood but apparently there is.  It's called Plyboo and it's what the Cheese Grotto is made of.  They are all assembled and finished by hand.  It you take a good look at it you can see it isn't just a few hunks of wood nailed together.  It shows the kind of craftsmanship you don't normally see outside of The One of a Kind craft show.  It has that kind of beauty to it.
Up until now my cheeses have been wrapped in Cheese Paper, which does a fine job (WAY better than plastic wrap or waxed paper), but not a Cheese Grotto job.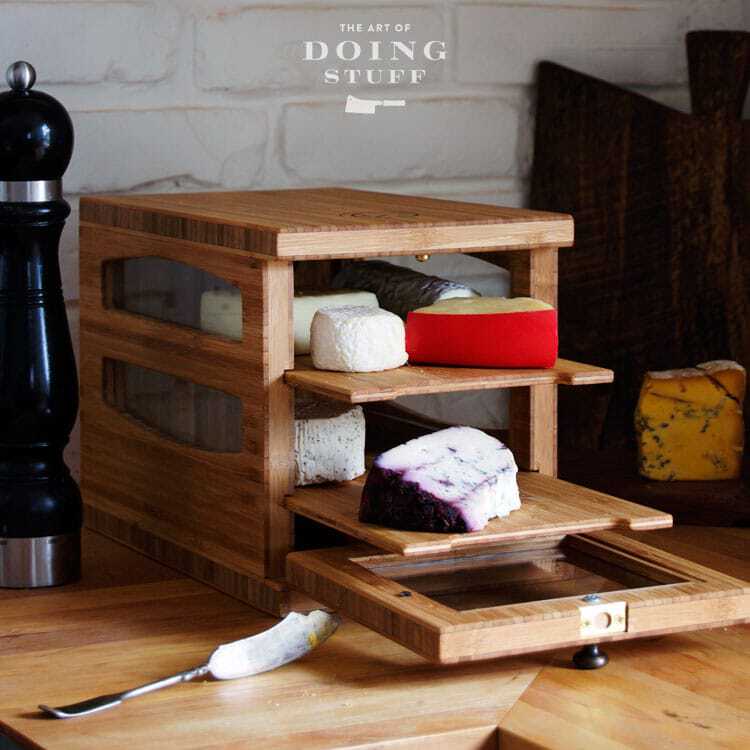 In the past month I've stored 6 types of cheeses in it to see how they do.  I chose to keep the Cheese Grotto in the fridge, but you can actually store it right on your counter.
Keeping it in the fridge means your cheese will last longer than if you store it on the counter.
Let's take a look at the stars of this show, the cheeses.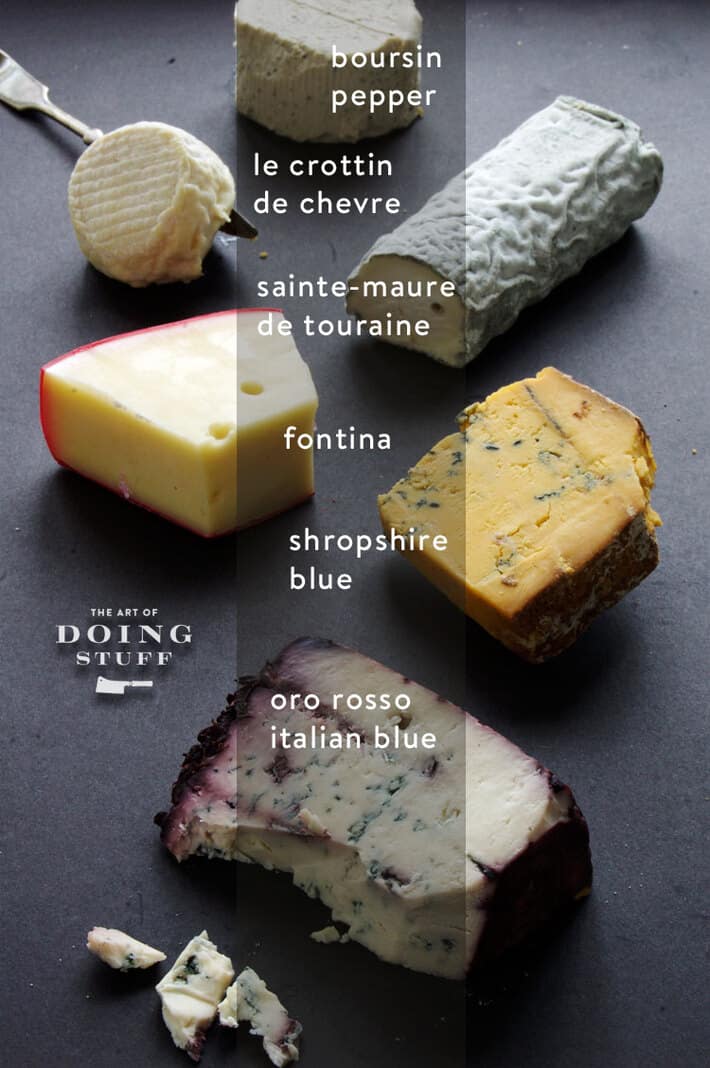 Of these 6 cheeses, 4 came from my local cheesemonger and 2 from the grocery store.  At the grocery store I grabbed some Boursin Pepper cheese and a wedge of Fontina.   Pepper cheese is great on crackers or crumbled on top of broccoli soup.  The Fontina is a superior melting cheese that gets all gooey and stringy.  I use it to make one of my MOST favourite quick recipes, Penne with Rapini with Chorizo sausage from Canadian Chef Cory Vitiello.
The Le Crottin de Chevre is a soft ripened goat cheese from Quebec that has a stink to it.  The Sainte-Maure de Touraine is also a soft ripened goat cheese, but this one is from France and has been rolled in ash.  It is an unpasteurized cheese.
The bottom two blue cheeses are delicious, strong, blue cheeses.  The Shropshire has a creamier texture than its orange colour would imply (the orange is made with a natural colouring).  And the Italian Oro Rosso is one of my favourite cheeses ever. A creamy blue cheese with some bite that's been steeped in a sweet red wine with blueberries, currants, elderberry and more. The rind is covered in blueberries, blackberries and currants.  I eat it on thin Cranberry Pumpkin seed crackers if I have some. If not, I bite into it like an apple.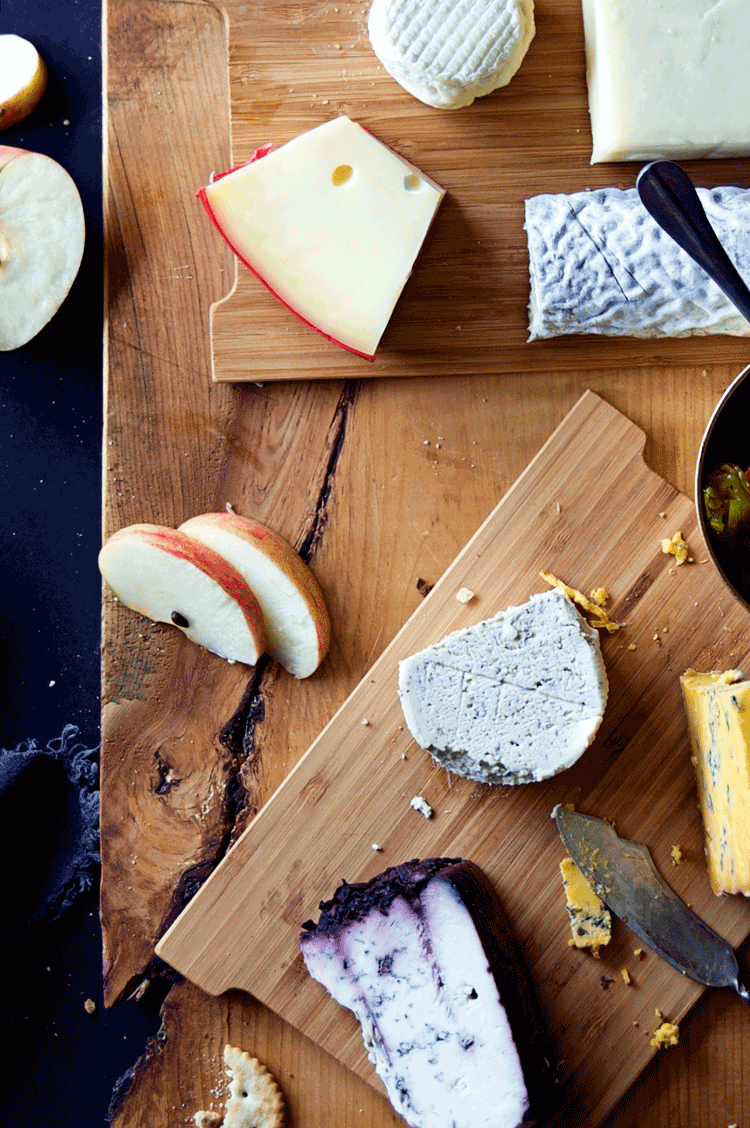 All of the cheeses were still looking like brand new a month after I put them in the Cheese Grotto.  I noticed the Fontina was starting to get a tiny bit darker on the outside, which means it's drying out, so I changed the humidity in the Grotto and it's been fine since.  It's the sort of thing you have to get a feel for.
The thing that makes me the happiest is I can actually see the cheese which makes me much more likely to pull it out and have a few hunks of it.  Which makes me much more likely to eat the entire $25 hunk of cheese before it goes bad.  The fact that  the Cheese Grotto at least doubles the shelf life of most cheeses also helps guarantee that.   That means I'm less likely to waste money and cheese.
Regular old Goat's Cheese which normally lasts for around 7 days in the fridge before going off can last for 3 weeks, unwrapped in the Grotto.
Semi-Hard cheeses that start to go mouldy or hard (depending on what you wrap them in) after 14 days in the fridge will last for 3-6 months when allowed to breathe out in the open in the Cheese Grotto.  6 months!
And my favourite, the very expensive Blue Cheese, which normally gets weird after a week or two in the fridge, can last 2 months in the Cheese Grotto.
Yeah it's expensive, but it's also truly remarkable and something you'll own for the rest of your life.  And unlike your washer or dryer, this thing will never need repairs or need to be replaced.
And unlike your imaginary boyfriend, this thing is very, very real.
*this post does contain affiliate links because I am now a proud affiliate seller of the super-fantastic Cheese Grotto.