I woke up a few Saturdays ago to what can only be described as the ideal day to stay in bed. It was dark and menacing looking with the forecast calling for pounding rain all day.
I'm sure you know the kind of day. It's what many people refer to as a pajama day. You wake up, and pad to the kitchen to make a cup of coffee. Looking out the window it looks closer to nighttime than daytime. It's the kind of day you can make your coffee, get back in bed or on the couch and watch television or read a book guilt free, with the only reason to move being a smoke alarm or having to pee.
Somehow with rain, comes absolution of guilt for laying around doing nothing.
So I made my coffee, got dressed and headed to an outdoor antique festival.
My niece called me late the night before to ask if I'd go with her. She never gets to go and since it only happens twice a year it was now, or wait until next Spring. Who knows what might happen by next spring. All the antiques in the world could disappear or burn up or be eaten.
We were at the show for approximately 9.3 seconds before it started to sprinkle rain. 1.4 seconds after that, it was a torrential downpour that lasted for 3 hours. I don't own a raincoat. Apparently I'm too stupid to own a raincoat. Or optimistic.
She does own a raincoat, but was too stupid to wear it.
Not a surprise when you consider she also willingly went to a Bikram Yoga class by herself. For fun. 'Cause she thought it would be fun. It wasn't fun. It was vomitty.
We did have a single umbrella that we shared only it didn't go well. I started out holding the umbrella because it's my umbrella and I'm particularly fond of it because it says "Shit, it's raining" in French on it. Also I knew she'd be an umbrella hoarder. She's the type. If you met her in the grocery store and took one look at her you'd say. Hurmph. Umbrella hoarder. She's probably really nice and all but ... umbrella hoarder.
I have no idea how it happened but one minute I was holding the umbrella and the next minute I was standing beside a 9 foot tall stuffed bear and a $6,000 harvest table, soaking wet.
I spotted her in the distance with the umbrella and ran under it but it was too late by then. I was soaked right through and my fingers were starting to get that weird wrinkle thing they get when you've been in the bathtub too long.
And my hair got wet. As every woman knows, it's not the wet feet, it's not the see through top, it's not the being so cold your nose turns alcoholic red. It's the hair.
First the things I didn't buy ...
This chair.
I loved this chair and ottoman for my living room, and at $450 for the pair it was a good price. But I wasn't in the market for a chair and it was pouring out and I couldn't make the decision under pressure. Buying something big at an antique market on a whim is dangerous territory. It's not like buying something from a store that you can just return the next day if it doesn't look good or you decide your impulse buy was a little too impulsive.
I also didn't buy this table.
EVERYBODY who walked past this table stopped to look at it. It was wood and metal and had stools built into the legs that you could spin out from under the table and tuck away when you were done with them. They could also be moved up and down. It was $3,200. It was a great piece, but in my opinion priced too high for its age and materials. Industrial is in, but it's not that in. Also the table was huge which means even if you could afford it, you'd also need a massive room to accommodate it. It's the type of table that would appeal to someone who lives in a loft. And loft's are usually not huge. See? You're getting a little lesson in pricing antiques today too.
Now onto the stuff that WAS purchased. These were not bought by me. They were bought by the umbrella hoarder.

We had a bit of a scuffle over these lockers, but since she has 3 kids and long, sharp fingernails, I let her have em.
Now onto what I was able to buy at the Christie Antique Show and Sale with the $80 I brought ...
An incredibly strange handmade egg basket from a general store somewhere outside of Stratford, Ontario. ($23)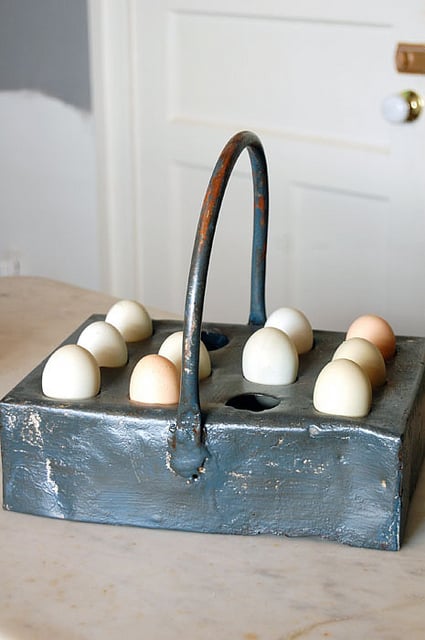 A beautiful crock with cute little handmade ears on it (those are the handles). Crocks are cheap now. They've gone down in value. If you're a collector or want to start collecting them, now's the time. (Paid $22)
A burlap chicken feed sack, which I'm going to use to hold my potatoes for the winter. ($10)
A handmade copper pot from around 1860. It needs to be retinned. All copper, even copper from the 1800's had tin poured into it. The tinning prevents the slow poisoning that can happen from cooking with acidic foods on a copper surface. If you have a copper pot or pan and it has more than a quarter sized area of copper showing through the tin, you need to stop using it and get it retinned. ($25)
I'm going to teach myself to retin my pot. For fun. Because fun isn't only reserved for Bikram Yoga.