After a week of organizing, tearing apart and reorganizing, my kitchen hardware cabinet drawers are finally filled with stuff. Finally somewhere to keep my … lawnmower sharpening kit?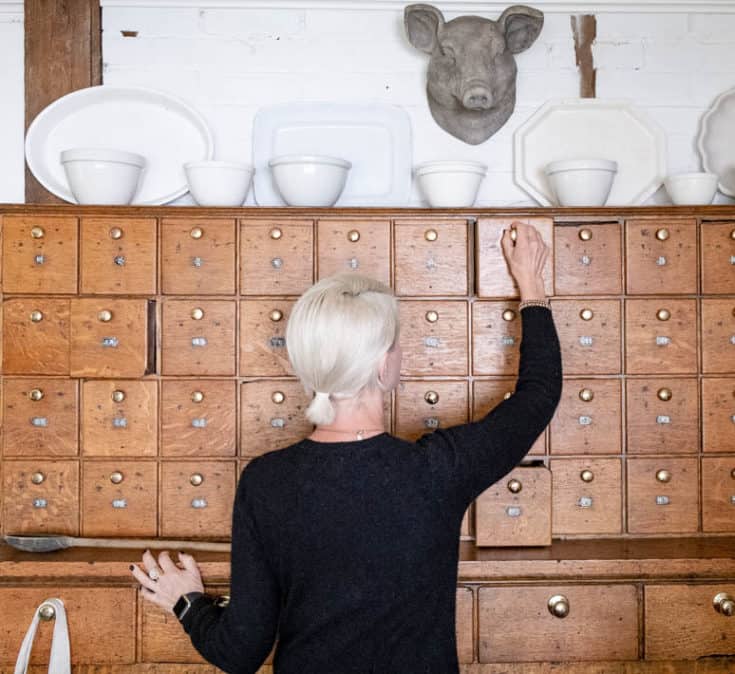 I am slowly becoming an organized person. There have always been bits of my life that are incredibly organized (my freezer, my dresser drawers, my collection of bobby pins which I cleverly keep in between the cushions of my sofa). As a whole though, my organizing never feels completely organized.
My new(ish) kitchen hardware cabinet has forced me into becoming hyper-organized because if I wasn't, I'd never be able to find anything in the more than 50 drawers. I spent a WEEK a little while ago organizing my dining room bookcase cubbies, my dining room cupboard and … filling my hardware cabinet.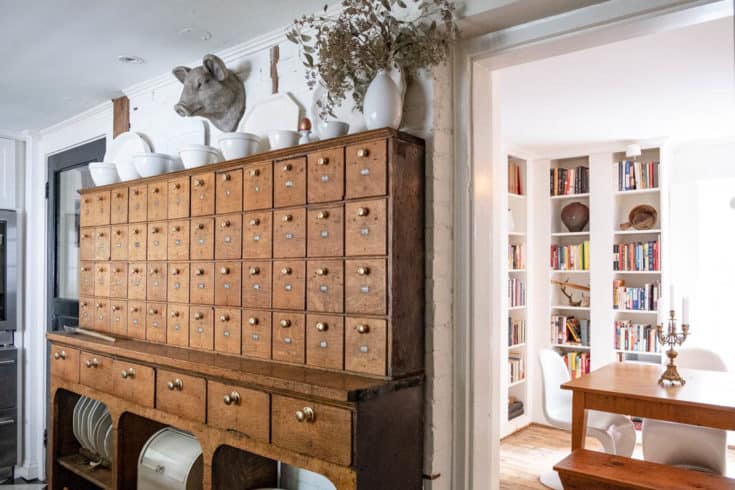 It all started with going through my dining room cupboards, which is where I keep a LOT of stuff. It's really my only storage area on the main floor so everything from Sous Vide machines to staplers are stored in the cupboards.
I pulled everything out and and organized it by what it was. So tape in one pile, picture hanging things, flower vials and frogs, scissors … everything got organized by what it was. All of the "smalls" (things that would fit in my tiny drawers, came out of the dining room and into the kitchen cabinet. And then, that freed up a lot of room in my large dining room cupboards for the big stuff like candlesticks, flower vases and wrapping paper.
The organizing then seeped into the kitchen where I was able to move my baking supplies and utensils into the hardware cabinet, making room in my cupboards for all my small kitchen appliances.
What's in the hardware cabinet and how did I organize it?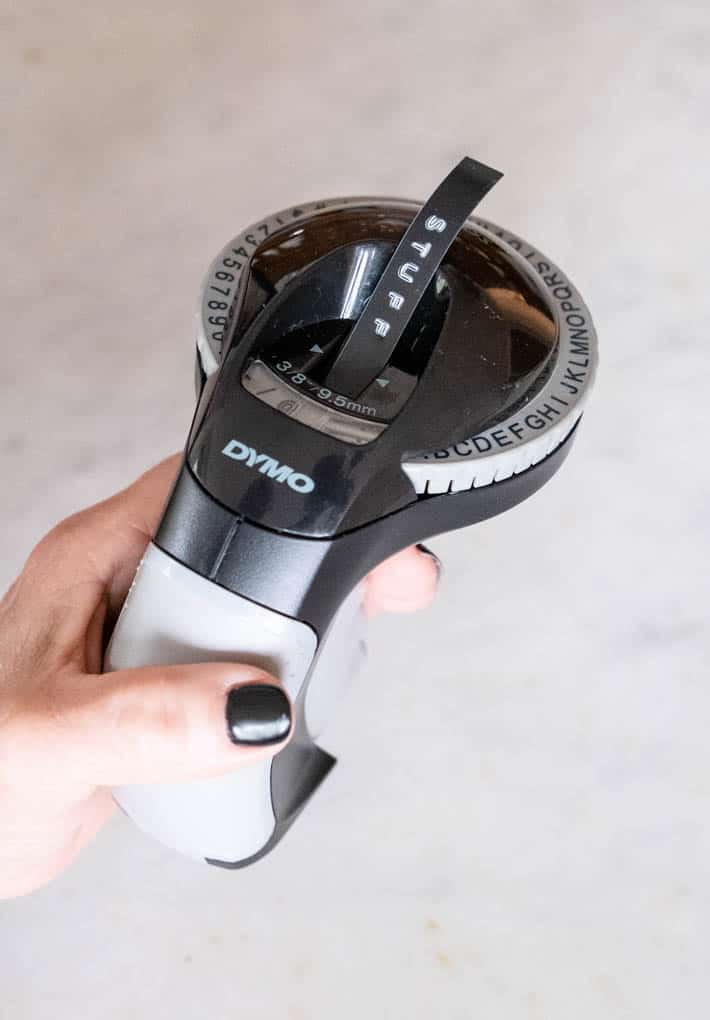 The Dymo label maker for the win.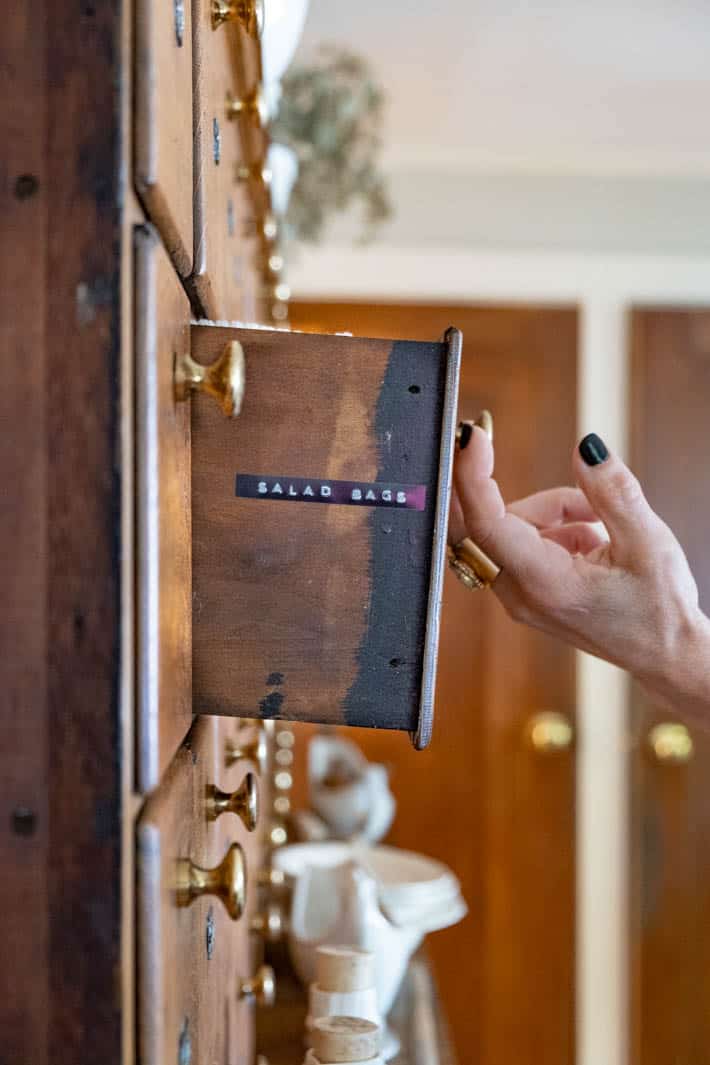 I filled my drawers and labelled the sides of them so I could quickly pull them out and know what's inside. Most of the drawers are above my eye level so this was important.
I'm now on the hunt for a nice, antique clipboard to hang on the side of the cabinet where I'll keep a comprehensive list of the drawers and contents.
About half the drawers are full, which is perfect because that gives me room for adding new stuff to them over the years. Months. Weeks. Days. Probably the next few hours.
The bottom drawers are bigger so more useful. One of them, and I don't know why this thrills me to the extent that it does, fits all of my vintage pie plates. The drawer to the right holds baking supplies like yeast, baking soda, baking powder and the all important sprinkles. The drawer to the left holds lesser used kitchen utensils.
Little wrenches, pliers, and snips get their own drawer.
I look to see that I'm opening the right drawer by the label on the side and then just slide the whole drawer out so I can go through it looking for whatever I need.
I have the drawers of some of the more common things I used memorized but come next year I'll have no idea which drawer holds my lawnmower sharpening kit.
The drawers are not filled alphabetically. I filled them according to use. So sugar for my coffee is down low and directly across from my coffee maker and fridge. All gadgets and tool related things are in the top two rows. Spices are near the bottom and down to the left of the cabinet, closest to my counter. Don't you worry about it, it all makes sense in my life and in my head.
You want to know what's in every drawer don't you? Here you go.
Pencil Sharpeners, pencils.
Scissors, things that cut.
Stapler, staples.
Lightbulbs.
Small screwdrivers.
Wrench, allen keys, snips.
Picture Hangers.
Push pins, wire
Tape, edge banding.
Glue, Small Motor Oils.
Hot Glue Gun, glue sticks.
Flower vials, frogs.
Eek.
Salad bags.
Coffee filters.
Round cookie cutters.
Jewellery making stuff.
Pest control (ant traps, fly strips …)
Label maker.
Flower cubby.
Mower sharpener.
——————
——————
——————
Sugar.
Spices.
Spices.
——————
——————
Beeswax paste & cloth.
——————
——————
——————
——————
Plastic bags.
——————
Spices.
Spices.
Snacks.
—————–
—————–
—————–
—————–
—————–
—————–
—————–
Tea.
Napkins.
Lower drawers – Empty, Empty, Utensils, Pie plates, Baking Supplies, Cat food, Swear jar. My swear jar works different than most in that every time I swear I get to take $1 out of it to go buy candy.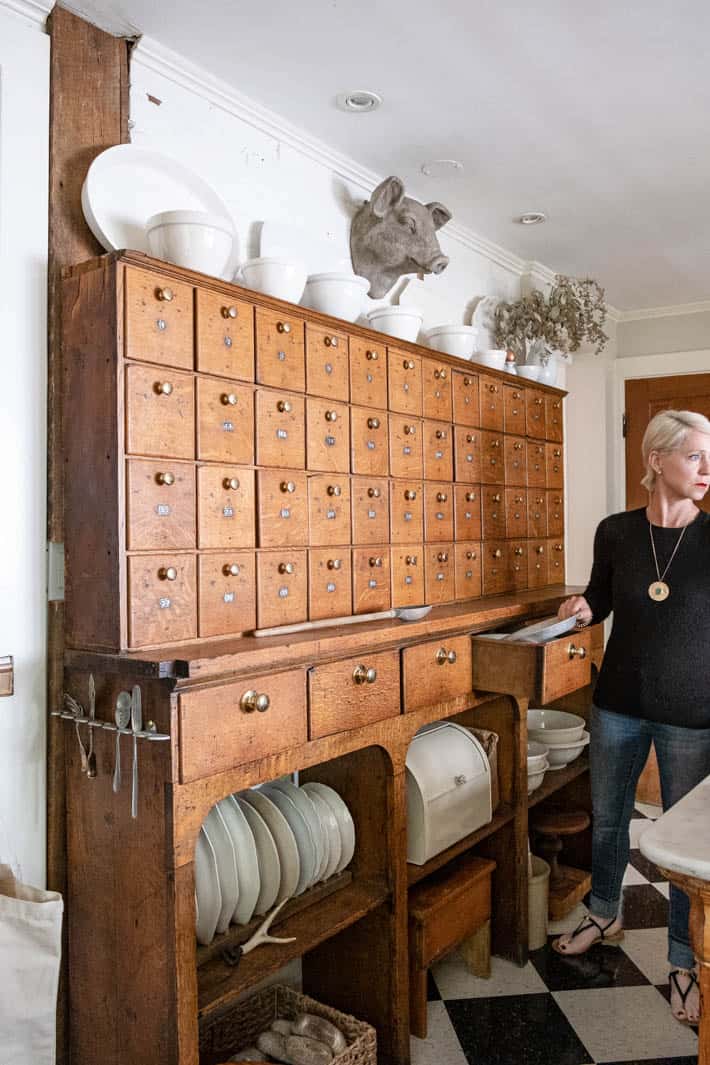 I grabbed that pie plate with GLEE and made a goat cheese and leek quiche in it. It was the most exciting day of my life next to the day I found all those bobby pins in my sofa cushions.
---
If you want to see the whole process I have video of it all in my highlights under the title "Organizing" on my Instagram account. You'll see the whole thing, the dining room cupboards, the kitchen cupboards, the secret flower compartment in my cabinet.
---
→Follow me on Instagram where I often make a fool of myself←