I came across an antique hardware cabinet over a year ago and fell in love with it. Being too long for any wall in my 1840's cottage, I had to forget about it. Then I saw it again this summer and realized ... I'm super-stupid. It was made of wood and wood can be CUT. So cut it I did. Here are the results.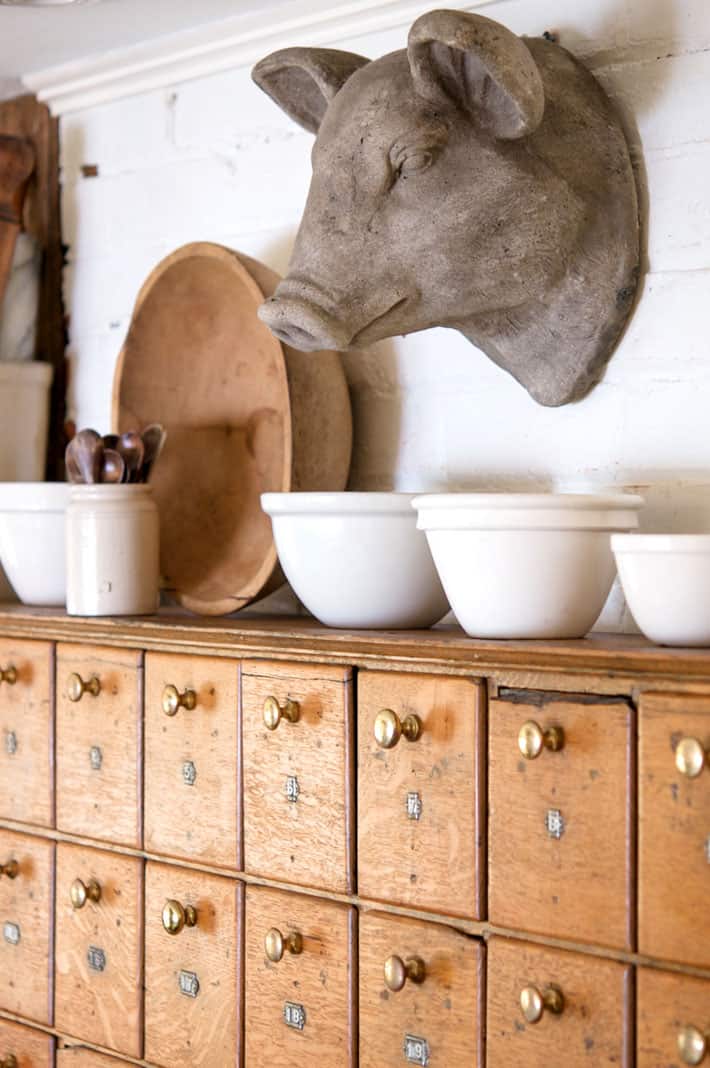 Listen, I know you are all interested in what this cabinet looks like after being cut down, but mainly what you want to know is Did the pig's head stay? Yes. It did.
I am pleased to report he's happily keeping watch over my kitchen as he always has, perched above my new, old antique cabinet; which is now 13" shorter than it was 2 months ago.
What kind of sorcery does it take to shrink a solid wood cabinet down by 13"? Just chuck it in the dryer. Just kidding, that would never work. The sound of it clunking around in there would make you a crazy person.
The resizing of this early 1900's cabinet required the skills of a rather talented Polish man to hack away at it.
It was cut down the centre and then pushed together again. The seams were disguised and aged, and the cabinet was given new supports to maintain it's structural integrity.
So there's a seam down the centre of it that you really can't see. In fact I don't think I've noticed it even once.
Had I wanted a completely invisible repair, they could have taken the entire cabinet apart, made it shorter and put it all back together but that also would have taken a lot more time in the dryer and therefore a lot more money.
This isn't exactly a fine piece of furniture. It's rustic. So a seam down the middle isn't going to take away from its beauty at all.
If You Had to Change it, Why Buy it?
That's your question, right? I bought it for a few reasons.
I loved the original metal numbers on every drawer.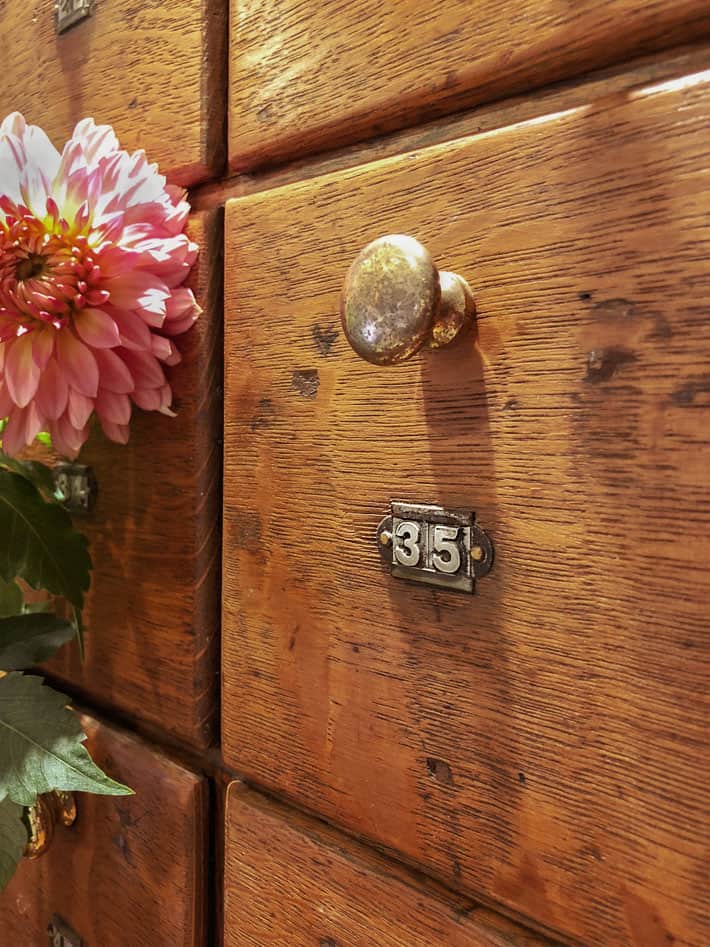 2. It's only 13" deep which is rare for a large cabinet. 13" is what I had space for.
3. I needed more storage.
4. There was just something about it.
A lot of times we can't put our finger on why we love something so much. That was the case with this cabinet.
I loved how my white brick wall looked before with my collection of rolling pins hanging on antique french curtain tie backs but ... I needed room for STUFF. You can see how the wall looked before in this post.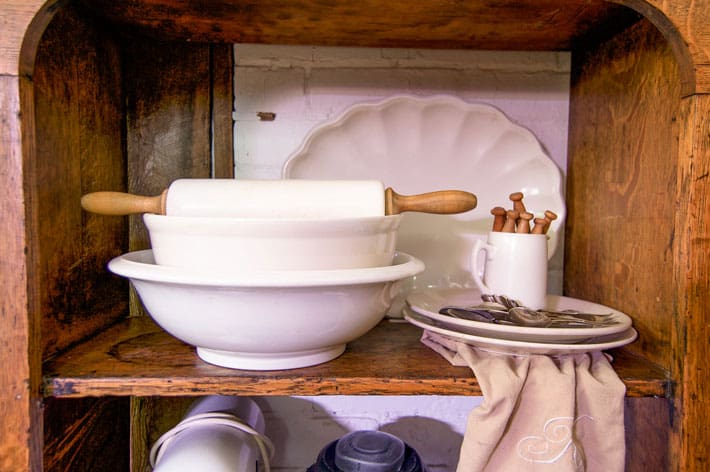 For now every single drawer is still empty. Partly because I still haven't washed the interior of all 54 drawers and partly because I really have to plan what I'm going to put in those drawers and how I'm going to remember what's in them all.
---
O.K., this is PROOF at how bad I'm going to be at remembering what's in all those drawers. I just this moment realized I do have something in one of the larger lower drawers - I have the far right one filled with dry cat food and a scoop. I just lined the drawer with some waxed paper and poured it right in.
---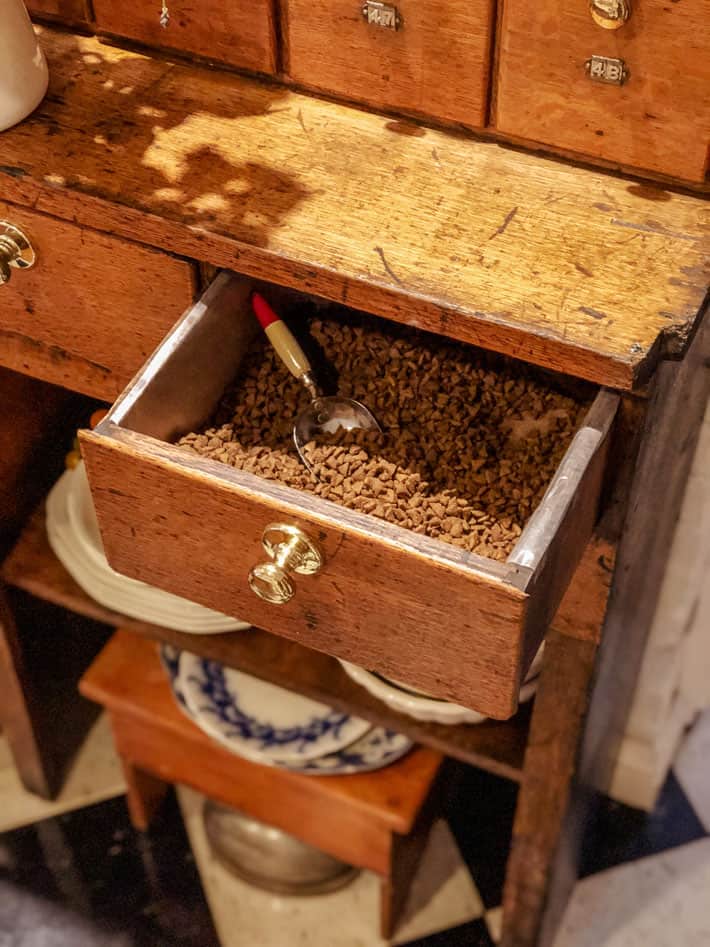 See? Cat food. And horrifically ugly knobs. But I'll deal with those later.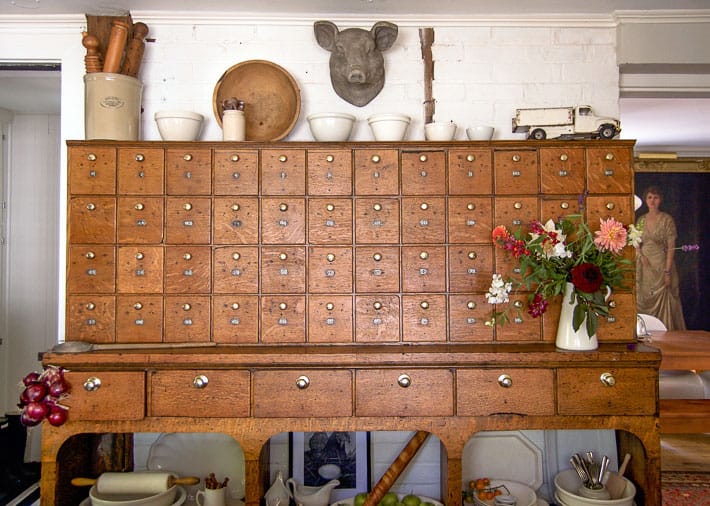 Taking a look at the cabinet head on, you can see that the cabinet doesn't look like it was altered at all in any way.
For reference, this is what it looked like before it was cut down to size.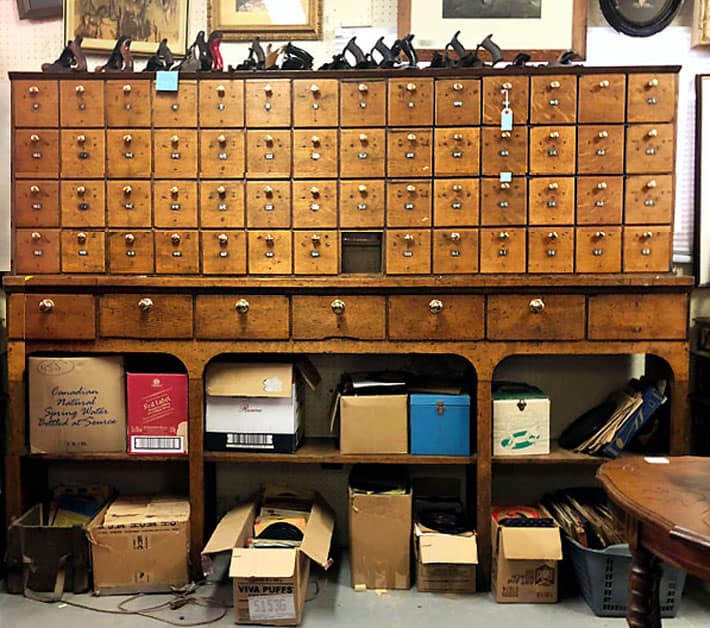 Two side by side sets of small drawers and one large drawer were removed right down the middle. An interesting note about those drawers. If you look closely you'll notice one drawer doesn't have a number on it like the rest of them do.
Further inspection shows that this drawer has NEVER had a number on it. There are no holes or patched holes on the inside or the outside of the drawer.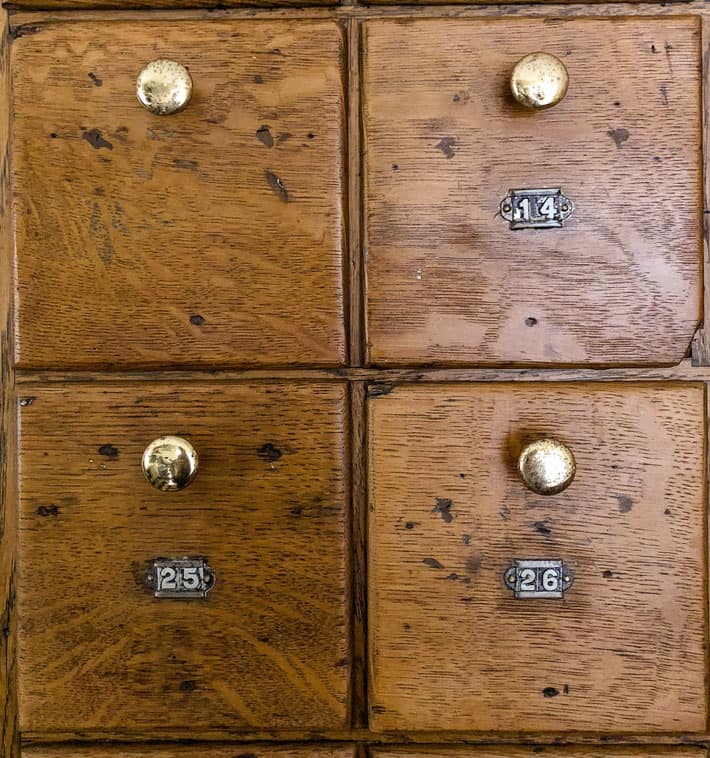 The drawer is drawer number 13. That's how superstitious people were back in the day. I plan on keeping my evil eyes in the drawer.
Just the storage on the shelves of the cabinet has allowed me to clear out a full cupboard and shelf in my kitchen by moving things around.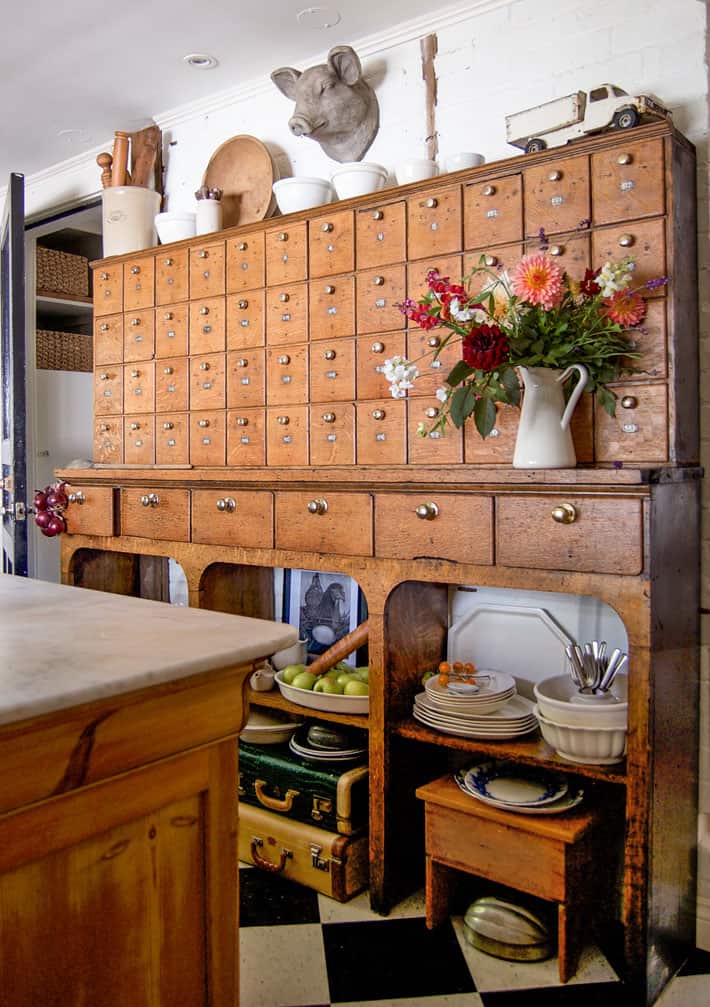 This might not be how it stays, this is how I put things in there quickly during my mad rush to get it presentable before Thanksgiving guests arrived. I picked the cabinet up just a couple of days before I hosted Thanksgiving dinner for 15 people.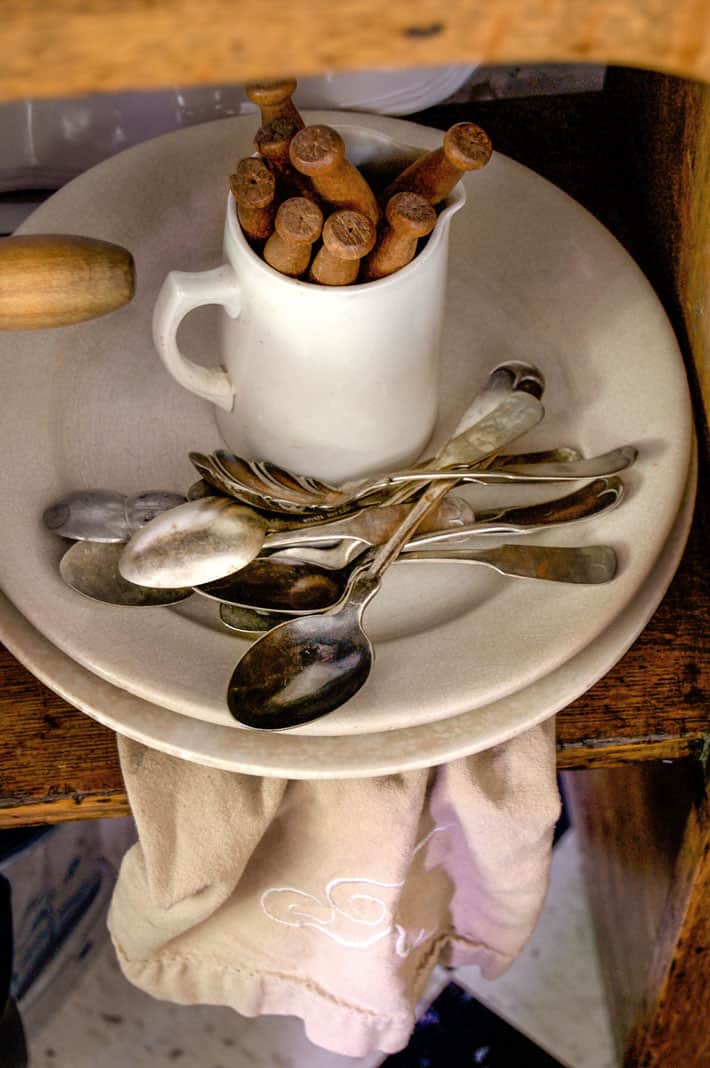 My ironstone and perpetually tarnished silverware has never looked better.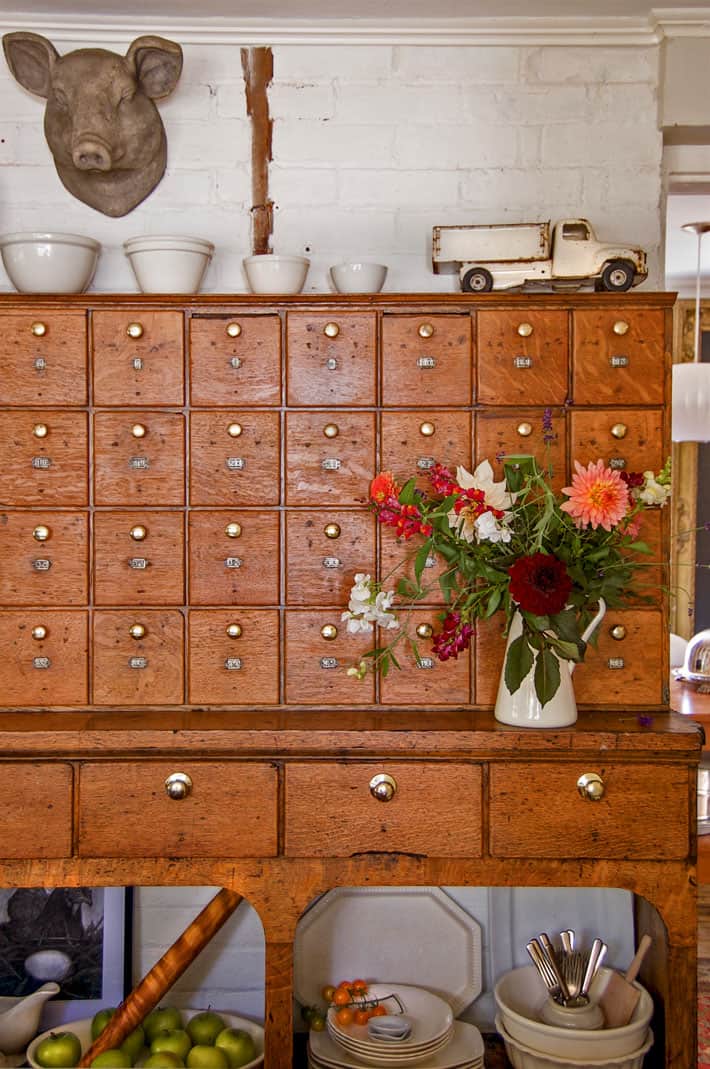 I'm going to live with the cabinet for a little while before I decide on knobs for it. The knobs on the lower big drawers are what irk me the most. They're plastic as far as I can tell and weirdly deep. The knobs on the little drawers are a mix of old and tarnished, which I like, and new and plasticy and shiny which I do not like.
Nor does the little pig.
→Follow me on Instagram where I often make a fool of myself←