Do you have keys laying all over the house? Yeah, it happens to the best of us. Make one of these ridiculously fun magnetic key holders and never lose your keys again.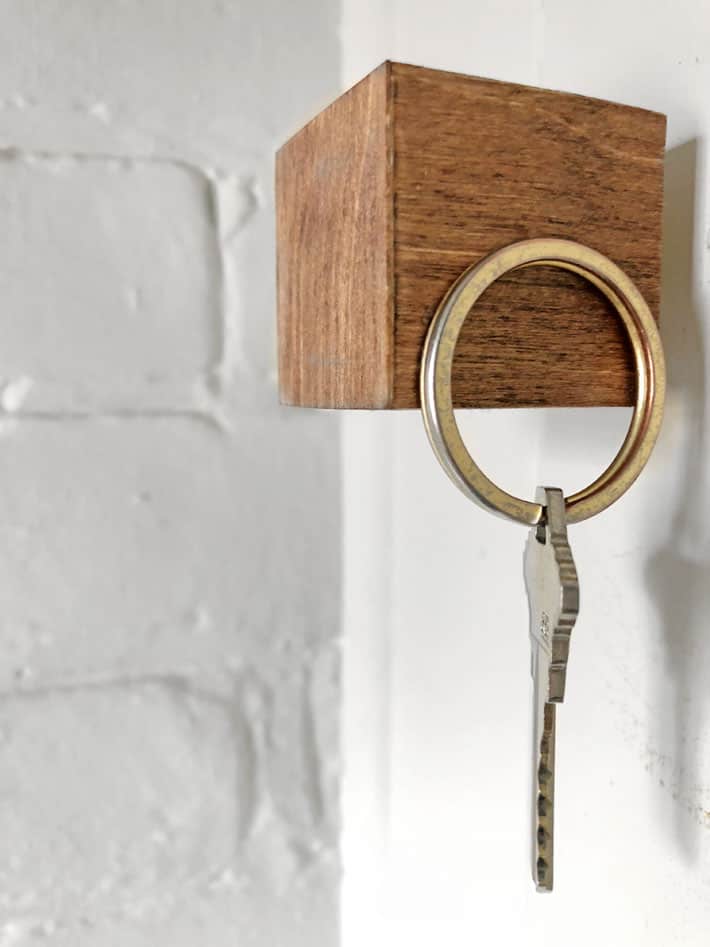 Today is the day you'll remember for the rest of your life. It's the day that you *actually* do a DIY that you saw online instead of just *thinking* you'd do a DIY that you saw online.
In once scenario you get a feeling of accomplishment, superiority, a rush of adrenaline and pride. In the other scenario you get a really full Pinterest board.
This key hanger looks just like a wood cube but there's a rare earth magnet hidden inside that your keyring sticks to. Like magic.
There's a plethora of photos and instructions to follow, but before you start to hyperventilate here's the less scary point form.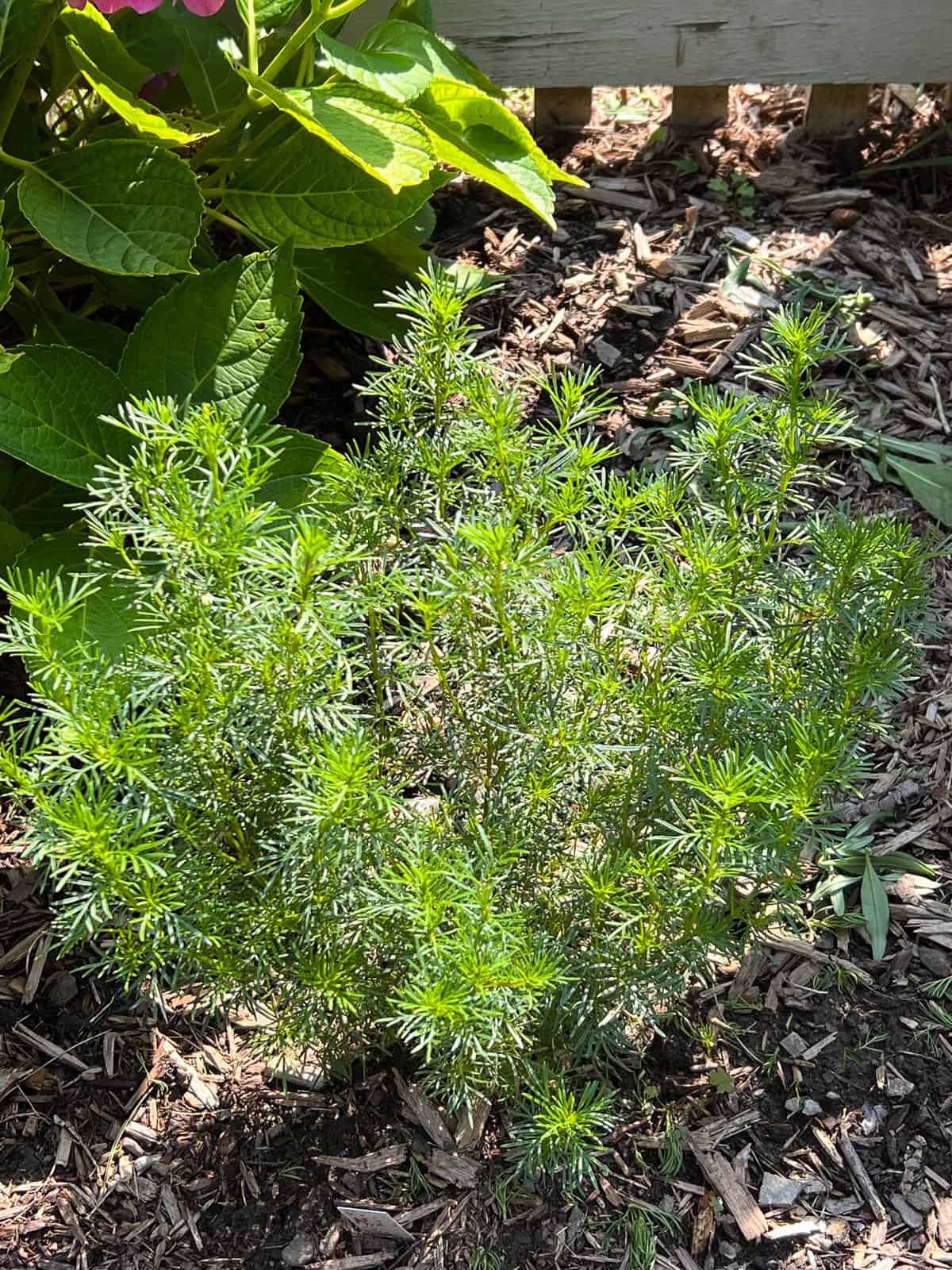 Magnetic Cube Key Hanger
MATERIALS
length of wood with sharp, square edges (2"x2")
½" drill bit
½" rare earth magnet
3/16 x 2" Dowel Screw
Veneer  (2" iron on edge banding if you can find it, otherwise use a sheet of veneer)
Wood glue (if you don't use iron on edge banding)
INSTRUCTIONS
First cut your length of 2x2 into squares.
1. Drill a hole in one side of the cube with a ½ drill bit to the depth of your magnet.
I used a drill press because it's fun but you can just use a regular drill. A spade bit works well because it gives you a flat bottom to rest the magnet on.
2. Blow out any sawdust in the hole.
3. Press your magnet into the hole. If you drilled straight down without wiggling your drill bit, the magnet will fit snugly.
4. Drill a hole for the dowel screw on any side of the cube. Screw the dowel screw into the cube until half of it is in the cube.
If it's too hard to hand tighten use a pair of pliers to grab the screw being careful not to squish the threads. You can also put the screw into a vice (again being careful not to squish the threads) and screw the cube in further by hand.
If you're lucky you'll find dowel screws like these that have a smooth centre, letting you grab it with a pair of vice grips without worrying about squishing threads.
5. Cut veneer squares for 5 sides of the wood. You won't veneer the back where the dowel screw is.
You can cut the veneer slightly larger than you need and then just cut the excess off after you glue each piece in place.
6. If you're using regular veneer apply a thin layer of wood glue to the wood cube and stick the veneer on top. Clamp it. My clamps are ancient but useful because they come as a big whack of multiple sizes.
When clamping, cover the veneer with another piece of wood. Doing this will stop the clamps from denting the veneer and it'll distribute the force of the clamps evenly over the veneer.
8. Once all your veneer is glued on (or ironed on if you're using iron on edge banding) and trimmed you can stain, paint or just leave your cube natural.
I've stained my birch veneer with Early American Minwax stain.
9. To hang the cube, drill a hole into your wall and add an anchor if needed (for hollow walls, sheetrock/drywall).
Screw the cube into the wall.
It's important that you pre-drill the hole otherwise you could end up pushing the dowel screw through the front of the cube.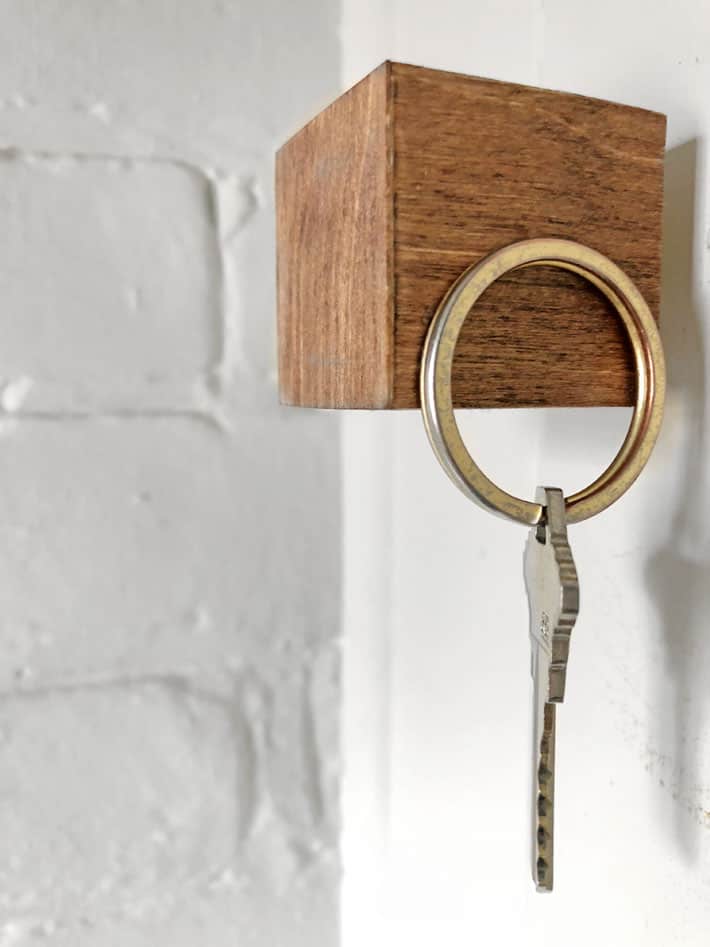 Wanna see it in action?

And yes. You have to add the veneer. Otherwise there's nothing to hide the magnet. You can also try using wallpaper.
You're probably thinking, well yeah, but I have WAY more than 1 key that hangs off of my keyring. This would NEVER hold up all of my keys.
Not true. Rare earth magnets are incredibly strong. They hold my big honking keychain with a fob, various keys and a tape measure hanging off of it.
I just have one but you could have one for each person in the family all lined up on the wall of the door you come in.
Or do a long rectangle instead of a cube and add a magnet every 3" so that everyone has their own key spot on it.
These painted different colours would be really fantastic. Glossy hot pink, or if you have several you could go from dark to light (ombre) of the same colour.
Really the possibilities are endless for how you could configure these or make them look. There's only ONE thing that you absolutely HAVE to do, to make these work properly.
You can't just Pin it to your Pinterest board. You have to actually make one. ;)
→Follow me on Instagram where I often make a fool of myself←