On April 14th, 2013 I announced I was redoing my kitchen floor. I was going to rip up the old floor, install heated mats, DIY a nice smooth base for tile with self levelling concrete, topped with black and white VCT tiles.
It was my big spring project. At times when I was feeling particularly dreamy I toyed with the idea of a new kitchen light.
I treated myself and got that new kitchen light. Along with new cabinets, a fridge, stove, island, partial nervous breakdown, curtains, dishwasher, plumbing, wiring, countertop, sink, shelving and full nervous breakdown.
I'm still not entirely sure how it happened but I think it involved a combination of decorating magazines and bottom shelf hallucinogenic drugs. One day I was redoing my floor, the next day there was a tornado of activity that lasted for the next year.
Anyone who has ever done a kitchen knows it's like opening a door into a variety of new and exciting places. The poor house, the nut house, the funny farm. You'll have visited them all once your kitchen renovation is complete.
Oh yeah, it's gonna be worth it but no one can convince you of that at the time.
You'll cry, you'll stomp, you'll ask yourself what makes you think you're so uppity that you need a kitchen where you can use the toaster and the microwave at the same time? Your grandmother didn't even HAVE a toaster! She had bread and a fire and a lot of burned fingers. And she was happy she had that because HER grandmother didn't even have fire. If she wanted toast she'd paint a piece of stale, crispy bread with cow dung.
I got so fed up with so many things that I started keeping a list of everything that went wrong with my renovation. I have no idea where that list has gone. It's not in any of my notebooks. I was probably worked up into such a froth I wrote it on the back of the couch or something. I spent a lot of time just balled up behind the couch during the kitchen renovation. It was nice there.
I also have no idea what got me so worked up. I can remember a few things like the corner cupboard not fitting in through the kitchen door and having to haul it over my 7 foot backyard fence but there were lists and LISTS of things that went wrong. I don't know if I've completely forgotten them just because time has passed or because I've developed some sort of very purposeful selective renovation amnesia. I'm pretty sure that's a real thing.
Regardless, I'm happy I can't remember most of the horrors because that leaves me with only loving feelings towards my new kitchen. I almost burst with love when I microwave and make toast at the same time.
After a year and a half of incredible patience on your part, please enjoy the full reveal of my new kitchen. (courtesy of Donna Griffith Photography and Canadian Living Magazine) And yes Donna is the photographer who gave me my private lesson a while back.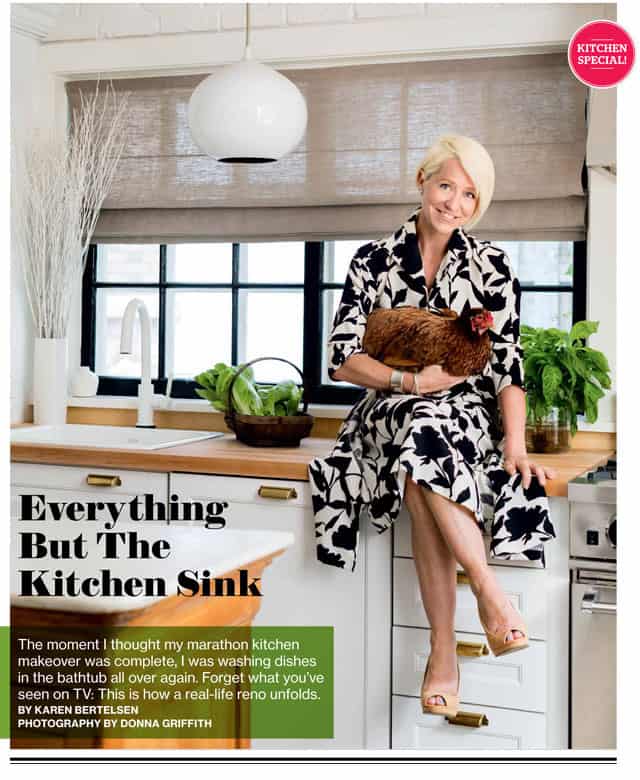 There's that light I got treated myself to. Oy. As you can see, I'm holding a chicken. That chicken is Cuddles. The magazine was due to come out at the very same time Cuddles got deathly ill. I was terrified my little chicken was going to die at the very same time she was making her magazine debut. She made it through the illness and is now entertaining a variety of modelling offers put forth at my discretion.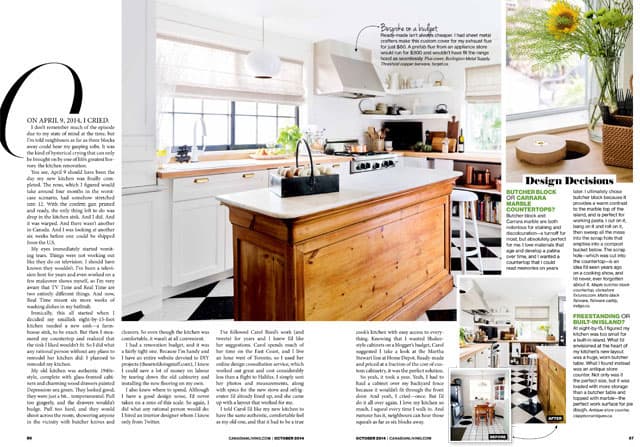 Somehow adding more large pieces to my kitchen made it feel and look MUCH larger. I added all kinds of additional counter space, more shelving, cupboards and a huge antique candy store counter in the centre of the room.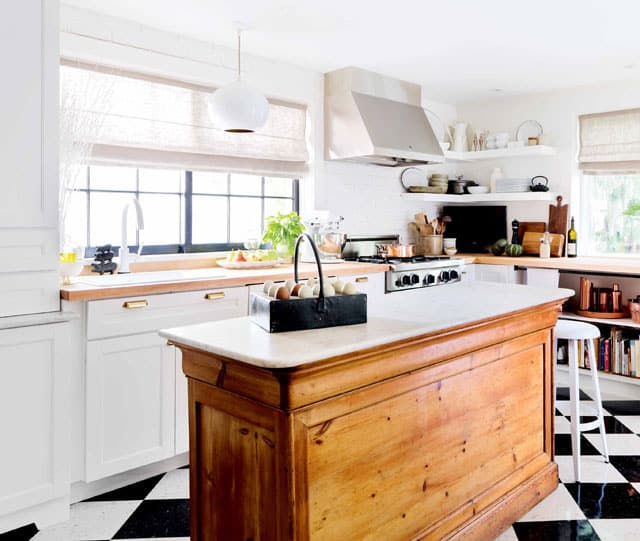 I had the flue cover over the range hood custom made at a local metal shop for $60. Proof that having stuff custom done doesn't always mean it's going to be expensive.
I had absolutely NO qualms about mixing metals. I have stainless appliances, gold hardware and copper pots. It's the kind of thing that might make someone else crazy.
The back wall of my kitchen use to be empty. It now has a long expanse of butcher block counter and open shelving for my pots and cookbooks underneath for each access. Want some soup? BOOM!!! A pot. Need to know how to make pudding? BOOM!!! A cookbook. That whole corner of the kitchen actually is my easy access corner.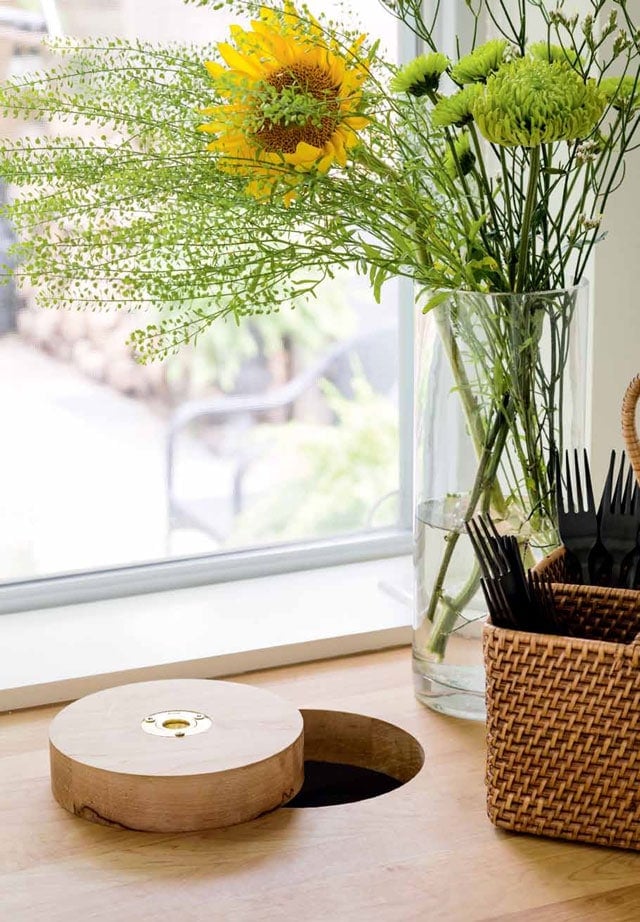 Want more STUFF like this?
Get my posts emailed to you daily.
This is the famed counter top hole. A stainless pot is underneath it, letting me chop, crumble and prepare all of my food and just wipe the scraps into the hole.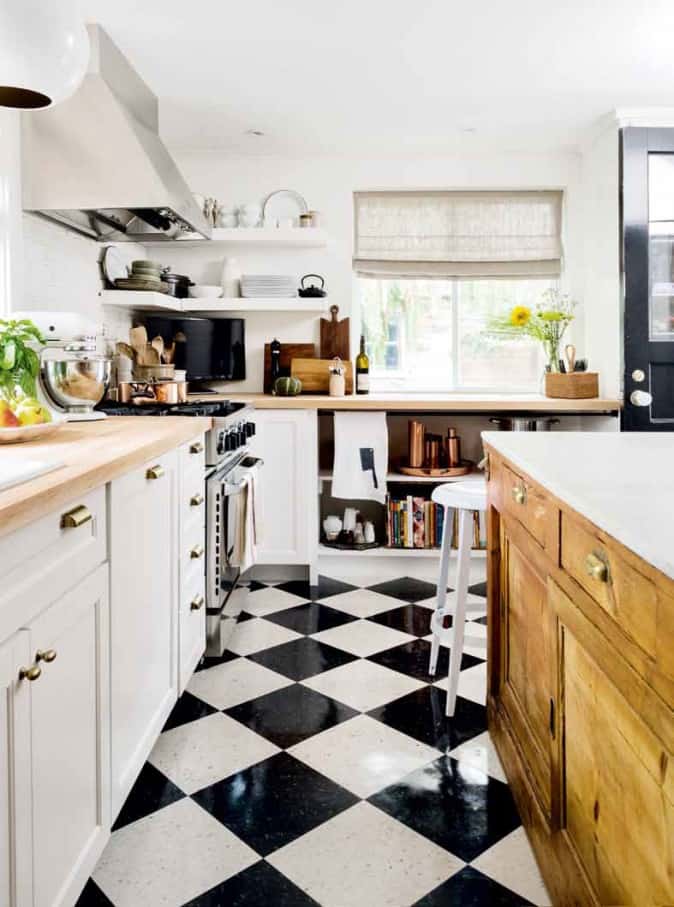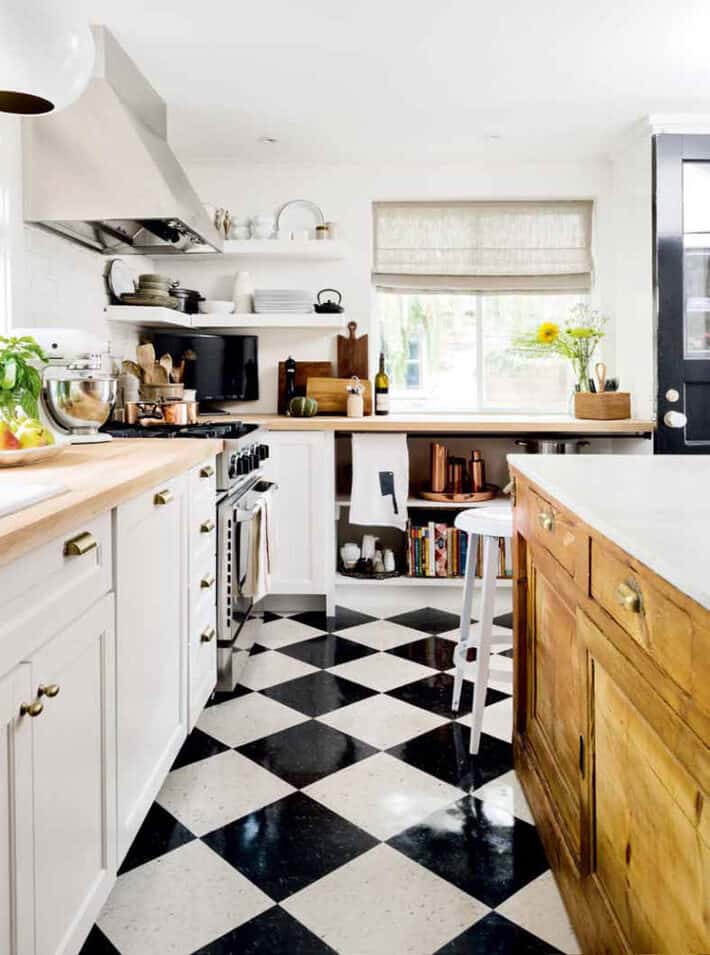 Betty made the linen roman blinds with no lining so light comes through them in the day and they keep their nice drapey feel. The fabric is from Rough Line, which long time friend Tricia, agreed to let me have as a favour. I was originally going to make cafe curtains out of them for the kitchen, but finally decided I wanted something that covered the entire window.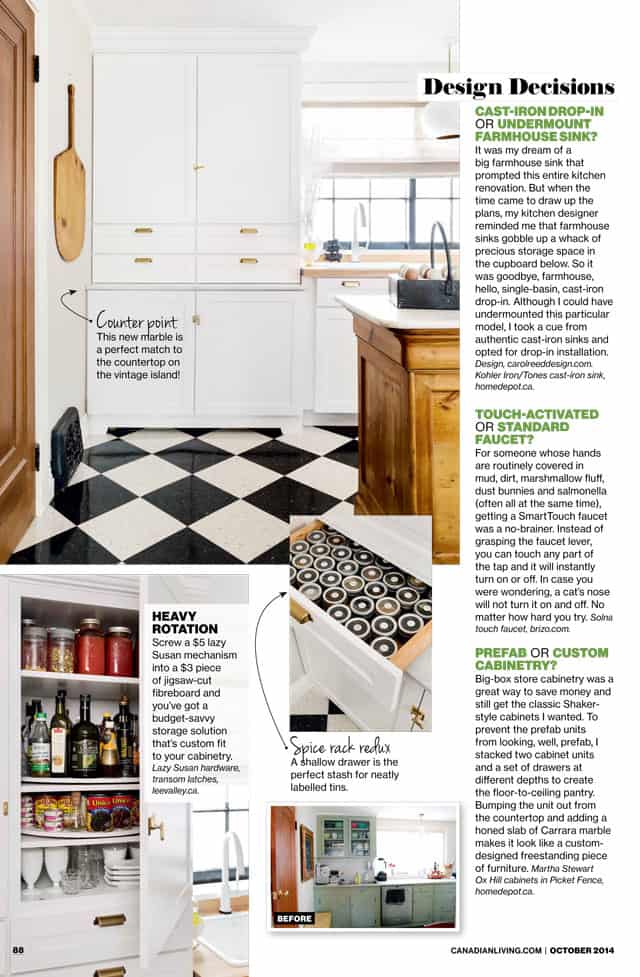 My Martha Stewart cabinets transformed into the pantry of my dreams. Below is storage for big things like my wok and stink machine (deep fryer). The middle drawers are filled with shallow things like spice tins, pie plates and tea towels. And the upper cupboards are filled with food stuff. I also bumped the bottom cabinets out a bit had a piece of Carrara marble cut to place on top of them so now I have a small shelf for putting things down on while searching through the cupboards. That little bit of marble helps to tie in the antique Carrara marble on the candy counter as well. I considered doing all of my windowsills in marble as well, but I really just wanted a little bit of marble and didn't want overkill. Plus those two little sills would have added a lot of price to my kitchen, so I stuck with plain painted wood and I like it just fine.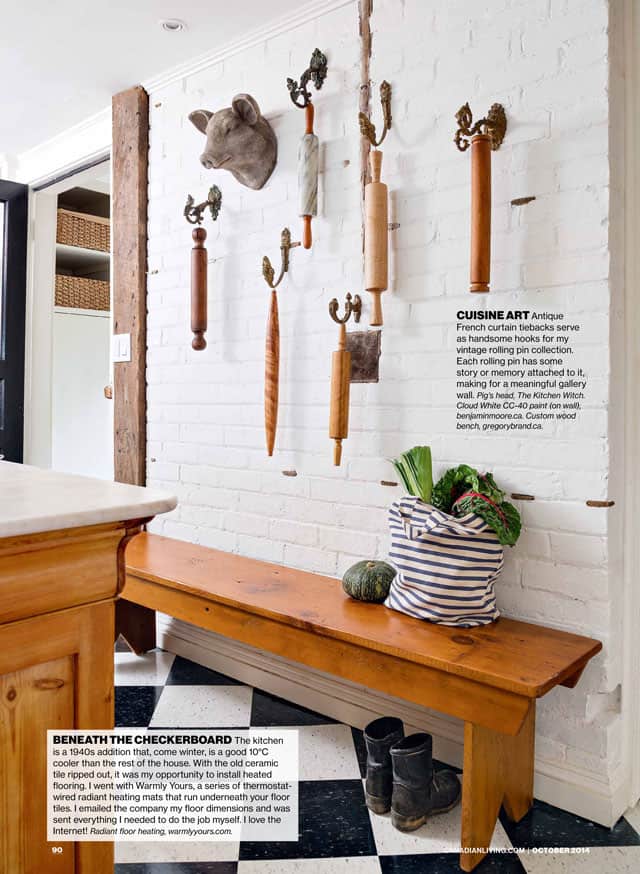 One of the first things I did when I started renovating my kitchen was pull out an old pantry and drywall to reveal a big brick wall behind it. It was ugly. I painted it. It isn't ugly anymore.
It took a longggggg time to decide what to put on that wall. I had an antique deer head up there for a long time which I loved and looked great but I ended up moving that to my mudroom. Then I had visions of a Smart TV on the wall, but it was going to be too difficult to see from my main work area in the kitchen so I scrapped that idea, even though I still think about it every so often. Then I came up with the idea of hanging all of my rolling pins. Each one of them has some sort of story behind it, as do the brackets. My friend Michelle (the fella's father's wife) gave them to me years and years ago. She had them when she lived in France, but couldn't find a place for them in one of her Toronto apartments. They were perfect for the wall, adding a bit of fancy along with the rustic of the rolling pins. And yes. The long, tapered, beautiful rolling pin is indeed from the very talented woodworker Brenda from Cattails.
The pigs head. I love that pigs head. I got it at a local store called The Kitchen Witch that carries some of the greatest stuff I've ever seen. I don't think this store has a single thing in it that I don't like. It's a dangerous, dangerous place.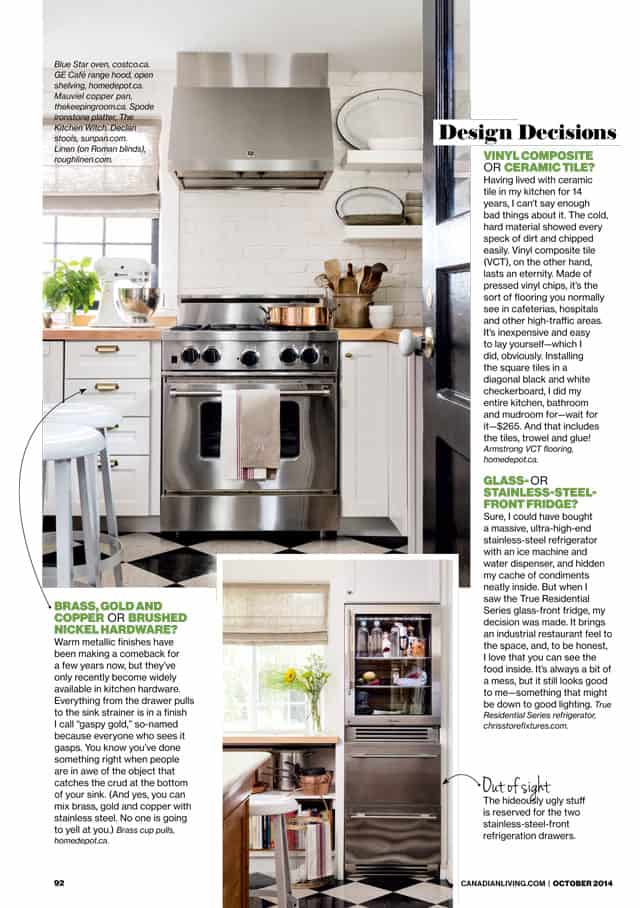 The Blue Star stove I've been wanting for years. I never could have bought it if I'd bought it from Blue Star, but Costco carries a pared down version of it that's perfect for an enthusiastic home cook. This is not a stove for people with little kids though. Everything on it is made of metal. Even the knobs. And there's no insulation so when the oven heats up so does the door, the knobs and the edges. If you're an adult that's fine. If you're 2 it is not.
What I love about this stove I REALLY love. One of the burner grates come out so you can nestle a wok in the spot and it won't move or slide around.
It has a pull out tray that all the drips and boil overs go to that can just be wiped out. This also means since spills drip down to the tray, you never have baked on crud on your burners.
It has a simmer burner that actually keeps things at a perfect simmer and never changes. You could have a pot of chili on the stove simmering for hours and it wouldn't burn on the bottom or boil over. I don't know how they do it but it's genius.
And finally, I noticed right away that not only does water boil faster than on my old stove, but it comes back to the boil incredibly quick. You know how if you have water boiling and you throw spaghetti into it it takes forever for the water to come back to the boil? Not so with this stove. Or any commercial type stove I would imagine.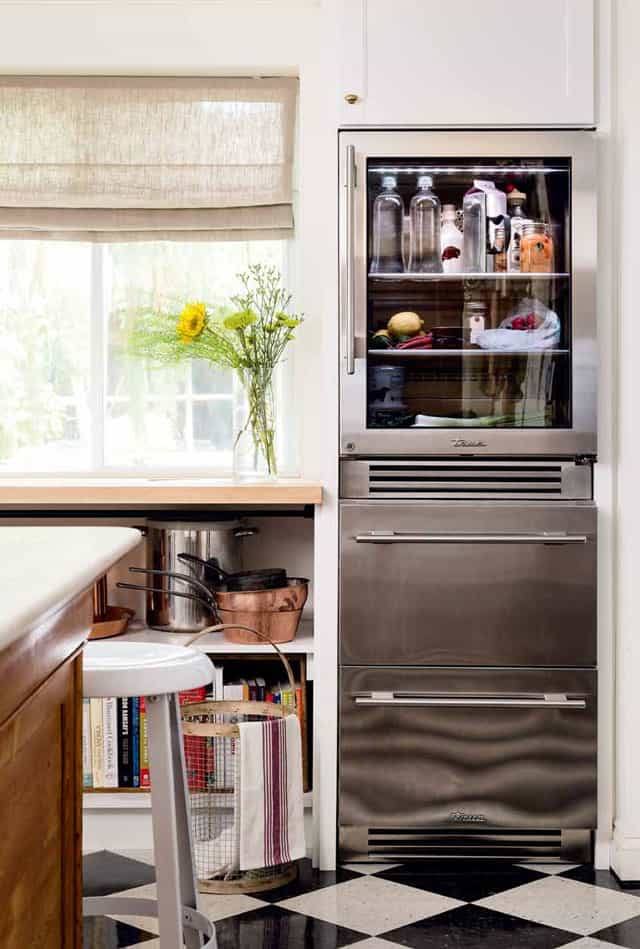 And the fridge. (insert angels singing and gophers break dancing here).
Finally after all your waiting, the kitchen reveal is complete. Of course now that the whole ordeal is over I feel like it was all worth it. When I was in the middle of throwing the corner cabinet over my back fence because it wouldn't fit in the front door, of course I would have argued otherwise. See? That's still the only ordeal I can remember. Probably for the best.
Speaking of the best, I'm not sure the lights in my bathroom are the best. I should probably treat myself and replace them.
[shareaholic app="share_buttons" id="5342563"]