If you have a rhubarb patch that's not growing well you might be able to invigorate it by splitting it. Here's exactly how and when to split your rhubarb.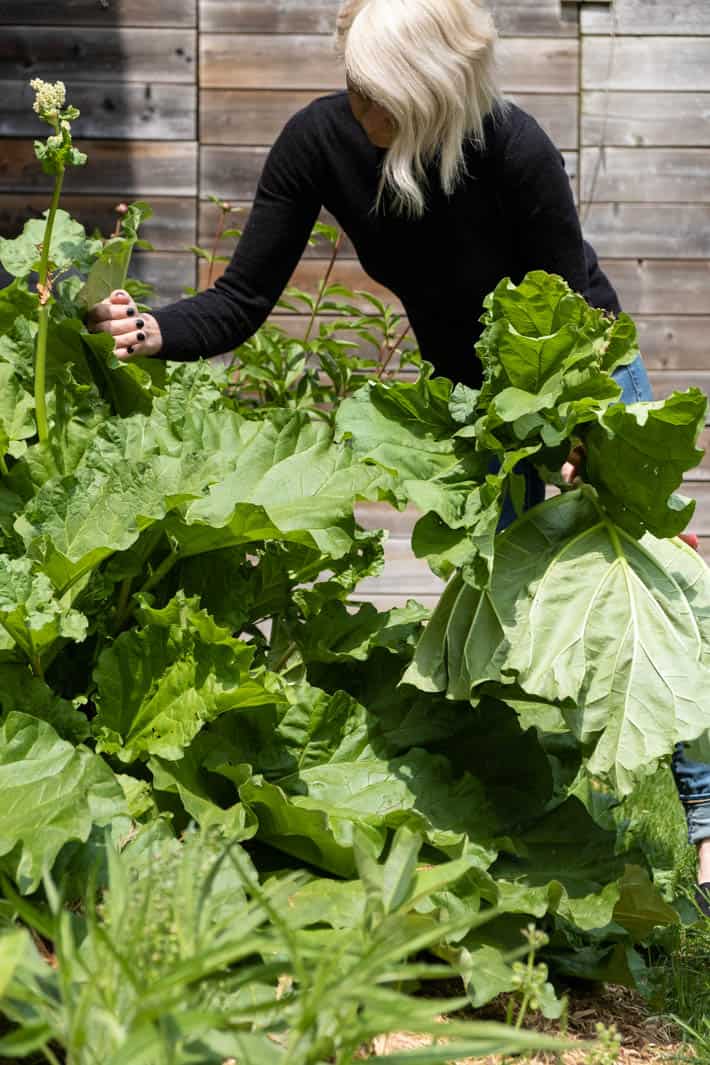 Like most people, I acquired a rhubarb patch when I moved into this house. Which is how most people get their rhubarb. It's like a little vegetative amenity; right up there with heated floors and a walk out deck.
In fact, there is absolutely no scientific proof that anyone anywhere has ever *planted* rhubarb. So where did it originally come from? It all started at the beginning of time when that great being in the sky, the Rhubarb Fairy, tapped her rhubarb baton on a select few houses around the world and blessed them with a rhubarb patch.
So. You either have it or you don't. And sometimes, sometimes ... if conditions are exactly right and there's a certain magic in the air ... you will move into a house THAT HAS A RHUBARB FAIRY PATCH.
Or you can find someone that needs to split theirs. I pretty much made up that whole Rhubarb Fairy thing. But I bet it's true.
The time to split rhubarb is the same as the time to split hostas, peonies or anything else that can be split. You want to do it in the early spring or late fall. It's also best to do it on an overcast day or early in the morning or later at night. It's just less of a shock to the plant that way.
I knew rhubarb could be split, what I didn't know what that it HAS to be split. For the past couple of years my rhubarb has been sad and spindly. I blamed it on the rhubarb having some sort of anger issues towards me.
Turns out that isn't the case. It just needed to be split. If you notice your rhubarb isn't as thick or lush as it used to be, chances are you can revive it by splitting it.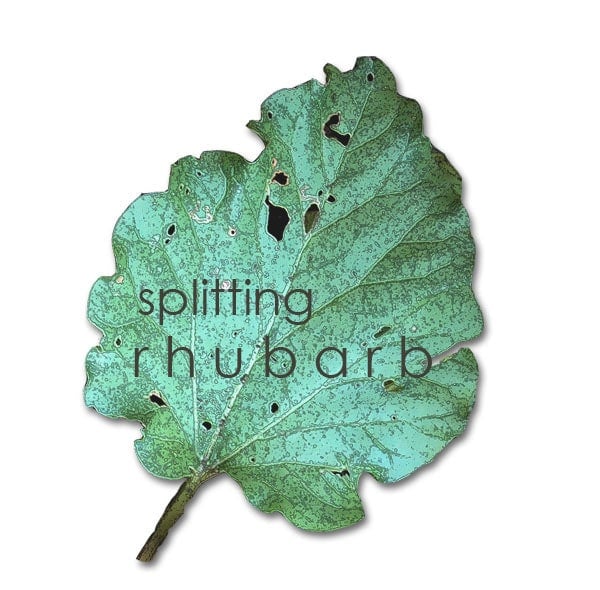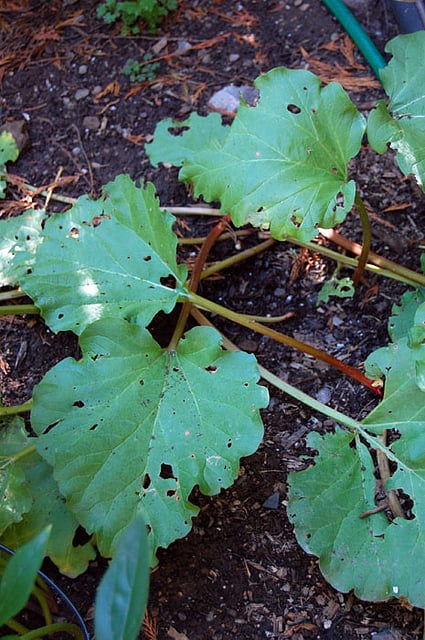 As you can see, my rhubarb patch had become a scraggly mess. I managed to eek out a couple of rhubarb crisps from it this season and some jam last year, but it was a struggle. The stalks were teeny tiny and there just weren't very many of them. So I decided to split it.
And this ... is how you do it.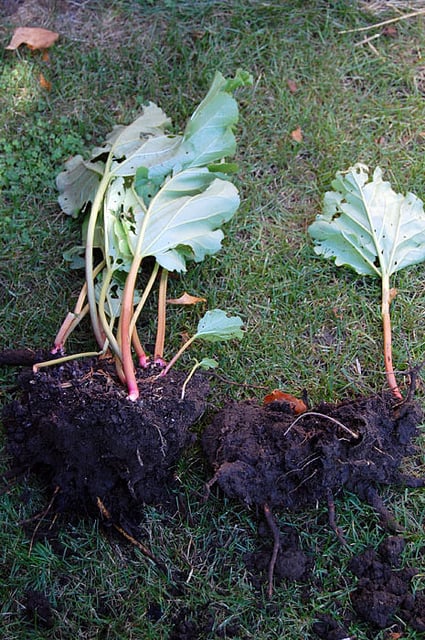 Dig your entire rhubarb plant out being careful to get as many of the roots and tubers as possible. Dig far and dig deep. Set the plant aside.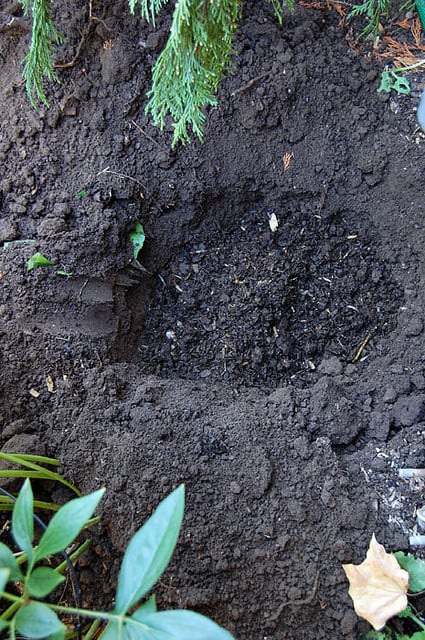 Fill the hole you just created by adding tons of compost.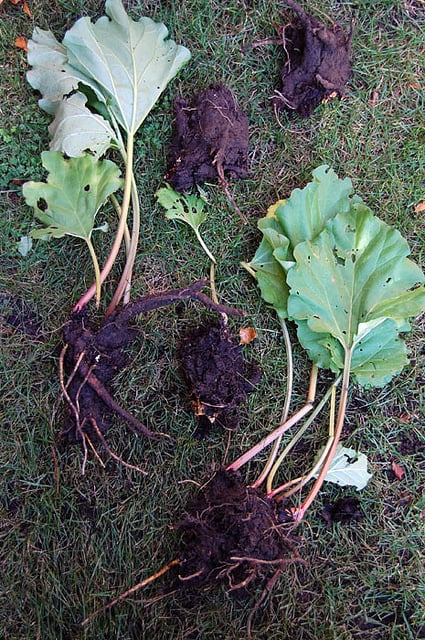 Go back to your rhubarb plant and split it into sections. When you look at the root system, it'll tell you where to split it. There are certain rules about leaving a certain amount of tuber and a certain number of buds, etc., but I just hack at it. Which is also how I divide peonies and hostas. If you'd like to be more precise about it, that's fine. I'm just not the person to tell you how to do that I'm afraid.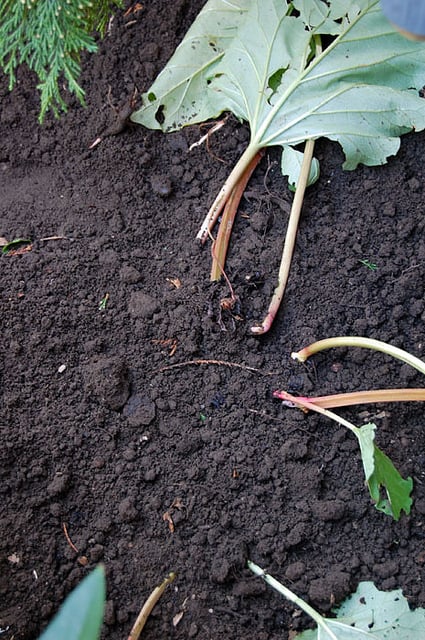 Once you've split the rhubarb you can either replant all of it in your own yard (each plant needs to be around 2-3 feet apart) or you can keep one plant, and give the rest away. I chose to keep one and give the rest away.
Plant the rhubarb to the level it was at before.
If you're splitting it in the fall, like I am, you should then break off any of the leaves that are remaining on the plant so the plant doesn't need to worry about losing energy trying to keep those stalks and leaves alive.
If you're splitting in the spring, you probably won't have leaves and stems to worry about.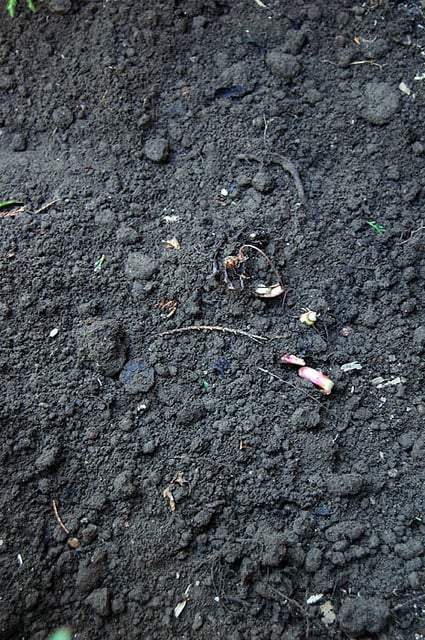 Now all you have to do is water it well. Watering helps the plant get over the shock of being transplanted. The same way lots of people get drunk when they're transplated to a new home.
I made that up.
But I bet it's true.