Dear Karen. This is going to be the last time you go anywhere for a long time because there's a dark, disturbing, demented cloud about to descend upon the earth. It'll last a few years and then The Ick will come. The good news is, in 2021 your vacation expectations will be so low that an excursion to the grocery store for curbside pickup will send you to TripAdvisor to write a glowing review. ~ Sincerely, the Universe.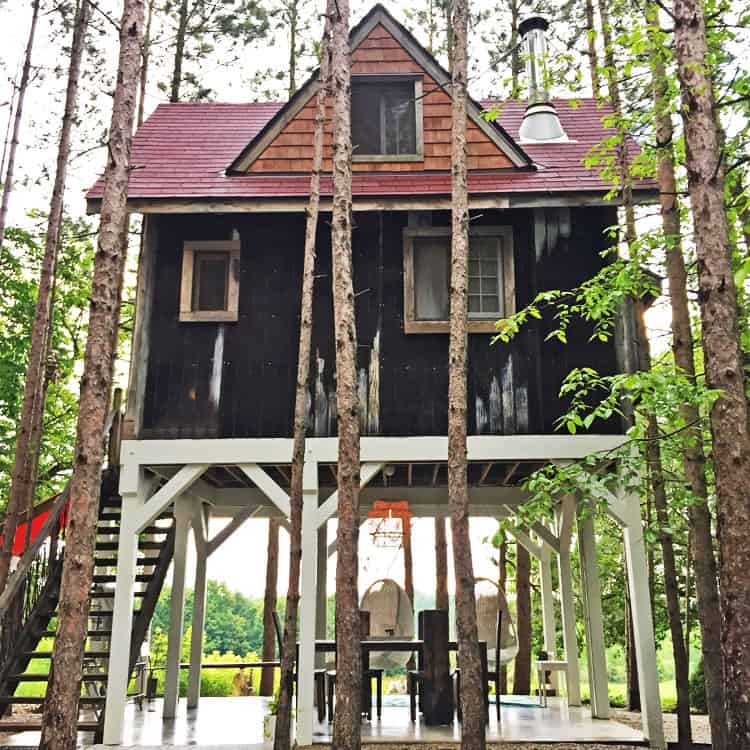 Had I actually received that note my eyes would have widened, my stomach done flips and then I'd have decided no, I didn't want to watch that movie. As I write this it's been almost 2 weeks since we've come out of a 3 month lockdown. It's been a year and a half since my last big family dinner. It's been 2 years since I've been to a Costco. And 4 years since I went on my last vacation.
I remember it fondly.
I tried to relax. I was going to go on a vacation and I was going to relax. I would do nothing but relax and I was going to be very excellent at it.
Here's how it went ...
July 2017, somewhere in the Canadian wilderness, but with running water, maid service and a pool.
---
And then I pulled back the curtain and punched that asshead Gypsy Moth/Cat right in the head!
Maybe I should back up a bit. This story starts wayyyyy back, 24 hours ago. Prior to 24 hours ago I was a normal woman, blogger by day, blogger by night. Any remaining minutes in the day were given to cleaning up cat barf and proclaiming "It's a good thing I've had my tetanus shot" more times than anyone should say in a lifetime. Now I'm a moth killer and a maybe even ... a relaxer. Uch.
It all began one day ago when I broke from my normal routine, packed my suitcase, got in my car and drove through a blinding rainstorm to the other side of the world. It turns out the other side of the world is only 2.1 hours away by car.
2 hours NorthWest of me is the small town of Durham and just outside of that, down a crunching gravel driveway is the 100 year old farmhouse belonging to my friends Lynne and Michael Knowlton. Lynne is the blogger at Lynne Knowlton. Michael is her husband whom I affectionately refer to as my boyfriend. Because he's my boyfriend.
Lynne and Michael decided one day to build a treehouse on their 100 acre property. Kind of a big treehouse. More like a cottage in the sky with a bedroom loft, woodstove and leather clubchairs on the porch. Yeah. The treehouse has a porch. Then they thought they should add a bathroom. And a dining area below, and another cabin and before they knew it they'd created a retreat that could rival anything you've seen in magazines, television or your daydreams.
(Now that I think of it, if you're reading this in July or August of 2017, her retreat is actually in a magazine! Style at Home, August issue.)
I have to admit I was a bit worried when Lynne invited me to stay in her treehouse for a few days. I'm kind of hyper. Not what you'd call a relaxer. Relaxation does not relax me. It makes me edgy. But this is the 4th year in a row that she's invited me to come to the treehouse to relax, so I relented and agreed to come as soon as I could acquire enough cough syrup to knock me down a few degrees of hyperness. Besides, this time she didn't invite me. This time she sent me an email saying she'd booked me in and I was coming. And that was that.
Here is how it went.
3:00 p.m. - 5:00 p.m. Drive through blinding, sideways rain towards the unknown. Sing along to Macklemore. Also think a lot about peeing which I blame on the rain and not on the 14 cups of coffee I drank to calm my nerves during the drive.
5:00 p.m. Arrive at treehouse property (Lynne's house).
5:02 p.m. Remain in car. Scribble down 5 different excuses explaining why I have to leave immediately and try to pick the best one. What's everyone's deal with relaxing? Why is society forcing me to relax?
5:03 p.m. Lynne texts me from her front window asking why I'm not getting out of the car. I panic and tell her I have gas.
5:05 p.m. I take a deep breath and exit my car to meet Lynne on the path to the treehouse.
5:06 p.m. Lynne starts my tour of the retreat beginning with the simple white cabin constructed with antique barn beams and white shiplap.
5:07 p.m. Not listening to Lynne at all. Get distracted by the beauty of the interior of the cabin and ask one of the barn beams on a date.
5:15 p.m. Continue a tour of the premises which includes the bathroom, the pool area and the whole reason for the visit ... the treehouse. Mostly I'm feeling very uncomfortable because there doesn't seem like there's going to be any work for me to do. Nothing needs fixing or freshening. I'm starting to sweat. I didn't know fingernails could sweat.
The "Latreen" and everything else is built with recycled materials.
What am I supposed to do in here? She KNEW I was coming. She booked me in herself. You'd think Lynne, would have been generous enough to leave me a few things to fix or tinker with.
5:16 p.m. Lynne leaves me to get settled and as soon as she turns the corner towards her home I do the only thing I know that will calm me down. It's a type of self soothing I taught myself as a child. I eat an entire Party sized bag of Ruffles and a Party sized container of Helluva Good dip.
5:30 - 9:30 p.m. I don't have much recollection of this time. After eating the chips the next thing I remember is waking up on the treehouse sofa with my phone ringing beside me. I HAVE GAS I screamed into it. It was my sister calling to see how the treehouse was.
9:31 p.m. I gave my sister a quick Facetime tour of the place but somewhere near the end of the call a cat with wings flew into the treehouse and chased me. The next 3 minutes of video my sister was subjected to was probably similar to watching The Blair Witch Project as shot by a drunk 5 year old. I ran and dodged and hid from this mythical creature never giving up my grasp on my phone. I finally found a tea towel that I was able to smother the cat with. I felt really bad about killing a flying cat because my guess is, they're pretty rare.
Lifting the tea towel slowly to check on how dead it was I was surprised to find out it wasn't dead at all. I knew this because it flew straight at my nostril. Bouncing off of that, the flying cat went straight for the curtains and hid in the folds. By now I started to suspect this was no cat. It was a cat sized moth. Sneaking up to the window I pulled back the curtain and punched that Gypsy Moth/cat right in the head. I'm sorry to say it died and in actuality was only about the size of a kitten.
9:34 p.m. Ended the Facetime with my sister as she was apparently feeling nauseated.
9:35 - 11:35 p.m. For the next 2 hours I read. A book. Not Instagram captions. I relaxed and read a book. This felt very unnatural but not necessarily bad. Which worried me. Who am I if not a doer of stuff?
11:45 p.m. It's time for bed which I'm looking forward to because the bed is in the highest point of the treehouse. I make my way to the outdoor bathroom which is nicer than any room in my house. Realize I forgot to pack my toothbrush.
Brush teeth with cottonball. Feel impressed with self and gloat to no one.
12:00 a.m. I climb the library ladder to the bedroom loft in the treehouse. I had decided to alternate between staying in the treehouse and staying in the cabin, which housed my new boyfriend; the barn beam. I slept straight through the night. I could see this trip was going to be filled with all kinds of unnatural but not necessarily bad things.
8 a.m. Wake up and stumble to the stove to make a coffee. I carried my steaming cup out onto the treehouse porch where I wrapped myself in the white linen duvet from my bed. Now what? It was me, a cup of coffee and another 24 hours to fill.
8:15 a.m. I was starting to stress about all this relaxation again so I texted a friend with my dilemma. He suggests I find something productive to do like digging a big hole in Lynne's front lawn.
8:16 a.m. Make the mistake of first asking Lynne if I can dig a hole in her lawn. I'm met with resistance.
7:00 p.m. Suddenly it's 7 p.m. and I have no idea how I got here. I can remember falling asleep in a chair, on a couch and in another chair. I also wrote 2 articles for Lee Valley and I know they were good but I don't really remember writing them. They just sort of burst out of my fingers.
7:05 p.m. Now it's time to stack rocks with Lynne who has been completely absent during my stay. Meet Dan who has helped build the incredible cabin, bathroom and treehouse. Stacking rocks is like the perfect relaxation technique for someone who isn't sure how to relax. You aren't really doing anything productive but at the same time it takes a lot of concentration and you do end up with something at the end. Either a stack or a pile of rocks. I highly recommend stacking rocks anytime, anywhere, if you want to relax. I think it would be especially helpful at the workplace or while waiting in line to get your driver's license.
7:30 p.m. Make simple dinner of pesto and linguine, retire to the cabin this time where my boyfriend the barn beam and I just stare at each other.
8:30 p.m. Curl up on the daybed with my book and read. I'm not positive because I'm still in a bit of a fog from this forced relaxation but I think that knot in the back of my neck is becoming less baseball-like, more golf-ball like. Looking around I start considering changes I could make to my own house. I definitely need more white. Lynne has committed to white like a lion commits to a kill.
10:30 p.m. Found my toothbrush! Tell the cottonballs to take a hike. Realize I haven't checked the news in more than 24 hours. Panic momentarily that the world has come to an end without me knowing about it.
11:00 p.m. Get ready for bed by brushing teeth with genuine store bought tooth brushing implement and wonder if i should bathe.
Laugh myself silly, turn the shower on and off to make it look like I had a shower in case someone is keeping track of this and go to bed.
11:35 p.m. Head into the cabin loft which is so peaceful and beautiful I want to cry. I'm having a hard time describing this place to people when they call or text me. It isn't that it's decorated nicely (although it is), it isn't that the buildings are stunning (which they are), it's that this whole place has a feeling. Being here feels like a hug from a pure white Buddha. I fall asleep with my book folded across my chest and a single moth fluttering around the night light. I have no desire to smash him. We coexist peacefully in this Buddha hug of a loft bedroom.
8:30 a.m. Wake up and realize it's my last day. Shower. For real this time. At the beginning of this trip I had planned to leave at around 7:00 a.m. so I could be home by 9 a.m. and have a full work day ahead of me. By 11:00 I was jumping into my car to head to a local flea market with Dan whom I'd met for all of 5 minutes the day before. By 3:30 I was back at the retreat talking to Lynne about nothing in particular but also definitely not jumping into my car to get home.
4:00 p.m. Reluctantly pack my things into my car. Say good bye.
The story in photos.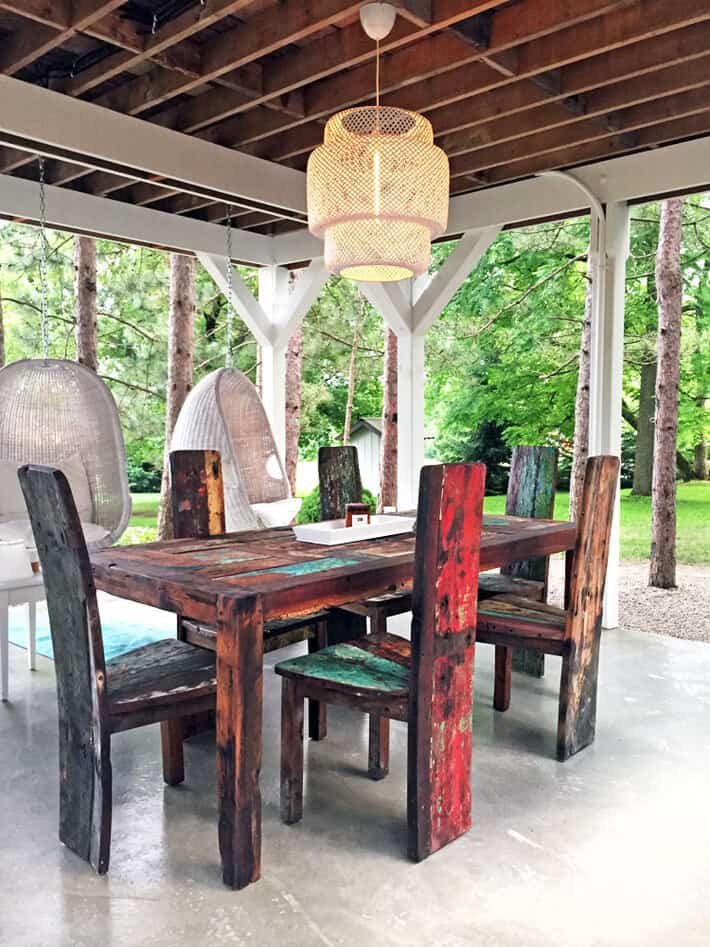 This incense is in both the cabin and the treehouse and if you like incense, it is THIS best smelling incense I've ever experienced. I stole this box. Seriously. Stole it like a thief. You can buy it here. It's similar to Nag Champa but somehow sweeter and softer.
I came home and ordered myself a case of it.
These are the lights on either side of the bed in the cabin. They're also on the other side of the room in a little bench nook. I loved them so much. They're only $29 Canadian or $19 US. You can get them here.
4:02 p.m. Scribble down 5 different excuses explaining why I have to stay immediately and try to pick the best one.
Now if you'll excuse me, I have a review to write on my recent trip to the pharmacy. Sanitizer is back in stock!
*Interested in renting the treehouse and cabin? Click here to see MORE pictures and learn about it.