No matter how finished I think my garden is or how many years I've been doing it, I am always looking for inspiration to make it work better or look better. These are some of the gardens I reference for inspiration all the time.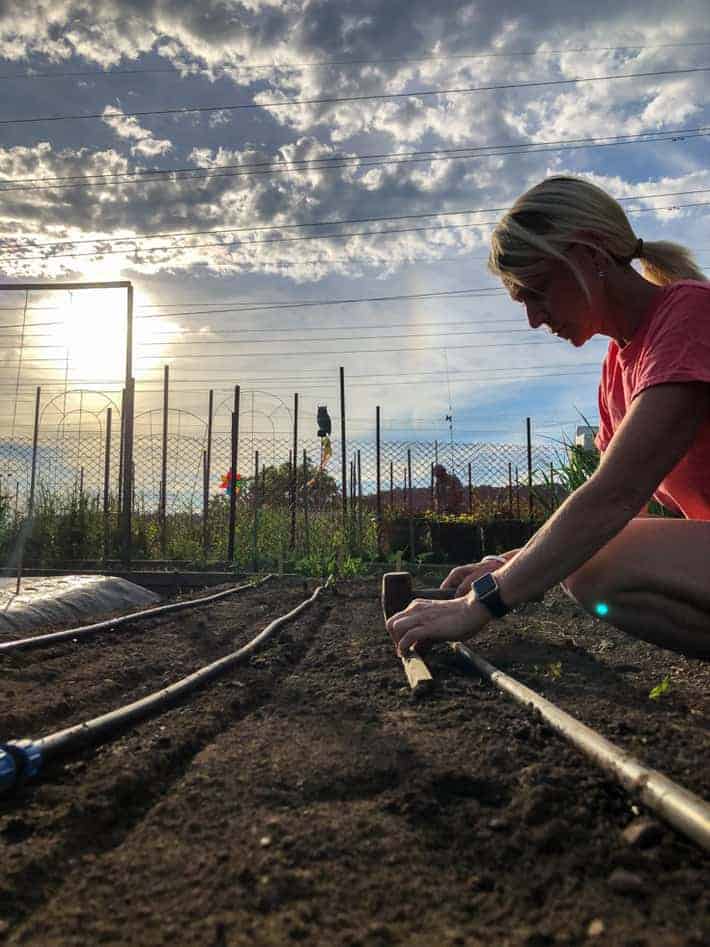 Dear Diary,
Today is April 23rd and I'm worried I've left planning this year's vegetable garden too late. At this rate I might never catch up. What if May 14th rolls around and I'm not ready to plant anything and I have a nervous breakdown and I don't grow any tomatoes and then I have another nervous breakdown?
Also Jimmy was standing near my locker after school today AND he waved at me in the cafeteria!
karen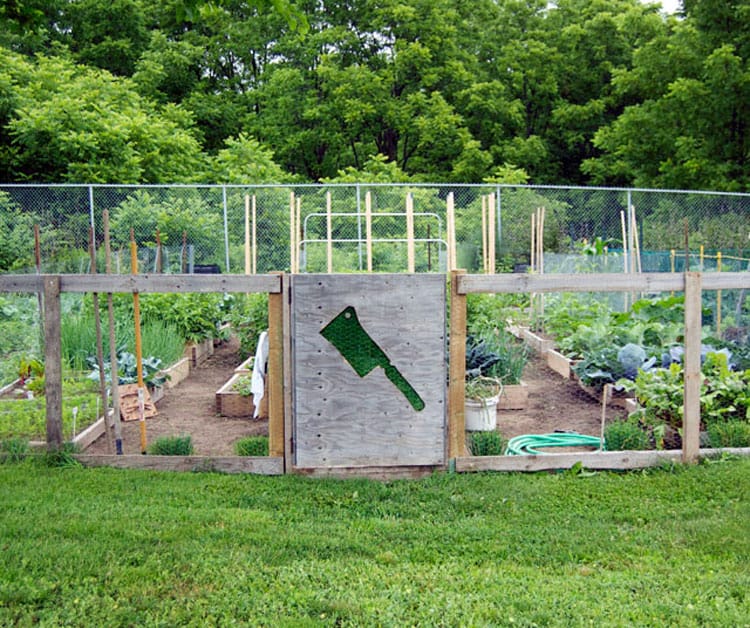 This beauty of a photo is of my first full sized plot at my community garden. It measured 20' x 20'. A couple of years after this photo was taken, I took over the garden plot beside me to create a 40' x 40' plot.
Combining these two plots, levelling them, redoing the fence and raised beds was the equivalent of 1,792 Crossfit workouts smashed into the space of one month. Only by the end of it I had accomplished something other than barfing on a rubber gym mat while everyone cheered for me.
My original plan for my 40' x 40' garden was this: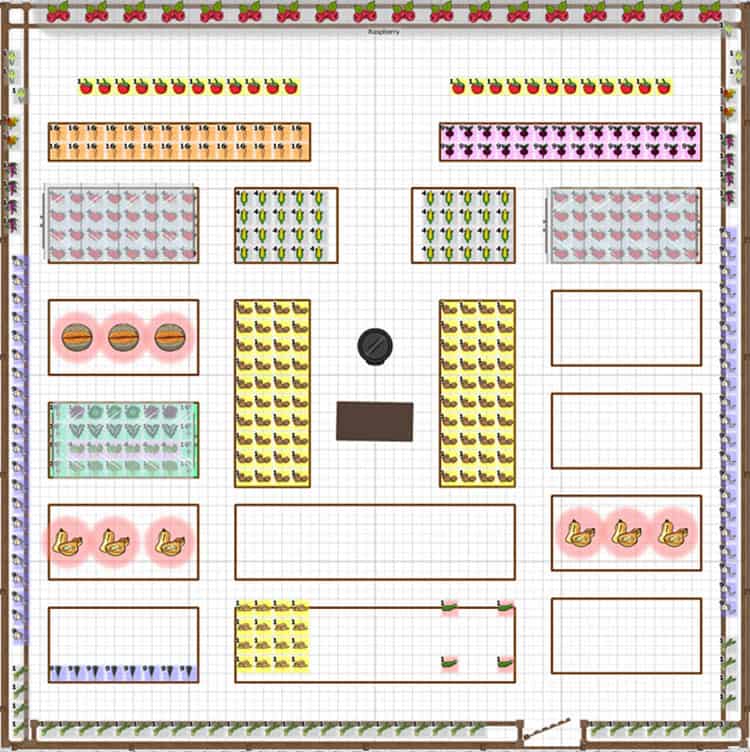 scale: 1 sq per sq foot.
I really like how it looks but for some reason I didn't go with this plan. I never implemented it. Probably because even though it looks good, using a more straightforward layout would gain me more planting space. And more room for doing kartwheels.
The vegetable garden design I went with was this: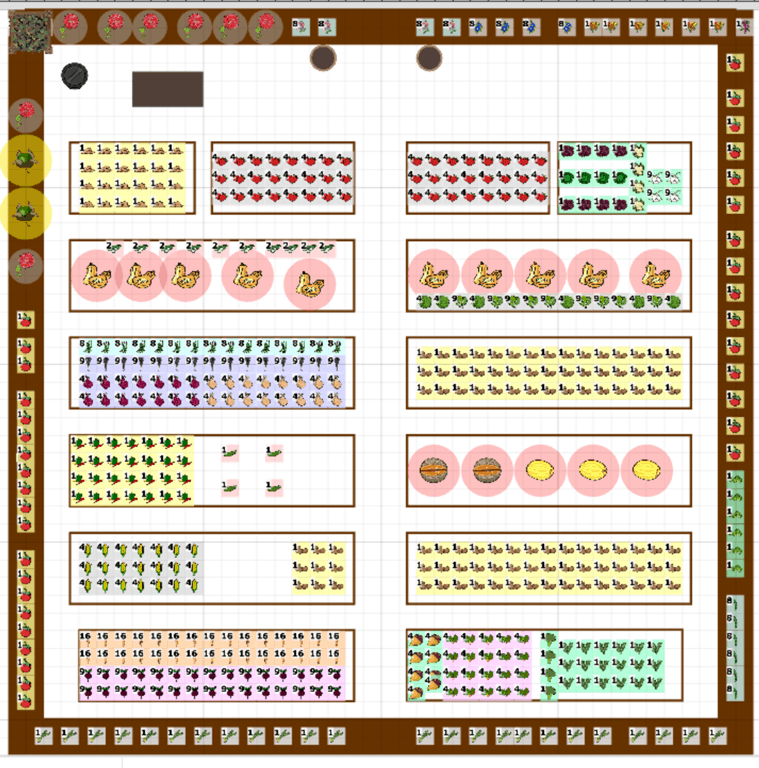 A standard straight row layout bordered by a raised bed that goes around the entire perimeter of the garden. The front row of plants in that perimeter raised bed is my asparagus, which is a perennial. The asparagus acts as a wind block when it grows and adds a bit of privacy. Not enough privacy that I can do kartwheels undetected, but I can definitely get away with somersaults.
In real life, the garden ended up looking like this: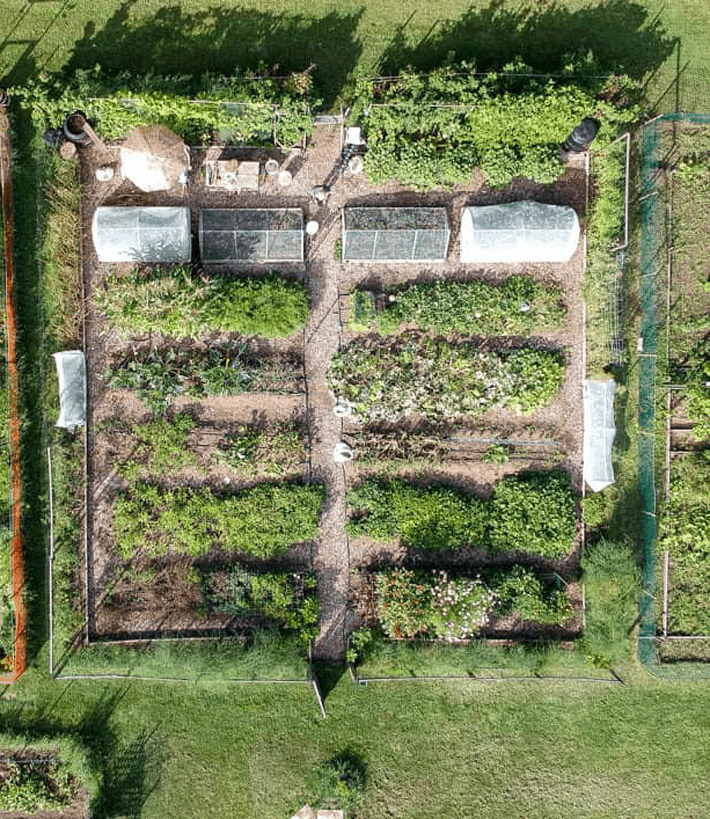 The beds in the main area of the garden are 16' long by 4' wide. But because the frameless raised beds slope at the sides, I have a workable space of 15' by 3' in each bed.
However, after working in this garden for a few years I've decided that there's a bit too much wasted space at the back and also it was a pain to wiggle around my workbench at the back. It's the brown rectangular block at the back left of the garden.
By last summer I had increased the number of compost bins in my plot to 4 separate bins, which wasn't an efficient way to compost.
So THIS year I've changed things again.
You're always going to change things in the garden. If you aren't changing things chances are you aren't learning.
You can now take a gander at the plan for my 2021 garden which I'm working on right now.
The compost bins have been consolidated into one HUGE loose pile and my work bench is opposite it.
To achieve this I had to move my strawberry beds with the mesh triangular covers on them to the back left of my garden. Which meant I had to redo the raised beds to make them deeper back there.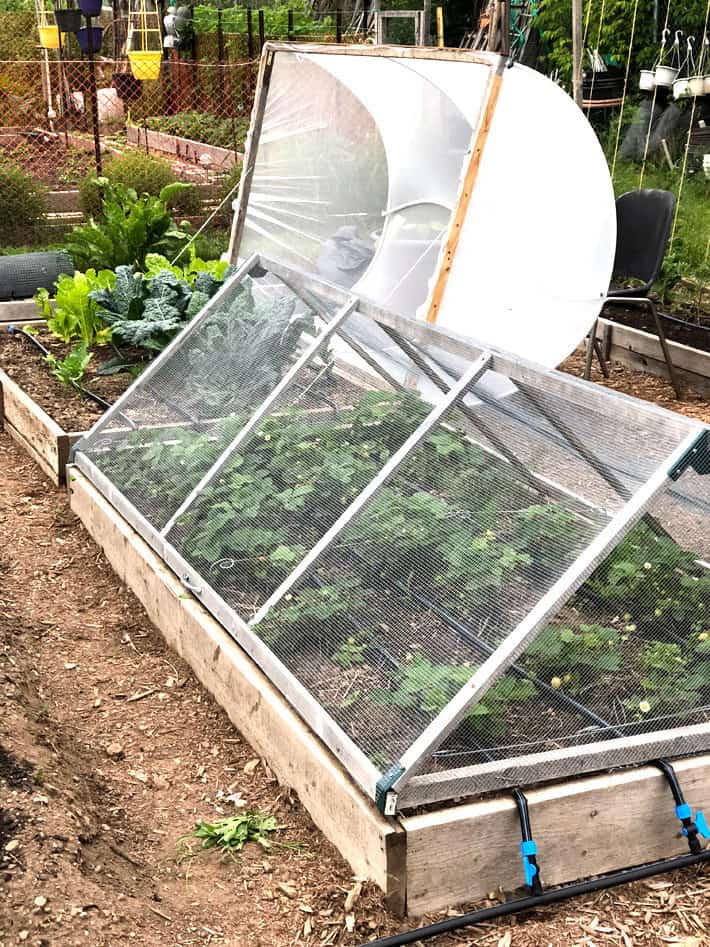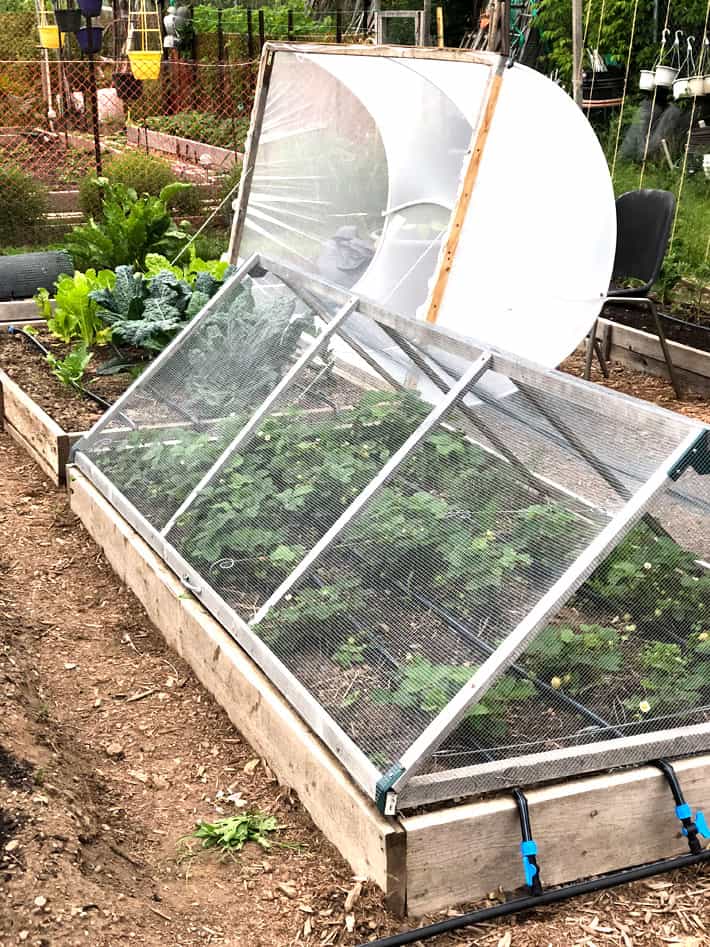 This area is where the big compost pile now sits.
Having the compost bin in one huge pile with space all around it it means my compost will activate more quickly (bigger compost piles work faster than smaller ones) and it's 174 million times easier to work with. In the garden plan it looks like there's a wood crib around the compost pile, but I've decided not to build it for now. I'll just keep a loose pile.
I've spent the past few weeks looking at vegetable gardening inspiration shots that I've saved over the years. Sometimes for beauty inspiration sometimes for functionality. The French have valued the beauty of a well designed vegetable garden for centuries and their Potager gardens are something to aspire to. And by aspire I mean they make you think of packing up your belongings and moving to the French countryside. So those are usually my first choices for inspiration.
What's a French Potager?
A French Potager is just a vegetable garden that's aesthetically pleasing, symmetrical and usually has some sort of architectural elements to it as well.
A French Country vegetable garden on the other hand is looser, less concerned about symmetry and incorporates flowers like an English cottage garden.
Ready to be inspired? And a bit envious? And motivated? And kartwheel? Here we go.
My most recent inspiration came last year when I harvested rye from the Dundurn Castle Historic Kitchen garden.
This is a small portion of the Dundurn Castle kitchen garden. Granted. I can do NOTHING that you see in this 1.5 acre garden on the land of the castle's historic site. But it's the feeeelllllll that I like. It feels magnificent and humble all at the same time.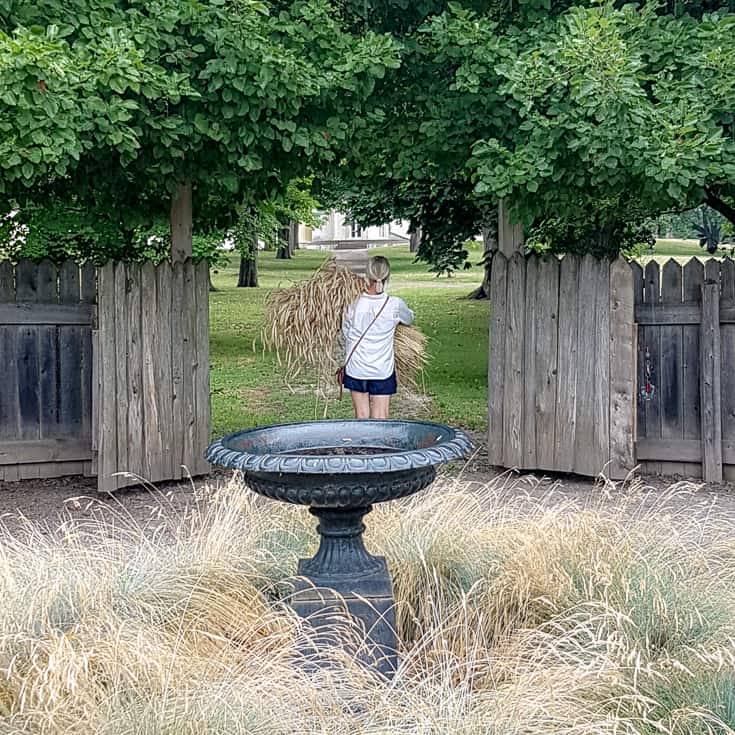 I'm hoping it will get to open up this year (last year was a bit of a bust) so I can go back and take really good shots of it for you to see.
If I had all the land to work with and all of the resources (cash, cash and more cash), this is the garden I would replicate for myself.
Now, in no particular order these are all gardens I find myself referring to every year at this time.
Ready to move to France yet? A lot of these French Potager gardens have wattle fencing which I love, but will never be doing in a million years. The other thing they have is some type of mulch between the beds whether it's pea gravel, bark or wood chips.
These next inspiration shots are mainly "real" gardens of real people and they're all exceptional.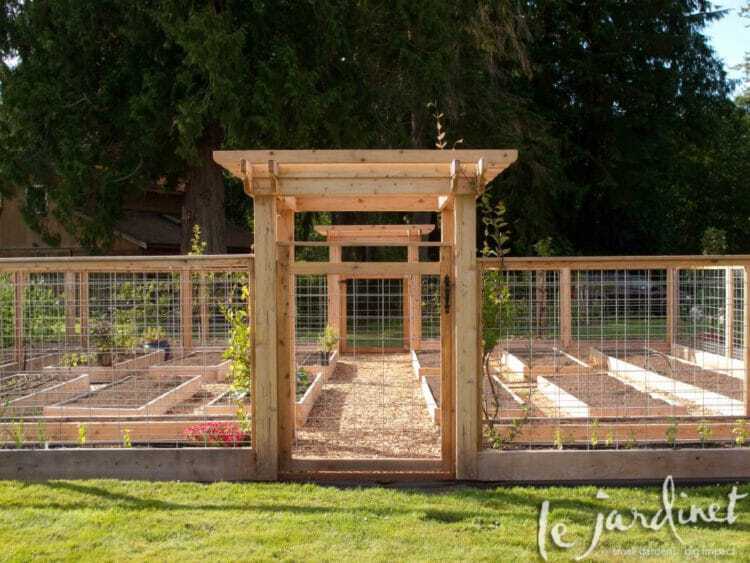 click to see more of this garden
Click to see more of this garden
These tents are something along the lines of the tents I built over my strawberry beds.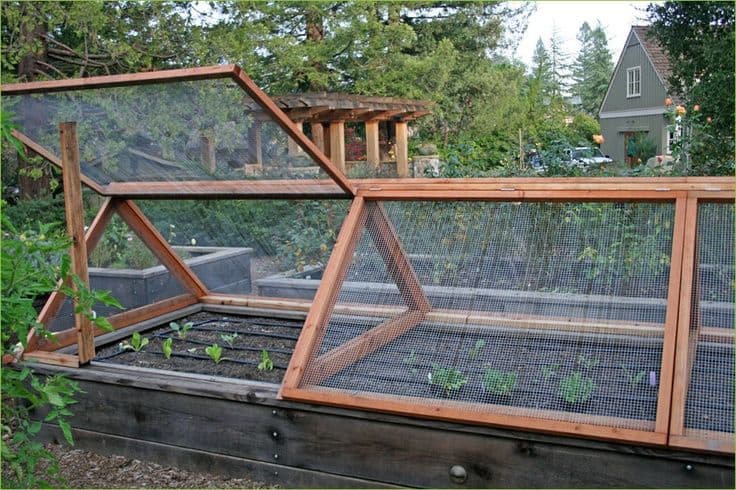 Unable to find original source for image. Claim it if it's yours!
THIS is the illegal front yard vegetable garden that caused an uproar and protest in Quebec, Canada in 2012, the same year I built my Front Yard Vegetable Garden.
Guess what. No source again. (this is the problem with Pinterest ... too many photos not enough original sources) And this one is one of my favourites. It doesn't even look real, it looks like an artist's rendering of a zoo display that holds the rare Silverback Vegetable Gardener.
This one HAD a source, but it led to what's known as a site "scraper" which basically steals content which i refuse to link to. Claim it if it's yours.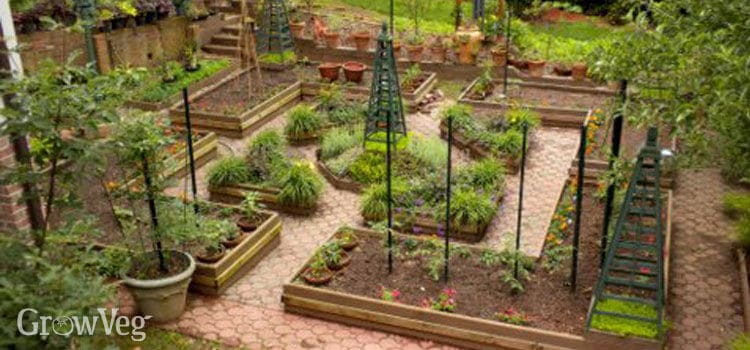 It's almost impossible to find photos of regular bed gardens anymore. Everything is raised beds or square foot gardening. I honestly love the look and feel of row beds and my own garden is probably most similar to this, only my beds are raised soil (with no wood frames around them.)
Sadly no source for this great fence. Claim it if it's yours.
The photo below is a perfect example of an English Country garden. It's free flowing, not perfectly symmetrical and has bursts of flowers in with the vegetables. It's kind of my ideal garden. Structured and tidy but not rigid. It's the garden equivalent of a house that isn't too fussy and looks comfortable and lived in.
Click to see more of this garden
This weekend I'll be making 2 big changes to my garden which you'll find out about next week. Neither of the changes will impede any of my kartwheeling. Or somersaults for that matter.
Have a good weekend!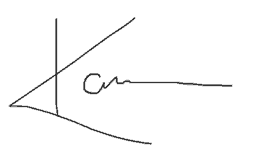 (yup, this is a repost, but it's been entirely rewritten in April, 2021 with new photos added in)