Dear Diary,
Today is March 10th and I'm worried I've left planning this year's vegetable garden too late. At this rate I might never catch up. What if May 14th rolls around and I'm not ready to plant anything and I have a nervous breakdown and I don't grow any tomatoes and then I have another nervous breakdown?
Also Jimmy was standing near my locker after school today AND he waved at me in the cafeteria!
karen
It really does feel like I've left planning this year's vegetable garden wayyyy too late. It's a big year for me. I have 2 allotment plots, just like I did last year, but this year those two plots are being moved side by side. So instead of having 2 separate 40′ x 20′ gardens, I'm going to have 1 extra-large 40′ x 40′ garden.
Which means all the perennials like asparagus, strawberries, garlic and raspberries that I planted in my second plot last year are going to all have to be moved this March to my new, new plot.
March is the best time to do this because the plants are still dormant and there's less chance of sending them into shock, but it also means I have to get my new plot ready for planting them in.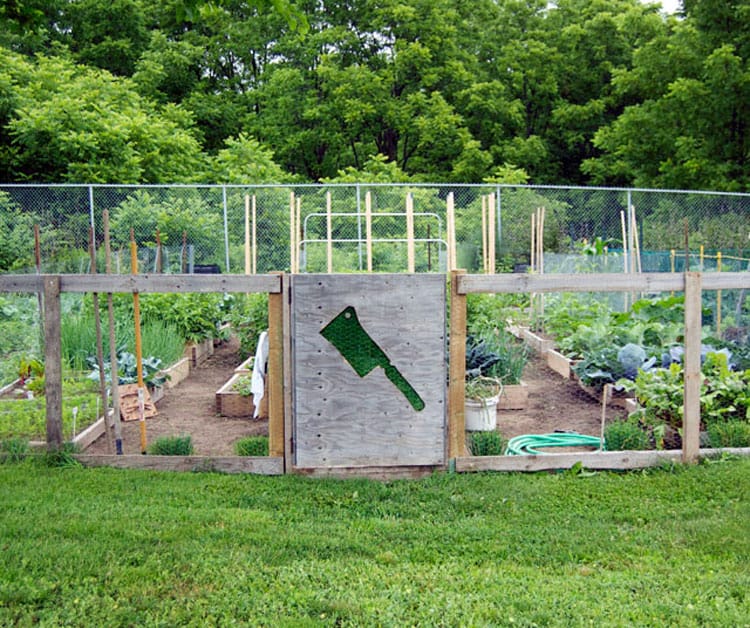 The two plots I had last year were near each other but they weren't side by side which was a bit of a pain. Combining those two into my new one large plot is going to be an even bigger pain in my soon to be sculpted ass. Combining these two plots, levelling them and redoing the fence and raised beds is going to amount to 1,067 Crossfit workouts smashed into the space of about one month. Only I'll be accomplishing something other than barfing on a rubber gym mat while everyone cheers.
I've come up with a temporary structural plan for my two side by side gardens using the handy Mother Earth News Garden Planner.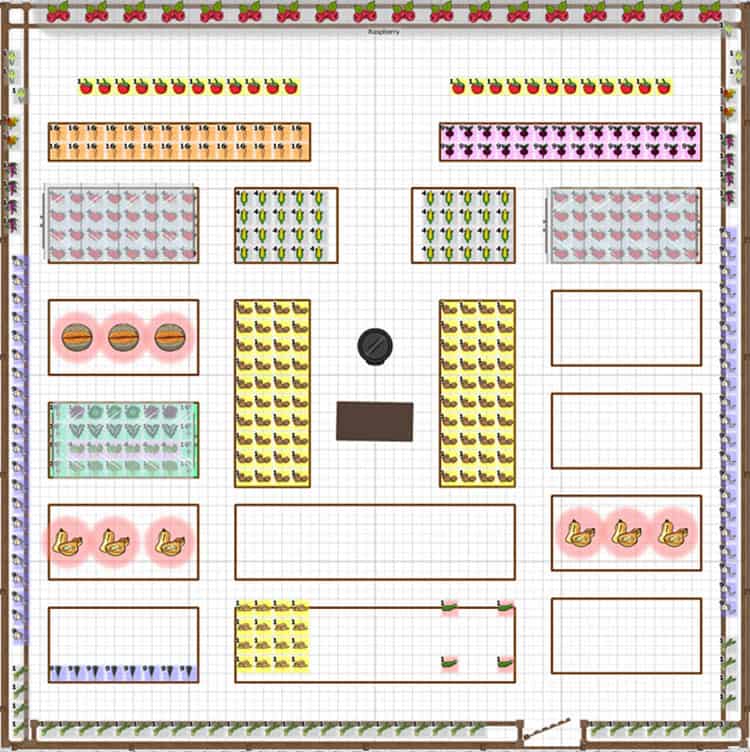 scale: 1 sq per sq foot.
Behold my 40′ x 40′ garden as it's planned out as of now, but I'm already thinking of changing things. I may reconfigure my beds to be 3′ wide instead of 4′ wide and I'd like at least one path that's wide enough to comfortably cartwheel down. Because everyone knows if you can cartwheel down it you can wheelbarrow down it.
I'll also be putting a bench somewhere in the middle of the garden so there's somewhere to sit down. I might even consider putting in a bed.
Between now and May my list of things to do includes removing the current fence, levelling the two side by side gardens so they're at the same height (they currently aren't), replanting all my perennials and building all new raised beds. Actually now that I think of it most of that has to be done by the middle of April. Then the rest of the summer will be spent installing a new fence, a drip irrigation system, and building hardware cloth and row cover "tents" for many of the beds to keep out voles and cabbage moth.
I've spent the past few weeks on Google and Pinterest looking for vegetable gardening inspiration because there's no excuse for giving up good design just because it's "only" a vegetable garden. The French have valued the beauty of a well designed vegetable garden for centuries and their Potager gardens are something to aspire to. And by aspire I mean they make you think of packing up your belongings and moving to the French countryside.
Here are some of the images I'm using as inspiration starting with some French Potagers (which really is just a vegetable garden that's aesthetically pleasing, symmetrical and usually has some sort of architectural elements to it as well. A French Country vegetable garden on the other hand is looser, less concerned about symmetry and incorporates flowers.
Ready to move to France yet? A lot of these French Potager gardens have wattle fencing which I love, but will never be doing in a million years. The other thing they have is some type of mulch between the beds whether it's pea gravel, bark or wood chips.
These next inspiration shots are mainly "real" gardens of real people but they're all exceptional.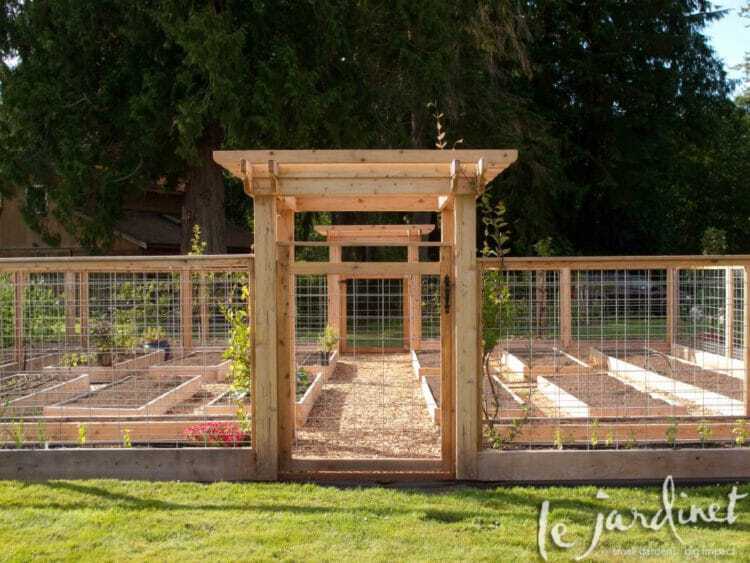 click to see more of this garden
Click to see more of this garden
These tents are something along the lines of what I'll be building for over a lot of my rows to keep out voles and cabbage moth.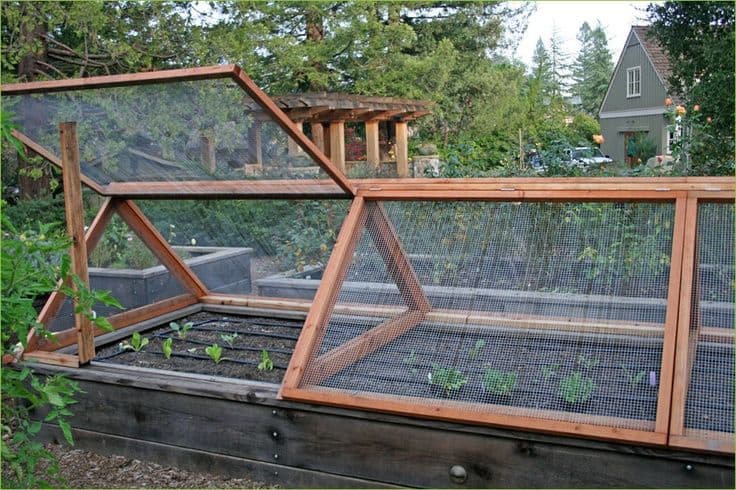 Unable to find original source for image. Claim it if it's yours!
THIS is the illegal front yard vegetable garden that caused an uproar and protest in Quebec, Canada in 2012, the same year I built my Front Yard Vegetable Garden.
Guess what. No source again. (this is the problem with Pinterest … too many photos not enough original sources) And this one is one of my favourites. It doesn't even look real, it looks like an artist's rendering of a zoo display that holds the rare Silverback Vegetable Gardener.
This one HAD a source, but it led to what's known as a site "scraper" which basically steals content which i refuse to link to. Claim it if it's yours.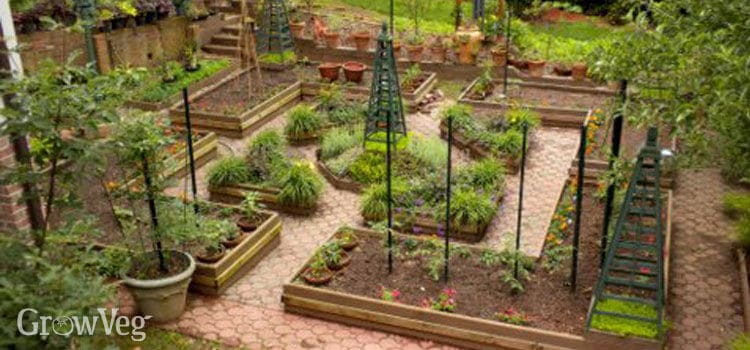 It's almost impossible to find photos of regular bed gardens anymore. Everything is raised beds or square foot gardening. I honestly love the look and feel of row beds.
Sadly no source for this great fence. Claim it if it's yours.
The photo below is a perfect example of an English Country garden. It's free flowing, not perfectly symmetrical and has bursts of flowers in with the vegetables. It's kind of my ideal garden. Structured and tidy but not rigid. It's the garden equivalent of a house that isn't too fussy and looks comfortable and lived in.
Click to see more of this garden
There aren't a lot of days left … to move to France.
If you have any brilliant garden ideas feel free to share them with everyone now. (only things you've actually experienced please, not just things you've read about … that's kind of my pet peeve as a doer of stuff)
Have a good weekend!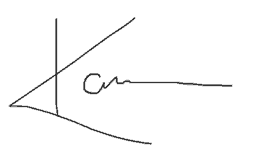 P.S. The winner of the Legacybox contest from last week is Kat Mannix! The winner was randomly drawn by "Pick a Giveaway Winner".
Kat wanted to win so she could get some reel to reel tapes converted for her mother. Kat's mother has developed Alzheimers and she can't remember what Kat's father's voice sounded like. Having these tapes converted will let her hear his voice once again.
Email me at [email protected] to claim your prize of a Family-sized package from Legacybox, Kat!