Yeah, so ... as it turns out, I'm a lunatic. More on that later. Well, actually it'll become apparent as you continue reading.
Every year I tackle a big project. Stupid big. Permanent injury big. 4 years ago it was throwing out/selling everything we own and redoing our house. 3 years ago it was ripping out and redoing the entire backyard. And last year it was building the Architectural Digest inspired chicken coop.
Keep in mind, I do these things myself. I don't hire someone. Because I'm cheap. And stupid. And quite frankly don't trust other people to do things the way I want them done. And I'm cheap.
And as you may have guessed, every fall when I finish up my major project I say, I AM NOT DOING THIS AGAIN! I am going to enjoy one SINGLE summer of my life!!! I'm going to lounge and drink beverages because I WANT to, not because I have to replenish electrolytes.
So this year I've decided to rip out my entire front yard, bushes, lawn and various plantings ... and put in a front yard vegetable garden.
Because I never listen to myself. As I mentioned earlier, I'm not all that smart, so clearly my judgement is not to be trusted.
This decision came in several parts. A few years ago I knew the front bushes would have to come out. They were just too big and couldn't be contained. I didn't plant em there so it's not like they had any sentimental value. Last year I noticed the grubs had won the war with my lawn. I planned to throw down some nematodes, see how it did this year and rip it up next year if I had to.
Then about a week ago the weather got really warm in Southern Ontario. Armageddon warm. So the fella and I headed outside to rip all the shrubs out.
In fact, it was warm enough that I started thinking about gardening. And vegetables. And how I'd much rather eat a carrot than a blue spruce. So while we were pulling everything out I decided to grow a few vegetables and stick them in front of my house amongst the replacement shrubs and trees.
And then I decided the replacement shrubs and trees could suck it. I'm growing vegetables! All vegetables all the time! I'm not going to try to hide them in the perennials, I'm not sneaking them in around the side of some bushes, I am overtly and proudly growing vegetables. I may even get a rocking chair and learn to whittle wood out on my porch.
I started my own vegetable garden in my parent's house when I was about 12 and have missed having one ever since moving into this house. Sadly, the only place around my house that gets sun is the front yard and it never occurred to me to, you know, rip everything out of the front yard and replace it all with vegetables. Because that's what crazy people do. Next thing you know, I'd be shoving petunias in an old toilet and entering it in the floral competition at the county fair.
Well. Turns out I'm crazy. A lunatic in fact. Because I am in fact giving my yard one summer of vegetable heaven. If my front yard vegetable garden experiment works out, I'll continue with it. If not, I'll go back to the way it was with shrubs and bushes.
Of course the trick will be to make it look good. Charming. I do have some vanity when it comes to my front yard, you know. I'm not a complete loon. The existing flower beds around the outside of the lawn will stay the same, other than the removal of a few asshead roses that die every year around June 24th and present as angry bare twigs until the next spring. Those will be pulled out.
New lawn will be put down, and all the beds around the house will be reserved for vegetables.
I don't think I've ever been so excited in my life.
Here is what we accomplished in about half a day. Not even ...
To look at a picture of the front of my house it doesn't look all that alarming, but it is well on its way to being a mess.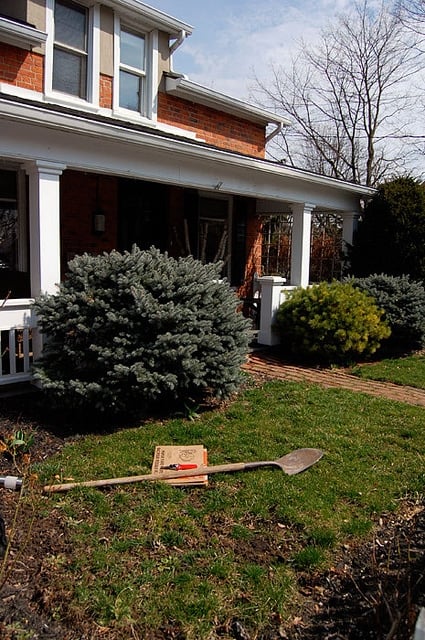 The grass looks like it recently underwent chemotherapy. It's of no use to anyone other than the grubs, skunks and trolls. I plan to eventually get rid of all the grass at some point, I'm not quite brave enough just yet.
Everything needed to come out.
And it did. Hey look! We have a porch! And a nice one.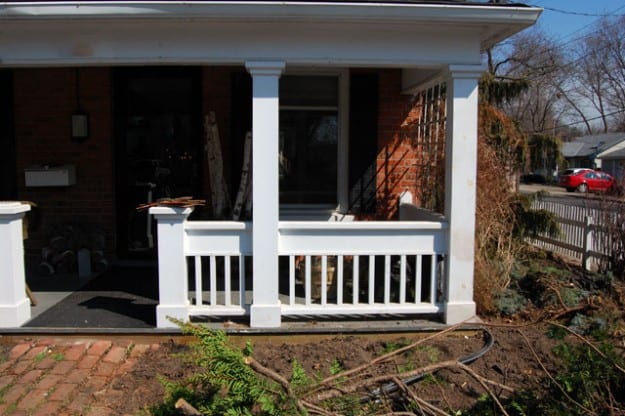 Before ...
During ...
After ...
To give you a bit of perspective, this is the mess as seen from the roof.
There are a few steps left.
1. Remove all and cart away all the brush.
2. Dig up the sod and dispose of it. I'll probably throw it in the backyard for the chickens to have fun on.
3. Level out the grass area and plan the size of the beds.
4. Lay down the new sod.
5. PLANT THE VEGETABLES.
6. Sit around and wait for a few months.
7. EAT THE VEGETABLES.
So, that's the gist of the plan, give or take that's how it should all go.
I'll keep you updated on a week by week and possibly day by day basis. I was actually going to hold off on this post until the whole thing was completed, much like the chicken coop. But I decided against it for one reason and one reason alone.
I hope, from the bottom of my lunatic heart, that this post inspires you. If you have a plant you hate, a bush that does nothing but anger you, roses or trees or twigs that need constant care and attention. GET RID OF THEM. Try, even if just for this year, a front yard vegetable garden.
Look at Cubits and Twig & Tree for heirloom vegetable inspiration.
Need help starting your own seeds from scratch? Take a look here at my "Starting Seeds" post.
I'm pretty proud of myself here. I've always wanted a vegetable garden and really the only thing that was stopping me was convention. You just don't turn your front lawn into a vegetable patch. Well. Yes. If you want to, yes you do.
Because I figure, if I'm going to screw around and devote hours of attention, watering and feeding a plant in my garden, it should at least return the favour eventually, and feed me.
GO TO DAY 2 of The Front Yard Vegetable Garden
GO TO The Front Yard Vegetable Garden REVEAL
Stay tuned for the rest of this continuing saga including what vegetables I've chosen to grow in the small space I have, vegetable growing tips for YOU and the finished product with ideas on how you can incorporate vegetables into your home no matter where you live.