Last spring I got an email from an Art of Doing Stuff reader who lives in my general area. She said she had spotted a vintage suitcase out for garbage pickup while she was out for her morning walk. She lugged it home, emailed me and asked if I'd like it.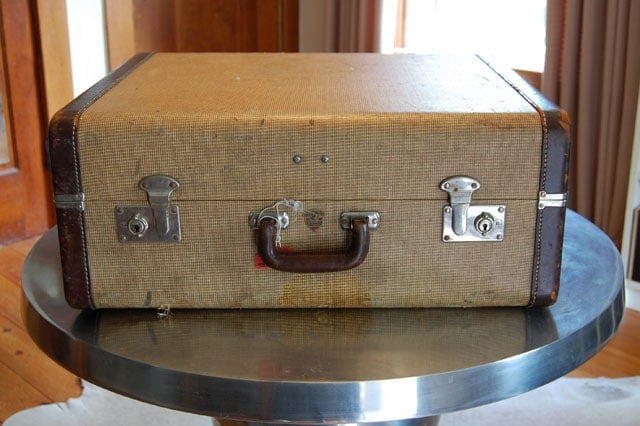 Um ... YES. Garbage finds are my favourite finds and I didn't even have to go root through garbage for it. I didn't know what I was going to do with the suitcase but I knew I could think of something.
The suitcase was in relatively good condition, but definitely couldn't be used "as is". I'd have to fix it up, clean it up, paint it up ... something.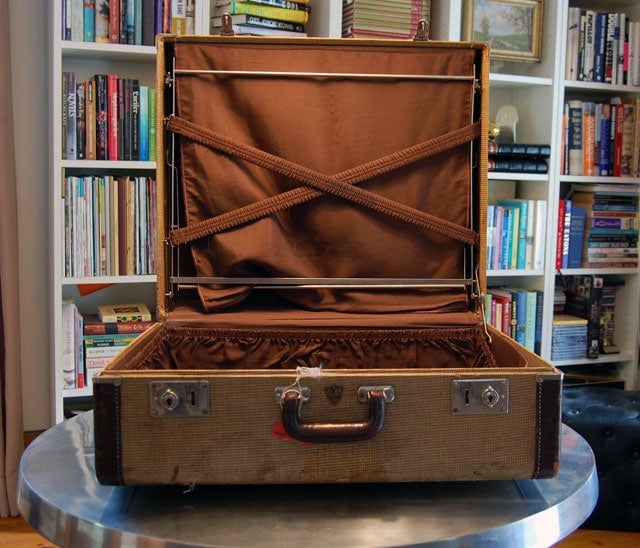 One year ago the title of this post was going to be "How to Paint a Suitcase!". By spring it was going to be, "How to Turn a Suitcase into a Gardening Shed!". Around July I decided the title would definitely be "Put Wheels on a Suitcase for Easy Underbed Storage!. Then fall arrived and the title became "Shove that old suitcase in your basement. It's ugly and a pain in the ass!"
But then I made a discovery. I decided to peel off the travel stickers that were on the suitcase.

One of the stickers was covering up a hole in the outside fabric of the suitcase. It looked like wood underneath.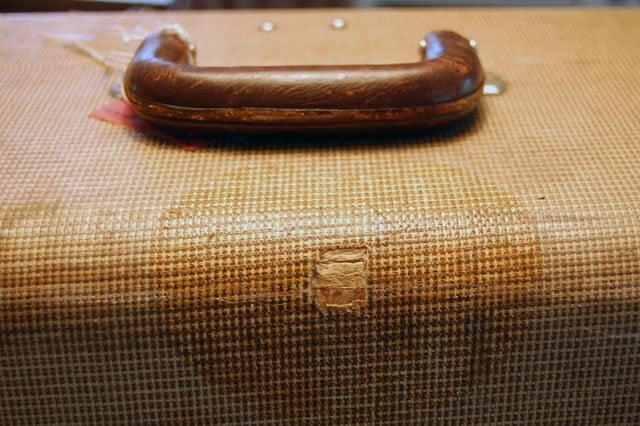 I figured if I just peeled a little more of the fabric back I'd be able to see if the whole suitcase was wood. Just a little. Just enough so I could see if it was wood. If I was careful about it, I could always just glue the fabric back down.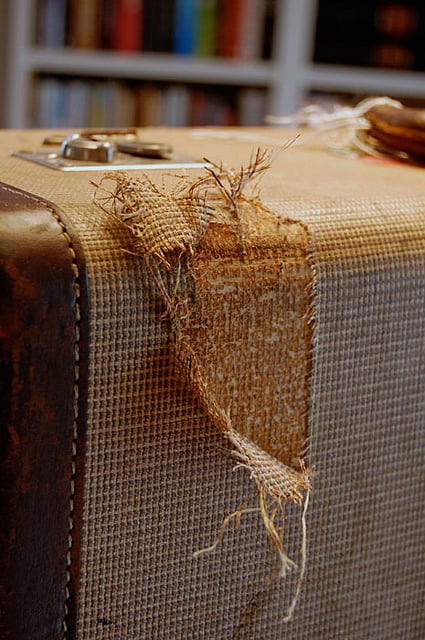 Hmm. Not sure. Might need to peel a tiny bit more back.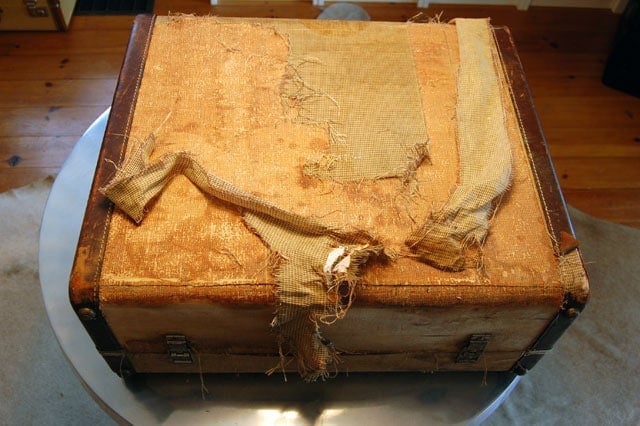 Yup. That's wood alright.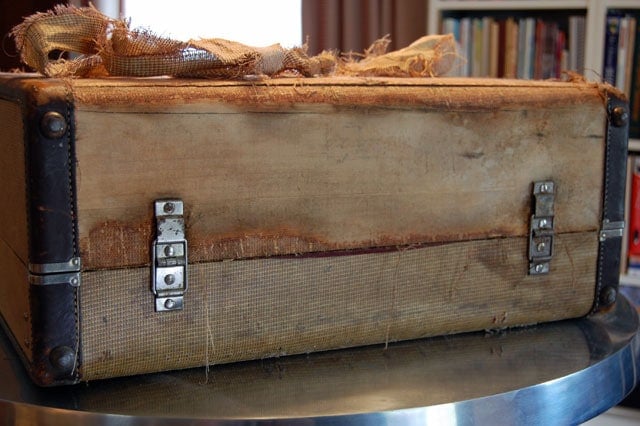 Down to the basement to set up for suitcase surgery. I'd get everything ready and then come down in the morning to start working on it.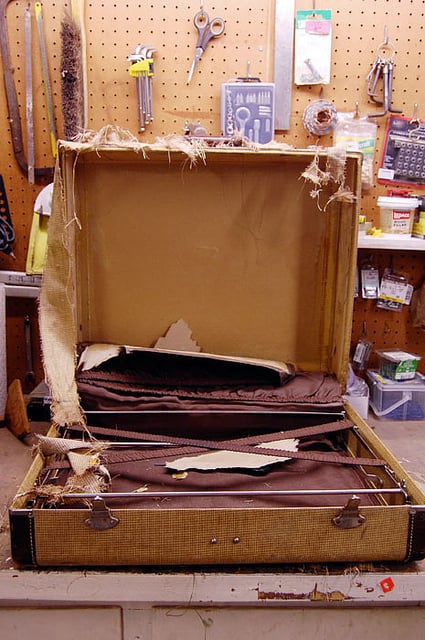 And I stuck to my plan. As long as you call 2:00 a.m. morning.
It was like an addiction this suitcase. I couldn't stop until I knew exactly what was underneath. Then once I knew what was underneath, I was satisfied and promptly walked away leaving it sitting on my workbench for the next 4 months. It runs in my family this sort of behavior. Rip something apart until you know what it's made of or what's going on and then walk away because your curiosity has been quenched.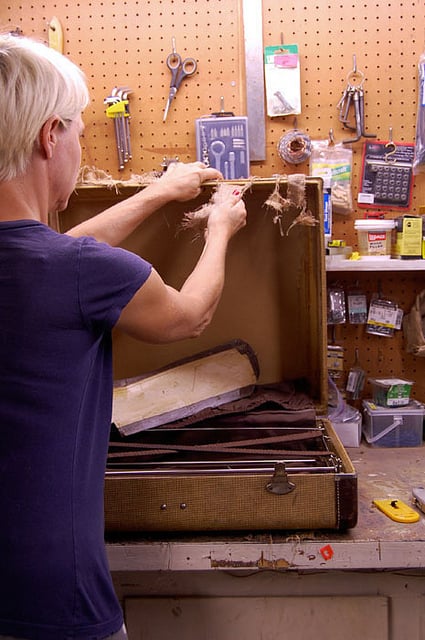 Last month I got back to work on it.
To strip the suitcase I:
1. Ripped the fabric off with my hands.
2. Scraped off some of the glue residue.
3. Sanded the rest of the glue off with a palm sander.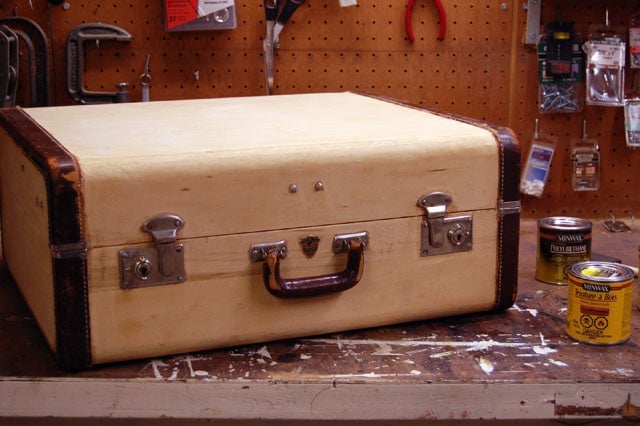 Now that the suitcase is stripped you have 3 options:
1. Leave it as is with no finish or sealant.
2. Seal it with a coat of Varathane.
3. Stain it and then Varathane it.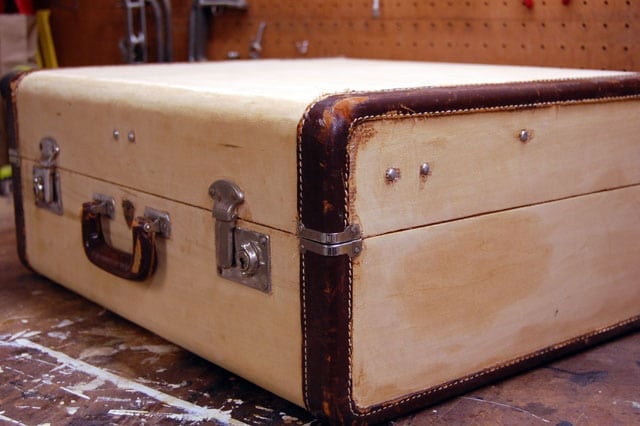 Even though I loved the clean look of the pale wood, I wanted it to have a bit more age and character so after MUCH debating I went with stain then Varathane to seal and protect the suitcase.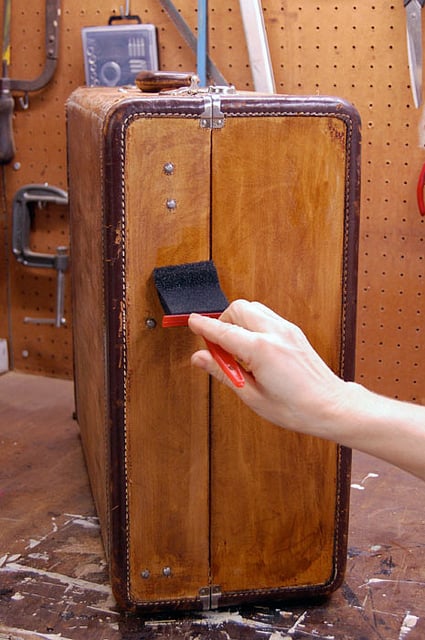 Are you wondering what this suitcase ultimately became? Is it underbed storage? A mini gardening shed? Nope, nope.


And yes. That is Rough Linen bedding. Smooth linen sheets and an Orkney duvet cover.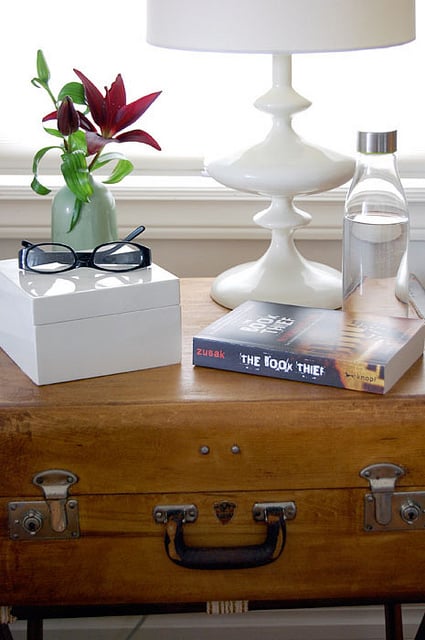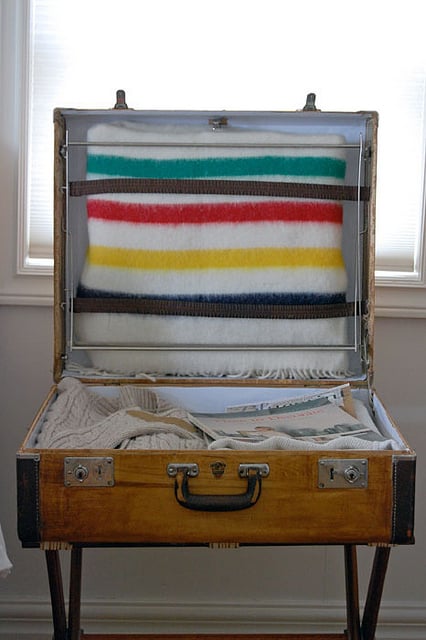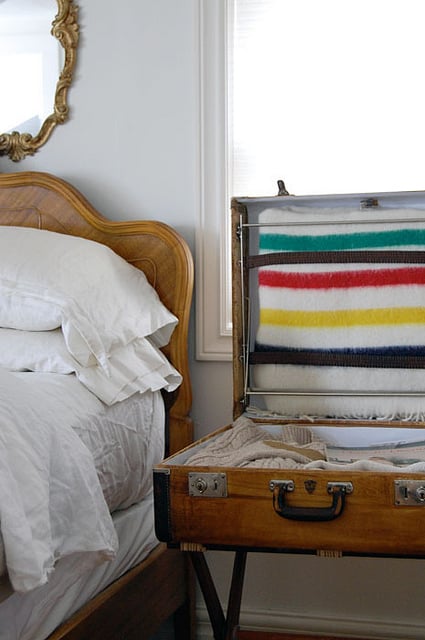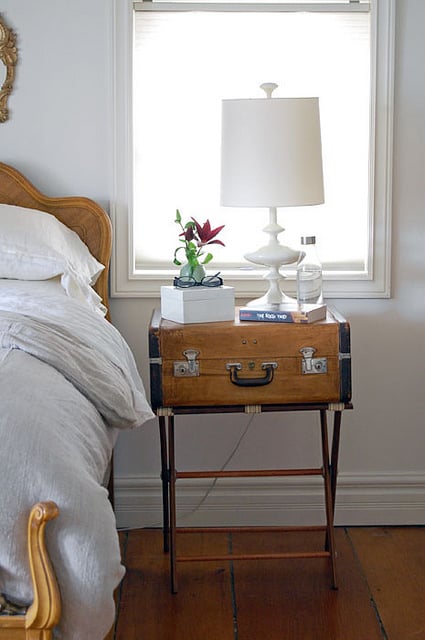 By putting the suitcase on an actual suitcase stand it instantly becomes the perfect height for a bedside table. Although it would look good on antique casters. Or on the porch with gardening tools. The one place it won't be going is the basement.