Tomorrow is the day. The first day of fall. I would like to be the first to officially welcome you to #sweaterweather #applepicking #autumncolors #pumpkinpatch #bootseason #ilookcuteinflannel #itsgettingcold #turntheheatup #imsickofthis #imsocold #thissweaterisitchy #enoughalready #whenisspring And the first to ask you ... What is your fall candle scent?
It's here. Release the pumpkin scent. All hail the cinnamon sticks. Shove a nutmeg up your nose, whatever. It is now your time to revel to your heart's content in all things fall.
TODAY is the first day of fall. So I hope you hung your stockings on the fireplace last night. If you did this morning they should be filled with regret and tears over the end of summer.
I may have given you the impression I don't like fall but it's not that I don't like fall. It's that I like summer more.
To give you a comparison that might be easier to understand, look at it this way. If the seasons were men, fall would be Jeff Goldblum and summer would be Idris Elba. That of course makes Daniel Craig winter and spring filled with wet dog poop in the yard and squished worms. So let's call spring David Spade.
I love living in a climate that has 4 distinct seasons. I just like to make sure I corral them into their appropriate months, which is why I don't light my pumpkin spice candles until fall, as opposed to the first time I spot them in the stores, somewhere around July 3rd.
A few years ago Country Living magazine released a "What's your Fall Candle Scent? graphic on Instagram. I liked it and figured you would too, on this most auspicious occasion, the day before the first day of fall.
(Country Living's Version of Your Fall Candle Scent)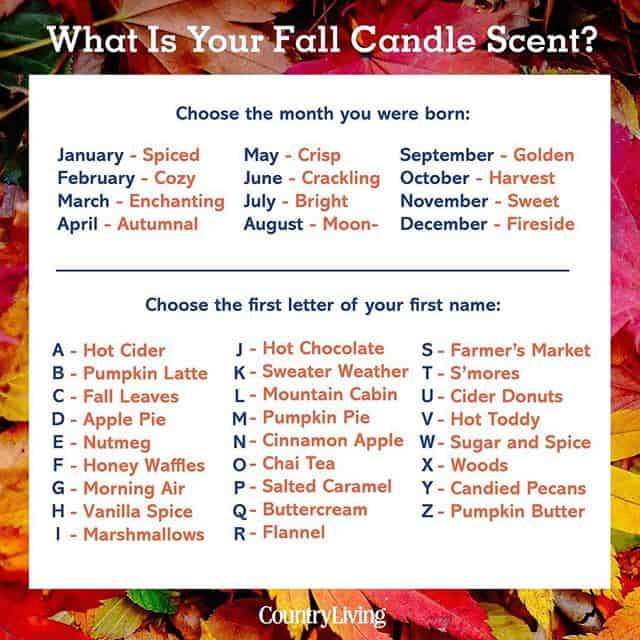 From the Country Living Instagram account
Fun, right? Now I'd like to introduce you to my version which I first shared a few years ago. I reread it a few nights ago and I have to say, I still think it's hilarious and definitely worth revisiting.
The Art of Doing Stuff's 'What's Your Fall Candle Scent?"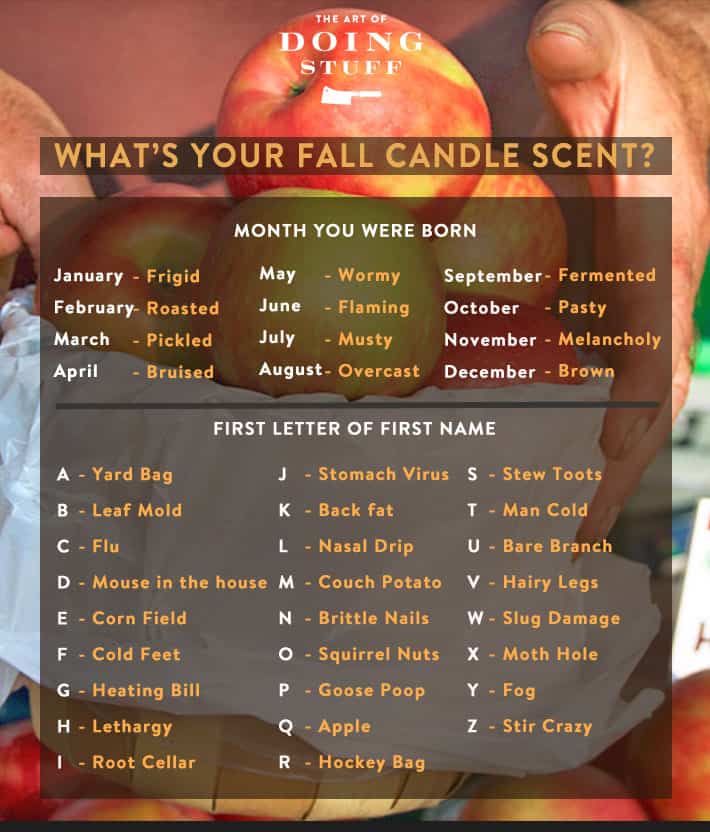 It was my pleasure to help bless you with a beautiful and refined new autumn nickname!

→Follow me on Instagram where I use even more hashtags←