Oh my GOD. This didn't work out. This didn't work out at all. That whole plan I had to get everything done by the beginning of December? Well ... I got everything done I wanted to. And then I stopped.
Being so prepared for Christmas so early lulled me into a false sense of security. There's less than a week to go until Christmas and I still haven't baked a single cookie, made a gingerbread house or knit my cats coordinating leisure suits.
I have no idea how this happened. The cats are gonna be really disappointed.
What does all of this have to do with you? Why do you care? Because. I've lost my words. It's the stress of the holidays. My words are gone. For example, just moments ago I tried to think of the words "niece and nephew" but all I could come up with was "cats". I don't think it changed the meaning of my sentence too much, so it's O.K., but it could 'cause problems in other sentences.
Because of this, in order to maintain my sanity I've decided this week the posts will have few words. It will be wordless week. Kind of. I mean, not really because here I am spewing words.
But that's it. No more with the words.
I have all holiday stuff all the time this week for you starting with the backyard urns and general festive outdoor Christmas decorating. Plus there's a chicken or two.
What there isn't is snow. There's no snow. A minuscule amount perhaps, but not much. I've been sitting inside, diligently checking The Weather Network for signs of snow. There has been no snow. I waited and waited to take my backyard pictures until there was snow because snow looks nice. But there's no snow.
Even without the snow, I still think it's refrigerator. I hope you think so too.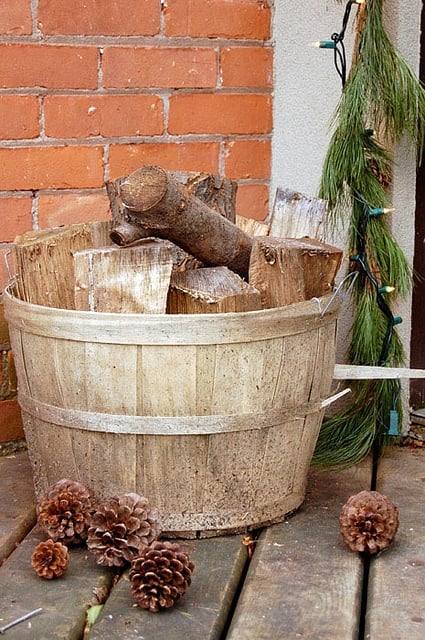 You don't need a lot of money or a lot of sparkly crap (though I do love sparkly crap) to decorate for winter. Other than some pine boughs, most of what I used was stuff from my backyard. A peach basket, some firewood and pinecones. Done.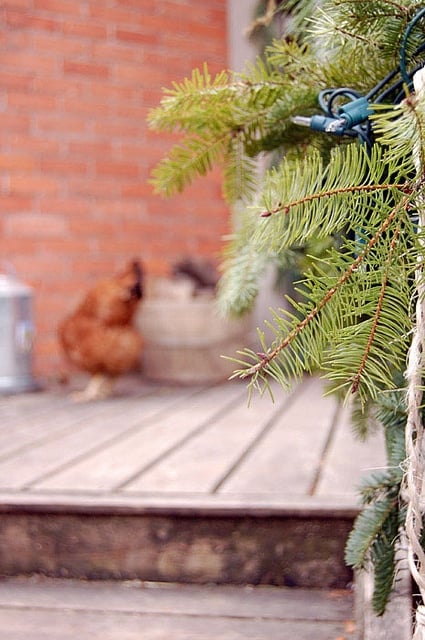 And a chicken. A chicken always adds to the festive feel of a backdoor.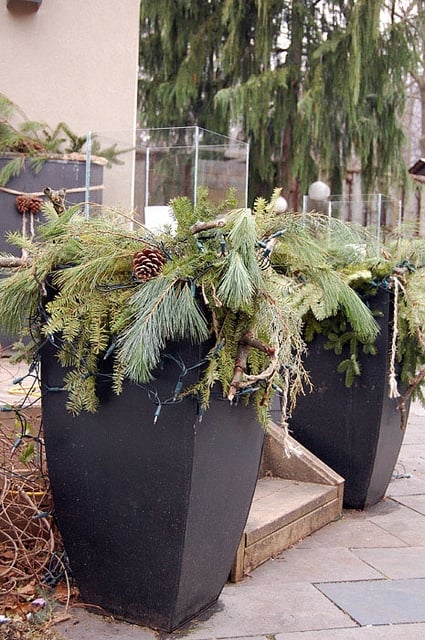 For extra special occasions use gel fuel candles inside the glass holiday urn hurricanes.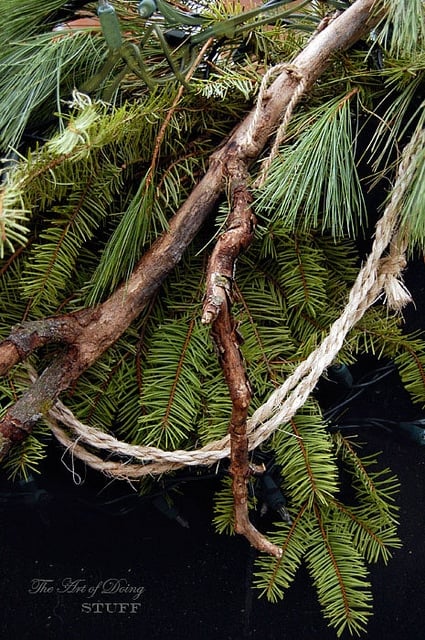 To add a bit more zing, zang and interest to my planters I walked around the bakcyard until I found some squiggly sticks that fell from my tree and shoved those in. The rope you see here is stuff I stole from my local garden centre when I was buying my pine boughs. I just took it. I stole it and I took it home. Granted, it was all cut up into pieces and strewn about the ground. Still. It was very rebellious of me. Nothing like the time I broke out of prison, but pretty bold nonetheless.
More stolen rope, pinecones and sticks. And a rusty planter. The fella was furious I posted this picture. The weathered urn bothers him. He likes perfect. I like imperfect. Hence we're a perfect match really.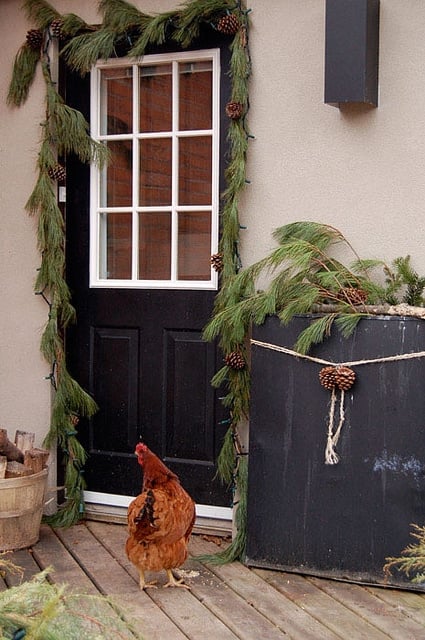 It really is a warm welcome for unexpected guests.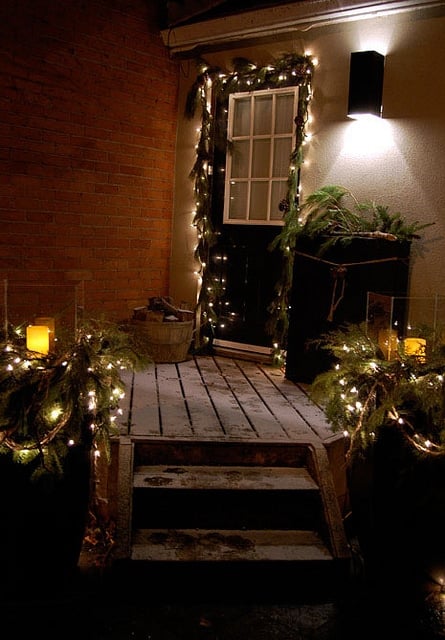 For the majority of the season, I have battery operated pillar candles that come on and go off every night at the same time, in the glass hurricanes I made. For Christmas Eve, when my entire family comes over ... I'll pull out the big guns for the planters.
Pretty. I still think it's pretty. Please disregard any reference to large appliances in upcoming posts.