Remember that guy who owns the gym who forced us to do an 8 week meal plan that I hated? He took my potato chips away from me? I called him an asshole. That guy.
I take it back
He's a nice guy, that guy.
Mainly because along with the recipes I hated with all my heart, he also introduced me to a few that I love in equal but opposite proportions. The No Cook Hippie Cookie is one such recipe.   And this Curried Chicken Salad is another.
The first time I made it, I dreamed about it for the next 3 days. The same way I dream about french fries and having a big toe that isn't plagued with a bunion.
I actually keep grilled chicken cooked and ready to go in the freezer just so I can make this whenever the mood strikes me.
It's kind of strange I've taken such a liking to this particular recipe because I'm not a huge fan of curry.  In fact, I've quartered the amount of curry than the original recipe called for.  I like a hint of curry not a full swing, hit me in the face with a shovelful of it.  A hint.
I serve the chicken salad cold on a leaf of romaine lettuce like a leafy pita.
I got into this habit after the asshole nice guy from the gym, limited our carbs and we couldn't eat this chicken salad on any form of bread.   If we have it for dinner, we eat it with a side of some grilled red peppers and asparagus.  Whatever vegetables you have on hand will do.  (Just in case you were too stupid or drunk or feeble minded to figure that bit out.)
Curried Chicken Salad
Ingredients
1 grilled chicken breast (chopped)
1 stalk celery (chopped)
½ a red apple (diced small)
¼ cup toasted pecans (chopped)
¼ cup raisins
¼ cup mayonnaise (to start)
¼ tsp. curry powder
¼ tsp. cayenne pepper
Salt & Pepper to taste
Combine all ingredients in bowl.  Add additional mayonnaise to taste.
Gather your ingredients Martha Stewart-style. Get everything ready to go.
Grab the bowl you miraculously found for $2 at a garage sale on a fishing trip. Dump your chicken in.
Add your diced apple and celery.
Add the raisins and toasted pecans. To toast nuts just chop them and dump them in a cast iron skillet (or similar) over medium heat until they start to barely brown.
Add the curry, cayenne and mayonnaise.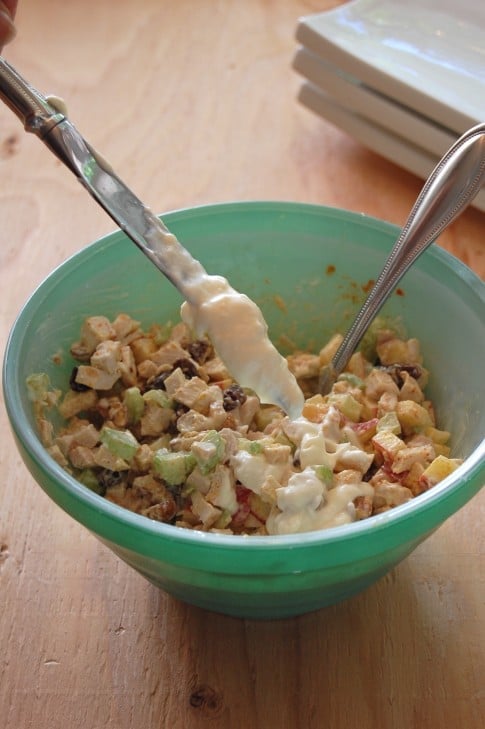 Mix everything together. If the mixture seems too dry for your liking add mayonnaise until it's as creamy as you want it.
Add salt & pepper. You know. To taste.
Serve and enjoy.
Now before you go squinching your nose up at the fact that I wrap the chicken salad in a lettuce leaf as opposed to a pita or bread, I have to say, in the lettuce's defence, that the crunch it has makes up for the lack of carbs. I honestly prefer it this way now.
Honestly.  The crispness of the lettuce against the creaminess of the mayonnaise is wonderfully delicious.  The flavours of the salad are all very distinct.  The slight hints of curry and cayenne pepper are met with the odd sweet burst of apple and raisin.  Add in the freshness of the celery and the crunch of the toasted pecans and you have the perfect Curried Chicken Salad.
Sweet dreams.