I walked through the aisles of the shop, eyes cast down, concentrating on the shuffling sound of my feet. If I did that I could block out the whispering voices around me. Addicts. They were addicts and I didn't want anything to do with them. I wasn't judging them, I just didn't want to fall into the dark hole they had. And listening to them babble, all of them high as a kite, would pull me right in with them. I'd become an addict too.
So I averted my eyes, listened only to the shuffle, shuffle, shuffle and made my way around the store.
Once I found what I was looking for in the aisle along the back wall, there was no more shuffling. No more feet. No more sounds. Now there was just the voices.
"Look at this Marg, black radishes. Jet black radishes!! And carrots. BIG, PURPLE CARROTS!" "Mark we have to get to these tomatoes! They have tiger stripes and burst in your mouth and grow to full size in 4 days! At least that's what Bonnie says ..."
And just like that I was hooked. A drooling, twitching, freakshow, spinning around the seed shop Tasmanian devil style. I Kung Fu'ed poor Marg right across the room. But guess who's in possession of the last packet of purple carrots seeds?! It's not Marg. Which is probably for the best really because Marg looks slightly bent now so she probably won't be able to garden this season anyway.
And there you have it folks. The truth behind seed addicts. It isn't our fault. It really isn't. We try our hardest to resist any and all temptation because we know it's stupid. We know we don't need any more varieties of carrots, tomatoes, cucumbers or cabbage. The problem is it doesn't take much to send us into a full on relapse especially after 5 or so winter months of withdrawal.
I went to the seed store with a list of 3 packets of seeds I needed and came out with 12 packets of seeds, 9 of which I knew I didn't need. I'm just thankful I didn't buy more. I was quite reserved when you think about it. Especially when you consider at one point the entire tomato aisle was winking at me. WINKING. There's nothing more persuasive than a flirty tomato.
I do this every year so I don't know why I'm surprised at myself and my lack of self control.
But buying and trying new vegetables is kind of like trying a new recipe. Yeah, there are going to be clunkers, but if you don't try you won't find a new favourite either. So every year I try a few new things. Not a lot of them make it onto my "must grow" list the next year but some of them do. And I always enjoy whatever I've grown for the season so it's never a waste. Even last year's Quinoa which was a bit of a disappointment was fun. It's a beautiful plant and it grew great, I just found harvesting it to be a pain.
On the other hand, a certain type of carrot I tried last year has turned out to be a favourite and I'll be growing every year from now on.
Here's a list of the top 5 vegetables (and their variety) that are now and will forever be staples in my garden. They are the tried and true that never disappoint me.
Green Beans - French Emerite (stringless, French filet, pole bean)
I've tried a lot of green beans and this one is my favourite. In fact it's the only one I'm going to grow this year. Normally I mix in some Scarlet Runners and Lazy Housewife for variety but since every year it's the French Emerite beans I love the most I'm not going to waste space with other types. They're the perfect green bean.
Tomato - Green Zebra ( sweet but zingy, indeterminate, prolific)
The winner of my great tomato taste test last year, the Green Zebra tomato may look like it isn't ripe but this green when ripe tomato has a better fresh tomato taste than any of the red ones I've ever eaten.
Carrots - Lunar White (pure white, nice shape, sweetest and best tasting carrot of all the varieties I've ever tried)
I was cooking a few weeks ago and chose a bunch of different carrots from my carrot bin. Orange ones, yellow and a couple of these white ones. Before I cooked them I took a tiny bite of each of them to compare the taste, just for fun. I figured the white ones would have the least amount of flavour. Turns out I was entirely wrong. These Lunar White carrots were the sweetest most carroty tasting of all the carrots. I immediately ordered another pack of them and will plant double the amount of them this year.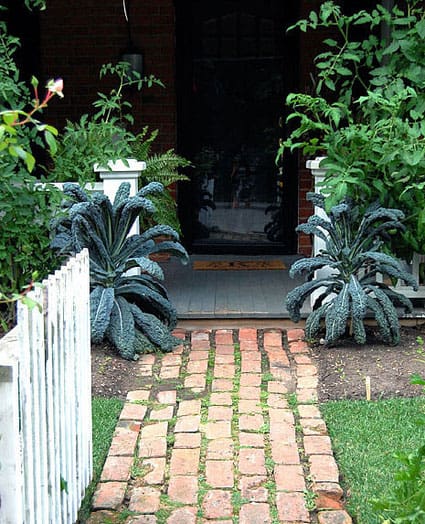 Kale - Dinosaur Kale
Dinosaur kale is my favourite kale because it's milder and less tough. It doesn't have the strong bitter taste that most kales do. In fact it's so mild I usually eat it raw in a salad. It will brave freezing cold temperatures and snow right up until January (in zone 6) or longer. Plus, you couldn't find a more ornamental vegetable if you tried.
Squash - Delicata Squash
The sweetest of of all the squash. Delicata (Sweet Potato squash) is also more prolific than any other squash I've grown and despite having a fairly thin skin it will last in a cool pantry until at least January, sometimes longer. My actual *favourite* squash is Kabocha (Cha Cha) because it's perfect for making anything where the squash needs to be a bit dry like ravioli or soup and I make a lot of those things. But for someone looking for a good dinner time squash, the Delicata is the way to go.
And THESE are the new vegetables I'm going to try this year. I have high hopes for each and every one of them. Famous last words.
Tomato - Lucky Tiger (or it might be Green Tiger)
If you follow me on Instagram you might remember my shot of a new type of tomato I got at a local store last fall. The owner made me try it right there and then in the shop. It was the sweetest, most complex, exciting tomato I've tried in years. It's part of an up an coming open pollinated Artisan tomato group. They're small like a cherry tomato but more of a plum shape and they all have wild colours or markings. I immediately bought a pint of the tomatoes and ate all but 2 of them. Those last 2 I split open and saved the seeds from. I'll be planting these little things in the spring and hoping they're as good as the ones I tried in the fall.
Carrot - Purple Sun (hybrid)
I've grown purple carrots for years and I'm pretty fond of the ones I normally grow, Cosmic Purple. They're purple on the outside and orange like a regular carrot on the inside.
But the Purple Sun (hybrid) carrot is purple through and through. I had to try it.
Beets - Kestrel
My regular, no fail, staple beet is Bull's Blood. Along with being a good tasting beet, it's known for it's dark red leaves that are great for salads. But on a whim this winter I did some research into which is the sweetest tasting beet. A lot of people complain they don't like the earthy (dirt) taste of beets. I don't mind it but I do like there to be some sweetness to the beet as well. I searched out agricultural scientific resources and papers that did studies on the Brix (sweetness) levels of various beets. Kestrel came out as one of the sweetest beets of all. So I'm going to try it and see if those scientists knew what they were talking about.
Corn - Glass Gem
A reader sent me the seeds for this Glass Gem corn last year but I got it a bit too late to plant it.
It's beautiful. It's edible, but not straight off the cob apparently. You can grind it into cornmeal or use it for POPCORN! What makes it so unique is the translucence of the kernels. They look like glass beads. I don't have a whole lot of room for corn but I gonna make sure I get it planted somewhere. I can't even WAIT to plant this to see how it turns out.
Saffron Crocus
This one may or may not happen. Saffron is actually the dried stamens of a certain type of fall blooming crocus. So the orange threads you see in the photo above is saffron. You just pull them out and dry them. Like other bulbs you're supposed to get them in the ground before winter so they can start developing and go through the freeze cycle. But I forgot to order some last fall so now I'm desperately trying to find a company who will send me some Saffron Crocus corms right now. I'd get them in the soil as soon as I can work it and hope for the best. At best I'll get a couple of flowers this fall, at worst I get nothing.
After seeing what I've shown you here I'm sure you get it. You understand. Even the most controlled of individuals doesn't stand a chance against this kind of temptation.
It feels good to share this with you. Like a weight has been lifted off of my soon to be sore and sunburned shoulders. My name's Karen and I'm a vegetable seed addict. Really, I am. Just ask Marg. I'm pretty sure once she's able to communicate again, she'll confirm it.