This is a simple, modern Christmas tablescape that you can make with scraps that you find on the floor of a Christmas tree lot.  Yup. Seriously.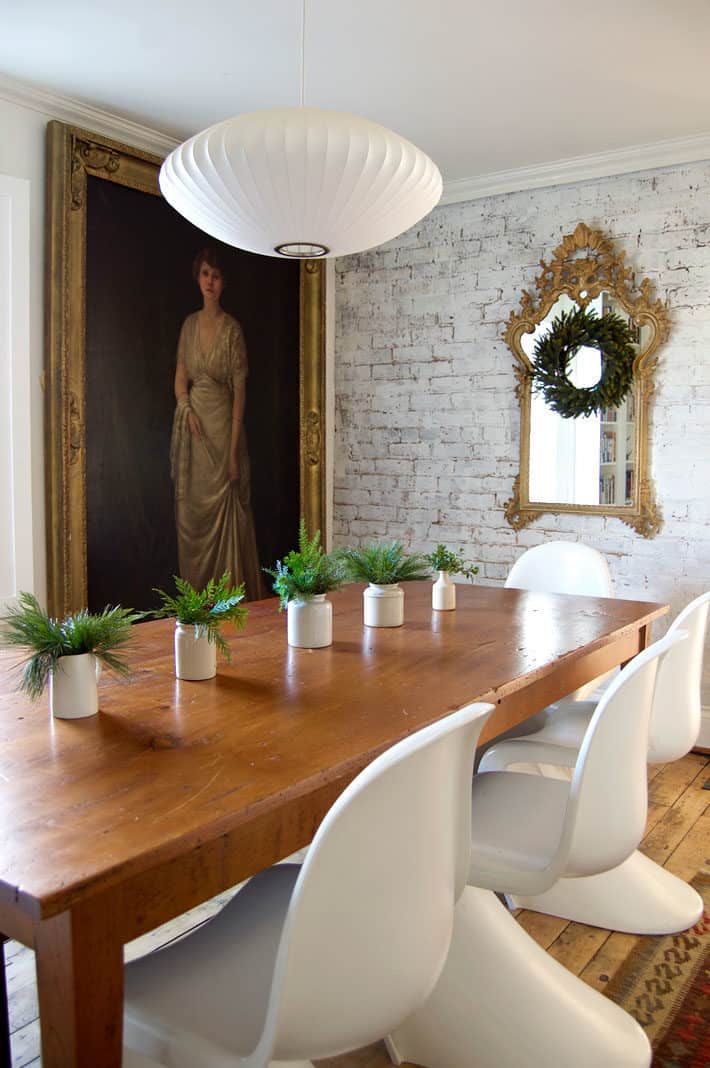 I should probably fess up that these scraps aren't from the floor of a tree lot, they're from my bushes plus a a bit is from some greenery I bought for my outdoor decorating.  But the whole Christmas tree lot thing is still true.
If you've ever gone to a tree lot or a garden centre that sells greenery there's always small little sprigs that are left on the ground.
THAT RIGHT THERE IS  FREE CHRISTMAS DECORATING CRAP!!!
It's all you need to make a beautiful tablescape.
I'm not sure how these places feel about people stealing all their scraps so be discreet about it. Or create a diversion. For instance, you could have your friend try to climb the Christmas trees while screaming I'M A CALLING BIRD, I'M A CALLING BIRD, while you stealthily crawl along the ground picking up bits of pine and fir, shoving them under your hat and into your bra.  It's your basic perfect plan.
I think me telling you this might make me some sort of accomplice to the fact or something, so just keep me out of it if you're taken into custody.
If stealthing and stealing from stores isn't your thing because you already have a questionable police record, then you can clip off scraps from your neighbours trees and bushes on account of they're less likely to press charges.
That's what I did. Only the neighbours bushes were actually mine.  But still a very badass move if you ask me.
Those tiny little scraps that look so insignificant on the ground, most of them no more than 6" long, become a beautiful, simple Christmas centrepiece that has impact.
Sometimes tiny things scream louder than big things.  Just ask the mother of a newborn.
The trick here is to put them in a lot of little vases. It doesn't matter what kind of vases as long as they're small, roughly the same height and you have quite a few of them.  I used tiny vintage crocks.
I told you I was going simple for Christmas this year.
O.K., this is actually my super simple early Christmas tablescape, which will change once I complete decorating the house this weekend. But I really am going to do my best to keep to a less is more mentality with Christmas this year.
Except with regard to food. Obviously.
The cedar came from my cedar hedge.  Therefore - free.
The boxwood and fir also came from my property therefore - free.  The long needled pine is from greenery that had fallen off a pine garland I bought.  So kind of free if you ignore the fact that I did have to buy the garland.
The more I see this little free centrepiece on my dining room table the more I feel like keeping it there. The table is where I do all my Christmas wrapping and crafting and a big elaborate centrepiece is a pain to move when I have to make room for the hot glue gun and glitter (which is why my new tablecloth isn't on the table).
I have a couple of days to decide, and really all signs point to me being incarcerated by the time Christmas rolls around anyway.  And we all know I won't be doing any Christmas decorating in there.  Prison scraps might make an acceptable fruit beverage with a moderately high alcohol content, but it doesn't make an acceptable Christmas tablescape.