The Christie Antique Show is Canada's largest outdoor antique market. It happens twice a year so I go twice a year.  Here's trip number one for 2018 - the spring sale. Tip #1 for antiquing?  Do NOT carry a purse.  Some kind of money belt around your waist is the way to go.  Filled with LOTS and lots of money.
This weekend my sister and I took our annual trip to The Christie Antique Show.  Sometimes it's our bi-annual depending on how things go in the fall when the second show rolls around.  It had all the makings of a perfect day at an outdoor antique show and yet ... I ended up huddled on the grass crying and it's possible my sister peed her pants.
That's not entirely accurate. My sister was wearing a dress.
Here's how it all went down.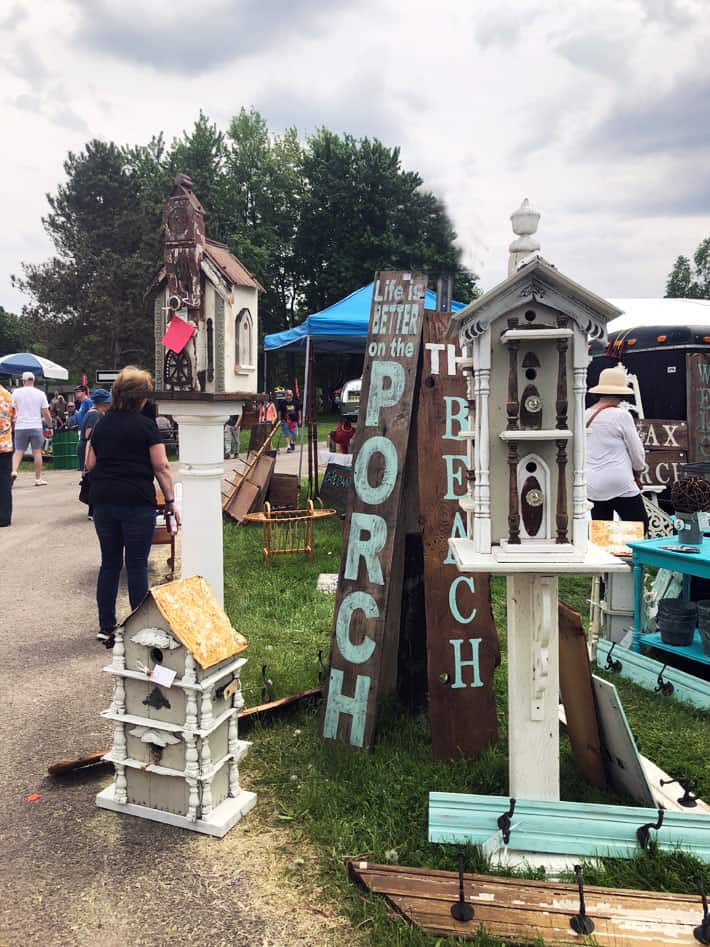 There was a bit of a family emergency in the morning which made a slow start, so we didn't get to the show until around 10:00 a.m.  No matter. It was a stunningly beautiful day, around 30 degrees celsius (86 Fahrenheit) with clouds, so we were offered a bit of natural sunscreen courtesy of whoever is in charge of clouds.  Depending on your religion or lack there of this could be God, Mother Earth or whoever's in charge of the big game of chance in the sky.  A casino boss for instance.
As has been the case for the past few years, the one thing I'm actually looking to buy at Christie's is a midcentury modern chair for my living room.  For the first few years I was looking they just didn't exist. None of the vendors had them or wanted them in their booths. A couple of years ago they started showing up a tiny bit but still nothing too impressive.
Then this year - BAM - there it was.  My *other * sister who was at the show with her friend texted me with a picture and said I had to see it immediately.  She gave us directions to it in the show and off we went.
It was not the exact midcentury modern chair I was looking for (which you can see here) but a very nice version indeed.  But not the exact one I was looking for.  But nice.  But not the exact one I was looking for.  But pretty great. But not the exact one I was looking for.  But it had great worn leather.  But not the exact one I was looking for.  But wow it was nice.
That particular dialogue went on and on in my head as soon as I saw the chair.
I walked away from the chair because .... I mean I think we've established why.  Because it wasn't the exact chair I was looking for.
Plus it was a bit higher price than I thought it should be.  I figured I'd walk around and think about it.  And think about it I did.
That dialogue continued rattling through my brain for the next 3 hours.
And then I started to get worried.  I felt a little unwell.  Probably I just needed french fries.
So I got french fries.
The weird sick feeling I had didn't go away with the french fries so I knew it wasn't that I was hungry for potatoes; I was hungry for the chair.
The thought of someone else buying my chair was filling me with rage. I couldn't concentrate on anything else at the sale.  Not even rugs.  And that's saying a lot.
I was on one side of the massive sale. The chair was on the other side. It was exactly like Romeo and Juliet if Romeo was a chair and Juliet was - actually I'm exactly like Juliet so the only difference is that Romeo wasn't a chair. My heart was pounding. I felt ill.  I couldn't concentrate on a single thing.
It was love.
I grabbed my sister's elbow and dragged her back to where the chair was so I could see if it was still there.
It was.
I could breath again.
We continued our tour around the massive grounds and eventually circled back to the chair.
My chair.
Which was now sold.  To not me.
And it wasn't GONE, which would have been the best case scenario for a chair that was sold.  It was sitting exactly where it should be with a teeny, tiny little sold sticker on it that you couldn't see until you were practically sitting on top of the chair telling the guy you'd come back to buy it.
This, as you might have imagined, is the point in the story where I cry.
Everything after that chair was garbage. I hated it all. It was stupid.
Ironstone?  Hate it.
Cool meat signs?  Hate 'em.
Super-awesome vintage bathroom perfume dispenser.  Dumb.
I couldn't even buy a rug. That's how distraught I was.
By the way, if you're thinking at this point that I'm setting you up for a big turnaround at the end of this story - where it turns out the chair wasn't sold and I GOT the chair ... that didn't happen.
These chairs made me smile a little bit, but not very much.  They're really beautiful safari chairs that would normally make me smile very much.  I didn't do that.  It was kind of a lip curl that could be interpreted as a sign of aggression actually.
Nope.
Snowshoes. Good.  I didn't buy my chair, lost out on something I should be sitting comfortably in right now, so I might as well move to the Arctic.
Pretty lace and cups with a perfect condition scale.  Whatever.
And then something happened that turned my whole day around.
My sister peed herself.
Technically she didn't pee herself, she got mustard on herself and had to wash it off in the bathroom but it looked exactly like she had an accident.
Of course I found this highly amusing and it was enough to keep me going for the rest of the day.
I even managed to not hate everyone and everything in my path and bought a few things.
In fact ...
I've shown you most of what I bought in this post.  Not all ... but most.
Hidden in these photos are some of the things I purchased in my attempt to fill the deep, deep hole left inside me by "the chair".
You'll find out what it is I bought and what I'll be doing with it all on Friday.
Which, as everyone knows, is the best day of the week to sit in your favourite chair. :(

→Follow me on Instagram where I often make a fool of myself←