The only thing I buy from the frozen food section at the grocery store are spring rolls. I've made spring rolls myself. Buying spring rolls is easier. The main reason for this is because the spring rolls I make aren't very filling. The main reason for this is because they're so much work no one, including myself is allowed to eat them.   I make them, put them on a plate, photograph them, and then we all sit around and look at them while chewing gum.
So I buy my spring rolls in the frozen food section.
I have my routine at the grocery store. Crackers, Housewares, Dairy, Pop, Centre aisle stuff, vegetables, bread, olives ... U TURN ... frozen food (if I need spring rolls). As soon as I take that U Turn to head towards the frozen food section I am forced to pass the frozen packages of Jalapeño Poppers. Those crispy, gooey, spicy, bullet shaped morsels of deep fried goodness.
So good. SO good. SO VERY GOOD. And so, SO bad for you.
So I went about figuring out how to make a half decent tasting Jalapeño Popper that wouldn't crawl out of your stomach and leap directly onto your ass.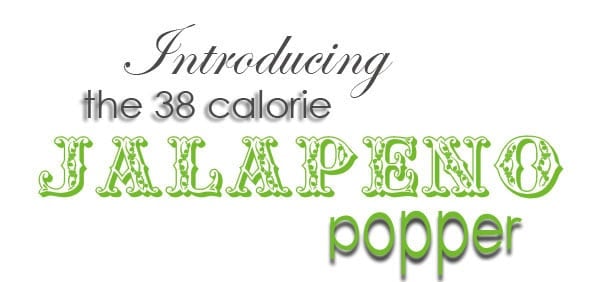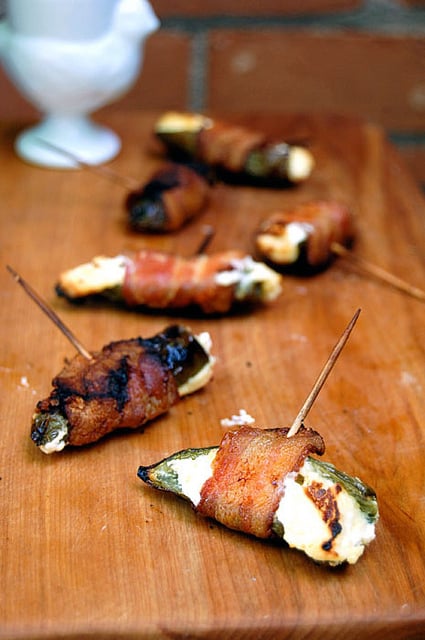 I n g r e d i e n t s
hot sauce       cream cheese       jalapenos      bacon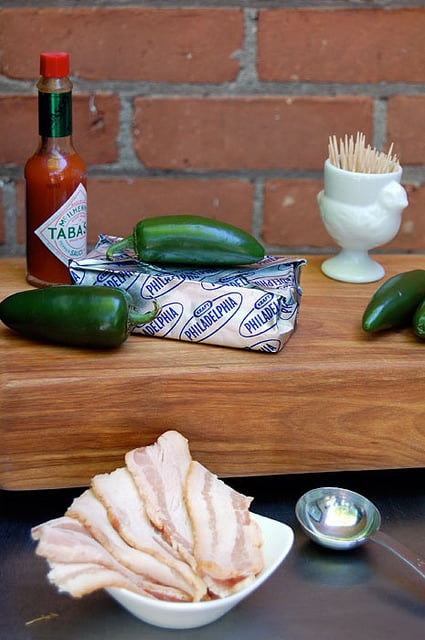 Cut your peppers in half and remove the seeds and membranes.
Do not, I repeat do NOT try to guess how hot the pepper will be
based on its size or colour or whatever.  There simply is
no guessing how hot they are.
Don't worry .. we deal with this anomaly of nature in the cooking portion.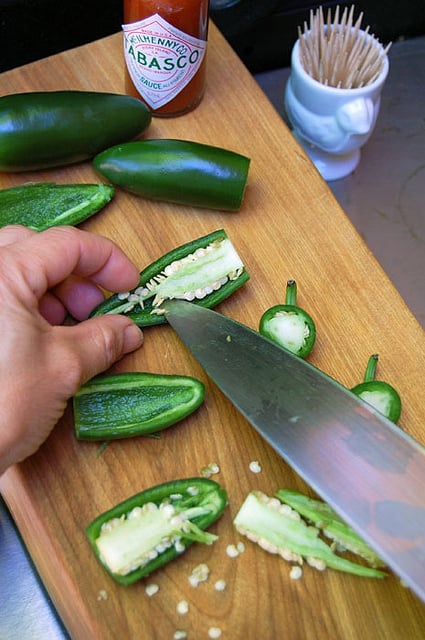 Measure out 1 Tablespoon of cream cheese for every whole Jalapeño you have.
For extra flavour add several dashes of whatever hot sauce you have on hand.
Tabasco, Frank's, Melindas hot sauce ... whatever.
Mix the hot sauce in with the cream cheese well.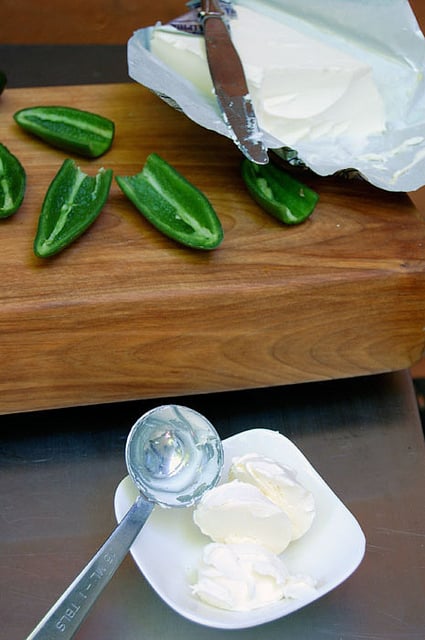 Fill each half Jalapeño with ½ a Tablespoon of cream cheese.
Dot with hot sauce if you wanna.  I wanna.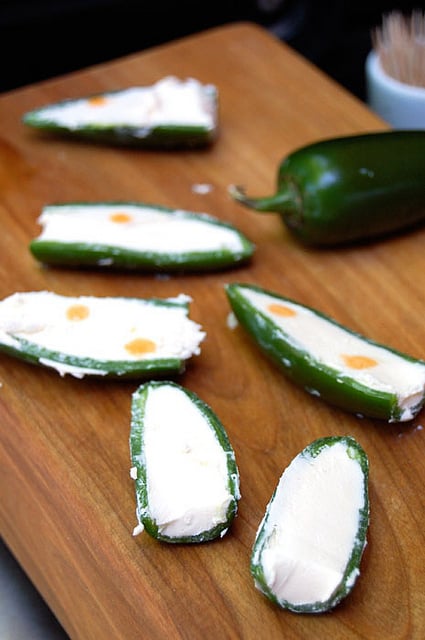 Wrap with ⅓rd of a piece of bacon.
Secure with toothpick.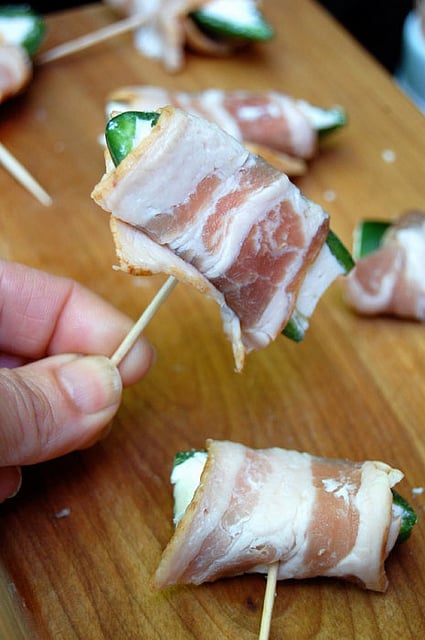 Lay your poppers on a pre-heated grill.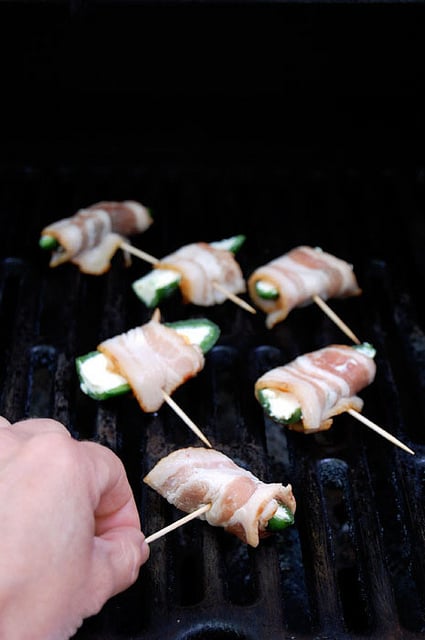 Heat all sides of the the grill on high. When you put your poppers on the grill, turn the grill directly under the poppers down to low, and the other grills down to medium-low. Then close the lid. This is a form of indirect cooking so your poppers get crispy but not charred beyond recognition.
Now. About the heat of those jalapeño peppers. The longer and slower you cook the peppers, the less heat they will have. Throwing them on the on high for 15 minutes won't work. You'll get a burnt, barely edible hot pepper that'll make you feel like someone is ripping your nose hairs out one by one.
I like things hot, but still edible. What generally works for me is 45 minutes on the BBQ. Half an hour of cooking and they're still too spicy for me to enjoy, and an hour means not enough spice.
Check on your peppers every 10 or 15 minutes to make sure they aren't burning to a crisp. Grills, like jalapeños can be a bit unpredictable.
You'll have to experiment with what you like. And of course, it varies a bit depending on the original heat of the pepper. But know that you must cook them long and slow to get rid of the intense heat of the peppers.
There's no need to turn the peppers over. The top side cooks well and the bacon gets crispy without turning them over.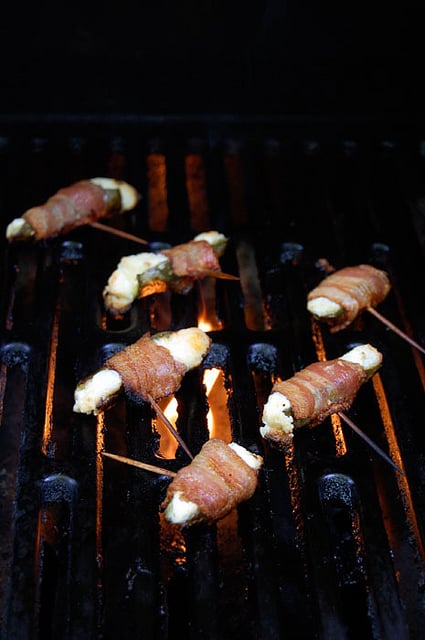 Want to know the calorie break down? How does each one equal 38 calories? Of course you do ...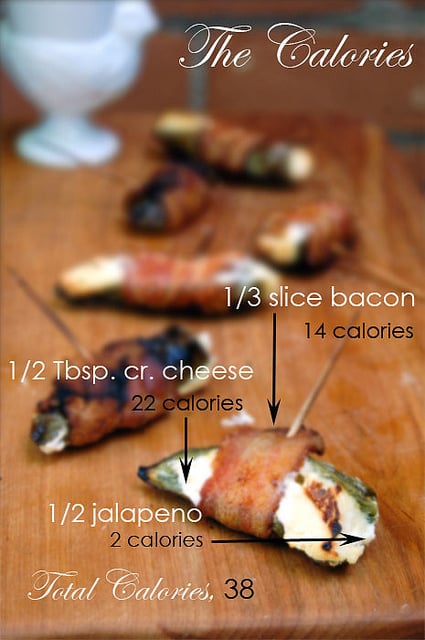 The key points to this recipe are:
1. Mix hot sauce in with the cream cheese to give more depth of flavour.
2. Measure out the cream cheese you use, to ensure you're only using ½ a Tablespoon per pepper.
3. Cook low and slow.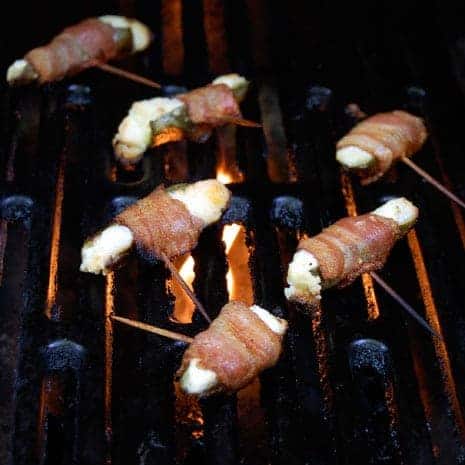 Jalapeño Poppers
These spicy little Mexican treats are only 38 calories each. Which means you can eat one billion of them if you want!
Print
Pin
Rate
Ingredients
12

Jalapeño peppers

small - medium sized

12

Tablespoons

cream cheese

4

slices

bacon

each piece cut into thirds

hot sauce
Instructions
Preheat BBQ grill on high.

Slice peppers in half and remove seeds and membranes.

Mix cream cheese and several dashes of hot sauce together.

Fill peppers with cream cheese mixture.

Top with a few more dots of hot sauce if you have the burning desire to do so.

Wrap each popper with ⅓rd of a slice of bacon. Secure with toothpick.

Lay poppers on hot grill. Reduce flame beneath poppers to low and side grills to medium-low.

Close grill lid.

Cook for ½ hour to 1 hour depending on how hot you like the peppers. I like mine cooked for around 45 minutes so there's a bit of heat still left in the peppers but not too much. Check on your peppers every 10 to 15 minutes to make sure they aren't burning to a crisp. If you have trouble with the bacon causing flare ups, turn the grill directly beneath the poppers off completely and turn up the side grills slightly.
Notes
No BBQ grill? No problem. You can also cook these in the oven at 350 for the same amount of time.  The lower your oven temperature, the longer the poppers will take to cook and the less heat they should have.  So if you don't like heat cook them at 300 for a longer period of time. 
Serving Size: 4 poppers
Nutrition
Serving:
4
Poppers
|
Calories:
107
kcal
|
Carbohydrates:
4
g
|
Protein:
7
g
|
Fat:
6
g
|
Saturated Fat:
2
g
|
Cholesterol:
14
mg
|
Sodium:
350
mg
|
Potassium:
198
mg
|
Sugar:
3
g
|
Vitamin A:
320
IU
|
Vitamin C:
33.2
mg
|
Calcium:
130
mg
|
Iron:
0.2
mg