April Fools' Day is almost here so I thought it was time to update some of my favourite April Fools pranks.
As I'm sure you know, April Fools' Day is the scariest of all the holidays. Not only because it has an incredibly difficult apostrophe placement but because it's way scarier than Halloween. Seriously, what's scarier to you? A kid dressed up like Batman politely knocking on your door between the hours of 6 and 8 p.m. or worrying all day that someone is planning to terrify you with an April Fool's joke? The later obviously. No one even has to do anything, it's the notion that it's coming.
I generally forget all about April Fools' Day until the actual day, which leaves me no time to plan a really good attack on someone.
I thought you might be the same. You know, in that you aren't crazy enough to pre-plan for April Fools' Day but just crazy enough to be bothered by the fact that you didn't.
So I've collected some of the best and easiest April Fools' Day jokes (from my brain and from around the web) you can play on your family and co-workers this year.
1.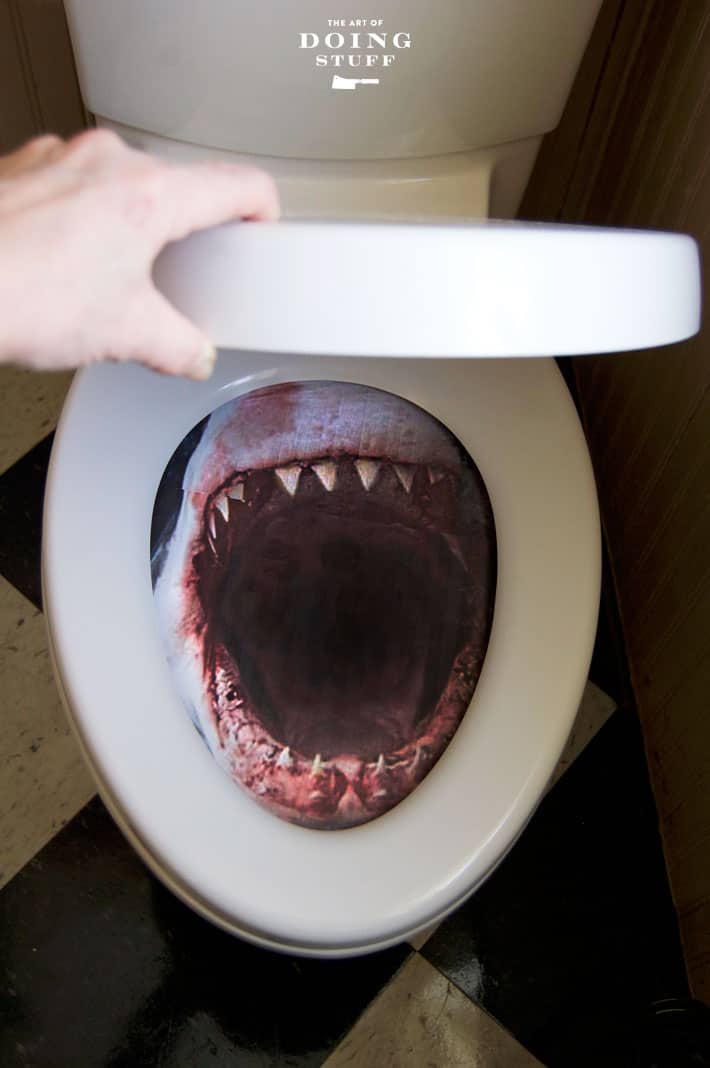 The best part about this is the shark actually flutters a bit when you lift the toilet lid from the air movement.
I've taken the liberty of creating a PDF that you can print out right now. It's printed on 2 pieces of standard printer paper. You just need to tape them together and then tape them under the toilet seat. Just click on the links and print away. (They need to print on the paper with a horizontal orientation, not vertical which you would normally use)

Shark Bottom of Mouth
2.
The night before April Fools' Day go into your spouse's car and turn all the settings to maximum: radio, heat, windshield wipers … ALL of it.
3.
Add a Voice Activated sign to pretty much anything new in your workplace. Toaster in the break room, equipment, new TV …
I'd personally take this one step further with the toaster in the break room. I'd go buy a cheap toaster at a thrift store and remove the levers for lowering the toast. So there is literally no way to push the toast down, reinforcing the ridiculous nothing that it's voice activated.
4.
Hide Scented air fresheners all over someone's office.
5.
This one will take some commitment, but … you could do a lite version on something else.
6.
Add food colouring to milk or cream that's in a cardboard container. LOVE this idea.
7.
8.
Change your bosses screensaver to something like this. Works especially well if your boss is 6'4″ and mean.
9.
You know how kids can sleep through anything? If you have kids that share a room, when they're sound asleep switch their places so they wake up in the other one's bed.
10.
The old raisin in the toothpaste trick. My sister Fish Pedicure did this to me a few years ago. It seems so innocuous, but when you squeeze your toothpaste and something brown comes out of it, … it's alarming in a way that's difficult to describe.
Just push a raisin into the neck of the toothpaste and squeeze a bit of the toothpaste up so you can't see it in there.
11.
Buy some underwear, write a coworker's name on the elastic band in Sharpie and leave them on the work bathroom floor.
Now that you've been armed, you have a choice. Are you going to be part of the 50% that attack on April Fools' Day or will you be part of the 50% who cower?
I hope that you will attack because I know I didn't raise a bunch of cowering ninnies. I'll be over here cowering in a corner until it's all over.