If you're moderately comfortable with plugging in a tool, a DIY charcuterie board makes a really great gift, especially for a hostess. The meat and cheese serving board takes about 2 hours to make from beginning to end and looks like you picked it up at a Paris antique market. Honestly, it does!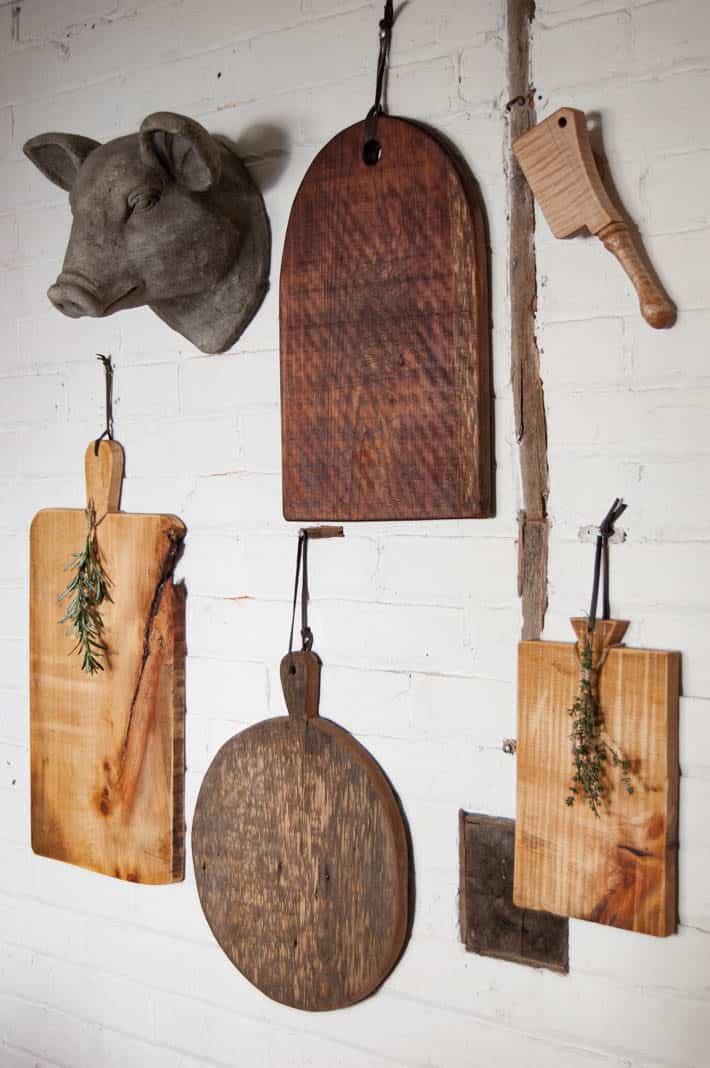 Do you remember 3 years ago when no one used the word charcuterie board? We called them serving boards, cheese boards, or (shudder) platters. We were such peasants in the olden days, 3 years ago.
Today I'm going to show you how to make a genuine, imitation antique meat & cheese board with a hunk of wood from the lumberyard, a jigsaw and a palm sander. And yes. It's the same thing as a charcuterie board. I'm sure you've seen antique cheese and breadboards before. They're all over the stores and Internet. You've maybe even seen DIYs on how to do them, but I'm going to show you a few tricks that'll make your "Antique" serving board look authentic.
EVEN if you don't think you're handy, you can do this. EVEN if you're afraid of power tools, you can do this. EVEN if you have no artistic instincts whatsoever, you can do this.
The full printable tutorial is at the bottom of the post.
Make a Charcuterie Board
Grab your piece of 12″ wide barn board and draw your cheese board outline on it. You can find scads of examples of antique serving boards on Pinterest that you can use as inspiration for your shape. Cheese boards tend to be round and bread boards tend to be square or rectangular. Just do what you think looks good.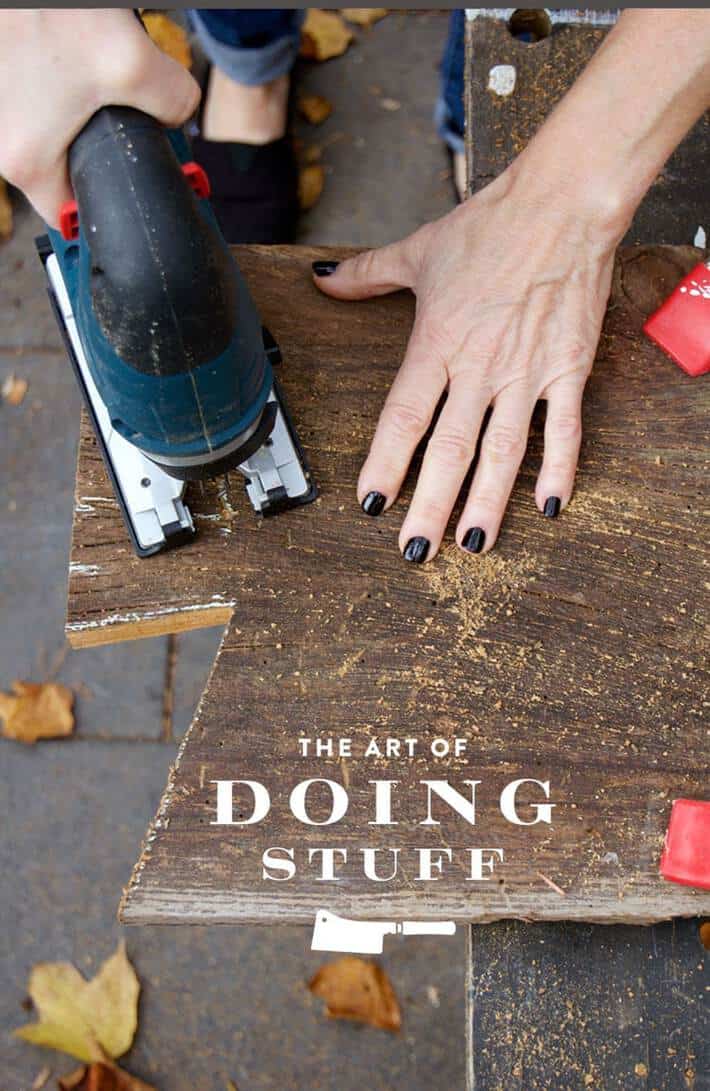 2. Clamp the wood to a sturdy surface like a table or workbench then cut the shape out with a jigsaw.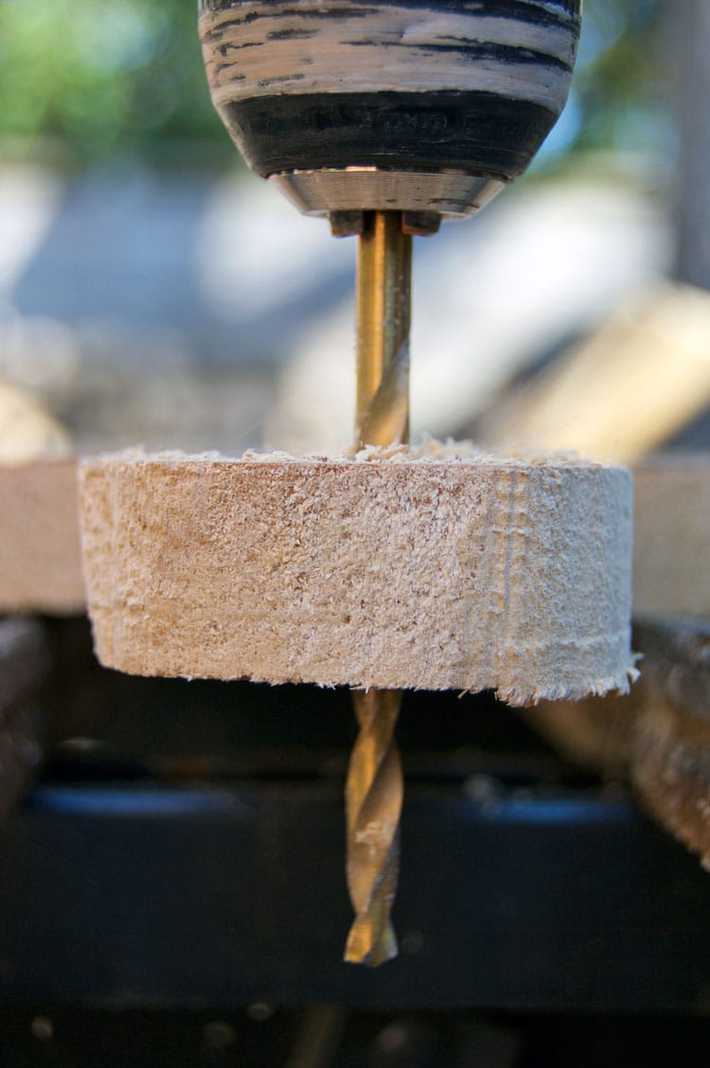 3. Drill a hole into the centre of the handle if you want a hole to hang it from. The size of the hole is up to you. You can do something just large enough to run a piece of twine through with a regular drill bit for hanging it, or something a little bigger using a hole saw. Or, you can have no hole at all.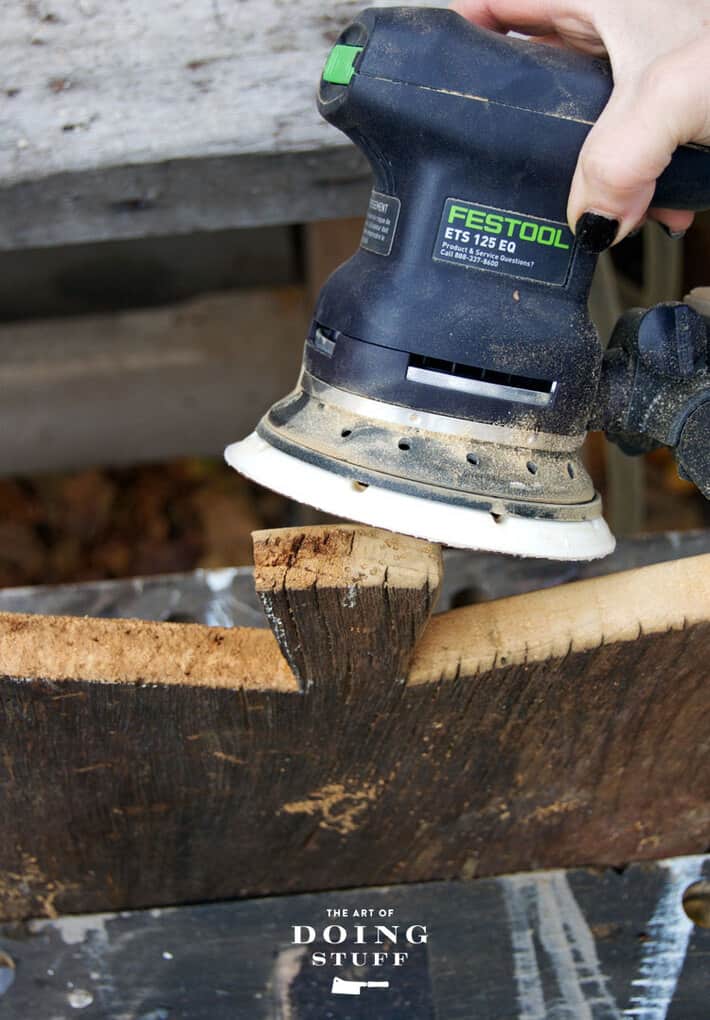 4. Using a palm sander, (a Festool 125 if you're smart enough to ask for one for Christmas) sand the face and edges of the wood. You don't want to have nice clean cut marks. That's a dead giveaway that you're faking something old. If you're using old barn board or even barn board that's already a bit discoloured from the lumberyard, once you cut it, the edges will look bright and new. Bleh. So sand and round out the edges.
Decrease the grit of sandpaper you're using. Start with 80 grit, move to 120 brit and sand again, and finally sand with a 180 grit.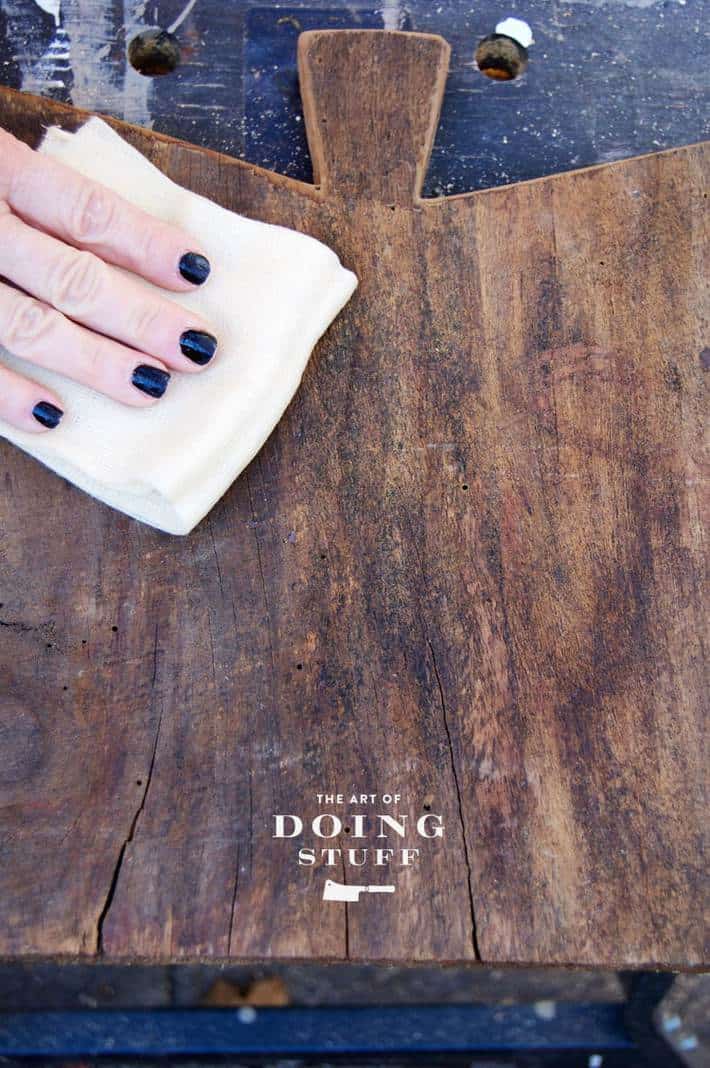 5. Blow off the sawdust from the wood and then use a piece of tack cloth to remove the rest of it.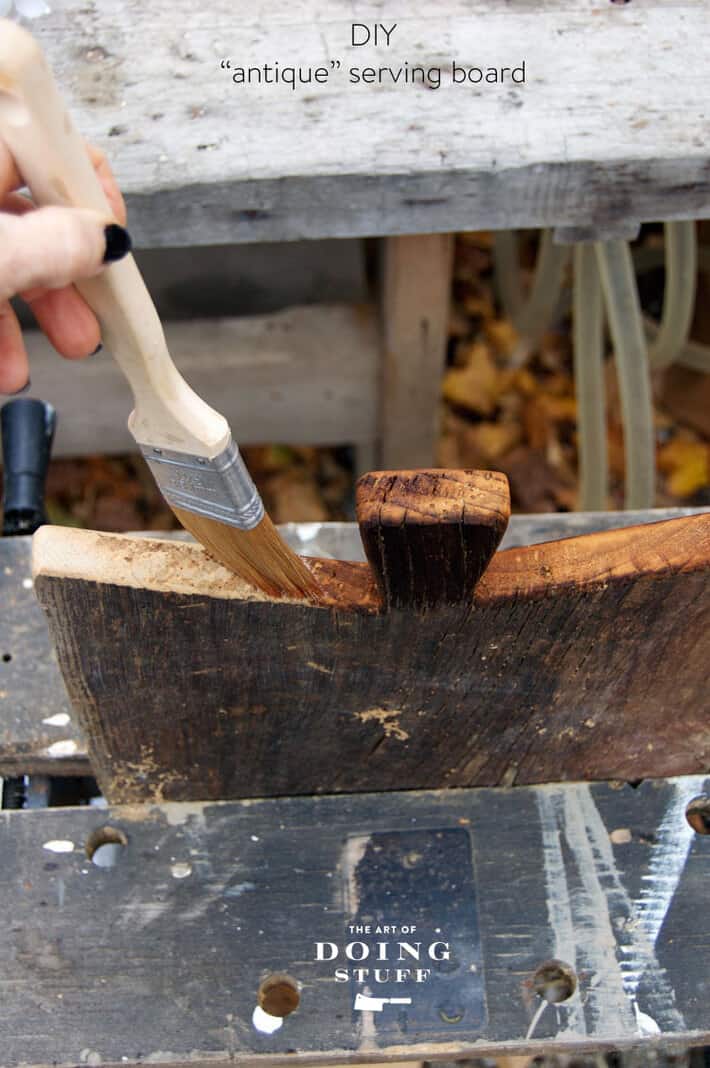 6. Now the fun part of ageing your new wood, or ageing the newly cut edges of your old wood begins. If you're using old wood, brush the newly cut edges with your mixture of vinegar and steel wool. If you're using new wood, brush the whole board including the edges. Let dry. The reason I want you to use this technique to stain the wood and not a regular stain is because a) it perfectly replicates aged wood and b) it's completely food safe.
Alternately, you can skip the vinegar and steel wool and just condition the wood with your food safe wood finish, which will darken the wood and give it a glow. Don't forget the newly cut edges!
---
TIP – By the way if you use cordless tools and have one that has a battery that won't recharge, you should read this post on how to fix a battery that won't charge. If the battery is relatively new and not dead because it's decades old you can fix it so the charger will charge it.
---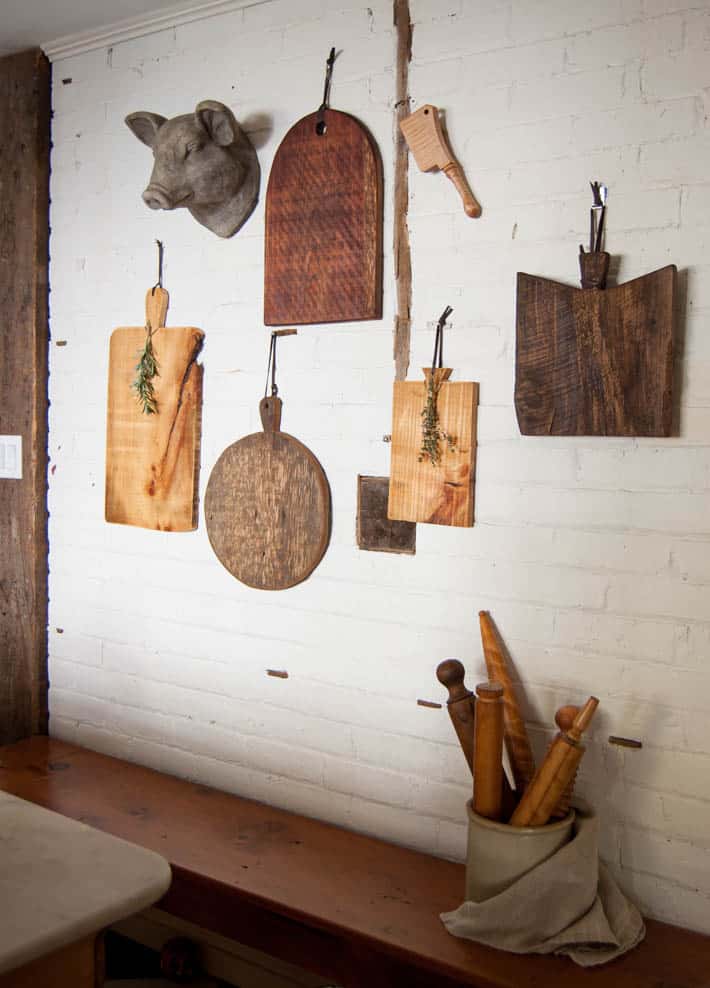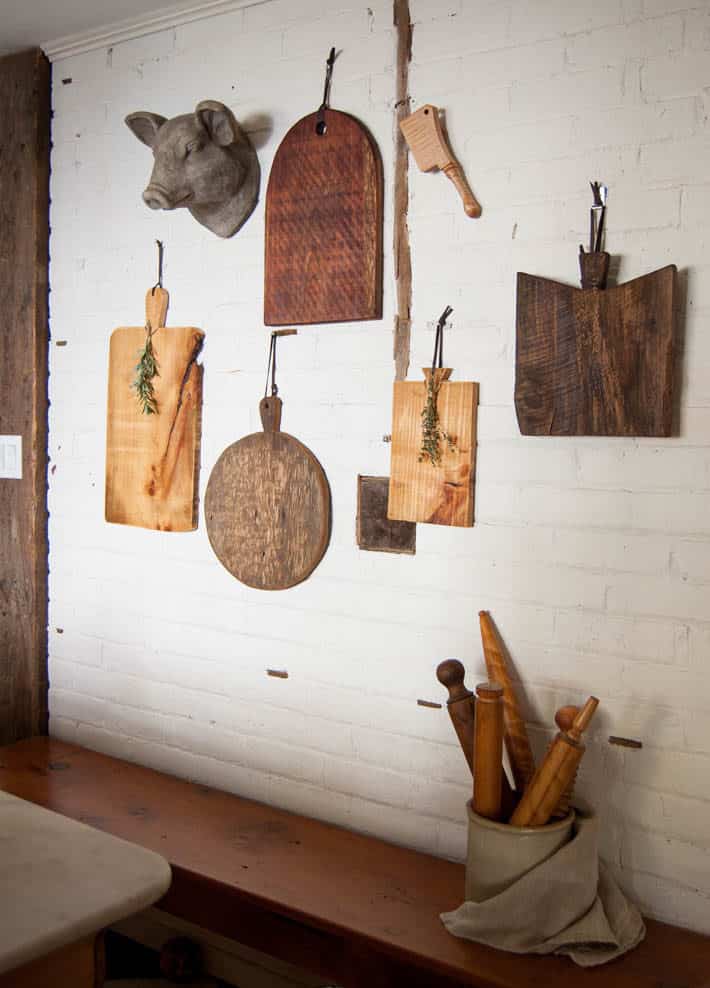 Intimidated? Don't be. This is how easy it's going to be.
I made cutting boards out of 3 different materials. Genuinely old barn board, new pine and barn board with lots of scarring and knots from the lumberyard that already looked a tiny bit aged.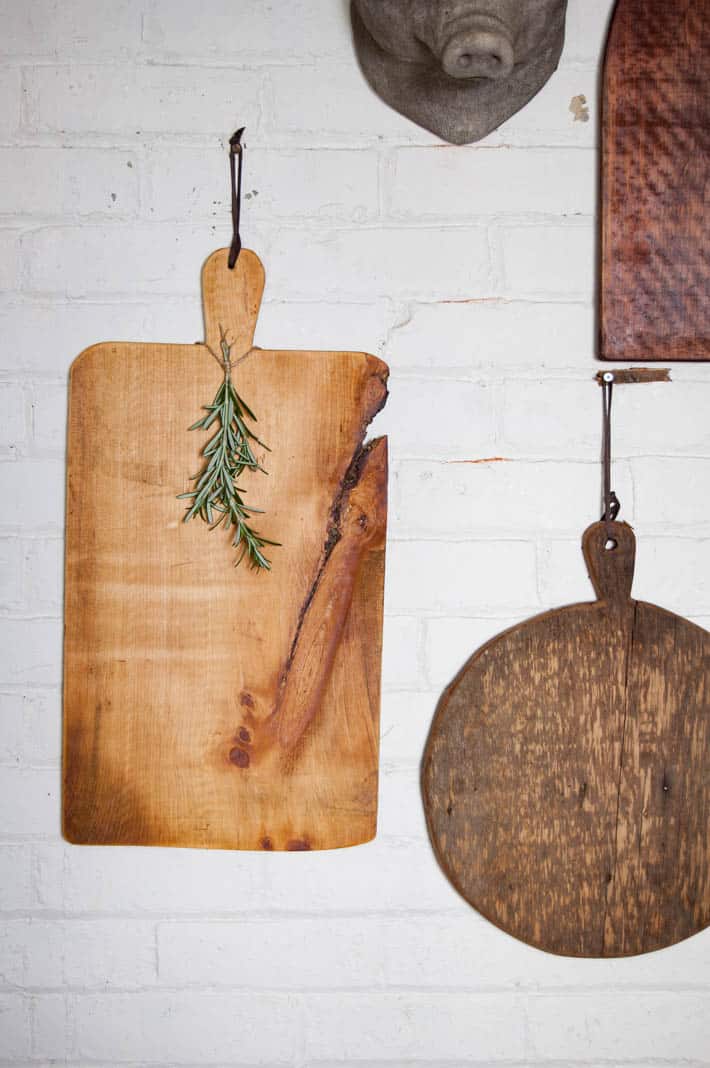 There are plusses and minuses to working with both but my favourite was the lumberyard barn board that looked a bit aged. It's the rectangular one you see above. It had the most character, best colour after conditioning and you can actually use it for food, unlike genuine barn board which I would advise against. Because ick.
I specifically chose a piece of barn board at the lumberyard that had a big crack and lots of character.
Just a reminder from the top of this post that this DIY charcuterie board would make a really nice hostess gift, either by itself or as the base for other fun stuff instead of a basket.
How to turn this into a gift basket.
Lay out your cellophane and then lay the board on top of it.
Top the board with a good cheese, a box of unique crackers, some type of fig or cranberry jam that goes with the cheese and crackers, a bottle of wine or olive oil (for height) and some sprigs of pine and spruce.
Done!