An Arabian merchant, scratches his way across the sand, a pouch of milk strung over his back, as he makes his day long journey across the desert. The pouch was a new one, made from a sheep's stomach because this was 4,000 years ago and people hadn't thought of using a BPA free, imitation woodgrain Thermos yet. For hours he walked beneath the blinding sun, step after step, making his way towards nightfall.
When he finally stopped, he pulled the pouch off his back, only to discover after hours in the arid land, his milk had become something else. It had separated into a liquid and a solid. Curds and whey, produced after sitting all day in the rennet filled sheep's stomach pouch. Thirsty and hungry, he drank the whey and ate the curds. And THAT is the day you can blame your muffin top on. The day cheese was born.
Or so the legend goes.
Nowhere in that legend does it say anything about how in 4,000 years people will still love, LOVE stinky old cheese. Maybe not 4,000 year old cheese, but still, a nice aged white cheddar …
Today as part of the Christmas Pledge and with the help of Lee Valley and the world's greatest palm sander (it's a Festool), I'm going to show you how to make a genuine, imitation antique cheese board (or bread board if you're one of those weirdo cheese haters) with a hunk of wood from the lumberyard, a jigsaw and a palm sander.
I'm sure you've seen antique cheese and breadboards before. They're all over the stores and the Internet. You've maybe even seen DIYs on how to do them, but I'm going to show you a few tricks that'll make your "Antique" cheese board look truly authentic. All with the help of my longtime partner Lee Valley.
EVEN if you don't think you're handy, you can do this. EVEN if you're afraid of power tools, you can do this. EVEN if you have no artistic instincts whatsoever, you can do this.
This is how easy it's going to be.
(for the demonstration video I'm using new barn board pine from the lumberyard)
My Tools & Materials
A piece of 12″ x 1″ soft wood, at least 12 inches long. (I'm using both genuine antique barn board & new barn board from the lumberyard)
Jigsaw
Clamps
Workbench
Festool Palm Sander (the Mercedes of palm sanders, even made in Germany.)
Various grits of sandpaper for sander
Piece of chalk
STEPS
(for the demonstration photos I'm using a piece of old barn board)
Grab your piece of 12″ wide barn board and draw your cheese board outline on it. You can find scads of examples of antique serving boards on Pinterest that you can use as inspiration for your shape. Cheese boards tend to be round and bread boards tend to be square or rectangular. Just do what you think looks good.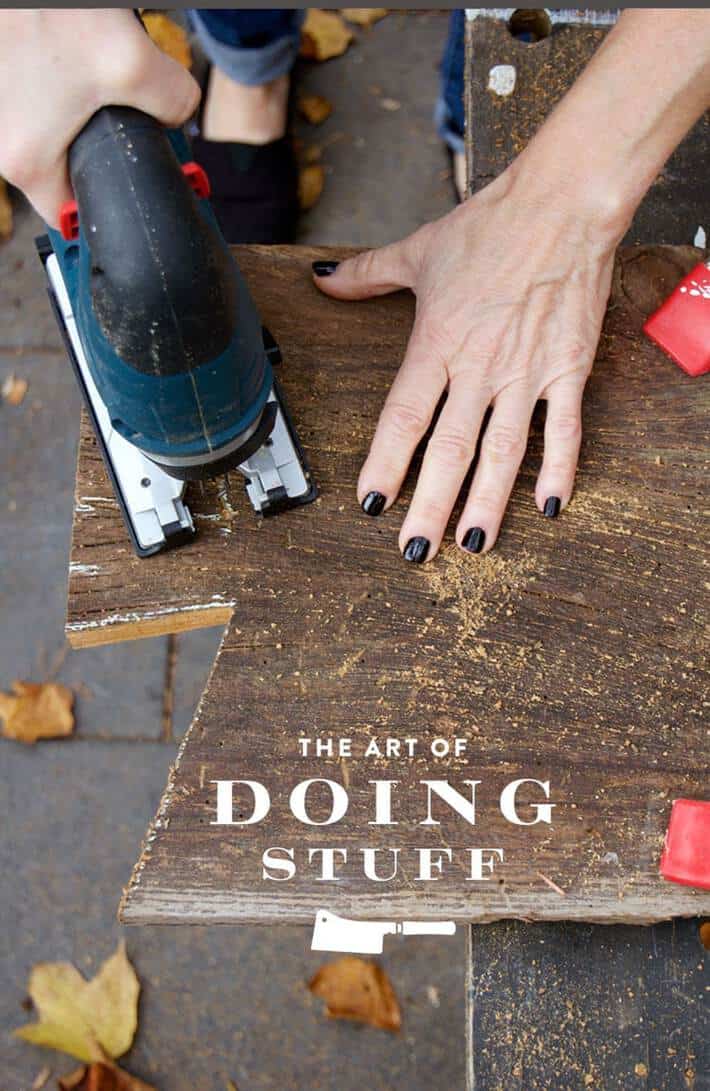 2. Clamp the wood to a sturdy surface like a table or workbench then cut the shape out with a jigsaw.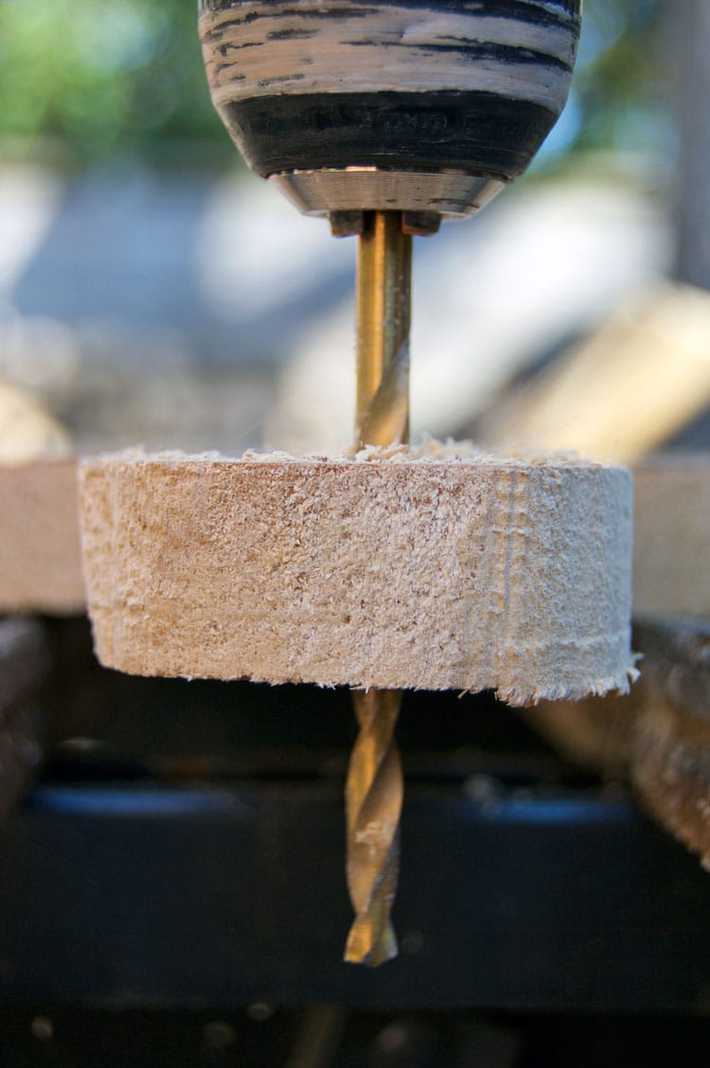 3. Drill a hole into the centre of the handle if you want a hole to hang it from. The size of the hole is up to you. You can do something just large enough to run a piece of twine through with a regular drill bit for hanging it, or something a little bigger using a hole saw. Or, you can have no hole at all.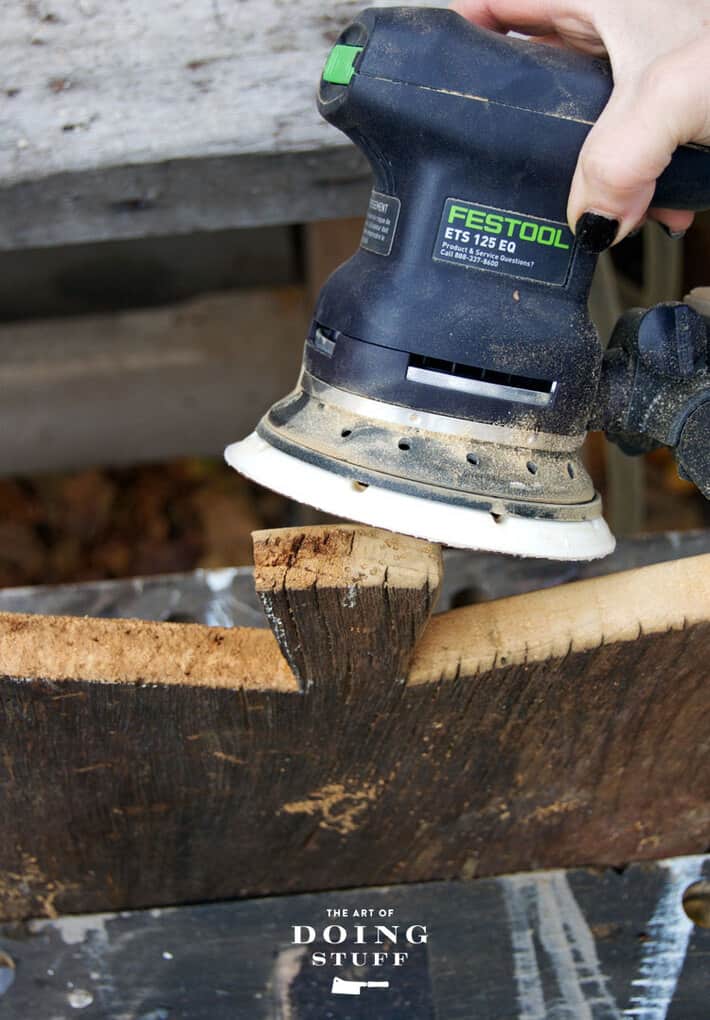 4. Using a palm sander, (a Festool 125 if you're smart enough to ask for one for Christmas) sand the face and edges of the wood. You don't want to have nice clean cut marks. That's a dead giveaway that you're faking something old. If you're using old barn board or even barn board that's already a bit discoloured from the lumberyard, once you cut it, the edges will look bright and new. Bleh. So sand and round out the edges.
Decrease the grit of sandpaper you're using. Start with 80 grit, move to 120 brit and sand again, and finally sand with a 180 grit.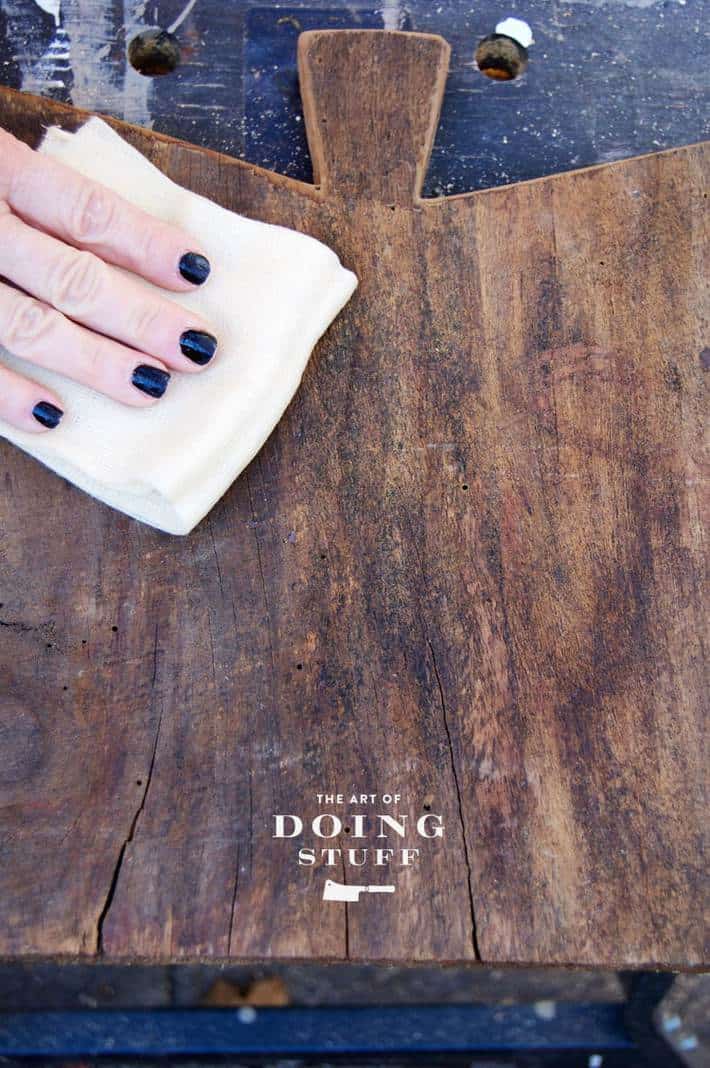 5. Blow off the sawdust from the wood and then use a piece of tack cloth to remove the rest of it.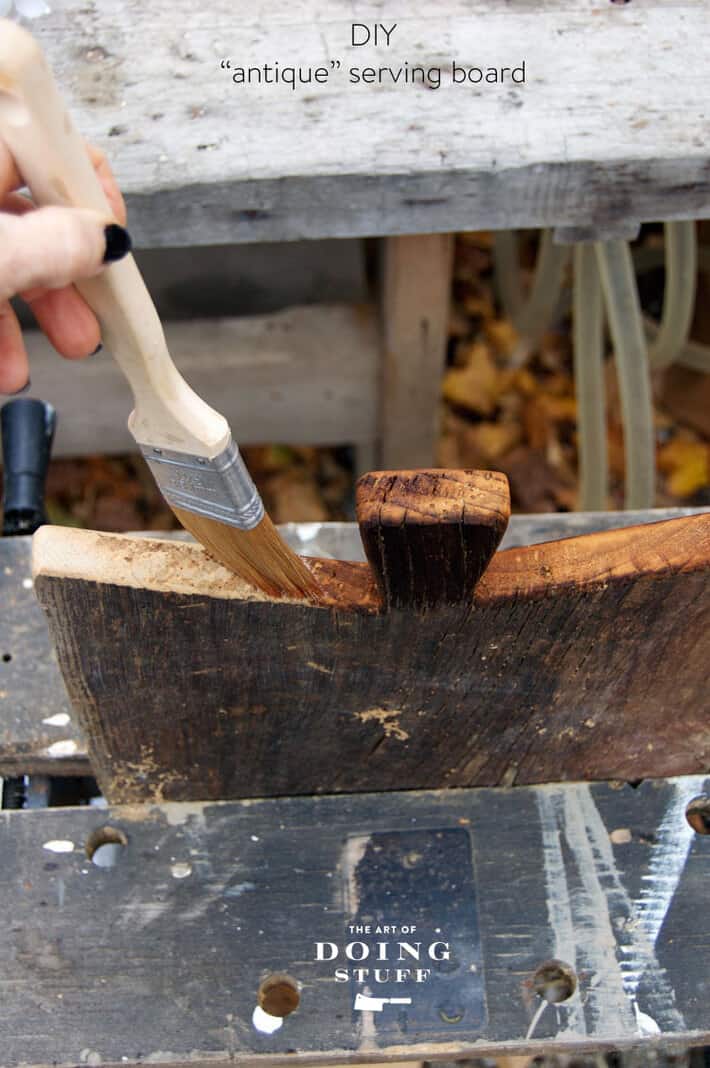 6. Now the fun part of ageing your new wood, or ageing the newly cut edges of your old wood begins. If you're using old wood, brush the newly cut edges with your mixture of vinegar and steel wool. If you're using new wood, brush the whole board including the edges. Let dry. The reason I want you to use this technique to stain the wood and not a regular stain is because a) it perfectly replicates aged wood and b) it's completely food safe.
Alternately, you can skip the vinegar and steel wool and just condition the wood with your food safe wood finish, which will darken the wood and give it a glow. Don't forget the newly cut edges!
TIPS
The better your tools the easier your projects will be. Seriously.
Knots are harder to cut through than regular wood, so when you get to them just be prepared.
Soft woods like pine, fir and spruce are much easier to work with than hard woods like oak, maple or walnut, but scar more easily with cut marks.
Take a good look at the wood. It'll tell you what to do with it.
Your chalk line will be thicker than your cut line. Remember which side of your chalk to cut on to make your board the right size.
If you're new and unsure of yourself with woodworking tools like a jigsaw, make a cutting board with only straight lines. Curves are harder, so the straight lines will build up your confidence.
Don't forget to round off any newly cut edges.
Don't try to cut anything without clamping it down first. Ever. Just trust me on this.
To make newer wood look like an older cutting/cheese board scar it using a knife or pizza cutter.
I made cutting boards out of 3 different materials. Genuinely old barn board, new pine and barn board with lots of scarring and knots from the lumberyard that already looked a tiny bit aged.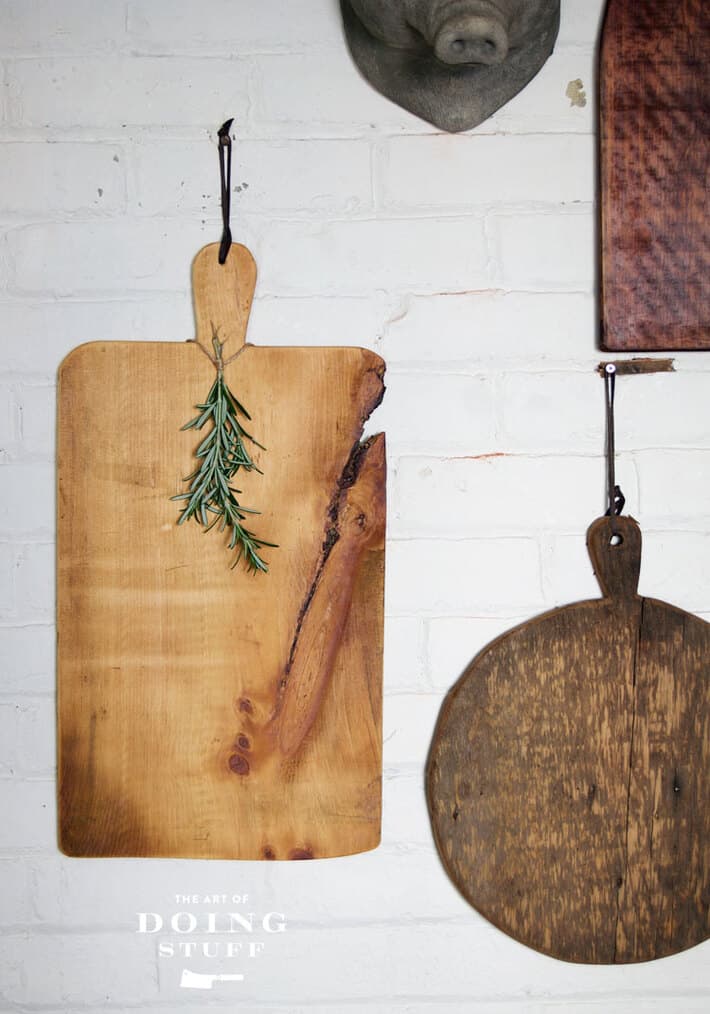 There are plusses and minuses to working with both but my favourite was the lumberyard barn board that looked a bit aged. It had the most character, best colour after conditioning and you can actually use it for food, unlike genuine barn board which I would advise against. Because ick. The board with the big crack in it is the new barn board from the lumberyard.
I cannot get over what a huge difference using this sander made. My own palm sander is a medium priced sander that I got at my local hardware store and after 10 minutes of using it my hand is numb from the vibrating. NUMB. Plus not a lot of stuff has been sanded away, and only the edges of the palm sander seem to really work. The centre of the palm sander doesn't appear to do anything for some reason.
So when they asked if I'd feature the Festool sander for this post I said sure. I didn't really expect there to be any difference. There was a difference. There was a big difference. I was using the Festool ETS 125 palm sander, but they have a bunch of different ones depending on just how serious you are about your woodworking. My hand did not go numb after using it for hours. At all. If you've ever used a palm sander you know that's just craziness. I have no idea how Festool does it. The ENTIRE pad worked and sanded, not just the edges. The dust bag ACTUALLY worked. As in, … shock of all shocks … it collected sawdust. which is a surprisingly rare quality in a dust collector.
I remember being in Lee Valley with a friend of mine this summer and he pointed out the Festool wall in the store and he said THOSE are the ultimate woodworking tools. Yup. Yes they are.
They're the big cheese.
Make sure you come back here in exactly one week for a $250 giveaway from Lee Valley.