Welcome to my Christmas House Tour 2021. Featuring classic Christmas decorating and Lip.
It's that time of year again! Time to pick my way through the mason jars, screwdrivers and dried up centipedes in the basement to get to the Christmas decorations. This is how Christmas decorating goes every single year in this house.
Day 1: Drag the decorations out, put the boxes in the appropriate rooms. Marvel at how easy it's going to be this year. Question why I always think it takes me 3 days to decorate. Ask Google to play my Christmas carol playlist, listen to Google give me the Wikipedia definition of Carol Channing, tell Google that's not what I asked for, and play the Christmas carols myself. Now I can begin pulling things out of boxes and placing them around.
Day 2: This isn't too bad. I should be done by noon. (later that day) This isn't too bad. I should be done by 4. (later that day) This isn't too bad. I should be done by dinner. (later that night) Who am I and why am I asleep on my front lawn under a 3' plastic lawn candle?
Day 3: Excellent. I assess my work from the previous 2 days and declare it perfect. Except for this one thing that I need to change. This thought repeats for the next 10 hours as I move, fix, change, cry & swear up and down that I'll pull my own kneecaps off with a nutcracker before I ever do this again.
The Foyer
That last night I turn all the lights off in the house, leaving only the Christmas lights on, twinkling from room to room and I realize it was all worth it because this will guarantee I win the neighbourhood Christmas house decorating competition. When that happens, the handsome rancher/lawyer who sidelines as a property developer who has been threatening to put a 76 story condominium on my property will be won over, his heart full of Christmas cheer.
That evening at the neighbourhood pot luck dinner between the Elf-is Cressley salad and the St. Nick Stew we'll fall in love, have a misunderstanding, get the misunderstanding figured out, win a gingerbread cookie decorating competition then finally we will kiss - but that kiss will be interrupted by precocious child. We will laugh.
Every year it's the same thing so I'm not sure why it surprises me.
And this year was no different. It all played out exactly the same.
The tree this year got pared down a lot with the only ornaments being my DIY tree candles and dried orange slices. There are 5 or 6 white pinecones as well. But that's it.
I didn't hang any of my antique glass ornaments because of Philip. If you want to see them you can look at last year's Christmas House Tour post. They make for a pretty spectacular looking tree.
Because of the puppy I wasn't going to put very much out at all this year, reinforcing my deluded notion that I could get it done in a day.
I didn't want to have to spend 24 hours a day wrestling Christmas out of his mouth or looking for it in his poop so I swore I'd keep things minimal this year.
It turns out my sleigh drive is too strong. I had to Santa the shit out of the house once again.
The Living Room
To be fair, I really did put out less than I normally do.
Because this one is curious by nature. Also he's a dog.
I couldn't decide on which shot I liked better for this post. So here you go. Both of them. Feel free to vote in the comment section. I don't know about you but I'm leaning towards the one on the left.
Now is probably a good time to say that I'm not one of those people who gets a poodle and then tells the groomer I don't want him to look like a poodle.
And typical poodle grooming has the face and feet shaved.
Now let's move onto end tables.
Each end table boasts a Christmas book and matching candelabras with fresh greenery. Plus yes, that's a black rock on a glass block.
I got the rock when I went surfing (really just gasping for air and splaying across a surfboard) in Tofino, British Columbia.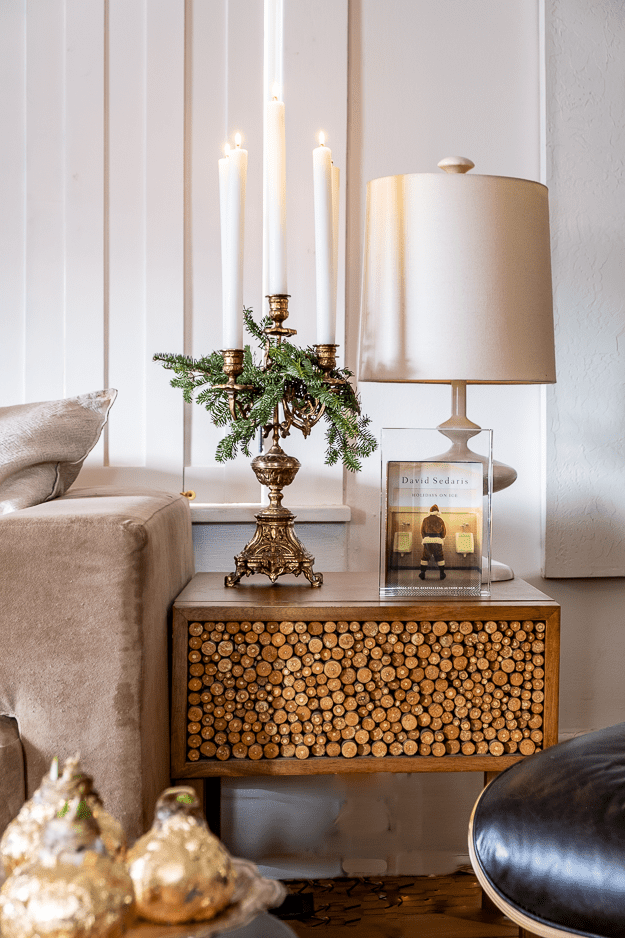 I wanted to add fresh greenery hanging from these fake Ikea wreaths but I ran out of time, energy and motivation. Maybe I'll fancy them up on Christmas Eve before my Christmas Eve party.
Can you call it a party when it's just your family that you see all the time?
The David Sedaris Christmas book on display is a favourite for oh, so many reasons. First - it's David Sedaris. Second - Santa is at a urinal. Third - it's a first printing of a first edition.
The book is still for sale and in print but it no longer has this cover. I found ONE used copy of this first printing, first edition in very good condition on Amazon. So if you want it, buy it here.
How to decorate a small living room for Christmas
I don't particularly like this photo but I wanted to show it because it demonstrates just how small my living room is.
It's around 11' x 15'.
My best tip for how to decorate a small room is, as you put Christmas stuff out you also have to TAKE STUFF AWAY.
If you're going to put out 7 Christmas things, you're going to need to take away 7 regular things. Or somewhere thereabouts.
Otherwise everything feels chaotic and cluttered. And I'm 100% in favour of both of those things in my living room to begin with - so if I were to add Christmas decorations to it without taking stuff away it would feel more hoarder than holiday.
Here above the chair in the bookcases, I took away most of the things on the shelves so you could notice the wreath and candle along with a couple of other wintery feeling things like pinecones and antlers.
The fireplace garland is 90% fake greenery with a few fresh sprigs thrown in and I added pine cones and a string of homemade dried orange slices. Here's how to make the dried orange slices for your own Christmas decorating, you still have time.
And then of course, there's the gold leafed, waxed Amaryllis bulbs which *should* bloom by Christmas.
The Dining Room
The dining room also has its own live tree, and I don't know if you noticed with the foyer tree, but they're both sitting in vintage suitcases. Click here to jump right back to the picture of the foyer tree in a suitcase.
The table is a collection of fake trees in old silver bowls, some clementines and greenery.
His favourite spot. As you can see, he's eyeing the pear in a fir tree.
I just realized you may not have seen these chairs before. The big, orange wing chairs.
I bought them for my living room but they won't fit in my living room until I get find my ideal sofa and get rid of the sectional.
So these chairs will be in my dining room forever.
The Kitchen
I know this is about the Christmas decorating but could we please admire the two huge garlic braids I have hanging on the end of my cabinet. Just to the side of them you can see a string of hot peppers that are drying as well.
I didn't know garlic could be Christmassy but if you slap a red velvet bow on it pretty much anything can look holiday ready.
The big question now is,
When to take down the Christmas decorations
I take everything down on New Year's Day. Sometimes even New Year's Eve if I'm getting antsy.
Packing it away on New Year's Eve day has two advantages: it's a great excuse to get out of New Year's Eve parties and it means you can look forward to doing absolutely nothing on New Years Day other than wearing your pajamas and watching television.
Alone.
Because once the holidays are over and things are back to normal the rancher/lawyer/property developer is just going to get in your way and annoy you.
Also he took credit for the winning gingerbread cookies in that competition when you both know you're the one who decorated them.
But don't worry about me. I won't be lonely on New Years Eve and I'll have a Lip to kiss.
→Follow me on Instagram where I often make a fool of myself←