There aren't a lot of years I just buy wrapping paper and ribbon at the store and call it a day with my presents, but this year that's exactly what I did. I'm such a loser slouch.
I should loser slouch my way through the rest of my life because I happen to love this year's presents. Loser slouch is the only way to go! From here on in I'm going to loser slouch every aspect of my life. The next time you hear from me I'll have a tv dinner in my stomach and velcro closure shoes on my feet.
THE CHRISTMAS WRAPPING THEME
I wanted to have traditional colours but not super-bright versions of them. Gold, green and red. I really wanted a sort of golden moss green, 2" wide satin ribbon with intermittent flecks of copper in it and no wire, but that's surprisingly hard to find.
So I went with Moss green, a dark almost burgundy (which until today I thought was spelled burgandy) red and gold.
I really, really didn't want wired ribbon. I just wanted plain satin ribbon that falls and shines nicely, which is what I got for the green ribbons.
With unwired, satin ribbon you get nice flop so things don't look overly fussy or perfect.
(p.s. Please ignore my bad, grainy photos. I got a new camera! And I'm just figuring it out. Actually I haven't figured it out at all, lol, but I didn't have time to redo some of my less than perfect photos. It's a great camera, I swear. These were my first shots with it before knowing where all of the adjustment dials were, lol. Sometimes you just have to dive in knowing you're going to make mistakes.)
I don't care anyway now that I'm a loser slouch.
I also moved my presents out from under the tree this year because they end up covered in pine needles and it makes watering the tree harder than it already is. A couple of vintage suitcases makes a better backdrop for them anyway if you ask me.
For the red ribbon I did go with a wired ribbon because I wanted velvet but I still wanted to be able to form it to look a bit sloppy. You can't do that with regular velvet ribbon.
All the bows are plain, no double or triple bows and some presents don't even have bows at all. Just a knot tied at the top of the present.
I got bored with just the plain suitcases and presents so I added some garland. Then I added lights to the garland. Then I added massive pinecones to the lights and the garland.
By the way I used the C cell battery operated copper wire lights I got a few years ago and they're still going strong and I STILL love them. If you want or need wire lights these are the ones to get. They have plenty of wire and lights, the wire is copper not silver, but best of all is the C cell battery pack. NOT double A batteries, which means they last way longer before the batteries need to be changed. Plus they have a self timer and go off automatically after 4 hours. Honestly, they're one of my favourite things ever.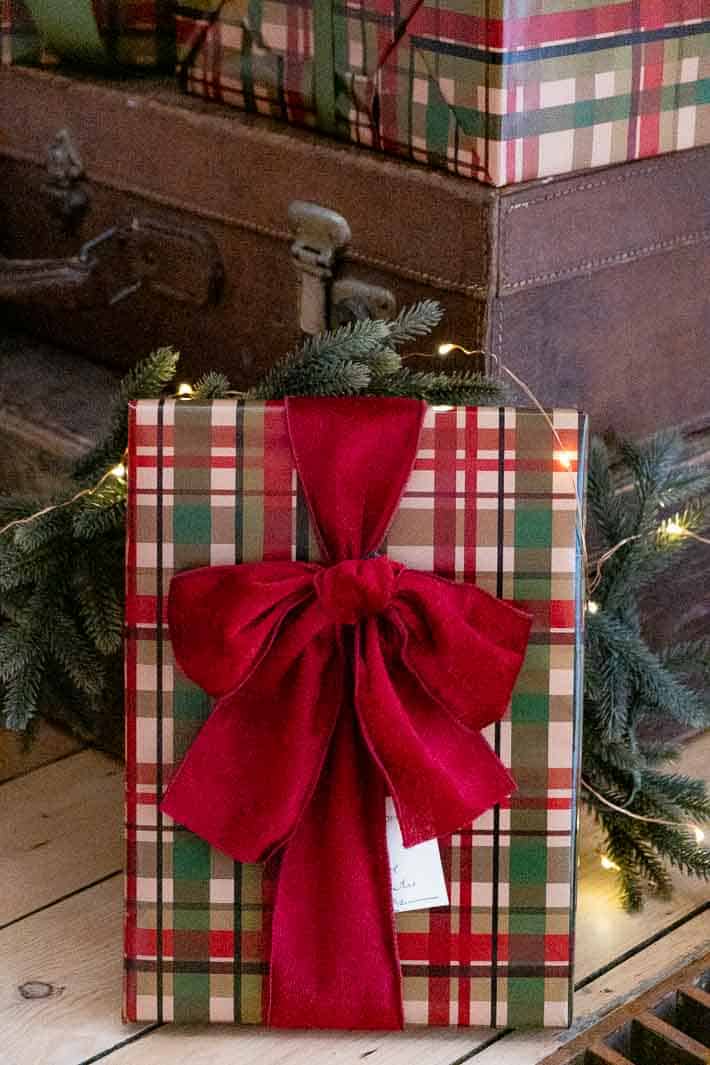 If you think yeah those are nice, but where's the WOW? You can take a look at these, these and these wrapping ideas from years past.
You know, from before I was a loser slouch.
How did you wrap this year?