Ironstone is a ceramic invented in the early 1800's. The recipe for making it was invented in 1800 as a new way to produce earthenware and porcelain. But the company went bankrupt and the patent was given to Spode. In 1813 another ceramacist, Charles Mason, registered the patent for what he called "Ironstone". He didn't invent the process or the ironstone recipe ... he's the one who came up with the great name for the material that was invented as a cheaper porcelain-like ceramic.
Also Ironstone doesn't contain iron. Mason, who was clearly an evil genius, named the product "Ironstone" to reinforce how strong the product was and also, rumour has it, to confuse competitors. Mason, made his recipe public to other competitors in the day, explaining the complicated process for preparing the iron slag components that went into his ironstone. Only his recipe was a lie and his product didn't contain any iron at all.
Evil Genius.
When I redid my kitchen last year one of the things I knew immediately was that I was going to start collecting Ironstone bowls. I already have a very real obsession with antique bowls so starting an all new, very specific collection, was all kinds of exciting.
My old collection of bowls is multi coloured which went with my eclectic 1940's kitchen. Red, green, blue and yellow. Great depression era bowls that weren't going to look good in my new kitchen at all. Well I'm sure they'd look good but it wasn't the look I was going for. I wanted more of that calm, Swedish country look. Ironstone it is I decided.
It's white/off white, inexpensive for the most part and relatively easy to find but not so easy that collecting wouldn't be fun. If you can find all the pieces you need or want in one trip to the flea market it kindda takes the challenge out of building a collection.
Since last year I've acquired several bowls, platters and a jug. But I wanted more bowls and in particular I needed a big bowl. Medium sized bowls seem to be easy to find, but the larger ironstone bowls are harder to come by.
So on my latest trip to Christie's Antique Sale I was able to ease the pain of not finding a classic midcentury modern chair by filling bags with Ironstone.
I got 2 gravy boats, a platter and a perfect bowl. Ironstone comes in a variety of whites from blue white to creamy white. I don't love the blueish white, and lean more towards the creamier ironstone. Ironstone also comes in transferware patterns, and yellowware, which are nice but not what I was looking for.
Also when I'm buying Ironstone I look for it to have some character, but not so much character you're afraid to eat out of it.
The gravy boat above (which cost $24) has some mild yellow staining (patina) on the base and body. That's the kind of character I look for.
Crazing is another patina I like to see. Crazing is the very fine cracks in the glaze on the pottery.
And then there's the bowl. The great, big, bowl. This is an unmarked piece of Ironstone, that was the deal of the day at $10. It's apple pie filling sized. Anyone who has ever made an apple pie knows what I'm talking about here.
If I'm going to be perfectly honest with you all I'll also say it's cereal bowl sized.
So my day at Christie's allowed me to add a few good pieces to my Ironstone collection. And french fries to my belly. Every year I eat fries at Christie's. Even when they started to cater to food trend lovers with healthy, organic food, I still eat my french fries and most years I'm only an ounce of embarrassment away from eating a giant turkey leg.
The other thing I do every year at Christie's is buy an egg basket. It's not like a goal of mine every year, but somehow it happens. I buy an antique egg basket. This year I got the mother of all egg baskets as you can see on my island below.
It's a wood egg crate that was used for transporting eggs. It holds almost 150 eggs. If you look at the shelves near the top of the photo you can see the rest of my ironstone collection by the way.
The crate came with the original cardboard separators. I've been looking at these crates for the past few years but they always seemed too big for my kitchen. But when I saw this one for $50 (I got it for $40) in perfect condition I caved and bought it.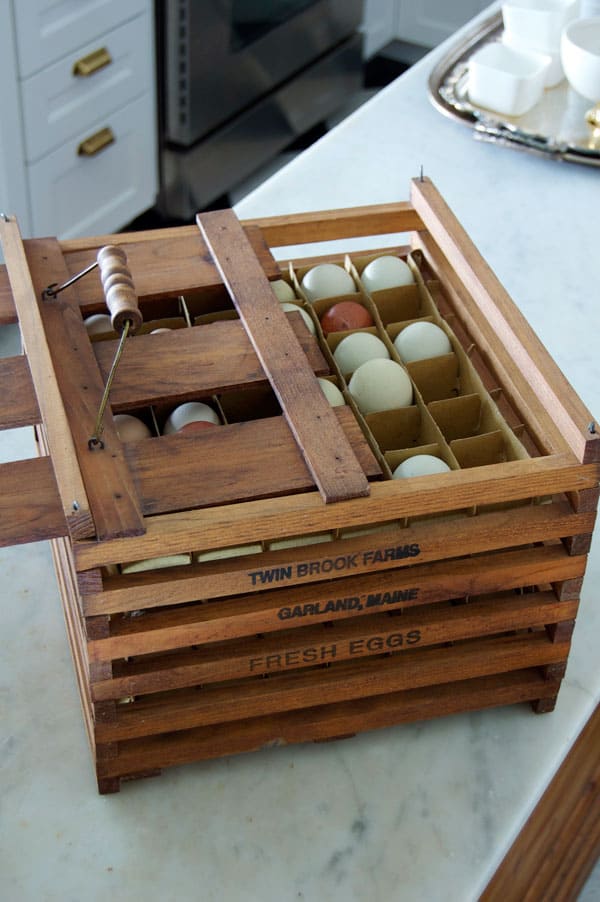 So the massive thing is on the counter for now until I decide to switch it out for a different egg holder. Since apparently now I collect egg holders. Really it's one of the reasons I wanted chickens to begin with, because I liked the look of eggs on the counter.
I already know what I'm going to be looking for at Christie's this fall. I want a piece of ironstone that's been mended. They used to mend bowls and platters by stapleing them together. They're always stapled from the back so you can't see the mend, but my dream would be to have a bowl or platter that's mended from the right side so you can see it.
Dream large, Karen. Dream large.
I have no idea when I became this person. I mean I'm O.K. with being the girl who dreams of a perfectly imperfect ironstone bowl, I just don't know when it happened. Probably happened around the same time I gave up my dream of being an evil genius.
Have a good weekend!
[shareaholic app="share_buttons" id="5342563"]