My sister reminded me a while ago that I said I wasn't going to "wiggledy niggledy" (I'm pretty sure she meant higgledy piggledy) any more stuff for my house.  I was going to BUY things, HIRE people, go into ACTUAL stores where the furniture is already built and ready to take  home!
I do remember saying something like that in a moment of DIY desperation, but I thought for sure she'd realize I didn't mean it.  Although let me tell you, I am getting a bit tired of doing every single thing myself so I really am going to hire people more often to do things. Even if they're things I know I can do myself.  Why?  Because I have more things that I want to do than I have time.  So I'm going to take the least fun things on my list (like putting on a new chicken coop roof) and hire someone to do them.
I was also absolutely, without a doubt, cross my heart and hope to buy .. going to purchase an outdoor furniture set.  Something that was as inviting and comfortable as the rest of my backyard.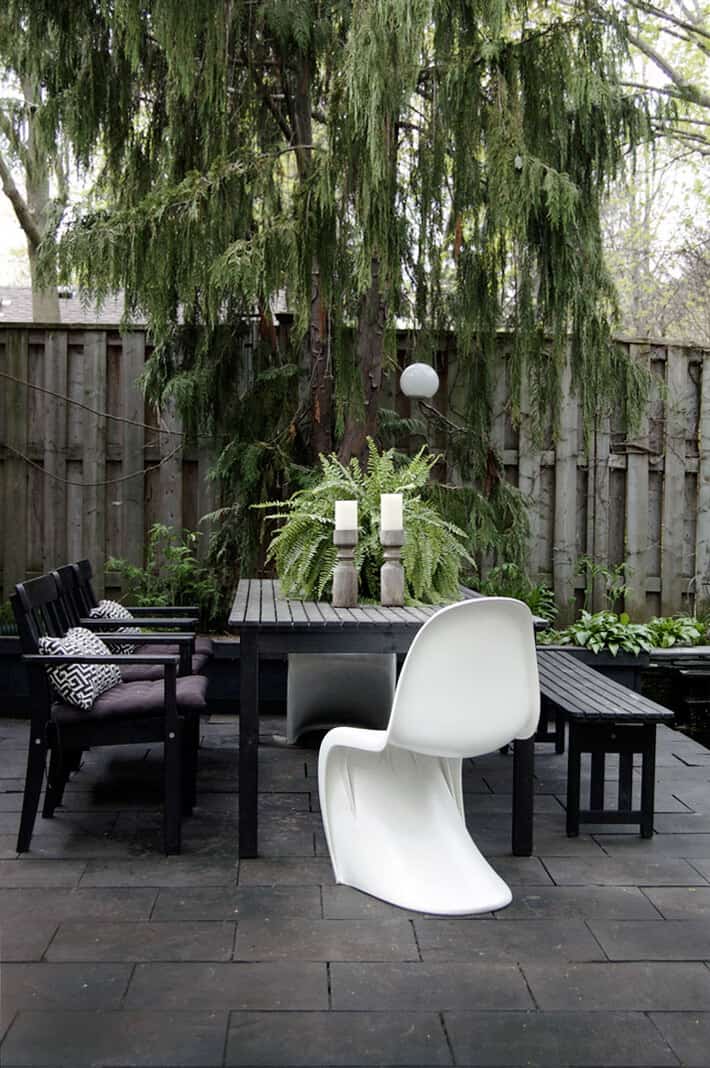 My big dining table from Ikea is great. I have Ikea chairs and a bench around it with my white plastic Panton S chairs on either end.  It looks great, is comfortable and fits a lot of people.  Done.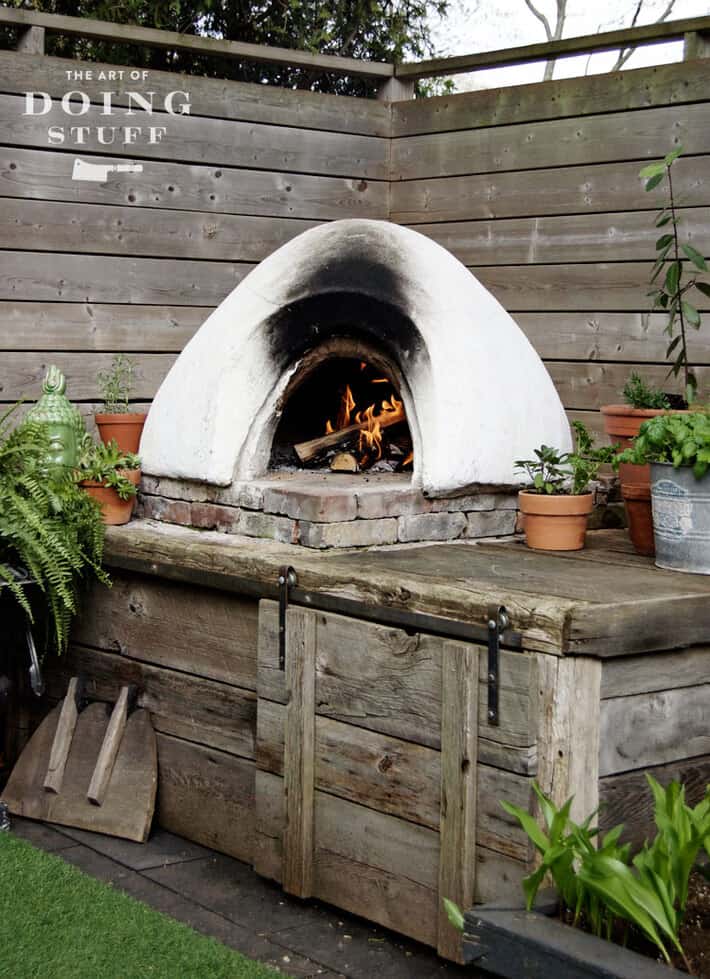 The pizza oven, the greatest thing I think I've ever built. It looks so beautiful but there isn't any way to actually relax around it and enjoy it.
I have 4 outdoor chairs from Costco and a small love seat I bought from Walmart right beside the pizza oven and it looks nice.  But that's about it.  I never once sat in those chairs for longer than 10 minutes and neither did anyone else who came over.
It felt very much like a waiting room.  And an unsubstantial waiting room at that.  One that wasn't very important. You were definitely not waiting for anything important here.  You weren't waiting for a heart surgeon.  At best you were waiting while you got your car's oil changed.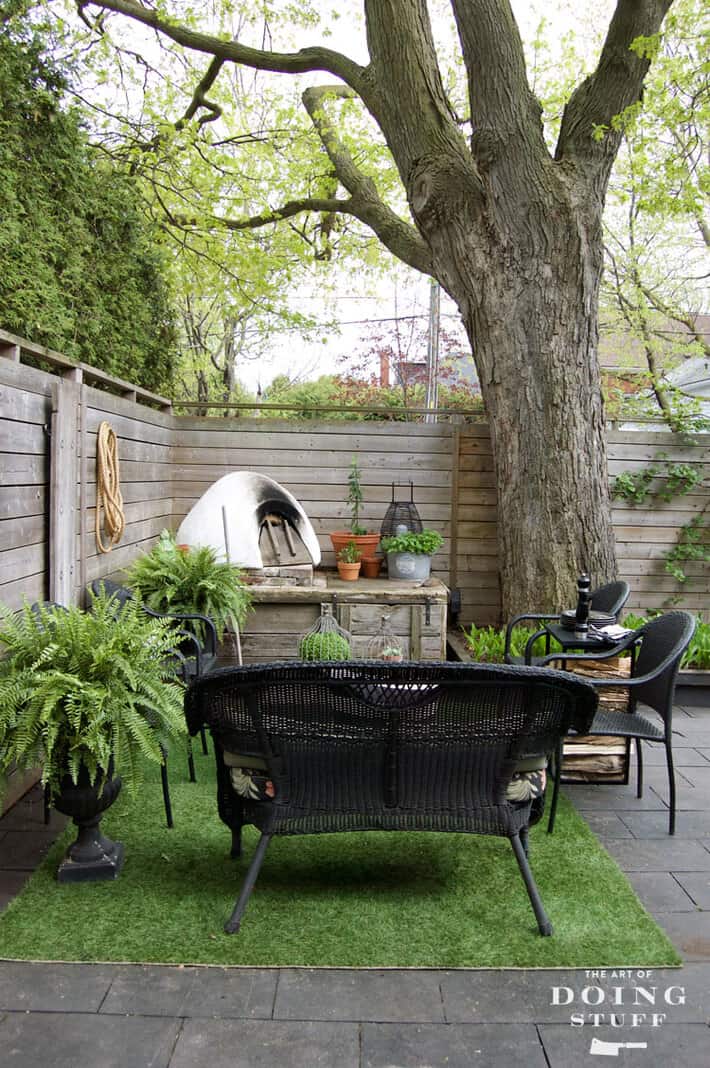 I wanted  the area around the cob oven to feel as important and rustic and comfortable as the oven itself. I wanted a place that was so comfortable and beautiful it compelled me to sit outside and relax.
So I started looking in stores for outdoor furniture to buy.
I started at Costco.  Nothing suitable there.  Then Walmart and Ikea and Home Depot.  Nope, nothing, nada.  Now I knew I had to start getting into the higher end stuff so I went to garden centres and furniture stores that specialized in only outdoor furniture.  I was getting closer but I still didn't really like any of the furniture.
It was all pretty similar, nothing very different and it was all HUGE.  Like I mean, HUGE.  Fred Flintstone HUGE.  The seats were about 3 feet deep (they call it deep seating) and when I sat on them my feet just barely hung off of the edge of the cushion like a 5 year old.  You couldn't pick the firmness of cushions and they all felt pretty gross.  Crunchy actually.  I discovered this is because they're using a certain type of open cell foam that's meant only for outdoor use in higher end outdoor furniture.  This type of foam allows water to drain RIGHT through it so when it gets wet in the rain it'll dry in no time.  That's a plus.  However the price of that foam is so hysterically high it puts the price of these outdoors sets up into the stratosphere of crazy-stupid-I'd have to sell my corneas expensive. And I like my corneas. I use them almost every day.
You can estimate around $7,000 - $10,000 for a full outdoor set if it's higher end.  So, a sectional, chair, ottoman and table.  The same type of configuration is between $1,500 and $4,000 for a lower end line.
So yeah.  Rock bottom pricing on an outdoor set is $1,500.  Those are the sets that usually don't use outdoor foam or good quality fabric.  So within a year your cushions are rotting on the inside and the fabric is faded to a completely different shade on the outside.  FOR OVER A THOUSAND DOLLARS.
Screw this.  I'm building my own furniture.
The first thing I did was scour the Internet looking for a design I loved.  I didn't want to make outdoor furniture that looked like I made outdoor furniture.  And I was doing this right.  I wasn't cheaping out.  I was still willing to spend $2,000 on making a set so long as it looked and felt great.  If I'm going to shell out that much money, it might as well be on something I love.  That doesn't have crunchy cushions.
Enter the  Restoration Hardware Aspen Collection.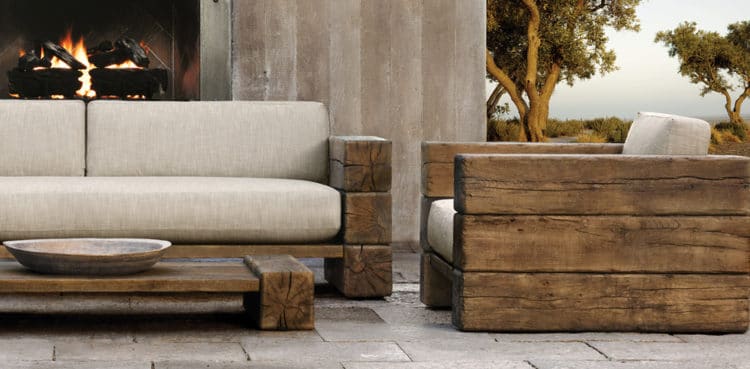 BAM!
This is what I was going to make.  It was a really simple design, easy to DIY and it was the perfect combination of contemporary and rustic. It's like the fine folks at Restoration Hardware designed it especially for me and my pizza oven.
Once I knew this was the set I was going to make (or at least a slightly modified version of it) I got to work getting my materials.
THE WOOD
Last week I showed you the process of hacking up the wood to give it a more aged, rugged look and how I got the untreated hardwood to construct it with.  I initially wanted to make the arms out of antique barn beams because WHY WOULDN'T I?  But when I actually got a look at some nice barn beams I realized just exactly how hacked up, hand hewn beams are.  They're irregular and no two are alike and therefore no two are the same size.  Trying to build something even remotely level out of them was going to be a nightmare.
Plus barn beams aren't cheap.  For the amount I needed to make a sectional couch and chair it was going to cost close to $600  I found the part time, private sawmill on Kijiji (which is like Craigslist) and got all my wood for $325, with enough to make a table as well.
For the back supports of the couch I managed to find some old thick barn boards from a friend for free.
TOTAL COST OF THE WOOD AND HARDWARE - $350
THE CUSHIONS
It was going to be $2,500 to have the cushions made for two couches and a chair if I ordered custom ones from one of the high end outdoor furniture places.  It would have cost around $400 if I bought all the cushions at Ikea.  But the Ikea cushions weren't very thick and the fabric fades over time.  Plus Ikea was sold out of ALL their outdoor cushions by the beginning of July when I started this ridiculous venture.
I decided I would make the cushions myself and bought my fabric.  While I was in the foam store asking about pricing on the open cell outdoor foam they told me that if I bought that particular foam I would be the only one in the history of the store who ever had.  It's 3 times as expensive as regular open cell foam and if you have good outdoor fabric you shouldn't need the open cell foam.  O.K. then.  I ordered the regular foam since I had bought really good Italian outdoor fabric.
I also asked about how much it would cost to have them make the cushions for me if I gave them all the material I had just bought.  $600.  SOLD.  (That doesn't include the price of the foam by the way)  It would take me days and days to make the cushions and they'd never come out looking as professional as if I had them professionally made even though I do indeed know how to sew.  Cushions are a pain.  So I contracted that job out.
TOTAL COST OF THE CUSHIONS (foam, labour & materials) - $1,200
So that means ...
TOTAL COST OF THE ENTIRE OUTDOOR SET - $1,550
I made a few small changes to cut the cost of the set as well.  Instead of the Restoration Hardware foam thickness of 8", I went with 6" foam.  Instead of having two back cushions on the sofas, I went with one long one, which is cheaper.  I cut costs by using the cheaper foam, but made sure I had really good fabric for them. I had the cushion covers made with an "envelope wrap" instead of welting which is also cheaper. Plus I like it better, so ...
If I had bought the original Restoration Hardware set with an L shaped sectional, one chair and one coffee table the total cost would have been $20,409.  Canadian.  That's $15,801 US.
Last week I showed you how I started to prepare the wood by hacking it up a bit and Friday I'll show you how I'm assembling the arms.