Dried orange slices FOR THE WIN. They're ridiculously easy to make, last for years and make your Christmas tree look like it's covered in stained glass. Here's how to make dried orange slices.
You can take your seats and relax because this is probably the easiest and most effective Christmas decoration in existence. Unless you count setting out a box of After Eight dinner mints Christmas decorating. Which I do. So, let me rephrase ... this is probably the second easiest and most effective Christmas decoration in existence.
Shoot. I don't mean to get off track, but if you and I were to sit down and have a real heart to heart about easy Christmas decorating, I think we'd agree that putting fluffy socks and a Hallmark Christmas movie on might actually be number the number 1 easiest thing you can do. That bumps After Eights down to number 2 and orange slices down to 3.
They're sounding harder and harder aren't they?
Dried orange slices. Slice, bake, hang. Those are your instructions. That's it.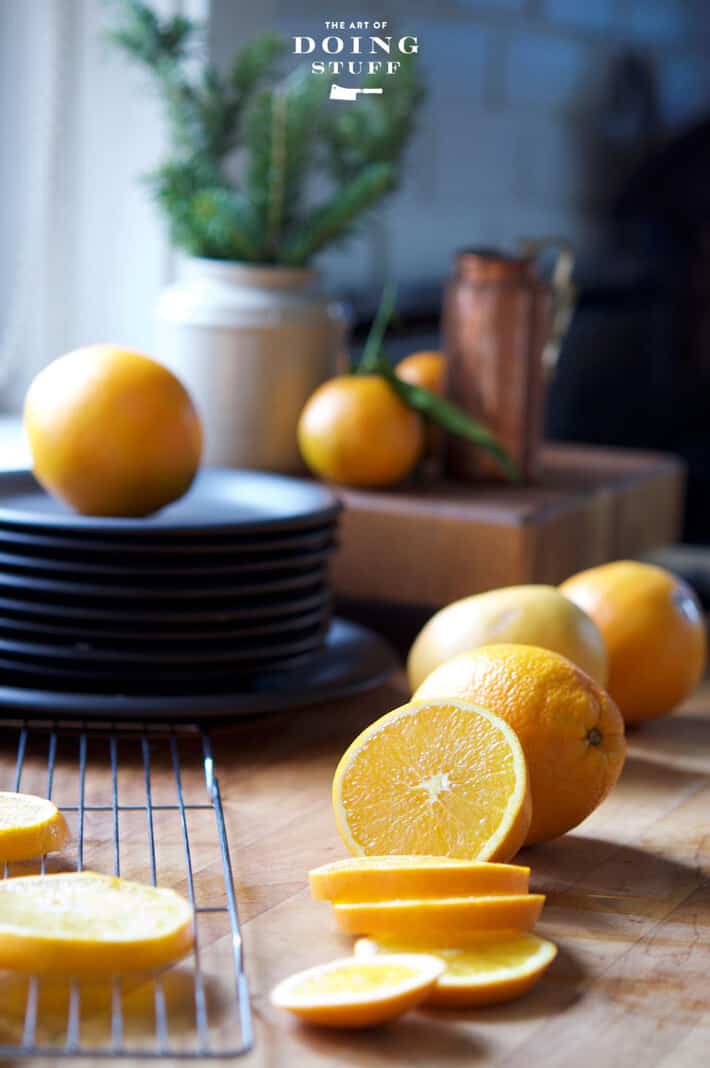 You might think with something so simple that the results would be mediocre. They are not. The results are spectacular.
So what can you do with these dried orange slices?
You can:
hang them on a tree
set them in a bowl
tuck them into garland
make an ENTIRE garland out of them
stick them on a wood skewer and use them in planters or windowboxes
The choice is yours because dried orange slices are incredibly accommodating. They'll give you no trouble at all.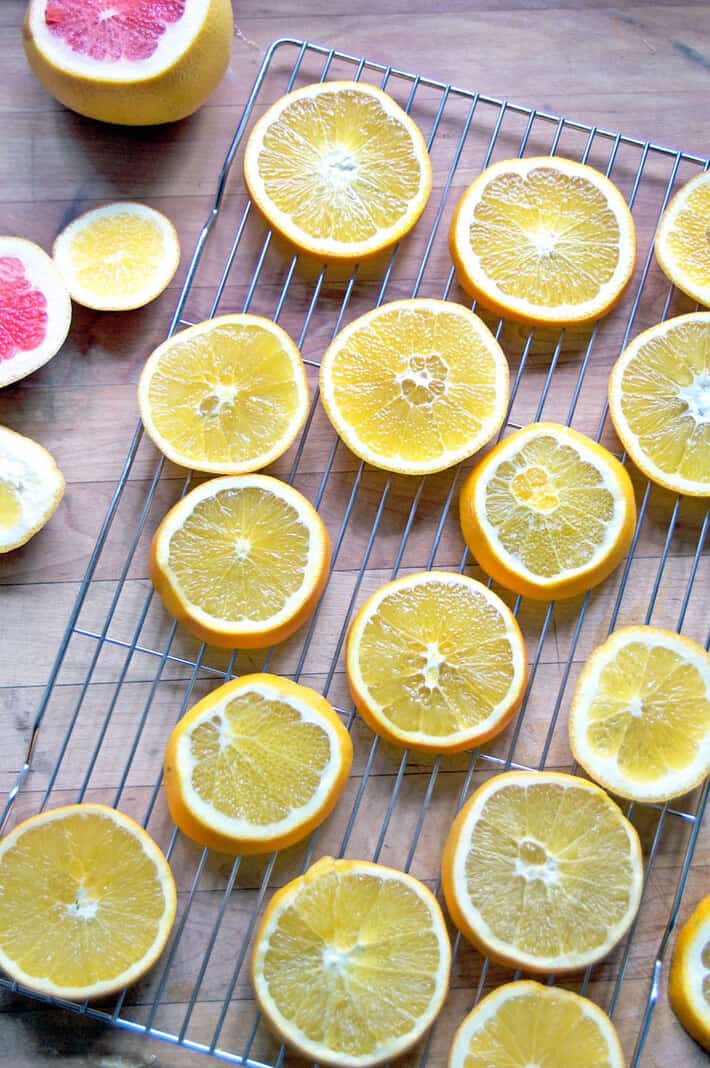 There are really only three things you need to remember.
How to make dried orange slices.
Preheat oven to lowest temperature.
Cut orange slices to around ¼" thick.
Set them on wire cookie racks, not a metal baking sheet (because they can stick and don't dry as evenly)
Bake them at the lowest temperature your oven goes to for 4-6 hours or until no stickiness remains.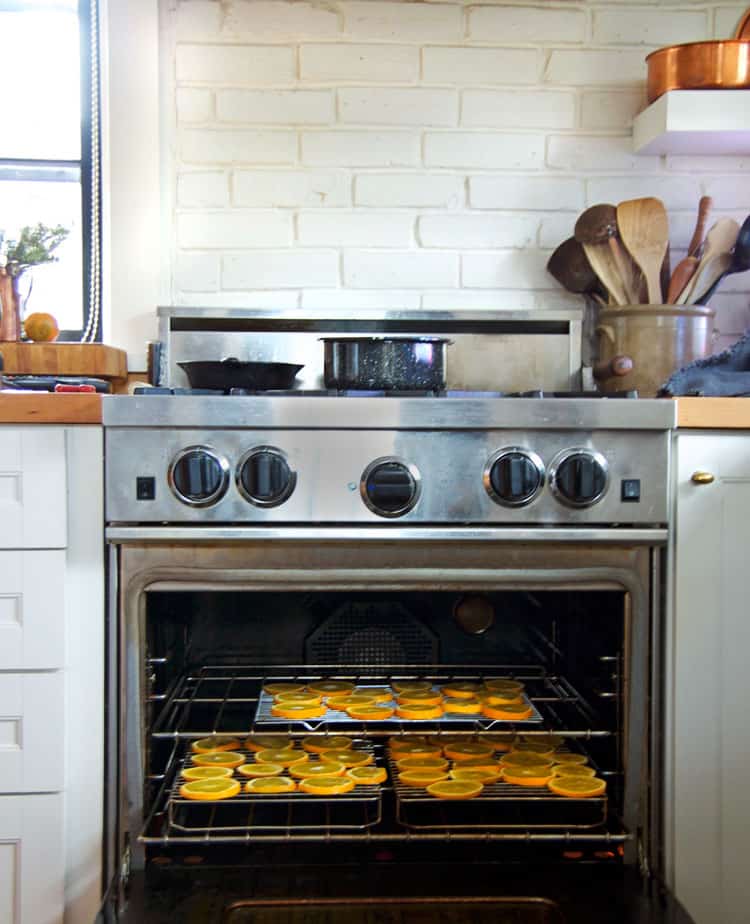 For me that was 150F.
TIP FOR ORANGE SLICES
I bought most of my oranges from the reduced produce section. They were bruised and weird, and yet they all turned out perfectly.
Let them dry until when you touch them they don't feel sticky at all. That can take from 4-6 hours depending on how thick the slices are and how juicy the orange is.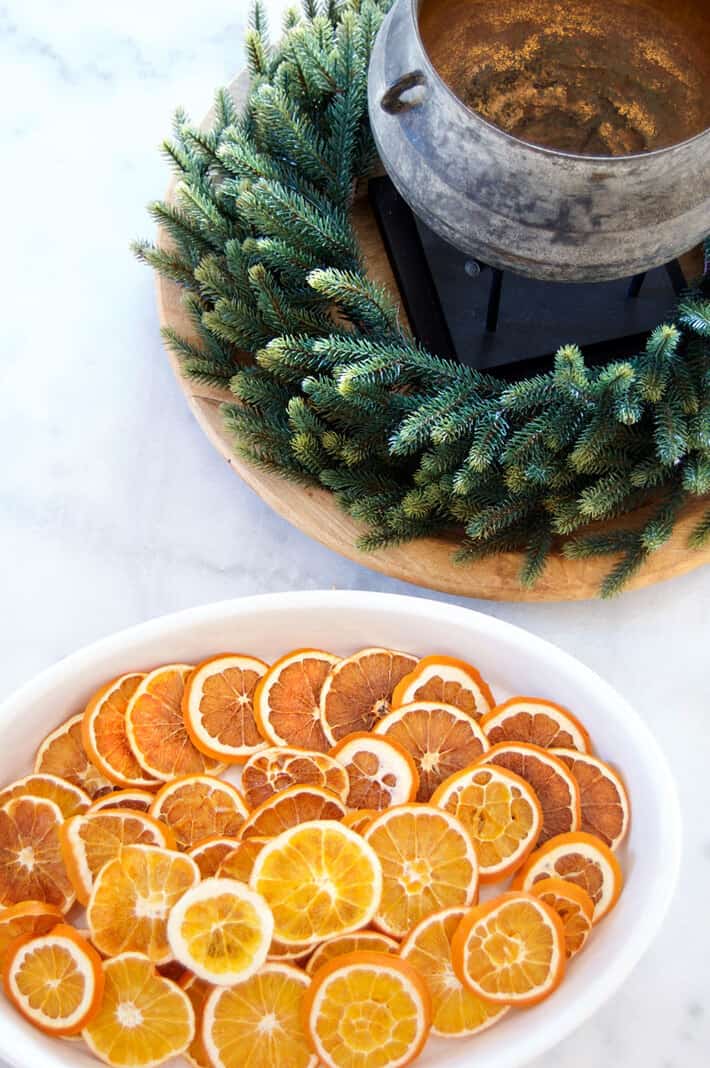 When they've finished drying just remove them from the oven, call yourself Laura Ingalls and look for a place to set them.
The oranges I had on the lower rack of my oven turned out darker than the ones higher up in the oven. If I'd checked on them more often I could have removed the lower ones so they didn't darken quite as much, but I actually like the variation in colours. You could also rotate your pans throughout the drying process.
As they age, they get darker anyway so don't worry about it.
How long will dried orange slices last?
Years! I've had these orange slices for 3 years and they're still in perfect shape, they've just become a bit darker.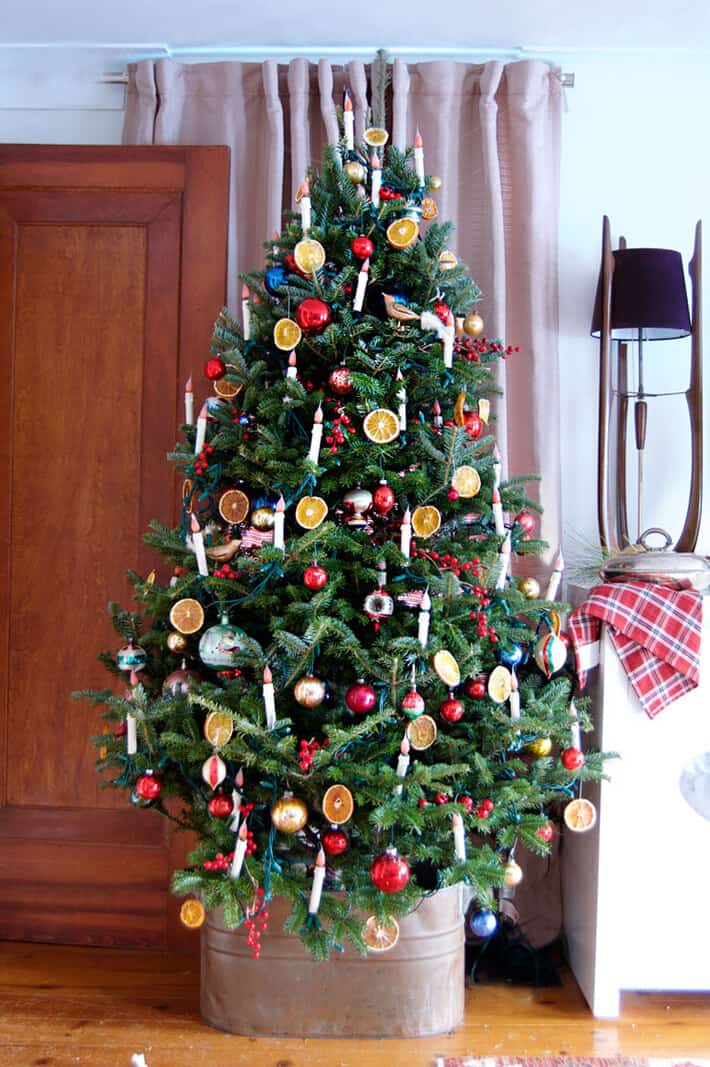 They're a thing of beauty. And they took 12 seconds. O.K. they took 6 hours, but the prep time was 12 seconds. You slice an orange. That's it.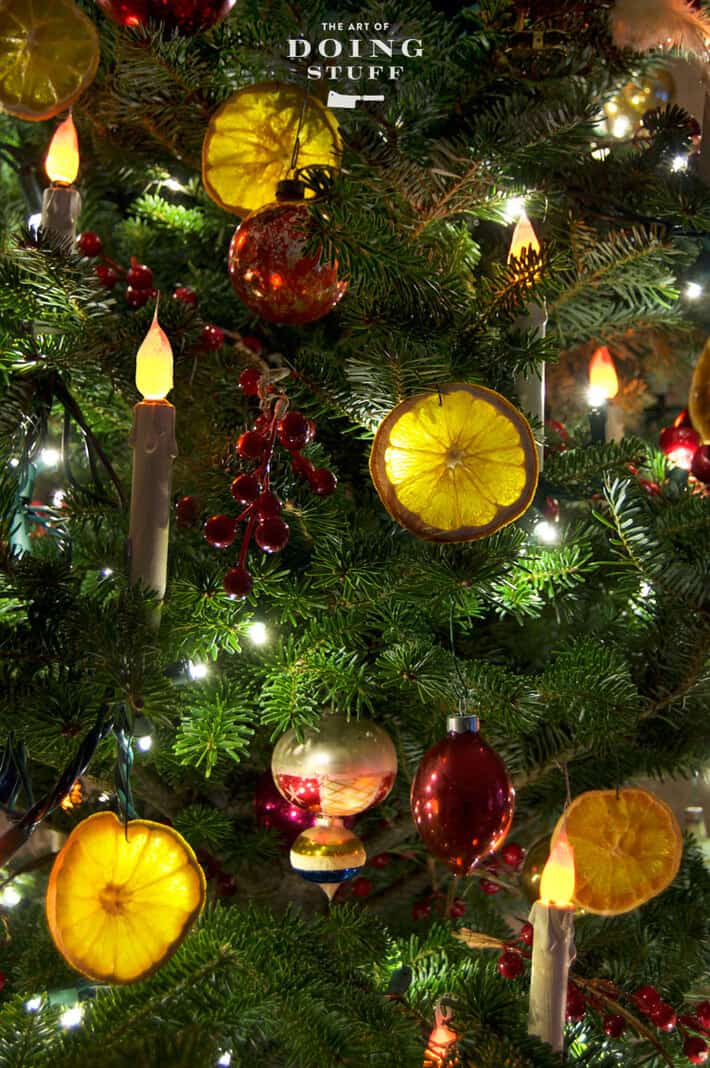 The magic happens when the tree lights come on. If you place or orange slices in the vicinity of a lightbulb they GLOW like stained glass. This isn't some sort of Photoshop magic, this is how the dried orange slices look at night with the tree on.
Don't they look delicious? I know your next question.
Can you eat dried oranges slices?
Yes you can. (Add that to the list of things you can do with them) I mean, I haven't actually eaten them, but the world on the Google streets is that dried oranges slices like this are delicious. Do them exactly as I outline or you can add a bit of cinnamon or nutmeg on top before putting them in the oven.
The peel is also edible but if you don't want to do that, crack them in half and eat around the rind like you would with an orange slice.
You can also use them for flavouring desserts, marinades and stir fries. And of course they'd make a beautiful and perfect accent to a chocolate dessert. If you don't like chocolate and orange together you might not be a real human.
Keeping dried orange slices in a mason jar in your pantry will also give you the look of someone who is all earthy and mixes potions and stuff. So like, a witch, I suppose.
---
These orange slices combined with my DIY tree candles has resulted in the most beautiful Christmas tree I've ever had.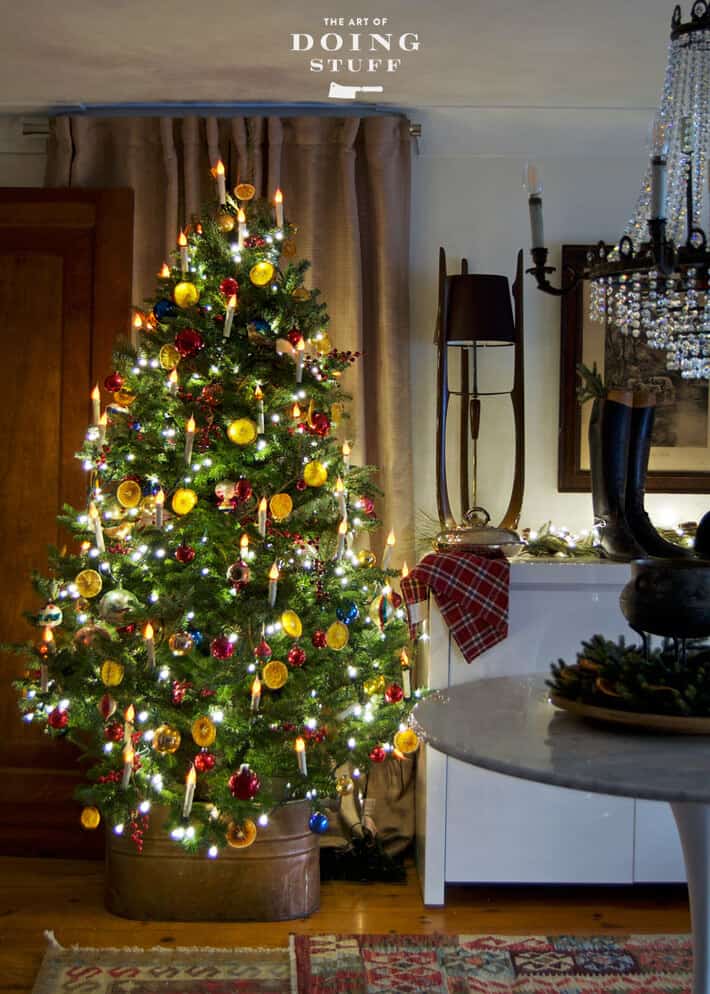 Plus my tree will never catch a cold which is an added bonus.
You could hang the oranges with ribbon or twine but I wanted the orange slices and only the orange slices to show up so I just shoved a regular hook for hanging Christmas balls through them. The hooks just disappear once they're on the tree.
THIS year if I get the time I'm going to do more of them to make an 8' garland.
Like I mentioned earlier, these are edible but after the box of After Eights you probably won't be very hungry anyway.